The Global Authority on Workplace Culture
Great Place to Work® makes it easy to survey your employees, uncover actionable insights and get recognized for your great company culture.
"The value of this recognition has been instrumental in our recruiting efforts, retention and credibility with our customers and partners. "
World Wide Technology
"The Trust Index benchmarking data has been invaluable to us. This helps us show where we are leading, where we are competitive, and where we are falling behind, and informs our strategies for driving improvements. "
Salesforce
"Participating in the Great Place to Work Recognition program delivers positive brand recognition worldwide. It provides a competitive advantage for us and drives our credibility with customers, suppliers, investors and shareholders. "
Stryker Corporation
"Our partnership with Great Place to Work has been a game changer for our culture and talent management work at GoDaddy. The insights that have surfaced thanks to the Trust Index Survey and Culture Audit have helped us uncover blind spots and hidden strengths. "
GoDaddy
Why We're the Culture Leaders
Research-Backed Technology
Emprising™, from Great Place to Work®, is the only employee experience platform built upon 30 years of research and data to take the guesswork out of culture work.
Most Robust National Recognition Program
Be considered for more than a dozen Best Workplaces lists, including the Fortune 100 Best and People Companies That Care, with one application. All of our lists are published nationally.
Benchmarking and Insights from the Best
Unparalleled benchmarking data and best practices from leading companies around the world.
Proven Model and Methodology
Our Trust Index® Survey is taken by millions of employees annually, and our Great Place to Work® Trust Model ® has guided research on workplace culture for decades.
Decades of Research
30 years experience in culture research and consulting.
We Practice What We Preach
We're business-minded people at a mission-driven company. We know what it takes because we live it.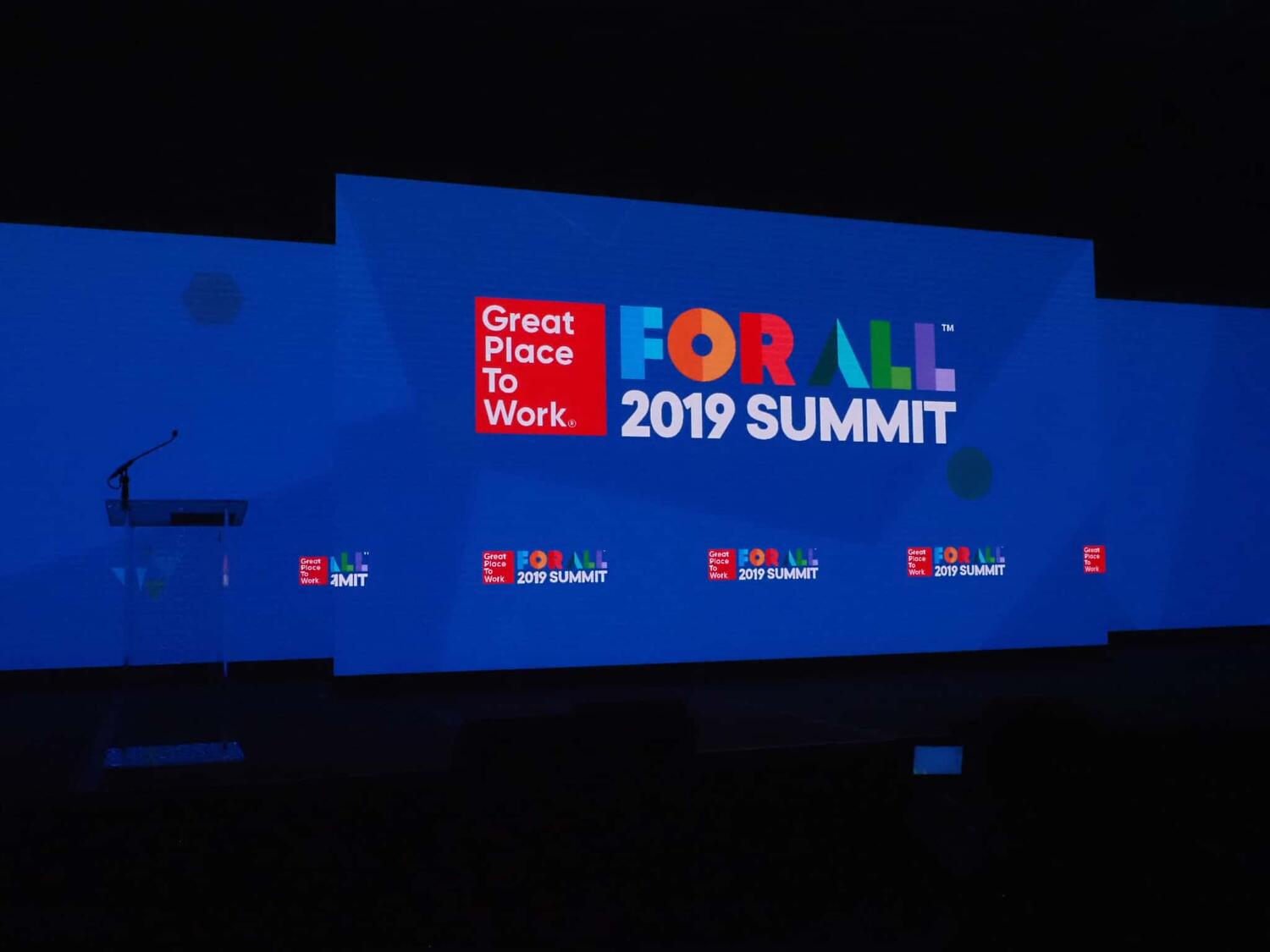 We're live in San Francisco!
Tune in here to watch the keynote presentations shared from our main stage and join the #GPTW4ALL conversation!
Streaming live from the 2019 Great Place to Work For All Summit. Streaming provided by AT&T.
Keynote Live Broadcast Schedule (Times Listed in PST)
---
Julian Lute, Consultant, Great Place to Work
Matthew Schuyler, Chief Human Resources Officer Hilton
Andy Puddicombe, Co-Founder Headspace
Michael C. Bush, Chief Executive Officer Great Place to Work
Keynote: The Importance of Trust
Dan Ariely, James B. Duke Professor of Psychology & Behavioral Economics Duke University
In Conversation: Inspiring Diversity & Innovation
Kelly Grier, US Chairman and Managing Partner and Americas Managing Partner, EY Moderated by Kristen Bellstrom, Deputy Digital Director, Fortune
In Conversation: The Future of Work is in Diversity and Innovation
Margaret Keane, President and CEO, Synchrony Moderated by Kristen Bellstrom, Deputy Digital Director, Fortune
In Conversation: How Diversity Can Improve the Healthcare Experience
Bernard J. Tyson, Chairman and CEO, Kaiser Permanente Moderated by Clifton Leaf, Editor-in-Chief, Fortune
In Conversation: Why Culture is key to Driving Innovation
Lynne Doughtie, Chairman and CEO, KPMG Moderated by Beth Kowitt, Senior Editor, Fortune
Wyatt Smith, Head of Business Dvelopment, Elevate @ Uber
Keynote: The new World of Employee Experience - Where the Engagement Market is Going
Josh Bersin, Global Industry Analyst
Key Takeaways from Leveling Up: Diversity & Inclusion Forum
Mike Dillon, Chief Diversity and Inclusion Officer, PwC and Cindy Robbins, President and Chief People Officer, Salesforce
In Conversation: Leadership Matters
Gale V. King, EVP and Chief Administrative Officer, Nationwide Moderated by Christopher Tkaczyk, Chief Content Officer, Great Place to Work
Keynote: Diverse and Inclusive Teams - The New engines of Growth
Frans Johansson, Chief Executive Officer, The Medici Group Presented by Synchrony
Julian Lute, Consultant, Great Place to Work
In Conversation: PEOPLE's Companies That Care
Mike Eagles, Vice President Labor & Employee Relations, Comcast NBC Universal Moderated by Tina Johnson, Senior Editor, People
In Conversation: How an All-Star Company Has Remained on the 100 Best Companies List for Over 20 Years
Fran Katsoudas, EVP and Chief People Officer, Cisco Irving Tan, SVP, Chief of Operations, Cisco, Amy Chang, SVP, Collaboration Technology Group, Cisco Moderated by Ellen McGirt, Senior Editor, Fortune
Marachel Knight, SVP, Wireless & Access Engineering, Construction & Operations, AT&T
In Conversation: Employee Engagement and Innovation at DHL Express
John Pearson, CEO and Regine Buettner, EVP HR Global, DHL Express Moderated by Clifton Leaf, Editor-in-Chief, Fortune
Laszlo Bock, Chief Executive Officer, Humu
Michael C. Bush, Chief Executive Officer, Great Place to Work
Frequently Asked Questions: Great Place to Work's Best Workplaces Lists
Who is Great Place to Work?
Great Place to Work is the global authority on workplace culture, employee experience and the leadership behaviors proven to deliver market-leading revenue and increased innovation. We help companies around the world survey their employees, benchmark their results, identify gaps and improve their workplace culture. Ours is the only national recognition program based on a rigorous methodology and validated employee feedback.
Who's eligible for Great Place to Work's Best Workplaces lists?
In general, U.S. companies that:
Have at least 10 full- and/or part-time employees
Are Great Place to Work-Certified as of the list deadline
To become Certified, companies must survey their employees using our flagship assessment, the Trust Index©, and complete a Culture Brief.
Certain lists may require more employees (50+). Please contact us for specifics if you're interested in a particular list.
How are Best Workplaces selected?
We use our For All Model and Methodology to evaluate our pool of Great Place to Work-Certified companies. Top-performing companies are recognized as Best Workplaces.
What happens if I don't make the list?
First, rest assured, we keep results completely confidential. We never disclose the names of companies who participate in the process but do not get recognized. You have nothing to lose.
While it's disappointing not to be recognized for a list you're really interested in, going through the process is still extremely valuable.
You gain the benefits of employee feedback and can use our helpful reports and analytics to gain actionable insights about your business. We have Culture Coaches available if you'd like a little expert support along the way. And when you're ready, try again!
Overview
Salesforce, the global CRM leader, empowers companies to connect with their customers in a whole new way. The company works as a team to deliver success for customers while giving back to communities.
Countries Included in World's Best
What you should know
Salesforce demonstrates its commitment to being better for business, better for people, and better for the world in many ways, from how it welcomes people into the company to building green-friendly workspaces to giving back to the communities it serves.
New team members at Salesforce are given a warm welcome through various practices, including the New Hire Success Chatter Group. The online platform was created to help new hires get up to speed fast. They can post questions and receive answers from experts within the company. If a question goes unanswered for more than two hours, a helpdesk ticket is generated prompting a quick follow-up.
The company has a goal of running on 100% renewable energy in its quest to provide a healthy workspace for its people that limits its impact on the environment. It installed filtered water taps in all of its office taps, which provide cold, hot, and carbonated water. The company also provides all employees with their own bottle or cup, eliminating its monthly standing order of 5,000 bottles of still water. Employees have provided additional input on green initiatives, like its program that recycles batteries and printer cartridges.
Salesforce is dedicated to having a positive impact on the world through volunteer efforts like CoderDojo, a global movement of free, volunteer-led, community-based programing clubs for young people ages 7-17. Salesforce's UK team recently launched a CoderDojo in Kenya and it also recently held the first-ever dojo for the visually impaired, making sure that every child has the opportunity to learn how to code.
Get hired
Find out about open job opportunities at Salesforce on its career page.
"They really go above and beyond to make sure that each employee feels included and needed, and to make sure that we all have what we need to be successful. And the fact that they promote giving back to the community and encourage time away from work to do volunteer work is something I've never heard of anywhere else."
"There is a sense of inspiration that comes from the leadership taking strong positions on social issues and making volunteerism such a key part of our culture. This sustains us during the difficult times."
"Very committed to changing the communities around us with real hours invested, real money, and real dedication. I'd never seen or worked for an organization that truly put its substantial money where its mouth is for the betterment of others, until I came here and witnessed it firsthand."
Overview
Hilton is a leading global hospitality company, comprising more than 5,400 managed and franchised properties in 106 countries and territories. Hilton has a portfolio of 14 brands and an award-winning customer loyalty program, Hilton Honors.
Countries Included in World's Best
What you should know
Hilton focuses on taking care of the heart of its business – its people – through its Thrive@Hilton program, a partnership with Thrive Global. It focuses on caring for the whole person, mind, body, and soul, through programs dedicated to improving sleep, reducing stress, increasing mindfulness, and encouraging great work through innovation and professional development.

Another opportunity within the program is Thrive Sabbatical. Each year, 10 team members receive a four-week sabbatical with salary and benefits continuation, and a stipend of $5,000 to pursue a philanthropic project (Give a Dream) or achieve a personal goal (Live a Dream). This provides team members with the opportunity to give back to the community and enrich the lives of others through a philanthropic or volunteering activity of their choice.

The company provides opportunities for unemployed young people to enter the workforce, with a goal to help a million people reach their potential by 2019. The program is called Open Doors and it is designed to give young people job and life skills, and experience with the hospitality industry. Since 2012, Hilton has committed $7 million to its partnership with the International Foundation for Youth (IFY) to improve the wellbeing of young people around the world and tackle youth unemployment. .
Get hired
Find out about job opportunities at Hilton on its career page.
"We embody the hospitality that we show to our guests. This allows for a very friendly culture. Our leaders are approachable and accessible and someone you can relate to. For being almost a 100-year-old company, we act like a start-up fostering and nourishing new ideas and innovation and being quick to market with those ideas."
"This place is a great place to work because it allows you to be yourself and enjoy your time at work. Always a lighthearted feel that makes it stress free. I wake up excited to come to work because of my team."
"Our Hilton family has strong connections, and I love the access to be friends with people among so many cultures and backgrounds."