The 20th anniversary of the gold-standard list marks a turning point in corporate culture—the future will be defined by Great Places to Work For All.
March 9, 2017 (San Francisco) – "What was good enough to be 'great' 20 years ago is not good enough now." And "Great places to work have led the way in business over the past two decades, but Great Places to Work For All are going to lead the way for the next two decades."
These are the key takeaways as research and consulting firm Great Place to Work and Fortune release the 2017 Fortune 100 Best Companies to Work For®. This is the 20th anniversary of the list, which has set the gold standard in rankings of workplace culture.
Studies by Great Place to Work and other researchers have demonstrated that companies on the annual list have outpaced peers on a wide range of metrics, including growth, profitability and stock performance. But we've entered a new business era, where even the Best must improve to create a consistently great experience for everyone in the organization.
"The Best know they can't rest on their workplace laurels. The new, largely uncharted business territory is about developing every ounce of human potential, so that organizations can reach their full potential," says Michael C. Bush, CEO of Great Place to Work. "All companies—including the Best Workplaces—face the challenge of creating an outstanding culture for everyone, no matter who they are or what they do for the organization. They have to build a Great Place to Work For All."
Leading the 2017 ranking of the Fortune 100 Best Companies to Work For is Internet pioneer Google, which has held the #1 position for six straight years. Overall, the top 10 companies this year are these stand-out organizations:
| | |
| --- | --- |
| 1 | Google Inc. |
| 2 | Wegmans Food Markets, Inc. |
| 3 | The Boston Consulting Group, Inc. |
| 4 | Baird |
| 5 | Edward Jones |
| 6 | Genentech |
| 7 | ULTIMATE SOFTWARE |
| 8 | Salesforce |
| 9 | Acuity Insurance |
| 10 | Quicken Loans |
To see the entire list of the 2017 Fortune 100 Best Companies to Work For, click here.
Great Place to Work research shows that this year's list winners keep outperforming the stock market, beating industry rivals when it comes to talent retention and demonstrating higher levels of productivity than peers.
But Great Place to Work also found that, among all contenders to this year's 100 Best list, strong revenue growth is more closely correlated with an inclusive, consistently great workplace than to simply earning a place among the 100 Best. In particular, companies in the top quartile on what we call the Great Place to Work For All Score enjoy three times the revenue growth of companies in the bottom quartile.
The Great Place to Work For All Score is a composite measure of how inclusive a company is as well as how consistently employees rate their workplace on metrics related to trust, pride and camaraderie, regardless of who they are and what they do within their organization.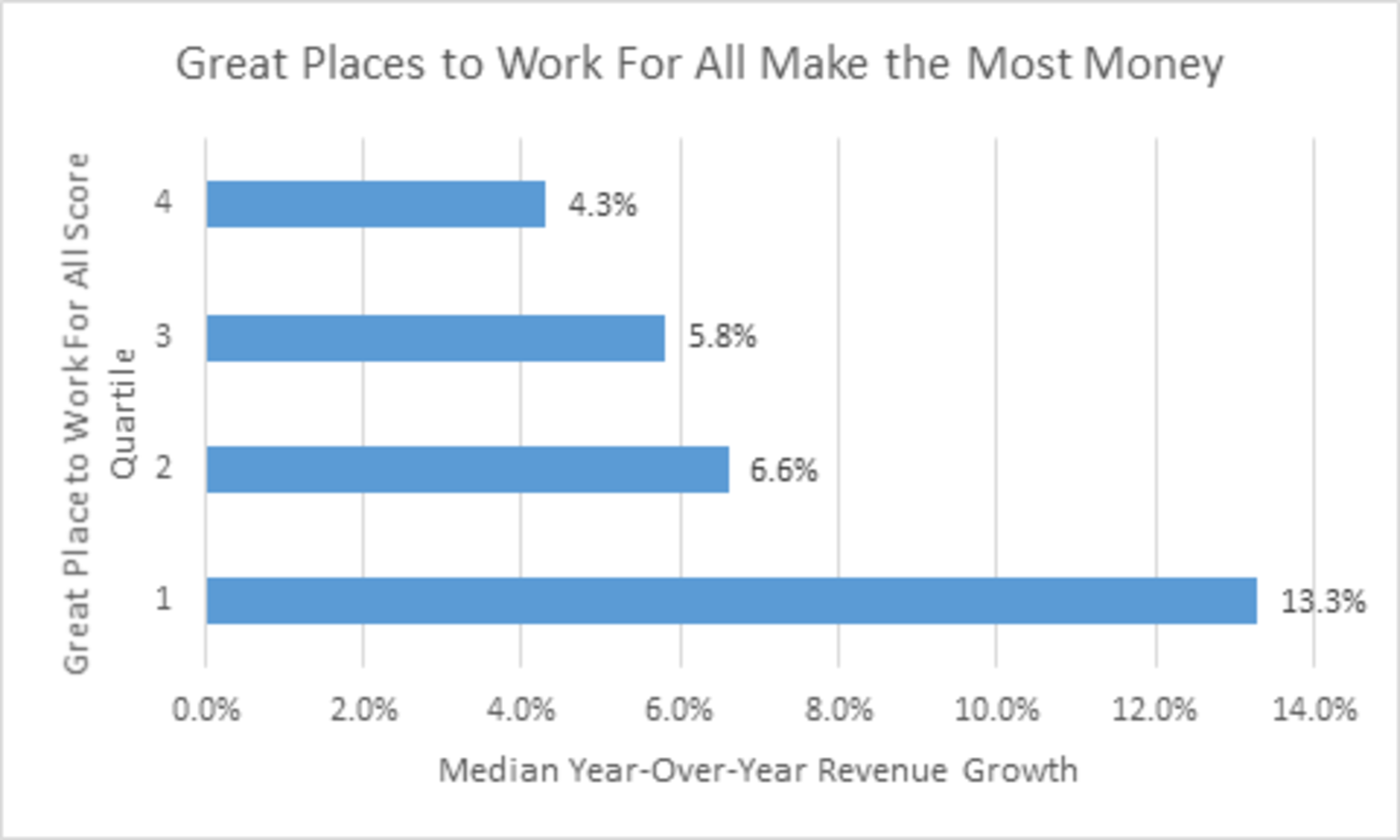 Source: Great Place to Work
"The 100 Best aren't perfect," says Bush. "These companies have a long way to go to achieve the diverse representation that is required to be inclusive. Our analysis finds that even at the Best Workplaces there can be major disparities between the experiences of executives and those on the front lines. Between full-time and part-time employees. Between men and women. Between whites and people of color."
The inconsistencies are not good for people or business. They amount to wasted human and business potential. If people are not feeling fully alive at work, they are not contributing their best ideas and performance to the organization.
The best workplaces are increasingly aware of this problem. "The Best are advancing into the new frontier of developing everyone's full potential," says Bush. "They are carefully benchmarking and measuring workforce gaps. And they are working to create Great Places to Work For All,'" Bush concluded.
Great Place to Work produced the annual Fortune 100 Best by reviewing more than 230,000 responses to the Trust Index Employee Survey©, which measures the level of trust workers feel towards leaders, the pride they take in their jobs and the camaraderie they experience with co-workers. The ranking also is based on an evaluation of company programs and practices, measured through Great Place to Work's Culture Audit© assessment tool.
***
In conjunction with the 2017 Fortune 100 Best Companies to Work For, Great Place to Work is publishing a report predicting the future of workplace culture. To download the report, click here. And to learn more about working at Great Place to Work-Certified™ companies visit GreatPlacetoWork.com/Reviews.
***
About The Fortune 100 Best Companies To Work For®
To identify the 100 Best Companies to Work For®, each year Fortune partners with Great Place to Work to conduct the most extensive employee survey in corporate America. The ranking is based on feedback from more than 232,000 employees at Great Place to Work–Certified™ companies with more than 1,000 employees.

Winning a spot on this list indicates the company has distinguished itself from peers by creating a great place to work for employees – measured and ranked through our analysis of the results of our Trust Index© survey and Culture Audit© questionnaire.

Through the Trust Index©, employees anonymously assess their workplace, including the honesty and quality of communication by managers, degree of support for employees' personal and professional lives and the authenticity of relationships with colleagues. Results from the survey are highly reliable, having a 95% confidence level and a margin of error of 5% or less. Companies' results on the Trust Index© survey are compared to peer organizations of like size and complexity. The Culture Audit© includes detailed questions about benefits, programs and practices.
To be considered for our Best Workplaces lists, companies must become Great Place to Work-Certified™. Details are available at https://www.greatplacetowork.com/certification.
---