Camaraderie, collaboration and trust foster inventive, stable teams
Of all realms of the business world, advertising likely enjoys the reputation for being the most fun. It's full of people passionate about the industry, enamored with the creative process and proud of their ability to boost the business of their clients. Below the surface, though, lie significant human resources challenges. Despite a popular image sprinkled with free cocktails to woo clients or brainstorming sessions over a Foosball table, a
recent study
reported that advertising agencies lost 25 percent of their talent last year. Not only is demand high for seasoned marketing professionals, the research suggests that those who leave the field often report dissatisfaction with their management and lackluster opportunities for internal advancement.
With yearly turnover averaging just 12.5 percent, our recently announced list of the Best Workplaces in Advertising & Marketing can offer some meaningful insight into keeping these professionals happy. At the same time, three traits they have in common enhance cross-functional collaboration and the innovative thinking that businesses in any industry need to succeed:
1. The Best Workplaces build friendships.
Ninety-five percent of employees at companies on the list report a caring work environment, helped in no small part by the ample chances they have to get to know one another. Standup comedy classes, for example, have become a tradition for teams at Peppercomm. Likewise, Fluent treats its people to monthly celebrations that have included sunset sailing, Oktoberfest libations and bubble soccer. Successful firms don't pay for these types of activities just to endear their employees to the organization. These investments pay off through the business ideas and productive relationships created when people can connect outside their formal roles at work.
2. Their people work well together.
In fact, nearly all employees surveyed at the Best Workplaces in Advertising & Marketing report that they can count on their peers to cooperate. More than nine in 10 also say their organizations avoid the office politics that can destroy collaboration, creative or otherwise.
Giving employees a stake in the company's overall success is one way to create this level of unity, asCommunications Strategy Group demonstrates with profit sharing tied to individual practice areas. The freedom to try new things without fear of failure is another trait of the Best Workplaces that helps encourage trust among colleagues. At Horizon Media, teams can petition for start-up funding, development resources and dedicated time during the workweek to pursue ideas as part of an in-house business incubator. Overall, one employee characterizes the firm this way: "New York agencies are often assumed to have a certain type of office culture, where the employees are always stressed, with a fair amount of competition between them. At Horizon, I feel like absolutely none of that exists."
3. They trust their leaders.
When it comes to employees feeling their leaders are trustworthy, survey results at the Best Workplaces speak for themselves:
90 percent of their employees say they can count on their leaders to handle promotions fairly.
85 percent say they trust that their organization will turn to layoffs only as a last resort.
89 percent say management keeps them informed about important issues and changes.
99 percent agree that their managers are good at assigning and coordinating people.
In turn, these employees bring their best to work every day. Fully 96 percent of staffers at the leading companies say their peers are willing to give extra to get the job done. In an industry that depends on creative collaboration, the Best Workplaces prove yet again that camaraderie and trust go a long way.
What about you and your workplace? What do you do in your company to inspire creativity?
Ed Frauenheim and Kim Peters are Director of Research and Content and Executive Vice President, respectively, at Great Place to Work.
Explore all of our Best Workplaces lists here.
Join the "Pledge 1%" Movement
Are you going to the 2016 Great Place to Work Conference in San Diego? Salesforce is excited to plan and sponsor a new event that enables all conference-goers to help children in need.
This year, in partnership with nonprofit Project Night Night, Salesforce and Great Place to Work® employees will lead conference attendees in packing "Night Night Packages" for San Diego's homeless children.
Join us on Thursday, April 7, and Friday, April 8, at the Great Place to Work® Conference (in the Harbor Foyer) to make a difference in the lives of disadvantaged children. Get hands-on and help us prepare 1,500 tote bags (each with a new security blanket, an age-appropriate children's book, and a stuffed animal) for children at the local shelters in our conference host city of San Diego. By providing these comforting objects, we will be helping to reduce trauma and advance the emotional and cognitive well-being of these disadvantaged children.
The Pledge 1% Movement at Salesforce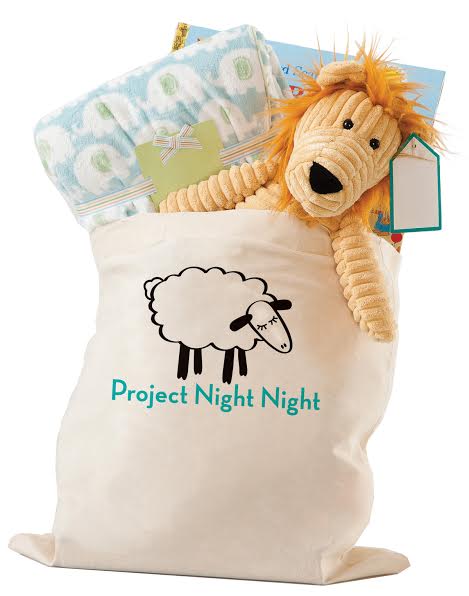 During the activity, you'll also have a chance to learn more about a philanthropic program that is close to our hearts -- the Pledge 1% movement. When Salesforce was founded, our leaders wanted employees to feel a purpose beyond profit, so we committed to giving 1% of our product, 1% of our equity, and 1% of our employees' time to serve our communities around the world.
Since creating that model, many other Great Places to Work, including Atlassian, Google and Cadence, have adopted all or a portion of the 1-1-1 model. We believe philanthropy is a crucial part of making a "Great Place to Work," and Pledge 1% is an effective method for weaving it into the fabric of your business model.
We look forward to seeing you at the conference and to giving back with you. Together, we can make a difference in the city that is welcoming us for the conference, San Diego.
Not going to the Great Place to Work® Conference, but inspired to see what your 1% can do for your company, your community and our world? Take the pledge today to join a network of like-minded peers and begin your journey to building a culture of giving back at www.pledge1percent.org.
Jennifer Johnston is Senior Director of Global Employer Branding at Salesforce.
How Build-A-Bear Workshop Helped Employees See Their Company's Future
A big takeaway from this year's Great Place to Work Conference was the idea that organizations have one brand. It's not about having a consumer brand and an employment brand. Organizations are using a singular brand to appeal to customers, candidates, and employees.
But that also means that organizations need to be very conscious of their brand identity. Companies have to think about how their brand and business model are aligned. When the organization makes changes to their business model, they need to examine how that change impacts their brand.
Build-A-Bear Workshop was facing a challenge
Build-A-Bear Workshop was founded in St. Louis, Missouri in 1997 and has been named to the Fortune 100 Best Companies to Work For® list eight years in a row. With over 400 stores worldwide, guests can create customizable furry friends. Build-A-Bear has a fun, creative, supportive brand that kids love and parents trust. The company is all about making memories.
The Great Recession hit the company hard. In 2012, the company reported a $49M loss. The board of directors knew that change was necessary. To lead that change, the company hired a new CEO, Sharon Price John. She has over 20-years of retail experience with children's brands including Hasbro and Mattel. During the conference, Sharon told the crowd how the Build-A-Bear company was able to successfully turn around their situation.
Change works when the team stays focused
It takes the entire organization to change a business model. Sharon knew it was key to Build-A-Bear's success to get everyone's support and buy-in. She shared two key actions that helped keep the effort focused:
"Drive to the Dollar" was a bonus program focused on making $1. (That's not a typo. The goal was one dollar.) Build-A-Bear had not seen a profitable quarter for several quarters. Sharon asked the organization to work toward achieving $1 in profit. And if they did, everyone would get a bonus. It was hard, but the request created a common goal for employees. In fact, Sharon mentioned that she would hear employees telling each other, "Don't buy that. We can do this instead. Don't spend my bonus!"
The GUMBY Effect was for those times when people started to revert to past practice. We all know how tempting it can be to go back to our old habits. In a turnaround situation, it was important for everyone to embrace the new way of doing things. Sharon had a GUMBY costume handy for those times when the company needed to remember the value of flexibility and results.
While these programs were effective, Sharon said the real catalysts for change were the employees. We know when it comes to change and company turnarounds, it's about the well-worn but effective analogy of "getting people on the bus." Sharon admitted that some people weren't able to get on board with the changes and self-selected out. Build-A-Bear took the philosophy that if you're going to be on the bus, then everyone should enjoy the ride. The company worked hard to make sure employees could be happy with the change.
Build on the company's existing brand for success
Build-A-Bear's journey to tweak the business model actually strengthened the brand. Sharon told me when she spoke with employees about the vision of the company, she talked about it in the context of "more." As in, this is who we are. And we can be more.
Sometimes organizations forget that. Changing the company doesn't have to be focused on the past being bad. Let's face it - everyone knew that the company was losing money. There was no need to spend time focused on it. The focus was on being more than they are today. More in terms of the business model and more in terms of the brand.
Any company can make their brand more than it is today. Companies don't have to wait until they are facing a dire situation to employ a "more" strategy. Today, Build-A-Bear Workshop is a profitable company and they can use the lessons learned to continue to be more every day.
Brands, like business models, are constantly being tweaked to reflect the changing face of business. As Sharon says, the key is getting employees to "see the vision and see how we can be more."
4 Teambuilding Traits of the Best Workplaces in Finance
In an industry typically associated with competitive personalities and bonus-driven cultures, the terms "friendly", "caring", and "cooperative" may seem out of place. However, even in the most competitive of settings, navigating complex projects and running a business still requires the work of a team, and cooperation is essential to strong performance.
At this year's 30 Best Workplaces in Financial Services & Insurance—where the average annual revenue per employee is an astounding $563,940—cooperation among employees goes hand-in-hand with business success. As we look to these companies for valuable insights for inspiring collaboration in this competitive field, we find:
They're Collegial

Among the 41,000-plus finance industry employees surveyed by Great Place to Work, those who described their organization as friendly were 12 times more likely to report consistent cooperationat the office. And, at the 30 Best Workplaces in this industry:

More than nine in ten employees describe their organization as caring
A whopping 97% said they can count on their colleagues to cooperate

As one surveyed co-worker put it, "I feel like all employees are one unified team with the same goals and focus in mind."
They Encourage Trust

Employee errors can cause real consequences for a business that handles other people's money. At the Best Workplaces, though, team members still feel they can make decisions in good faith without fearing for their livelihoods if something goes awry.

On average, 93% of employees at the Best Workplaces in Financial Services & Insurance said their managers recognize that honest mistakes are a part of doing business. Employee surveys also confirm these leading firms were substantially more likely than their peers to minimize office politics, handle promotions fairly, and avoid management favoritism. All of these traits encourage a high-trust workplace where collaboration and ambition can easily co-exist.

They Inspire Loyalty

Employees aren't the only ones who benefit from a supportive, high-trust workplace. Their organizations also see returns in the form of retention and commitment. Turnover among the Best Workplaces in Financial Services & Insurance is about 8%, which is roughly half the rate among all financial services firms surveyed by Great Place to Work.

At the same time, more than nine in ten of their employees said co-workers are willing to give extra to get the job done. What's more, these motivated colleagues don't just work hard for their own sake – 96% of them said they believe "We're all in this together."

Leaders Set the Stage for Collaboration

At the Best Workplaces, 90% of employees said their leaders involve people in decisions that affect their jobs; and 80% said their leaders actively seek out suggestions and ideas. ACUITY Insurance, for example, reinforces the value it places on honest discussion through its "Lunch with an Officer" program. Every few months, co-workers at every level have a chance to pitch ideas and have their concerns heard by leaders overseeing different parts of the company. In fact, someone who works at ACUITY will likely have had the chance to dine with the entire executive team by the time he or she has been employed there for two years.

As one employee from a winning company shared: "I enjoy the overall positive atmosphere of the organization's culture as a whole. The firm encourages associates to work as a team to achieve their goals, instead of the typical boss-employee relationship."
Nice Guys Don't Have to Finish Last
These findings demonstrate that even in a notoriously cutthroat industry, employees can have a positive experience of the workplace marked by a strong sense of friendliness, cooperation, and care. That said, we are also conditioned to believe that being nice is akin to being vulnerable, and thus is a threat to the well-being of a business. However, given Financial Services is currently the least-trusted sector in the world, it may be time to re-examine the status quo as this industry struggles to regain the public's confidence. Adopting the cooperative and trust-based practices of these successful Best Workplaces could be your firm's next worthy venture.
Millennials, Gen Xers and Baby Boomers all are looking for a company they can be proud of, a sense of community with their colleagues, and honest, ethical leaders
Who says Millennials have no loyalty? Or that Gen Xers are deeply cynical?
We just produced lists of the Best Workplaces for Millennials, Gen X and Baby Boomers in partnership with Fortune. And our research, which involved surveying more than 230,000 employees at about 620 organizations, challenges stereotypes about these generations.
For example, Millennials are often portrayed as promiscuous job-hoppers. But our data suggests that when Millennials' expectations of an excellent company culture are met, they are more than willing to stay. Millennials who feel they're at a great workplace are 25 times more likely to want to stay with their company for a long time than Millennials who don't experience a great workplace.
And while some observers see the multigenerational workplace as a complicated headache to manage, we discovered that employees of all ages are looking for similar things in a great culture: a company they can be proud of, a sense of community with their colleagues, and honest, ethical leaders.
"Executives and management have become very transparent with our current state and our future, as well as detailing areas of our finance, benefits, and how our company operates," says one employee of Insomniac Games, a video game maker that earned a spot on the 100 Best Workplaces for Millennials list. "It's great to have a very direct line of communication between employees and higher management."
Pride, camaraderie and trust in leaders have remained bedrock features of a great workplace from the employee viewpoint since we began studying the topic more than 30 years ago. And when companies build a great culture for employees of all ages, they enjoy business advantages in areas including productivity and talent retention. Employees' willingness to be brand ambassadors for their organization—an important part of brand strategies given that the public trusts peers and employees over CEOs—also increases dramatically when staffers experience a great workplace. And this is true no matter whether those employees are 20-, 40- or 60-somethings.

When it comes to turnover, the benefit of a great workplace is even more striking. And again, the advantage can be seen across the generations.

To underscore the willingness of young employees to commit to the right company, consider a comment we heard from a Millennial employee from software company Salesforce—a Best Workplace for Millennials. "There are so many different career paths you can take at Salesforce that the journey does not have to end with one role, it is incredible," the employee said. "I am not even 30 yet and I know that Salesforce is where I want to retire!"
"There's more loyalty with Millennials than a lot of people think," says Hannah Jones, a consultant at Great Place to Work."
Another discovery we made contradicts a stereotype of Gen X. This sandwich generation is sometimes labeled cynical. But our research found that Gen Xers are hungry for purpose—something more typically said of younger employees. Gen Xers are 7X more likely to look forward to coming to work when they feel their job is not "just a job" but has special meaning.
One of the ways Kimpton Hotels & Restaurants makes work meaningful for Gen Xers and other staffers is by showing love—and money—to the kids of employees. Kimpton, which made the lists of the Best Workplaces for both Gen Xers and Millennials, gives all kids of hourly employees who earn a spot on their school honor roll a $25 gift certificate and a personal note of congratulations from CEO Mike DeFrino.
Employees of all ages care about the business ethics of their bosses. Houston-based homebuilder David Weekley Homes, a Best Workplace for each of the three generations, is among the companies that gets this. "Integrity is huge for David Weekley Homes," one Baby Boomer employee of the firm told us. "We do a great job of NOT over-promising and then under-delivering. So many other large companies simply look at the bottom line. We are concerned with the long view."
Another striking finding from our research on the Best Workplaces for different generations has to do with employee motivation. Companies spend much of their energy figuring out financial incentives to spur performance. But we found kindness in the workplace is a better bet.
"There's what might be called an 'ROI on Niceness,'" says Michael C. Bush, CEO of Great Place to Work. "Employees are more likely to give extra on the job when their workplaces are cooperative, caring, friendly and welcoming. To be sure, companies should not tolerate 'cultures of comfort,' where employees aren't held to a high standard. But the 'soft' stuff of good relationships comes with the hard-nosed business advantage of employees working hard."
Kindness is something people want to experience throughout their lifetimes. So it's not surprising that a friendly, caring, inclusive work environment prompts extra effort on the part of Millennials, Gen Xers and Boomers.
Yet another finding from our research points to the generations having much in common when it comes to great workplaces. When we examined our Trust Index employee survey results for Gen X and Baby Boomer employees at the 100 Best Workplaces for Millennials, we discovered that all the generations were thriving in those companies. Gen X employees' experiences were, on average, as positive as those of their Millennial colleagues. And Baby Boomers rated the workplace slightly better than their Millennial co-workers.
That may have something to do with the way Millennials have raised the bar for company cultures generally. This generation, in demanding more meaning, community, balance and transparency in their work lives, appears to be changing companies to the benefit of Gen Xers and Baby Boomers as well. "It might be that the things companies are doing to attract Millennials are attractive to everyone," Jones says. "There's a dialog going on around this generation that didn't go on before."
That new dialog, though, is about age-old features of a great workplace. About an environment where people can feel good about what they do, enjoy their colleagues and trust their leaders.
And in that sense, the anxiety you sometimes hear about how complex it is to manage a multigenerational workplace is unnecessary. There may be three generations in organizations today. But the strategy for handling Millennials, Gen Xers and Baby Boomers is not terribly complicated: trust, pride and camaraderie will bring them together in a great, high-performing workplace.
Learn how Baptist Health South Florida built a high-quality internal leadership coaching practice to sustain its great workplace culture
Baptist Health South Florida is an amazing organization. As South Florida's premier healthcare provider, it's the community's go-to place for health services. It's also a highly regarded employer. The 15,000-plus employee organization has been named sixteen times as one of the Fortune 100 Best Companies to Work For in America. It has been on Working Mother's list of best workplaces for so long that it has earned a spot in the magazine's Hall of Fame.
Leadership at Baptist Health
Baptist Health knows that the secret to sustaining a great workplace culture lies in the quality of its leaders. "Leaders", as the term is used at Baptist Health, means anyone who has a direct report. Although Baptist offers the "perks" you'd expect to find at a best company, the organization's senior executives know that delivering an excellent employee experience can't be accomplished solely through innovative benefits and competitive salaries. Engaged, happy employees work on teams led by leaders who listen, care and are attentive to their needs.
Leadership development has long been an important component of Baptist Health's human resources offerings. Many educational programs are offered virtually or live. Over the past two years, however, Baptist Health has been quietly creating and implementing a different and powerful way to support its focus on great leadership. It's called the Baptist Health Internal Leadership Coaching Practice.
Leadership Coaching
Coaching is an ideal way to make any leader even better. By partnering with a coach who has received appropriate coach-specific training, a leader can expand his or her capacity for strategic thinking, develop personalized approaches to capitalize on strengths and attain stretch goals. To get the most out of coaching, it's important to work with a coach who knows what coaching is and is equipped to deliver it. Although it often falls within the purview of human resources, effective coaching requires proficiency with a distinct set of skills. HR is, for example, a "telling" function, providing guidance and advice for leaders and employees. Coaching, on the other hand, is an inquisitive process, where the coach remains curious and asks key questions to evoke insight. Great coaches understand that the best solutions and strategies are unique to the individual being coached. They also know that coaching skills are learned and mastered through coach-specific training and ongoing practice.
Baptist Health's Approach to Leadership Coaching
What's all this got to do with Baptist? As the organization began to integrate coaching into its leadership development offerings, one thing became very clear: There were many different interpretations of the term "coaching". Baptist's team of OD practitioners each had his or her own approach to coaching, as did the handful of external coaches engaged by the organization. As leadership coaching expanded within Baptist Health, it became apparent that elevating the practice, ensuring a consistent approach and coaching with organizational culture in mind had to be incorporated.
Baptist decided to establish its own coach education program, aligned with the core coaching competencies of the International Coach Federation (ICF). By doing so, Baptist was able create to a cadre of skilled coaches who know the organization inside out, understand its mission and value its culture. Initially, the vision was simply to equip the OD team with knowledge of the elements of true coaching. In time, the program was expanded to become a comprehensive internal coach training program that delivers foundational coaching knowledge in a manner consistent with Baptist Health's culture. Late in 2015, Baptist's internal coaching program achieved an important milestone when ICF designated the coach training curriculum as a 64.25 hour "Approved Coach Specific Training Hours (ACSTH)" program, one of just a handful of employer-created approved programs.
Baptist's internal coaches meet monthly for best practice sharing and focused learning to expand their coaching knowledge. Specialized workshops, such as Facilitating Group Coaching, are also offered to the team.
Significant Cost Saving
Developing its own coach training program and leveraging the skills of its trained internal coaches enabled Baptist to significantly reduce the cost of providing high-quality coaching to its leaders. The organization estimates that it has saved nearly $20,000 over the cost of securing external coach training for the OD team and nearly $150,000 in just 6 months, by offering internal versus external coaches to support its high potential leadership talent.
As important as cost saving is, in the end, it's all about culture. Baptist Health's internal coaching practice helps to assure that the organization's leaders are the best they can be, and in turn, that its unique and prized culture will continue to thrive.
Lillian J. LeBlanc, SPHR, PCC is an Executive Leadership Development Coach at Baptist Health South Florida.


Data Shows Employees are Less Likely to Experience Fairness at Larger Companies
A valuable trait that small organizations have over large ones is that by virtue of their size, it's easier to build and foster trust (think more transparency, a tighter-knit community, less separation between hierarchical levels, etc.). And because trust is the defining component of great workplaces, this advantage is noteworthy.
We can see this phenomenon play out in the companies on last year's 50 Best Small & Medium Workplaces list (25-999 employees), where the most notable difference between these companies and their larger counterparts at last year's Fortune 100 Best Companies to Work For (1000+ employees) was the experience of a fair workplace – a critical element of trust.
Among the largest differences favoring small and medium companies were for the Trust Index© Employee Survey statements:
Promotions go to those who best deserve them (an average 87% of employees across Small & Medium Workplaces believe this is true at their company, versus 75% at the larger 100 Best)
People avoid politicking and backstabbing as ways to get things done (89% SMW vs. 78% 100 Best)
Managers avoid playing favorites (83% SMW vs. 73% 100 Best)
I receive a fair share of the profits made by this organization. (83% SMW vs. 73% 100 Best)
In short, among even the best workplaces, a smaller company is more likely to be experienced as a fair one.
As described in the Great Place to Work® Trust Model©, fairness is a key component of trust. At its heart, fairness addresses whether employees believe they are operating on a level playing field, and at Great Place to Work® we assess several key components of fairness:
Equity (fair pay and profit sharing; equal opportunities; fair treatment across job roles)
Impartiality (fair promotions; lack of favoritism)
Justice (fair treatment regardless of personal characteristics; feeling one has the right to challenge unfair decisions).
Perception vs. Reality
The difficult part about perceptions of unfair treatment is that they are often just that: perceptions. And not just any perceptions, but ones that are attached to deeply rooted feelings of self-worth within the human psyche.
Take favoritism as an example; this is an area of fairness that is very difficult to manage. Not only does it rely on each employee's own perception of complex workplace dynamics, but it is nearly impossible for managers to make every interaction with employees equal at all times. Couple this with the fact that management decisions around promotions and other personnel issues cannot always be transparent, and it becomes easy for perception to become reality – and for the experience of fairness to plummet.
Best Practices for Promoting Fairness
It's clear from our survey results that the Best Small & Medium Workplaces are able to foster a strong sense of fairness despite these challenges. After all, it's worth the effort: there's nothing more demoralizing than a sense of injustice at work. So, how do they do it? Through programs and practices that strive to promote:
1. Fair Profit Sharing
Example: Best Medium-Sized Workplace Centro employs a progressive compensation policy and a special team dedicated to Total Rewards, specifically to compensation. They look at every single every job, every year, and use compensation data from acclaimed compensation surveys in their niche industry to ensure fair pay. Fairness is not based on subjectivity, what projects employees have worked on, or how long they have been at the company, but based on the market data and what each individual's marketability is within a certain range.
2. Fairness in Promotions and Employee Development
Example: Best Small Workplace Insomniac Games created the "Career Path Matrix", which builds on an established career path document to help employees understand the requirements of each position or ladder in their career. The Career Path Matrix is an entire grid for each job family that not only provides basic responsibilities and educational criteria but outlines the key differentiating factors necessary to take the next step in a career path. This enables employees to work with their manager and with a career coach in HR to define a goal plan/path to promotion that is clear, measurable and attainable.
3. Transparency in Communication:
Example: After results from their engagement survey at Best Medium Workplace American Transmission Company identified the need for further clarification about compensation and rewards, their leadership team conducted focus groups to identify what employees did not understand about the process, giving employees a voice in the solution. Sixty employees in different roles were selected for the focus groups and a task force of supervisors was formed to review the programs and establish a plan going forward. Feedback from the focus groups was used inform training sessions about compensation and performance, and evaluate ATC's rewards and recognition programs.
Along with the other two pillars of trust: Leadership Credibility and Respect for Employees, these sorts of practices that promote a sense of fairness help to combat perceptions of favoritism and the need to politick. Most importantly, they generate a positive overall experience of the workplace among all employees.
And at the end of the day, that's what matters the most.
Is your small- or medium-sized business a Great Place to Work®? Apply today for the 2016 Best Small & Medium Workplaces list! Application deadline is June 18.
The 30 Best Workplaces to Retire From have lower turnover and a more committed, collaborative workforce
Roughly a third of U.S. households over 55 have no retirement savings. Among those that do, the median nest egg for people 55 to 64 is $104,000--enough to buy an annuity paying $310 per month. That's scary news for working Americans heading toward their golden years. But it's a golden opportunity for businesses.
Indeed, some companies are doing right by workers eyeing retirement and gaining competitive advantages along the way. We have compiled a list of them: the 30 Best Workplaces to Retire From. This new ranking by our consulting firm, Great Place to Work Institute, and Fortune highlights companies that provide generous retirement programs, equitable pay and even-handed treatment of employees, regardless of age. These workplaces, in turn, enjoy lower turnover, as well as a more committed, collaborative workforce.
As Great Place to Work Consulting Partner Jason Slusher notes, real problems arise when you lose team members early as they approach the end of their careers. Companies can face substantial hurdles to succession planning when their ranks of highly experienced employees diminish. "They truly are the experts at what they do," he says, and retaining senior employees becomes essential to passing on that institutional knowledge to the next generation of leaders.
A "Silver Tsunami" is well underway, according to the Society for Human Resource Management. The cohort of workers 45 to 64 is growing faster than any other generation, and the economy is already grappling with two retirements for every new entrant in the workforce. The U.S. could face a skilled labor shortage of 20 million employees over the next two decades, giving business leaders all the more reason to think beyond modest 401(k) plans and retirement seminars.
The Best Workplaces to Retire From distinguish themselves with organizational cultures that employees see as collegial and fair. For example, more than 95 percent of people over the age of 52 at the Best Workplaces describe their companies as friendly. "They've established those relationships, their network," Slusher says. "So they're obviously proud to be there, and they've been there a long time."
Compared to peer companies certified by Great Place to Work, older team members at the winning companies were more likely to say promotions are handled equitably and managers involve people in decisions that affect their jobs. Winning workplaces were also more likely to direct career opportunities inward, with an internal promotion rate of 35 percent. In other words, these corporate cultures demonstrate deep respect for the knowledge and experience of veteran employees.
Leading organizations also offer competitive benefits to hold on to experienced team members. Twelve of the 30 Best Workplaces—40 percent—offer a defined-benefit pension. By comparison, just 18 percent of private employers surveyed by the Labor Department offer defined-benefit pensions. Additionally, all of the winners offer a 401(k) plan, and more than half match employee contributions dollar-for-dollar. What's more, these organizations take practical measures to ease the transition out of the workforce, such as phased retirement programs, financial planning services and post-employment health benefits.
The investments come with a return: The Best Workplaces to Retire From report turnover that averages 7.2 percent, about a fifth lower than their peers considered for the list. The winners also score high marks on survey questions related to employee loyalty, with more than nine in 10 team members over 52 saying they're proud of what they accomplish and that they want to stay with their employers for a long time. In addition, employees overall at The Best Workplaces to Retire From are 10 percent more likely to report they can count on peers to cooperate—an important feature of high-performing, innovative organizations.
It's a performance-review cliche to ask, "Where do you see yourself in five years?" But rarely do companies bother asking what their people will be doing two decades from now. Given the country's sparse retirement savings, demographic trends and the growing importance of knowledge transfer, maybe they should.
Competitive Advantages in Attracting and Retaining Talent
The landscape of business is changing. Everyone in an HR or people function knows it. By 2020, the U.S. will have 1.5 million too few workers with college or graduate degrees and fifty-six percent of U.S. employers believe this talent shortage has a medium to high impact on their ability to meet client needs. On top of the already lean pool, more than 2.7 million people in the U.S. are voluntarily quitting their jobs each month, and this number is steadily rising—making the prospect of keeping talent dimmer as well.
The urgency of the need to attract and retain talent is not lost on many, and it is an important priority for all organizations. However, for some smaller companies the prospects may seem even more daunting.
According to a study of HR departments at the best companies to work for completed by Great Place to Work®, the total HR Function head count by employee size was reported as:
With numbers like these, the task for small business can look overwhelming. Your team feels too small to tackle many of your organizational challenges, let alone spend enough time and energy recruiting new employees. It likely feels as if you will never be able to offer the same perks as larger companies, and therefore never gain the traction you need to get your name out there.
From this perspective the competition looks fierce, and the outlook pretty bleak. But there are a number of other ways that smaller companies compete with and surpass large organizations when it comes to talent recruitment. Leveraging these strengths can help organizations find and keep the talent they need to thrive, regardless of their size.
Advantages Among Small and Medium Sized Organizations
One challenge smaller companies face is finding ways to make their often-times lesser known brand a more alluring choice than the familiarity and prestige of big company brands. They have to deal with the fact that they may not always be able to offer the highest pay, or valuable stock options. And yet, when it comes to attracting great people, they are genuine contenders. Here are some of the ways smaller companies can use their size to their advantage in the war for talent:
Offer Robust Opportunities for Growth and Development – Smaller companies inherently provide more visibility for individual employees. When employees are closer to their leaders they have better opportunities for formal and informal learning and development that further their careers. To this end, smaller companies are more likely to promote from within and also to provide more hours of training and development, keeping talent invested in the organization.
Highlight the Impact of Individual Employees – We know that a sense of purpose is critical to employee's satisfaction with their work and experience at a great workplace. Smaller companies have the advantage of more effectively connecting individual employees to the impact they are making in the organization. This helps to drive and sustain that important sense of purpose. Smaller groups and teams make it easier to engage in more meaningful and personalized recognition of achievements. We measure employee pride in our Trust Index survey with a variety of statements, one of which is "My work has special meaning, it is more than 'just a job'." At the 50 Best Small and Medium Companies 90% of employees report this is always or almost always true in their jobs, whereas only 85% of the 100 Best Companies (over 1,000 employees) say this is true in their work experience.
Make a Powerful First Impression – When organizations are smaller it is easier to personally connect with new employees right from the beginning. As opposed to connecting new hires to remote teammates, and touring them around large and impersonal offices, smaller companies have the opportunity to engage face to face in a significant way that makes the employee feel connected to the company.

Leveraging clear communication and personal connection, smaller organizations provide a positive first impression that has long lasting effects on employees. We assess the onboarding experience by asking employees whether or not they felt welcomed when they joined the organization. At the 50 Best Small and Medium Companies 97% of employees responded positively to this statement, while employees at the 100 Best reported they experienced this slightly less, scoring a 95%.
Treat Your Unique Culture as a Competitive Advantage – Smaller organizations have a distinct advantage when it comes to prioritizing culture. Larger companies can have a difficult time keeping culture at the forefront of their work when pressures mount and the pace picks up. Companies that hire in large groups are less likely to hire those that are a true culture fit, introducing potential detractors into their culture. In addition to hiring, larger companies have a harder time finding and addressing behavior that runs counter to their culture, whereas smaller companies are more effective at keeping the pulse of the whole organization and responding to issues before significant culture damage occurs.
The Best Small and Medium Sized Workplaces
Organizations on the 50 Best Small and Medium Companies to Work For list face many challenges, like all small companies do. Regardless of challenge, these companies have been successful not only in attracting the talent they need to grow, but also in developing the culture they need to retain employees and be truly competitive with organizations of all sizes.
Does your company have what it takes to become a Best Small and Medium Workplace? Register here before June 18th to find out!
Hannah Elise Jones is an analyst at research and consulting firm Great Place to Work®.
The secret to attracting and holding onto the world's best talent isn't about the perks—it's about relationships.
The one thing absolutely everyone knows about working at Google is that you get free, gourmet-quality food all day long. Stuffed quail, lavender pecan cornbread, aloo gobi, fresh fruits and vegetables, Gruyère mac and cheese—just go get it. Many know also that Google provides free gyms, free massages, and generous parental leave, plus cash bonuses when a baby is born; dogs are welcome. Beautiful offices are about to be upgraded in a spectacular planned new headquarters in Mountain View, Calif., the New York Times reported in late February (though details on the campus were sketchy at presstime). So when people see that Google GOOG -0.73% is No. 1 on Fortune's new ranking of America's Best Companies to Work For—for the sixth time—they understandably figure the reason must be those incredible employee perks. But that isn't why. Knockout perks aren't the reason any company makes this list. The essence of a great workplace is just that: an essence, an indispensable quality that determines its character.
Understanding that quality—understanding it well enough to build a corporate organization around it—has long been a goal of great companies. And it's getting rapidly more valuable too. That's because as the economy changes, employers who don't know the secret will be at a deepening disadvantage to those who do.
Which brings us back to those famous Google perks. The truth is, while the most sought-after talent doesn't generally flock to a company because of certain benefits and giveaways (nice as they may be), the perks themselves can teach us about the company's essence—why, that is, some employers are such super-powerful magnets for the world's best employees year after year. Listen to what an ex-Googler told Quora.com about Google's nonstop free buffet: It "helps me build relationships with my colleagues."
Hold on—food helps build relationships? It does when it's used right. Data-obsessed Google measures the length of the cafeteria lines to make sure people have to wait a while (optimally three to four minutes) and have time to talk. It makes people sit at long tables, where they're likelier to be next to or across from someone they don't know, and it puts those tables a little too close together so you might hit someone when you push your chair back and thus meet someone new—the Google bump, employees call it. And now we begin to see the real reason Google offers all that fantastic free fare: to make sure workers will come to the cafeterias, where they'll start and strengthen personal relationships.
That is, the food is just a tool for reaching a goal, and the goal is strong, numerous, rewarding personal relationships. Success obviously requires more than free food, but we're glimpsing the explanation of workplace greatness. That same Googler said, "The best perk of working at Google is working at Google," and the No. 1 reason he gave was the people: "We are surrounded by smart, driven people who provide the best environment for learning I've ever experienced." (For more on the company's people strategy, see "Google's 10 Things to Transform Your Team and Your Workplace" in this issue.)
Here's the simple secret of every great place to work: It's personal—not perkonal. It's relationship-based, not transaction-based. Astoundingly, many employers still don't get that, though it was the central insight of Robert Levering and Milton Moskowitz when they assembled the first 100 Best list in the early 1980s. (For their insights into this year's ranking, see their introduction to the list.) "The key to creating a great workplace," they said, "was not a prescriptive set of employee benefits, programs, and practices, but the building of high-quality relationships in the workplace." Reaching far deeper into people than corporate benefits and cool offices ever can, those relationships are why some workers love their employers and hate to leave and why job applicants will crawl over broken glass to work at those places.
In the past, of course, plenty of non-great places to work have managed to succeed without mastering this understanding. And many, no doubt, will continue to thrive. But all evidence suggests that this track is about to get much harder. Big, deep structural changes in the economy are likely to boost the advantages that great employers already enjoy in the marketplace and penalize even more the companies that fall behind.
It isn't just because human capital is growing more valuable in every business. That trend has been going on for decades as ever fewer workers function as low-maintenance machines—turning a wrench in a factory, for example—and more become thinkers and creators. The remarkable thing is that while most trends eventually peter out, this one just keeps going. Intangible assets, mostly derived from human capital, have rocketed from 17% of the S&P 500's market value in 1975 to 84% in 2015, says the advisory firm Ocean Tomo. Even a manufacturer like Stryker gets 70% of its value from intangibles; it makes replacement knees, hips, and other joints loaded with intellectual capital.
Companies will continue to gain a competitive advantage by attracting and keeping the most valuable workers, which is reason enough to become a great workplace. But interestingly, there's a shift here as well—namely, in who is considered valuable. For decades—since Peter Drucker coined the term in the late 1950s—the MVPs were the so-called knowledge workers. But that term is no longer an apt description of the most prized personnel. The straightforward reason is that knowledge is becoming commoditized. Information, simple or complex, is instantly available online. Knowledge skills that must be learned—corporate finance, trigonometry, electrical engineering, coding—can be learned by anyone worldwide through online courses, many of them free. They can even be performed by a clever algorithm. Knowledge remains hugely important, but it's gradually becoming less of a competitive advantage.
As technology takes over more of the fact-based, rules-based, left-brain skills—knowledge-worker skills—employees who excel at human relationships are emerging as the new "it" men and women. More and more major employers are recognizing that they need workers who are good at team building, collaboration, and cultural sensitivity, according to global forecasting firm Oxford Economics. Other research shows that the most effective teams are not those whose members boast the highest IQs, but rather those whose members are most sensitive to the thoughts and feelings of others. MIT professor Alex "Sandy" Pentland, a renowned data scientist who directs that institution's Human Dynamics Laboratory, has aptly summed up the new reality: "It is not simply the brightest who have the best ideas; it is those who are best at harvesting them from others. It is not only the most determined who drive change; it is those who most fully engage with like-minded people. And it is not wealth or prestige that best motivates people; it is respect and help from peers."
Yup, these are the new corporate MVPs.
Many companies will struggle with finding and luring these top workers—as well as employing them in ways that get the most out of their interpersonal skills. But the best companies to work for are, mostly, already there. Creating and building relationships is the essence of what they do. Consider SAS, the giant software firm that's one of the few companies to appear on our 100 Best ranking every year since we started publishing it in 1998. The firm surveys employees annually on the state of their relationships: Are they getting open communication and respect from fellow employees? Are they being treated like human beings? Or look at another regular on the 100 Best, the Wegmans supermarket chain. Here's a typical employee comment: "Co-workers really care about each other on both a professional and personal level." The perks at these companies are pretty darn good. But it's the employees themselves that make them great places to work.
You've realized by now that we're talking about culture, the way people behave from moment to moment without being told. More employers are seeing the connection from culture and relationships to workplace greatness to business success. Deloitte's latest annual survey of 3,300 executives in 106 countries found that, for the first time, top managers say culture is the most important issue they face, more important than leadership, workforce capability, performance management, or anything else. "Culture" was Merriam Webster's 2014 word of the year. It's everywhere. Yet as employers increasingly grasp its importance, they also realize they have no clue where to begin in creating the culture they need.
GoogleGoogle's cafeteria is designed to encourage employees to rub elbows—to say nothing of backs and food trays—with one another.Photo: Eros Hoagland—Redux
Let the 100 Best offer a few hints. They focus on four elements of culture that make the most difference:
Mission. These companies are pursuing a larger purpose, and company leaders make sure no one forgets it. Whole Foods is improving customers' health and well-being; USAA is supporting members of the U.S. military and their families; REI is helping people enjoy the outdoors sustainably. When employees are all pursuing a mission they believe in, relationships get stronger.
Colleagues. Several of the 100 Best also appear on lists of companies where it's hardest to get hired; 14 of them, including Twitter, St. Jude Children's Research Hospital, and the Container Store, attract more than 100 applicants for every job opening. Those companies can hire the cream of the crop, creating a self-reinforcing cycle; the best people want to go where the best people are.
Trust. We all know this: Show people that you consider them trustworthy, and they'll generally prove you right. Many of the 100 Best let employees work whenever they want, and they work far more than if they were punching a clock. Riot Games, maker of League of Legends, even offers unlimited paid vacation; strong relationships prevent employees from abusing the policy.
Caring. Every company says it values employees. The 100 Best don't say it; they show it. This is where some of those celebrated perks do count. Google, for example, offers an employee benefit it has never publicized: If an employee dies, his or her spouse receives half the employee's salary for a decade. No words could send as clear a message. A true culture of caring goes beyond perks and includes daily behavior—see Leigh Gallagher's story on Marriott in this issue.
And yes, in case you harbored doubts, the 100 Best really do outperform other companies as investments. Analysis of the publicly traded firms in the rankings from 1984 through 2009 by Wharton's Alex Edmans found that a portfolio of 100 Best Companies exceeded its expected risk-adjusted return by 3.5% a year. That's what Wall Street calls alpha, and 3.5% annually over 25 years is a stupendous performance. The puzzle is how it's possible. Why don't investors realize that great places to work are also great investments, and bid up the stock price as soon as Fortune's annual list is published, eliminating the subsequent outperformance? Edmans exhaustively investigated several hypotheses and concluded that investors just don't get it—they simply don't understand that great workplaces work better.
A corollary is that most employers don't get it either. Why do they let the 100 Best clean their clocks year after year, when the secret is no secret at all? The answer is a mystery. We know 100 companies that hope the others never figure it out.
Check out our 100 best companies to work for list here
This story is from the March 15, 2015 issue of Fortune.
Geoff Colvin is Senior Editor at Large, Fortune Magazine at Time Inc.
Turning a struggling organization around is a daunting challenge that many people would run from. Sharon Price John, however, runs toward tough jobs and has a successful track record of turning around unstable brands and unprofitable businesses. During the Great Place to Work® Conference last month, I attended her keynote address in which she discussed her journey of turning around an organization with one of the most beloved brands in the world: Build-A-Bear. In addition to sharing her journey with the audience, Sharon also shared the secret strategy she uses when turning businesses around.
Sharon joined Build-A-Bear in June 2013 at a pivotal time in the organization's existence—multiple years of performance decline and a $49 million loss in the previous fiscal year. Sharon said she took the job of CEO because she believes Build-A-Bear has a brand that not only deserves to survive but thrive. Luckily, Sharon faced a failing business and not a failing brand because although the organization had struggled for years to turn a profit, the strength of the Build-A-Bear brand and culture never wavered.
Sharon communicated the power of the Build-A-Bear brand by discussing a unique aspect of the Build-A-Brand experience—the heart ceremony which takes place whenever a child puts a heart in his or her new bear. This is the moment in which the child's uniquely created bear breathes its first breath, becoming forever a part of the child's life. This is a powerful moment for the child and also for Build-A-Bear employees who are part of these joyous ceremonies every day. Sharon described that at the start of her job as CEO she thought about the changes that must be made in order for the organization to survive. She knew that two things must remain in place—the brand and the culture—both of which conjure up emotions of trust, love, and memories for customers and employees alike. With that in mind, Sharon began to make much needed changes at Build-A-Bear using her secret strategy to turnaround success which she introduced to the audience by asking: how do you set a fire for change? The answer: with a S.P.A.R.K., an acronym for the strategy she uses to guide her employees through change.
S – See it. See and imagine what the future looks like if you do not make the changes your organization needs. Sharon described how failure can be an extraordinary catalyst for change.
P – Plan it. Show employees a positive future plan based on the changes you want to make. Show them that the organization can be more than what it is today. Sharon showed Build-A-Bear employees that the organization's brand was bigger than retail and that in the future, retail would be only one stream of revenue for the organization.
A – Action it. Put the plan into action. At Build-A-Bear, Sharon set a goal of building a bigger, better bear and returning the organization to profitability. During her first year as CEO, Sharon set a goal for the organization to make a $1 profit. Although it sounds easy, when Sharon joined the organization in June 2013, the organization was already experiencing a multi-million dollar loss. The organization actually exceeded this goal and Build-A-Bear gave out bonuses for the first time in years. Sharon said setting this organization-wide goal helped build trust between management and employees.
R – Run it. Run with the plan and don't forget it. To reinforce the plan, Sharon put on a Gumby Day (yes, the green clay children's character) to remind employees to stay flexible, stretch to reach goals, and focus on the green.
K – Keep the faith. Don't give up on your plan and remember that change never ends. One of the action goals for Build-A-Bear was to return the organization to profitability, but another action goal was to sustain profitable growth. Focusing on the idea that Build-A-Bear could be more than simply a retailer, Sharon has expanded the Build-A-Bear brand into new markets while diversifying the product offering.
Under Sharon's leadership, Build-A-Bear has experienced three consecutive years of improvement, all the while undergoing fundamental change including new leadership at the top and a new brand look and logo. Sharon is an extraordinary leader that kept in place what made Build-A-Bear special in the first place—the brand and the culture—while strategically monetizing on those same aspects. Sharon said she joined Build-A-Bear because she believes it is a brand that deserves to not only survive but thrive, and thrive it has under her guidance.
Haley Carroll is a research specialist at APQC.
This blog was originally posted on the APQC blog: https://www.apqc.org/blog
5 Ways Companies Can Make the Most of Community Involvement Programs
For many years, intrinsic to the notion of being a "professional" (such as a lawyer) was public service in some form. That idea has spread well beyond professional services; now, a wide range of companies who value reputation and good citizenship put a high priority on giving back in some way.
The best workplaces see this as much more than a routine obligation, and put a great deal of thought and heart into community involvement, and these companies accrue great benefits in terms of employee commitment and contribution.
This week, Great Place to Work® published a list of the Best Companies for Giving Back and the experience of employees is nothing short of inspiring. Wrote one employee at a company we recently recognized for excellent community involvement: "Everyone we volunteer with loves us. It truly is the BEST place to work, and I can't be more proud."
Community involvement programs can have a huge effect in demonstrating and strengthening the sense of values alignment between the company and employees – especially when the programs are thoughtfully structured
Our research shows many best practices for making the most of corporate community involvement programs. Here are some:
Give employees power in setting direction. Like many other aspects of corporate life, employee expectations are evolving toward empowerment, and community involvement is no exception. Allowing employees to decide in groups or individually about where to focus efforts is empowerment in a realm of intense personal significance to many people.
Build community involvement around professional skills. Serving meals can be inspiring and humanizing, but when employees use their professional skills in community involvement it is more valuable to the recipient organizations and a great opportunity for professional pride and development. A financial analyst, for example, in relatively few hours could help a non-profit organization strengthen its management or financial accounting.
Tell the whole story. Recognition for community involvement is motivating, but it is powerful to talk about the receiving organization: how their work is important, how their purpose and values fit with the company's, how the company's people grew and learned as a result, and what the ongoing involvement will be.
Set an aspiration. Measured in terms of dollars, time or impact, an aspiration for community involvement is an exciting commitment and a challenge. It is one thing to do it and another thing to set accountability with a high bar.
Spread the word with new communication approaches. Short videos, tweets and the like are inspiring and a great opportunity to challenge participants with new kinds of communication practices that transcend the usual, overwhelmed channels of corporate communication (talking about you, email).
Companies can strengthen ties with employees (see our recent report on the purpose-retention connection), accelerate professional development and do much more with thoughtful community involvement strategies. It does not necessarily cost more money; it just takes vision and leadership. Giving back absolutely can help communities, people and companies – a triple win!
Early one morning just a few weeks ago, I woke up with the intention of starting my day at the gym. But before I ever made it out of the house, I completely blacked out, fell on a cold travertine floor and broke my ribs.
The pain from that fall was excruciating; and it immediately restored me to consciousness. But the sheer terror of the moment instantly grew worse; I thought I was suffocating.
Hearing my moans, my wife found me splayed on the ground and largely incoherent. Stunned and petrified, she kept asking me what had happened. But by this point, indescribable fear had set in, and all I could do was cry the words, "I can't breathe. I can't breathe!"
Despite my grave condition, I resisted my wife's pleas to call an ambulance. In disbelief over my characteristic male stubbornness, she figured out a way to get me in the car and transported to the emergency room at Scripps Health, La Jolla. And this is when a team of brilliant doctors and nurses mobilized with the purpose of saving my life.
I could immediately see in my doctor's face that he was highly alarmed by my condition. Consistently – as he hurriedly worked to check my vital signs and make a diagnosis – he took time to scold me for not calling 911.
Even in my diminished state, it was obvious to me that every nurse on this triage team had a unique role to play. As if I was watching a movie of someone else's experience and not my own, I marveled at how brilliantly orchestrated everything was.
But a sobering reality instantly set in when my doctor told me he was rushing me into the operating room and that I'd be going under anesthesia. It was at this moment that a nurse called my name. Looking me straight in the eye, she pierced me with the words, "You're going to be alright, Mark. We're all going to make sure of it."
Hours later, when I came out of sedation, I learned that my left lung had collapsed in the fall, and that my heart had endured tremendous stress. But far more disconcerting to my doctors was their discovery of a "pulmonary embolism," a blood clot in my lungs similar to the one that recently took the life of PBS radio anchor, Craig Windham.
When I was told I was being moved into the Intensive Care Unit, only then did I fully acknowledge that my life was indeed in great danger. I found out later that it was at this same time when nurses asked my wife if I had signed a Do-Not-Resuscitate Order.
But here's the truth. From that moment on, I never really feared for my life. And it wasn't because I was inordinately brave – or even exceptionally delusional. My conviction that I'd fully recover had everything to do with how my doctors and nurses treated me – how they made me feel.
I spent an entire week in the ICU and, from the minute I arrived, my treatment was characterized by truly exceptional kindness, thoughtfulness, empathy and compassion. It was demonstrated to me in so many small but noticeable ways that it inevitably came to overwhelm me. Very intentionally, these highly committed caregivers found ways of connecting to the deepest part of my humanity – and of directly conveying to me that my healing mattered to each of them personally. Yes, the medical care was state-of-the-art and brilliantly executed. But after reflecting on all that occurred, I'm convinced that it was this consistent drip of caring interactions that most influenced my rapid recovery.
Empathy: Highly Beneficial In Medicine, But Fatal In Leadership?
In our traditional workplaces, we've never been keen on having managers intentionally display the kinds of humane behavior I experienced in the ICU. More to the point, we long ago concluded that expressions of compassion and empathy are the hallmarks of weak leaders – people who do not drive high performance.
But mounds of scientific research are now emerging to fully refute this. What's being discovered is that the qualities my doctors and nurses so consistently used to motivate my healing are no less profound in their impact on leadership success.
In what struck me as an incredible display of serendipity, the first book I picked up to read during my home recuperation was The Happiness Track: How To Apply The Science Of Happiness To Accelerate Your Success. Written by Emma Seppala, Science Director at Stanford University's Center For Compassion & Altruism Research, the book is a brilliant distillation of research which proves that qualities like kindness, concern and empathy are actually human strengths –not weaknesses.
Based on data Seppala provided in her book, along with additional insights she shared with me personally in a recent meeting, here are three of the top reasons why leaders who display more of their own humanness – and are authentically sensitive to the human needs of their employees – will find uncommon success in our 21st Century workplaces.
Humans Are Actually Hard-Wired To Be Empathetic
"If you look at the research," Seppala told me, "the motivation to help others succeed ensured our entire human species survived. People think Darwin said 'survival of the fittest,' but Social Darwinists with an agenda co-opted that expression to justify a racial and social hierarchy. What Darwin really believed was that sympathy was our greatest human trait. That's what truly ensured our survival over the long run. And so compassion may strike some people as being a soft topic – one that belongs in religious or spiritual discussions – but actually it's fundamental to who we are."
Interestingly, nature seems to reward compassionate behavior. Studies prove that people who are characteristically empathetic, and concerned about the well being of others, routinely have greater psychological and physical health – even longevity.
Being Self-Focused Routinely Backfires
A theory of success that's deeply embedded in our culture is the idea that we must always "look out for number one" so as to not get run over by the competition.
But research now shows that being self-focused more typically undermines personal effectiveness. Inevitably, selfish people – as well as self-interested leaders – lose the trust of others, cause great harm to their relationships and drive many people away.
"Being compassionate, however, is the reverse of self-focus," Seppala told me. "It involves a sensitivity to the suffering of others and a desire to help them in a non-judgmental way. And displaying that kind of empathetic behavior toward other people leads to positive results that are backed by science."
As confirmation of this, Seppala cites research done by University Of Michigan business school professor, Kim Cameron, which shows that compassionate workplaces consistently drive greater employee engagement, customer service levels – even profitability. Generosity of spirit routinely wins the day.
The Experience Of Positive Feelings And Emotions Leads To Optimal Human Performance
University of North Carolina psychology professor and researcher, Barbara Fredrickson, discovered that human beings require the repeated experience of positive emotions in order to thrive.
When people frequently experience feelings of joy, interest, kindness and appreciation, for example, they learn more quickly, bounce back more easily from stress, connect more deeply with other people – and are far more engaged and productive in their jobs. Tied to this understanding, workplace leaders are wise to do all they can to ensure their people are made to feel valued, respected, cared for – even nurtured – in their day-to-day work lives.
But unfortunately, says Seppala, "the real-life experience most people have at work not only deprives them from feeling many of these emotions, it too often leaves them feeling excessively stressed, under-appreciated and with a highly compromised sense of well-being. More than anything, this is why 7-in-10 people today are not fully engaged, and it's also why fifty-percent of people across all industries today are burned out."
When I asked Seppala if she agreed that it's time workplace leaders begin to apply Fredrickson's research to how they manage people, she was adamant.
"We keep on giving people material perks and bigger bonuses just to keep them in the game. And yet if you look at what really drives human loyalty, it's not money. It's the happiness that comes with having positive interactions with their co-workers and bosses. And so, what we need today are leaders who care, leaders who know their people and who personalize their relationships with them. We are first and foremost human beings who need a human touch. Right now, we're not putting that into workplace management even though people spend record hours there."
Conclusion
In reviewing the first draft of this article, a close friend of mine asked me for clarification. "How that hospital staff made you feel during your crisis clearly impacted your attitude – and even the faith you had in your recovery," she said. "But do you really believe their displays of empathy, kindness and compassion were the main reason you're still alive?"
I'm certain of it. The emergency room doctor who intentionally chided me, the nurse who assured me I'd be alright, the pulmonary surgeon who literally ran me into surgery – all of the ICU staff who closely monitored me through the first few vulnerable nights – each of them demonstrated to me that I personally mattered – and reconfirmed this invaluable truth: How we make other people feel is the source of our greatest leadership influence
Coincidentally, a recent Harvard Business Review article warns leaders against being empathetic saying that the process inevitably proves to be "exhausting" and "emotionally draining." But the article's author uses these terms to describe an excessive use of empathy – something virtually unseen in the real world.
The fact of the matter is that most displays of kindness and care require nominal time and effort. And as I can personally attest: a little goes a very long way.
Mark C. Crowley is a leadership consultant and speaker, and the author of Lead From The Heart: Transformational Leadership For The 21st Century. His mission is to fundamentally change how we lead and manage people in the workplace, and to intentionally make it far more supportive of human needs. Connect with him at his website, on Twitter and on Facebook
Scripps Health is one the Fortune 100 Best Companies to Work For, as well as one of the Best Workplaces in Healthcare, Best Workplaces for Diversity, and Best Workplaces for Women
Join us in the High-Trust track of the 2016 Great Place to Work® Conference to explore the power of trust and deepen it for your organization.
Global employee engagement has been at all-time lows over the past few years. Many have speculated as to why this has occurred. But for those of us at Great Place to Work®, there is no mystery. Low engagement is due to lack of trust.
Why trust matters
Trust is not about making people feel good or being on a moral high ground. It is a fundamental aspect of what enables employees to innovate, consumers to advocate and companies to flourish in spite of a tumultuous economy.
Woven throughout the companies that make up the Fortune 100 Best Companies to Work For list is a foundation of trust that permeates everything those companies do. In a High-Trust culture, employees don't have to focus their time on trying to decipher corporate speak or worry about if their jobs are secure. Instead, they can spend their time creating exceptional products, powerful customer experiences and lasting relationships at work.
High-Trust cultures don't have secret perks, technology from the future, or magic wands to unlock that sense of passion and dedication. They have figured out it's not about what they do, it's about how they do it. Every action they take stems from their deep values and is communicated with compassion, humility and humanity.
So how can we enable that in every organization.... the High-Trust track at the 2016 Great Place to Work® Conference is a great first step to uncovering that.
How you can uncover the source of trust
In each of the sessions in the High-Trust track, the Presenters or Panel will focus on the path to measuring and increasing the level of trust in your organization. The sessions in the High-Trust track will showcase that trust is not elusive or mysterious. Instead, it is highly attainable.
By attending the High-Trust track you will learn
How to determine if your organization is a High-Trust culture.
How to leverage HR to drive business results and enable High Trust.
How to develop this kind of culture in any size organization.
The major trends affecting the future of work, their impact and how they relate to trust in organizations.

Best practices for creating a High-Trust culture
During one of the sessions in this track, HR Driving Business Results, you will uncover how to make a direct link between the work that is done in HR to driving business results. By leveraging case studies and extensive business leader interviews, this session will give insight into the key skills that business leaders are looking for in HR professionals. It will highlight a revolutionary way to connect each and every employee to how their role impacts gaining and retaining customers, no matter their level or role in the organization. You'll walk out with specific steps on how to put this learning into action.
High Trust is the key to being exceptional
High-Trust organizations show a high capacity for resilience and generally have superior results regardless of the broader economy. At these companies, employees trust their leaders. For example, at the Fortune 100 Best Companies to Work for in America:
82% of employees believe management delivers on its promises, and its actions match its words;
82% of employees believe management keeps them informed of important issues and changes;
91% of employees believe management is honest and ethical in their business practices.
High levels of trust across the company not only enable leaders to take the actions needed to navigate the ever changing business world, but ensure that employees can continue being productive and positive regardless of what is happening in the world around them.
Join us in the sessions of the High-Trust track to explore the power of trust and deepen it for your organization.
There are lots of ways to shape culture, but in the end the proof of a good culture is in the performance of the organization.
We've got the "happy" culture stories – fun events, charismatic leaders, lots of energy and good times. And we have the more grim tales: bureaucracy, squabbling, fear. But what we know to be true is that any culture and every culture drives organizational performance. The best performing organizations know this, and they manage culture just as they do any other success factor.
Organizational culture is made up of the values and behaviors that define the work environment. We've all experienced a manager or co-worker who tells you "that's not how it's done here," or "you're enthusiastic but you'll learn, this place will shake that out of you." It's common to find companies with cultures of conformity, of mistrust and consequently low levels of performance and innovation. If we are lucky enough we have also experienced the company where managers and co-workers are welcoming and supportive of people who want to contribute to business success. At Great Place to Work® we celebrate and support those companies who try to create such cultures that are both people-oriented and performance-oriented.
The Culture Track of our 2016 Conference is showcasing some of these great, high-trust workplaces, and how leaders in these organizations work to preserve and strengthen their cultures.
Learn As You Grow
One of the biggest challenges for any company is maintaining a strong culture during periods of growth. New decision-making structures are needed and leaders need to find new ways to communicate with larger teams who may previously have experienced a higher level of availability of their top people. Software provider Yext has wrestled with the dilemma of leadership; how do you create opportunities for trust in a growing company? How much or how little do you share and still ensure transparency? How do you not dilute your culture as you grow? Over the past three years, for example, Yext has added over 250 employees, representing an employee growth rate of 275%, and achieved a revenue growth rate of 2,026%.
Amid this rapid expansion, Yext leaders have consciously tended to their culture. They have developed new processes and systems to streamline communication, created onboarding programs to make sure new hires are rapidly prepared to succeed, and developed organizational structures to ensure the company's values remain an anchor for the culture. Great workplaces create opportunities for leadership to communicate with the workforce and be transparent in their decisions, even during growth. Doing so helps save employees from expending their energy trying to decipher management's intentions, allowing them to focus on the job at hand safe in the knowledge that they are secure and valued.
Culture and Multiple Generations
Another culture dilemma companies face these days is fostering a workplace environment that works for people of different generations. Research suggests that the most important feature of a job for Millennials is feeling a sense of purpose and family in their jobs. Millennials also tend to prize work-life balance and a measure of power in the organization. How do you strike that balance in organizations between older employees and the up-and-coming workforce? Biotechnology firm Regeneron has tackled the problem head on. Four of ten Regeneron employees are millennials, and Regeneron has not shied away from giving these younger workers the responsibility they frequently seek. Millennials have taken on highly-visible and key decision-making roles across the company. That is key to bringing to life one the core values: "That's the way we've always done it is the wrong answer."
Culture is Human
When you put people inside companies they are still people. Software company Centro gets this and focuses on the basic human needs: physiological, safety and security, belonging, esteem, and meaningful achievement. It also looks at connection and caring, especially from leaders. Some might call it soft, but Centro wisely understands that it needs to build a culture to meet basic needs in order for people to make great contributions.
Culture is tough but worth it!
Great workplaces will tell you that focusing on culture is not easy, not quick ... but essential to success, and the right thing to do. Culture is a system and like any system it shapes the choices and actions of people every day. When it comes to culture there is no other way but for people, starting with leaders, to look closely at themselves, every day, and be living examples of the kind of company they want to work for.
Jonathan Becker and Claire Murphy are Partner and Executive Culture Consultant, respectively, at Great Place to Work®.


The best workplaces enable employees to solve key business problems by unleashing their creativity and listening to their voices.
"Not every suggestion I've made over the years has been implemented - but I've always felt like I was heard and I've always felt like I was empowered to share the feedback. Heck, my current position and the one before that are jobs that I basically created because I saw an essential issue that needed to be addressed. Both times, a department has grown up out of it and is still in operation." - Employee at SAS Institute from The Great Workplace by Jennifer Robin and Michael Burchell
Your employees wake up each day, even Monday mornings, and they want to be challenged and stretched.
Your business has significant business challenges that need to be solved.
How do you help tap the ingenuity of your people and respond to their need to be included?
We've noticed that Best Workplaces do two things very well:
They know how to ask their employees for input and use the information to improve the business, and;
They enable their employees to solve key business problems by unleashing their creativity and listening to their voices.
Our 2016 Great Place to Work Conference Collaboration Track showcases how Best Workplaces find meaningful ways to join forces with employees...and transform their businesses in the process. They've cracked the code on incorporating employee's ideas and take collaboration to the next level by asking for feedback, weaving that feedback into the fabric of the organization, and closing the communication loop.
Employees LOVE that kind of stuff.
Use It or Lose It
There one guaranteed way to lose employee's trust: ask them for feedback, then ignore it completely. Or if you do actually use any of it, never let them know how their input shaped your decision-making. Oh, and don't say "thank you".
Best Workplaces like Atlassian, Hyland, and VMware—all presenters in our conference Collaboration Track—genuinely believe that employee feedback is a lifeblood of their business and use feedback strategically. At software maker Hyland, leaders believe in the power of feedback and they go out of their way to solicit and incorporate that feedback, using a combination of retention and exit interviews, Trust Index© surveys and other KPIs to create a better experience for employees. They understand the impact of feedback on the employee experience and on the business.
At SAS Institute, employee ideas are critical to their success and the software company uses feedback to empower staffers, especially millennials. SAS quickly learned that millennials don't want different things – they just want it NOW! When employees know that you're listening and that you value their input, they'll tell you the truth. By finding ways to meaningfully collaborate with employees, you'll help unlock their talents and everyone shares in the success.
And it's okay to let employees know how their input shapes your decision-making. Employees are generous enough with their trust to accept that all input isn't going to be used, but they appreciate knowing how you arrived there.
Let Your Employees Help Solve Your Toughest Problems
What keeps you up at night? Out of stock suppliers? Crucial emails being stuck in your outbox?
If there's anyone else in the world who cares about your work issues as much as you do, it's your employees. They find answers to problems in the shower, while out walking their dogs, and over glasses of good wine. The question is how can you tap into their collective wisdom?
Many best companies use social media to drive innovation and collaboration. They use tools like slack, Chatter, and Facebook for Work to encourage employees to share their insights on crucial business issues. Social collaboration tools allow you ask questions of the entire organization, not just a manager or a single co-worker.
And best companies don't just push information out. In the case of SAS, social is used to get real-time feedback on real-time challenges. The company leverages that information, and those relationships, to get down to business. Their employees sincerely appreciate the direct access they have to top executives, like CEO Jim Goodnight. This builds an incredible amount of trust.
To create a "great place to work for all", companies need to encourage diversity of thought, perspectives, ethnicities and genders. VMware found a structured way to include more womens voices to the chorus of leadership that impact the business every day through VMwomen, a "business-led initiative with clear goals and accountability."
This isn't soft stuff. Programs like these create value across the business by being extremely clear about their metrics and setting meaningful goals. The structure provided the blueprint for VMinclusion, a diversity and inclusion program that builds on the operating model of VMwomen—allowing it to scale more quickly in the organization.
So there's no excuse to hole yourself up behind that big oak desk and sweat it out alone. Invite your employees in as thought partners - they'll be happy you did and you MIGHT get some REAL work done.
Conclusion
You have to ask, listen, and respond. Every company does it differently, but the common thread is trust: best workplaces BELIEVE that their success rests in the heads, hearts, and hands of their employees and their actions show it.
Bottom line: Use feedback to your advantage.
And did I mention it's free? Now that's good for your bottom line.
Julian Lute is a consultant at Great Place to Work®
Leading firms prove ambition and balance can coexist
One surprise from our recent ranking of the Best Workplaces for Flexibility was the nature of most companies on the list. Of the 50 winning organizations, more than half do businesses in information technology, professional services and finance – fields where long hours and career ambition often go hand in hand. These organizations aren't just instructive for the benefits they use to promote work-life balance, they also showcase cultures where driven professionals feel comfortable using them.
Much of their success in this area comes down to the mutual trust and respect between employee and organization. Surveys show that people in these workplaces feel trusted to accomplish their jobs, regardless of when or where the work takes place. As one employee at technology consulting firm Intellinet says, "Hours are very flexible and immediate management has a lot of confidence in me to get the job done right." When that means working into the evening to meet a client's needs, the firm demonstrates it has a stake in non-exempt employees' time by paying consultants an extra $50 for every billable hour over 80 in a two-week period. Not only does this provide an incentive to keep hours in check, it demonstrates that the firm values its team members' personal lives.
Even as they approach flexibility in different ways, companies on the list also customize their benefits to the unique needs of their workforces. At Big Four audit firm PwC, for example, time-off policies reflect the diversity of its 41,000 U.S. employees. Team members are not limited to a set number of paid sick days, and that time can be used to care for ailing children, partners or parents. Maternity and paternity leave are also shaped by individual employees, with the option to take six consecutive weeks off or three weeks of intermittent leave over the course of a full year. "The firm provides the opportunity for you to progress at your pace, provides continuous learning opportunities and challenges, allows personal flexibility when needed and the firm support of personal issues," says one PwC colleague.
The emphasis on professional development is another critical component of a flexible workplace. At companies on the list, 86 percent of employees say promotions go to those who most deserve them, compared to 79 percent at peer companies certified by Great Place to Work. Creating a level playing field offers employees the freedom to explore career options laterally or to adjust the pace of their career progression as life events happen. Mentoring opportunities, as well, offer professionals clarity on the best way to reach their career goals while incorporating the demands of a growing family or other obligations at home.
Creating the ideal flexible workplace is highly context-specific. So, there is no playbook for perfect flexibility. In order to create an environment where employees feel that their work and home lives can be more integrated, companies need to adopt a flexibility mindset. That is, avoid the temptation to copy other companies' best practices. Instead, be flexible in your thinking, get to know the needs of your employees, put their needs in the context of your workplace, and try new things. Finally, make your programs and practices widely - if not universally - available and safe for employees to use.
Few firms illustrate the potential of efforts to create a flexible, high-trust workplace quite like Ryan LLC. Following the resignation of a key manager in 2008, this tax services firm's leadership completely overhauled its approach to scheduling and assessment. Where before the firm's expectations for employees centered on hours worked, they're now defined by job responsibilities alone. Personal days are unlimited, and the firm leaves scheduling and telecommuting options up to employees, so long as they meet clearly stated goals for client service and financial performance. Even receptionists can shift their schedules as needed if they work together to ensure the phones are answered. Says on employees: "Ryan's flexible work environment allows me to do my job regardless of where I work or what hours I work. I have a geographically dispersed family, and my personal commitments have required that I work from multiple states. Ryan's global network of offices makes that possible."
Since taking this radically different approach, Ryan has seen turnover plummet and profits increase. What's more, high levels of employee commitment are common across companies on the list of flexible employers: 90 percent of employees at the winning organizations say they want to work at their companies for a long time, and 95 percent say people at their company are willing to give extra to get the job done. This just goes to show that work-life balance is not only possible in demanding professional fields, it can be invaluable for building high-performance teams.
Paul J. Thallner is Partner at Great Place to Work®
Lessons from the 2016 Fortune 100 Best Companies to Work For®, through the Eyes of a Millennial
Building a high-trust culture should be on the mind of every business leader as findings released by Great Place to Work® reveal the close connection between high-trust organizational cultures and voluntary employee turnover. Organizations featured on the 2016 Fortune 100 Best Companies to Work For® list have a voluntary turnover rate half that of industry peers. So, what are these organizations doing differently?
The report by Great Place to Work®, Connecting People and Purpose: 7 Ways High-Trust Organizations Retain Talent, identified seven distinct ways organizations are building high-trust cultures.
Define your company's purpose and connect people to it.
Trust and empower employees to do their job.
Give employees a voice.
Showcase the customer.
Make your workplace a community.
Recognize employees' contributions.
Make "giving back" part of your brand.
I realize this may seem like a list of feel-good ideas. Why do organizations need to bring purpose to employees' lives—employees get paid a fair salary, right? Also, why are trust and empowerment important and is it really necessary to make the workplace a community?
For starters, an average person spends 37 percent of their day at work (roughly 8.9 hours) according to the Bureau of Labor Statistics. As a Millennial, I do think of work as a percentage of my day, so why would I spend nearly half my day working somewhere that doesn't make me happy or bring purpose to my life? After all, the motto of our generation is YOLO (you only live once)! Our parents and grandparents might roll their eyes, but for Millennials and Generation Z, this is a question we ask ourselves quite often. We seek out jobs that bring purpose to our lives and organizations that share our values. As we begin to fill the workforce, we are bringing with us a strong affinity for diversity, relationship-building, and making a positive social impact.
Second, Millennials and Generation Z are entrepreneurial. This is great news for organizations since Millennial and Generation Z employees will be proactive, innovative, and intent on solving society's greatest challenges. But entrepreneurial personalities require work environments that provide freedom and flexibility. More importantly, they require opportunities to pursue new ideas despite the risk of failure. The success of this new workplace ecosystem hinges on the ability of management to turn over some power and control to employees—a key tenet in building trust. It appears, at least for the 100 Best Companies to Work For®, that when organizations give employees trust, employees give it back tenfold.
Lastly, why should organizations turn the workplace into a community? Google, during its quest to build the perfect team, made a discovery I think everyone always knew but Google quantitatively proved: "no one wants to put a 'work face' on when they get to the office." The younger generations are used to sharing—sharing vacation pictures on Instagram, sharing pet and baby pictures on Facebook, and sharing rants on Twitter. All of the sudden, the clock strikes 9:00 a.m. and we can't share anymore? Our two worlds—work and home—converge, unreconciled. Google also discovered that teams filled with members who share personal information with one another slowly create psychological safety which turns out to be the most important trait of high-performing teams. Psychological safety fosters "conversational turn-talking and empathy" within teams, making it much easier and more comfortable for team members to have difficult and honest discussions about projects—what's working, what's not working, that's not a great idea, or this idea could be so much better. Teams that debate and disagree are much more successful because they predict and avoid product failure, uncover and improve design flaws, and push each other's limits and ideas enabling them to surpass the competition.
So, I hope all business leaders read about the seven ways that the 2016 Fortune 100 Best Companies to Work For® are building high-trust cultures. Ignoring voluntary turnover and the underlying causes will be expensive, but will cost organizations more than hard dollars—they may cost your organization the next cutting-edge idea or disruptive technology.
Follow me on twitter: @haleyc_APQC. I will be attending and blogging about the upcoming Great Place to Work® Conference. The Great Place to Work® Conference is a premier event, where executives from around the country convene to network and learn from leaders at recognized Best Companies to Work For. Attendees get a chance to hear what these companies are doing to create and sustain a great workplace culture.
Stay up-to-date with APQC's upcoming research, webinars, and more by visiting the HCM expertise page.
Haley Carroll is a research specialist at APQC.
This blog was originally posted on the APQC blog: https://www.apqc.org/blog
Building a Company Culture that Pays Dividends
Getting culture right from the day an entrepreneur starts his or her company is the largest determinant of long-term success. Twitter logo When I talk with entrepreneurs and business leaders, I ask them what values and principles they're going to lead with. If you don't set those values up front, the environment around you will define it, and you may not end up with something you like.
It's fine when everything in the business is going well. But when things get tough—problems with co-founders, a recession, whatever the challenge—your culture will guide you through it. Your values and principles will determine how you weather the hard times and define the character of your company when conditions improve.
When starting my company 15 years ago, before writing the business plan, I developed a Corporate Manifesto. I conceptualized what I thought an improved company of the future would look like, and how it would treat its employees and customers. I wanted to nurture an environment where employees were excited about coming to work every day. I thought that if they enjoyed their lives overall (with work being such a big part of our lives), they'd be better mothers, daughters, husbands, fathers, siblings, and so on because of the relationship they share with our company. My premise was that if the company focused first on taking care of its people, the people would take care of those around them, our customers and ultimately, our company.
Happiness Is Good Business
According to a Gallup study, only three in ten employees are engaged at work. Half of the current work force essentially sleepwalks through their workday. A separate study by Gallup showed that half of employees were considering a new job. Many of my employees are young and could take up to 18 months to hit their stride. If my company trains team members who then walk out the door every other year, my business wouldn't be sustainable because I'd have to continue hiring and ramping up new employees just to replace the ones who don't stay.
On Fortune's Best Companies to Work For feature, editors say past year revenue growth for the largest Fortune 100 companies was 3%, compared to 30% at the Fortune 100 Best Companies to Work For. Twitter logo Companies with the highest percentage of engaged workforces show a 19% increase in income compared to a 33% decline in income for the companies with the lowest employee engagement rate.
According to a study by the Russell Investment Group, the cumulative returns for public "best companies" between 1998 and 2014, were 584%, compared to 191% for the S&P 500. What sets these companies apart in financial performance is that they are places where people love to work. According to the CEO of Great Place to Work®, Michael Bush, "Great workplaces have significantly less turnover, outperform peers in the stock market and enjoy high levels of collaboration, communication and trust—crucial ingredients to innovation. The 100 best are setting the standard for all businesses."
Values Cost Money
Values play a big part of any company's culture and retention strategies. These can't be just words on a wall. If you make vision and mission statements, are you going live them? Something inevitably will happen to challenge your values and I've always believed that a business value only becomes a value when it costs the company money.
As an example, the cost of my company's healthcare plan (we cover the majority of employees' out-of-pocket expenses) is growing. Although I could cut this cost to increase profitability, I want to maintain it. The security it provides for employees probably pays for itself many times over. This and other benefits (health club memberships, yearly health check-ups, flu shots, charitable donations, continuing education, etc.) are core to our values.
Nurturing employee happiness can have great returns for any company. It's because the best people stay, they love what they do, they excel, they attract other great people and they are motivated to go above and beyond for each other and our clients. If you're leading a company, put happiness at the core of what you are doing. Twitter logo You'll be pleased with what you get in return.
Shawn Riegsecker is CEO of Centro, which is currently the #9 Best Medium-Sized Workplace in the U.S.
Attend the Great Place to Work® Conference on April 7-8 in San Diego, CA to see Shawn Riegsecker and other great workplace leaders speak bout their outstanding workplace cultures!