Employees at winning companies were more likely to report cultures with special recognition, as well as fair pay and promotions.
Latin American economies face the ongoing challenges of inflation and stagnating growth. While the region managed to weather the shock caused by Russia's invasion of Ukraine in 2022, economists predict a challenging 2023.
Considering how the region has struggled, some have wondered if Latin American workers are unproductive — but Great Place To Work® research suggests the opposite.
At the 125 companies that made the Best Workplaces in Latin America™ list for 2023, nine in 10 workers believe people "give extra" to get the job done.
What drives this high level of engagement? Higher numbers of employees who believe their workplace is fair.
At winning companies, 86% of employees said that everyone can receive special recognition for their work, compared to only 74% of employees at other participating workplaces. Out of 2 million employees surveyed, a difference of 12 percentage points shows a remarkable advantage for winning companies.
The Best Workplaces in Latin America also stand out for management's willingness to listen to employees and involve them in business decisions. At winning companies, 83% of employees report that management seeks their input on decisions that affect their job — 11 percentage points higher than the 72% of employees who said the same at other participating workplaces.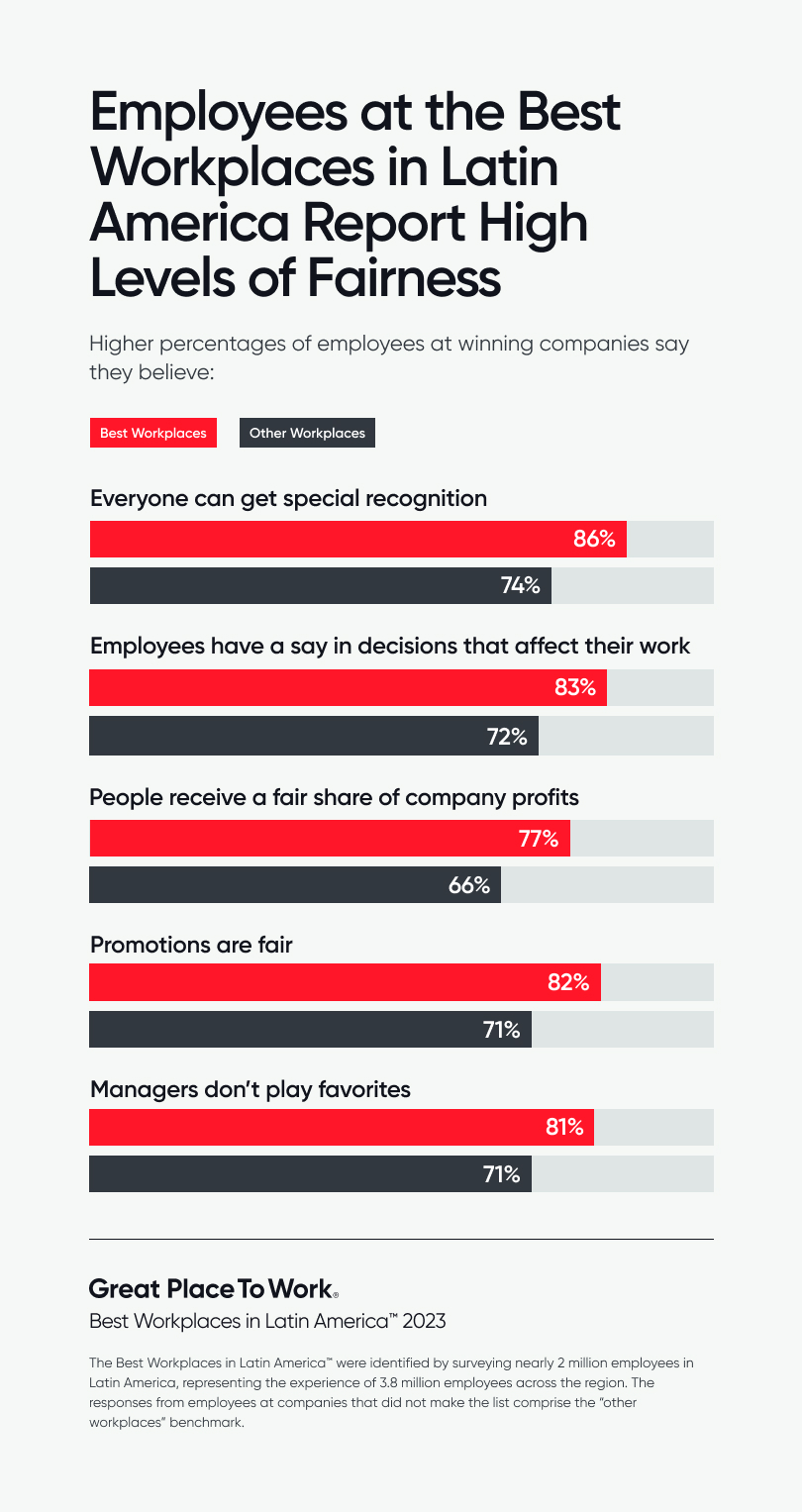 Employees are also more likely to report fair promotions and fair pay when they work for one of the Best Workplaces in Latin America. At winning companies, 77% believe they receive a fair share of company profits and 82% say promotions are fair — 11 percentage points higher than the benchmark for other participating workplaces for both experiences.
Here's how these companies are creating better experiences for their employees:
1. Everyone gets recognition
At Hilton, the No. 3 multinational company on the list, recognition is an important part of the experience.
Every employee, regardless of role, can be recognized through Hilton's "Recognition Matters!" website, which provides resources like e-cards, certificates, and thank-you cards, which can be customized in 30 different languages.
Hilton also prioritizes in-the-moment recognition, where team members receive a personalized letter from a Hilton VP rather than the general manager of their hotel, and are presented with their award in front of their entire hotel team. To support further recognition, Hilton holds a Team Member Appreciation Week where employees from all over the world can participate in programs like a dance competition or other fun events.
To help customers recognize team members, Hilton has a program called "Catch Me At My Best," which offers guests a QR code to recognize moments when they received exceptional service.
By offering a variety of channels and programs, Hilton ensures that recognition is a core part of its culture and helps every employee remember to recognize and thank their colleagues.
2. Management takes time to listen
There's a reason the most important high-trust leadership behavior is listening.
"Listening might sound reactive, but it should be proactive," writes Michael C. Bush, CEO of Great Place To Work. "Make yourself available and seek out chances to listen."
At DHL Express, the No. 1 multinational company, a listening tour allowed leaders to hear from 1,600 randomly selected employees in 34 different languages across the globe. With more than 111,000 employees in more than 220 countries, DHL works hard to make sure every employee, regardless of role or background, has an opportunity to be heard.
As part of its diversity, equity, inclusion and belonging (DEIB) strategy, DHL launched a 20-person panel of employees from across its network that serve as ambassadors for DHL and offer important regional and personal perspectives on business decisions. These ambassadors work closely with colleagues in their local region, listening to feedback and bringing to the leadership team.
DHL employees also have opportunities innovate and share ideas with the organization. A Start-up Lab offers employees a formal way to pursue their ideas and develop solutions that support DHL customers or operations. Participants complete a four-month program with coaching, networking, and facetime with top leaders.
To ensure employee feedback is captured, DHL regularly surveys its workforce and takes pride in its 92% participation rate in its employee experience survey. Once surveys are complete, the company takes care to show employees how their feedback is creating change within the organization. Employees participate in listening groups to review survey results, and action plans are shared throughout the year to track progress.
3. Promotions and career opportunities are fairly distributed
Employees at winning companies were more likely to believe promotions were fairly awarded and that management avoids "playing favorites." What does it look like to create a fair and equitable talent pipeline?
At Cisco, the No. 6 multinational company on the list, a concerted effort to improve internal mobility for employees looking to advance their careers has paid off with 40% of hiring sourced internally. The information technology company launched its People Movement Initiative to increase the visibility of internal talent and reduce the number of employees leaving for new roles.
Cisco estimates saving $27 million annually on exit packages and outplacement support by reengaging employees and connecting them with open roles and projects.
Schneider Electric, the No. 25 multinational company on the list, has also built a talent management system to increase internal mobility and connect employees with open projects or "gigs."
By increasing transparency around assignments, companies can help employees map their careers and identify skills they can bring to important business operations. When employees are seen as partners, companies are more likely to get the engagement, productivity, and "extra effort" that every business leader craves.
How to make the list
Think your company deserves special recognition? Get started here to become eligible for next year's Best Workplaces™ honors.
---