Real-life examples of employee well-being programs seen at the Fortune 100 Best Companies to Work For®.
Perhaps more than any other aspect of workplace culture, employee well-being requires a holistic approach that focuses on supporting the "whole-person" in each employee.
Pause for a moment and think about every aspect of your life where you could use support.
Now reflect on the fact that every one of your co-workers has their own version of that list.
For some, there are practical needs such as childcare assistance or tuition reimbursement. For others, there may be deeper underlying needs like supportive counseling for grief, or an understanding of how to establish a healthy work/life balance.
Much like any other relationship, the employer–employee relationship needs a foundation of trust, and to thrive there must be a sincere sense of care and support.
But how do companies achieve widespread well-being among their people?
It starts with an understanding of who your people are and what type of support they need. From there, you can tailor your own practices to those specific needs and nurture a culture of happy, healthy employees.
Once employees are having a consistently positive experience across key areas that contribute to employee well-being, they can flourish inside and outside of work.
Here are employee well-being program examples that speak to those important components of employee well-being from several of the top companies surveying with Great Place To Work®.
9 Examples of well-being programs from top workplaces
1. Onboarding at Atlassian
Starting off on the right foot is a crucial component at the outset of an employee's well-being journey. An empowering, formalized introduction process can jumpstart a new hire's integration and set the foundation for connection and camaraderie with their colleagues and managers alike.
At Atlassian, every new hire is asked to write an intro blog to share with the entire company. This introduction gives new employees the opportunity to detail their role, interests and motivations.
In addition, all new hires are introduced to the entire company at the weekly Global Town Hall and are assigned a work friend through Atlassian's Buddy Program who can help with questions, introductions and more.
2. Coaching at Synchrony
Nothing speaks to a profound sense of care and attention more than one-on-one assistance. At Synchrony, the company relies on well-being coaches who partner with employees to create a personalized wellness strategy based on strengths and values.
Working with one of the coaches is a positive, rewarding and motivating experience that can help an employee define and work towards their unique goals – offering a safe space to discuss their specific needs. One-on-one well-being coaches also provide support to people leaders navigating difficult conversations with their teams.
3. Building awareness at American Express
Awareness and solidarity can go a long way toward supporting employees struggling with any number of personal issues. At American Express, the company created a new campaign in honor of Mental Health Awareness Month: "Here for You. Here for Each Other."
Throughout the month, the company held webinars and shared tools such as talking points for senior leaders, all aimed at ensuring colleagues understand that it's okay not to be okay, and it's okay to ask for help.
American Express company counselors made themselves available for group counseling sessions with teams who wanted to a create a safe space for discussing whatever was top of mind.
These efforts normalize the importance of self-care and reduce stigma, thus getting at the root of an obstacle to helping those in need of mental health support.
4. Support assistance at EY
One component of supporting an employee's well-being is providing clarity on how they can seek help. It's one thing to have a program or practice to support your people, it's another to ensure they know how to use it.
At EY, their integrated employee assistance and life management services program has been serving their professionals and their families for over 40 years. Through a 24-hour hotline and website, employees can access:
Referrals to short- and long-term counseling services
Health and well-being solutions
Child- and elder-care resources and referrals
Daily life and home services
Dependent care
Personal travel, and more.
Thanks to the hotline, employees have impressive ease of access when it comes to taking advantage of company support.
5. Recognition at First American Financial
One crucial component of well-being that many forget is employee recognition. By validating employees' incredible work, companies can cultivate high worker morale and keep a smile on their people's faces.
First American established their "Fantastic" recognition platform, where employees can express their appreciation to fellow colleagues who have demonstrated the core values of integrity, commitment, service, leadership and teamwork.
Managers can also acknowledge outstanding employee performance and meaningful contributions by awarding points. Each point is worth one dollar, and employees can cash them in to purchase items such as gift cards, experiences and tickets.
6. Transitioning back to work at Adobe
As the concerns of overwork and burnout continue to plague companies nationwide, supporting those who take time off from work can improve employee well-being.
Adobe created their Welcome Back program to offer additional resources to employees and help managers facilitate a seamless transition back to work. The program is available to employees returning from an extended leave of absence of more than three calendar months.
By offering such well-defined support in an employee's return to work journey, Adobe creates a sense of psychological safety for those taking time off.
As part of the program, managers – with the assistance of the Employee Resource Center – develop a transition plan for each employee and discuss the possible need for an alternative work arrangement.
By offering such well-defined support in an employee's return to work journey, Adobe creates a sense of psychological safety for those taking time off for any reason.
7. Companywide time off at Red Hat
A crucial component in cultivating a healthy work/life balance is how and when employees take time off. Many people struggle to use their paid vacation time, and when they do, some struggle with anxiety over the work that awaits them upon their return.
Practices that ensure workers can truly unplug and enjoy their time off are crucial. At Red Hat, the answer is Recharge Days. These special quarterly days off were selected by associates and provide all Red Hatters the opportunity to step away from their laptops for a day of rest and renewal.
The benefit of a collective vacation day means that employees can truly remove themselves from their work and return from this break to empty inboxes. With no meetings and no emails, no one has to work twice as hard when they return to make up for the time away.
8. Financial wellness at Tanium
Among the many factors that lead to a strong sense of well-being, financial security is one that keeps many people up at night. Uncertainty surrounding finances has the potential to disrupt one's personal and professional life in profound ways.
At Tanium, the company wants to ensure that team members have the knowledge and resources needed to make informed short-term and long-term financial decisions that benefit them and their families.
Employees can also attend regular Financial Wellness Weeks that include:
Information sessions led by professionals
External financial advisors
One-on-one financial advising
On-demand financial resources
The financial information sessions cover important topics like prioritizing your assets to build stronger financial strategies, planning for your future and managing your retirement accounts.
Tanium demystifies many of the areas that contribute to uncertainty.
Employees use individual financial advising sessions to discuss their overall financial picture and how to achieve financial goals. By providing this level of support, Tanium demystifies many of the areas that contribute to uncertainty surrounding one's financial health.
9. Support networks at Atlantic Health System
Nothing speaks to a sense of taking care of the "whole person" quite like a network of like-minded colleagues who know you and are there to support you. Atlantic Health System has a Workforce Well-Being Team that integrates health care delivery through annual physicals and preventive screenings and programs to enhance healthy lifestyles.
Atlantic's Caring for the Caregiver Peer Support program connects team members with a trained peer responder when they need to talk about a particularly challenging work experience. The peer responder can help them go home after their shift and return to work the next day feeling more resilient.
Finally, the company has a Spiritual Care Department that connects team members with an Atlantic Health System chaplain who can provide a compassionate and understanding ear.
These programs perfectly encapsulate a holistic approach to care and employee well-being.
What great looks like
If you want to find out more about what other great companies are doing to support employee well-being, subscribe to our newsletter. And, consider surveying your own people to learn the ways in which you're already succeeding on your own company's well-being journey.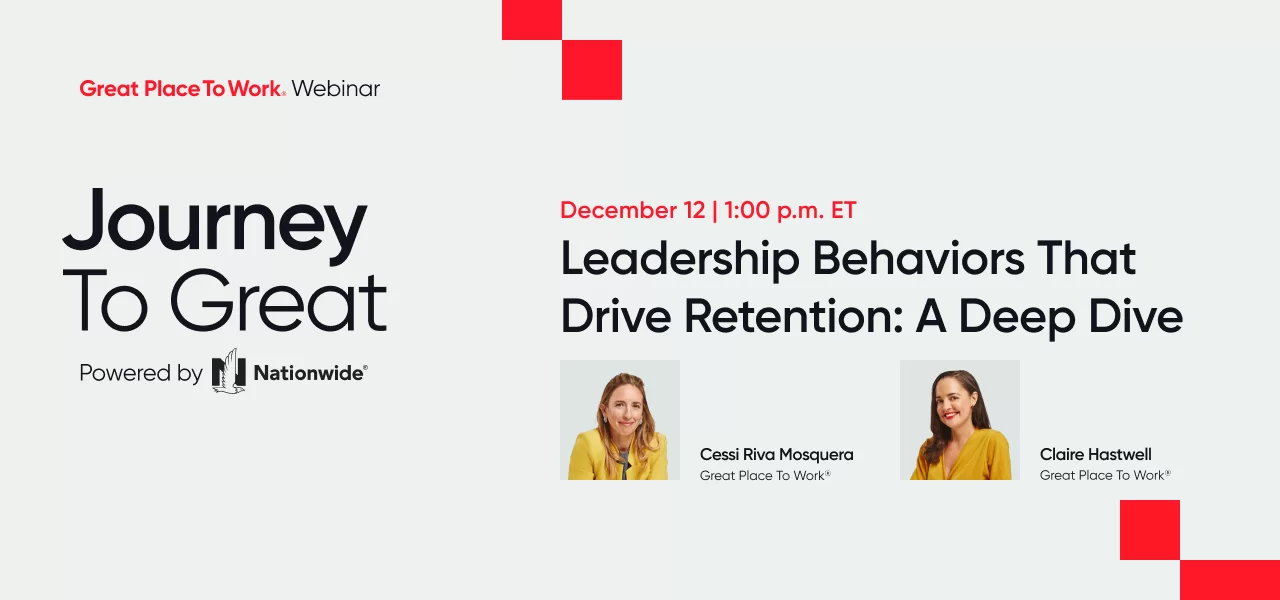 ---