This week, Fortune Magazine published its 14th annual list of the "100 Best Companies to Work for®" in America. Great Place To Work® Institute is the research and advisory firm that compiles this annual ranking for Fortune, and it is one of the magazine's best selling annual issues. While the magazine article features a lot of the benefits and perks of these organizations (how about car tune-ups, wine bars and Botox injections?), the reason that these companies appear on the list is that employees perceive a high level of trust between themselves and managers, pride in their work and camaraderie with their peers.
I don't wish to downplay the perks and benefits of these companies. Such benefits as fully paid health care
(14 provide this), child care facilities, sabbaticals, domestic partner benefits, onsite gyms (67 have them) and work/life balance practices can offer evidence that the company is committed to employees' well being. As Jim Goodnight, CEO of SAS, recently commented: "these [Fortune] rankings show that we're serious about helping employees balance work and personal lives so that they can focus on delivering the high-quality software and service our customers expect. Engaged, talented employees are vital to a knowledge-based company like SAS. They keep our offerings on the cutting edge." So, benefits can and do matter.
The important point in all this, however, is that such offerings work when they are based on mutual trust and commitment. At the Institute, we've seen too many companies try and "buy" employee loyalty. I once went to a company that offered its employees amazing perks – weekly give-aways to employees that included exotic vacations and high definition TVs, and pet insurance too – and it rivaled anything the best companies offered. As a result, company leaders didn't understand why they weren't on the list of best companies. "We do everything they do" the CEO argued. Not true. The one thing they didn't do as well as the best companies is that they didn't invest in developing a high trust workplace. And their employee survey results said as much.
I have said that enhancing trust, pride, and camaraderie in the workplace is THE central task of effective leadership in today's organizations. And far from being "soft" or ambiguous or too "touchy-feely", trust is an important skill. The great thing is that we all have the talent and ability to develop trust in the workplace. We can use what we know about developing and sustaining trust from other aspects of our lives and apply these lessons to the workplace. Such "trust lessons" include:
Trust takes time to develop; there are no shortcuts.
You get out of a relationship what you put into it.
Don't wait for the other person to begin trusting you; make the first move.
Trust requires authenticity and some degree of vulnerability.
It also requires integrity and reliability.
What would you add to this list? And how can you begin to apply these lessons in a consistent way to your approach to leading and managing? The "100 Best" offer us role models, inspiration, and useful lessons on how to develop a high trust workplace. It's worth studying and learning from them. But the real task of developing trust is in your hands.
Michael Burchell is Corporate Vice President for Global Business Development at Great Place To Work® Institute, co-owner and partner for the Institute's affiliate in the United Arab Emirates, and co-author of the recently published book, The Great Workplace: How to Build It, How to Keep It, and Why it Matters.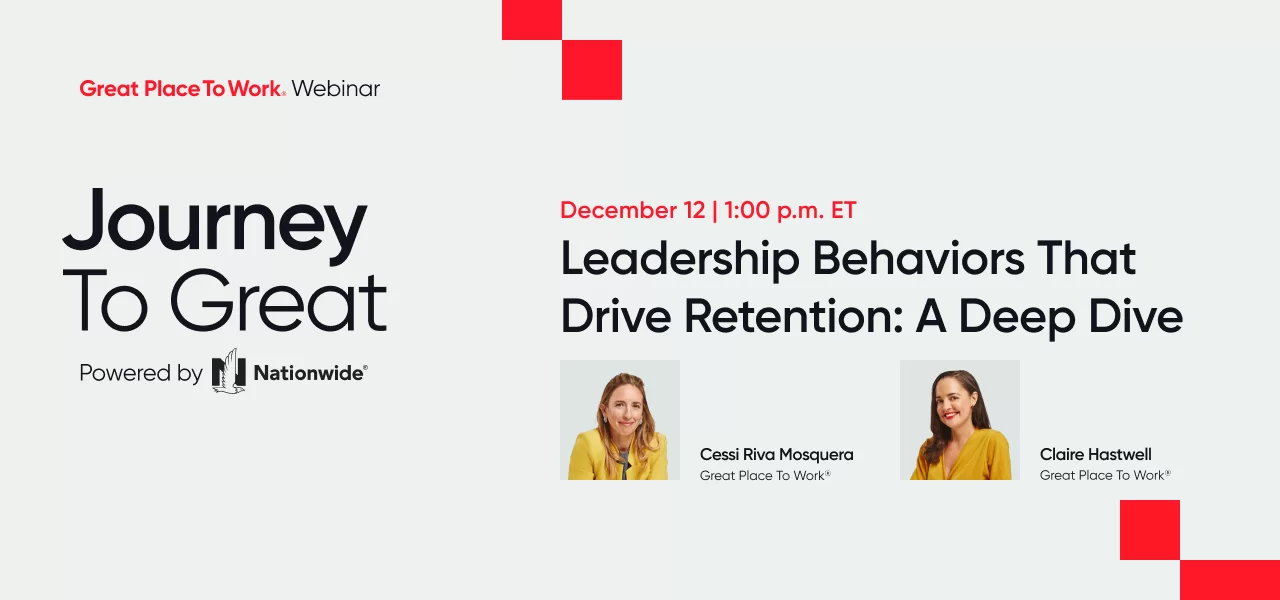 ---