Image: Sisense employees celebrating Pride Month.
Well-being and work-life balance aren't typically mentioned in the same breath as New York City company culture.
And Great Place To Work® data on employee experiences across the country confirm it: New York workplaces underperform other regions on measures of work-life balance by up to 7 percentage points.
But ask an employee at one of the 2021 Fortune Best Workplaces in New York™, and they will probably heap praise on their employers for their wellness focus. These standout workplaces are keyed into the often-overlooked essentials of employee well-being.
The list, produced by Great Place To Work, is based on confidential survey data representing more than 78,000 employees at companies in New York state and the tristate and metro areas, assessing their experiences of trust, innovation, company values and leadership.
With burnout on bosses' minds and record numbers of employees leaving their jobs in what some have dubbed "the great resignation," well-being is something every employer must take seriously if they want to retain top talent
Noom, a consumer-first digital health platform, knows employee well-being is much more than açai bowls and yoga between meetings. At Noom – #5 on this years' list – wellness also captures crucial employee experiences that prevent burnout, such as employee empowerment and growth.
If you work at Noom, you are encouraged to be the "CEO of You Inc." which is another way of describing how the company supports self-development through mentorship, learning opportunities, and open communication about professional goals and work-life harmony.
That is why 96% of Noom employees say it's a great place to work and 97% say the company encourages them to balance their work life and their personal life – a key driver landing them on the Best Workplaces in NY this year.
Feedback is free
Noom also touts the relationship between ongoing feedback and employee well-being. In fact, the word "feedback" was something their employees, or, the "Noomily," mentioned frequently in their Trust Index™ surveywhen asked what makes their company special or unique.
Take how one member of the Noomily described what makes the company special and unique:
"Management is open to feedback regardless of position. They allow you to express frustration without that reflecting on you as a person or your role within the organization. They are constantly looking to learn and grow as a company in the same way they want you to learn and grow as an employee. They value their employees as much as the bottom line and balance those two things better than any other company I've worked for."
Flexing on flexible
Much research shows how employers can guard against threats to employee well-being by enabling more fluidity and autonomy in choosing when, where and how to complete their work. Listening, flexibility and work-life balance are intertwined. This became clearer than ever during the pandemic.
One company on the list had grand plans for daycare on site at its New York offices, and when everyone was working from home during lockdowns, the company didn't back out. Instead, they flexed to a new model for childcare at home by launching a virtual day camp which gave parents a much-needed reprieve during the pandemic.
Companies speak about being first-to-market and being nimble in product delivery to customers. Great workplaces meet that quick-moving model for their employees, too.
Coming up for air
Staff at Sisense – #7 on the small-medium category list – rave about one of their wellness perks called "Coming Up for Air days." These are long weekends where every staffer gets the Friday after each quarter off.
This AI and data analytics firm is the biggest mover on our list this year, jumping up 21 spots from last year.
"The intention [of Coming Up for Air days] was to allow us to recharge after each quarter by spending more time with our loved ones, participating in a fun activity, or by just taking a break and getting ready for the next quarter," says Nurit Shiber, chief people officer at Sisense.
Emails and calls are banned during this period and the company took it one step further during the pandemic. Leaders at Sisense noticed employees were doing more work than usual, all while juggling family demands and the stress of a global pandemic.
"We added an additional two Self Care days during each quarter with the same intention: to practice mental and physical well-being," says Nurit.
Wellness is here to stay
If it wasn't clear before, the pandemic has exposed well-being, flexibility, and extra time to rest and refuel as essential building blocks for long-term employee happiness. The Best Workplaces in New York met the crisis by listening to their people, reimagining what supportive benefits and perks could look like and rapidly pivoting to provide them.
The popularity and positive impact of these caring company cultures makes it clear, they are here to stay. Angela Crossman, Noom's head of people agrees. "As we come out of the pandemic, these flexible policies will remain part of the Noomily culture permanently."
See the full list of the Best Workplaces in New York.
Get more advice from Great Place To Work on attracting and keeping star employees.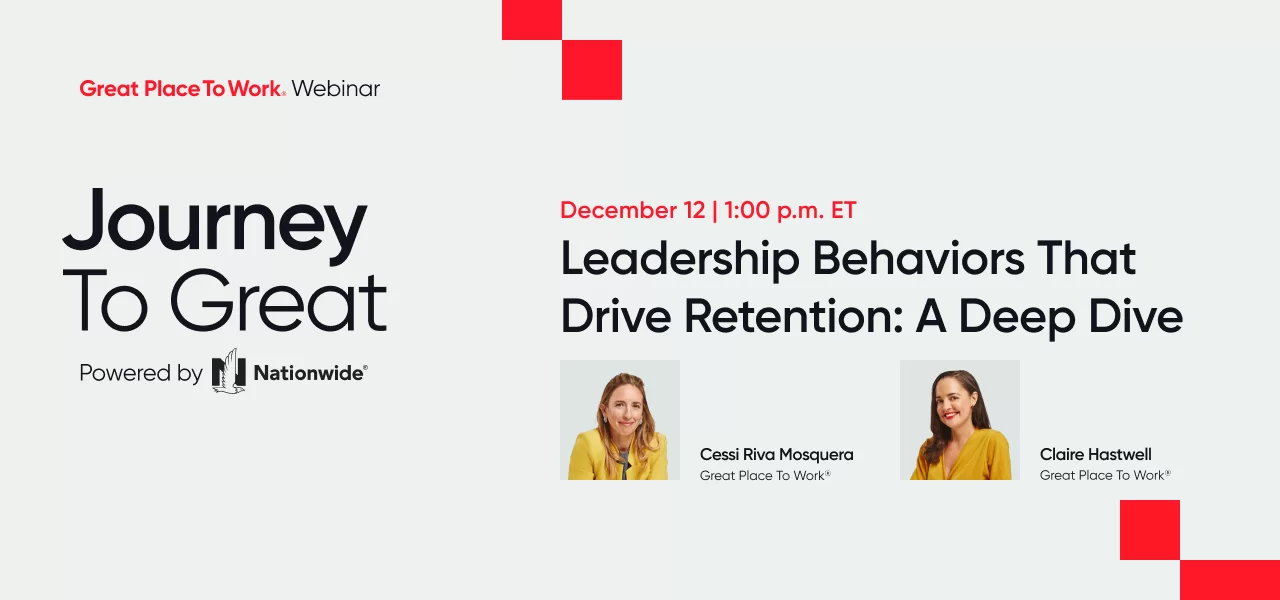 ---