Gaining Insight from List-Making Companies at the Great Place To Work® Conference
Last week, in partnership with Fortune Magazine, we released this year's Fortune 100 Best Companies to Work For list. At Great Place To Work, clients regularly ask for stories and insights from these 100 Best Companies that will help them change their culture. We stand by the truth that no company is the same as another, and that practices and cultures that work for an organization like the ever-coveted Google, won't always for your organization. Building a great workplace is about understanding your organizational culture, what makes you unique, and how you can build trust specific to your organization and its needs.
We also know that while learning from the Best Companies likely will not provide other organizations with a blueprint for culture change, it can serve to inspire and motivate companies to improve. For this reason, we place an emphasis on telling the stories of great workplaces with the hope of encouraging more widespread culture change in organizations.
Attending the Great Place To Work Annual Conference is a great way to hear these success stories, interact with leaders engaged in culture change, and learn from Great Place To Work employees who work with some of the country's best organizations. Each year we host a breakout session focused on trends from the 100 Best list, as well as a session on the methodology behind the list. Both of these sessions provides attendees with an understanding of what great cultures look like and specific examples of how they are created.
"Making" the List: The Great Place To Work Evaluation and Review Methodology
If you are considering applying for our lists, are curious about how we evaluate organizations, or are looking for a clearer understanding of what we mean when we talk about organization culture, our breakout session on our list methodology is a great fit. Great Place To Work's Best Companies Director, Erin Bartulski, who oversees the list evaluation process, will address commonly held questions on how companies participate in the list process and will also give insight into the selection process. There will also be an overview of the models we use to define great workplaces and understand organizations. This session will provide participants with an understanding of why an organization's culture is far more than the sum of its perks, and how they can articulate culture change at their organization.
A Deeper Dive into The List: Findings among the 2015 FORTUNE 100 Best Companies to Work For®
Attendees at our conference will have the unique opportunity to learn about the Best Companies, how they became great, and what they do to stay on top. This year we will focus on some trends from the 2015 100 Best, as well as share some stories from list-making companies who have steadily improved their culture and their position on our list. Join Great Place To Work® Associate Consultants JP Mantey and David Shanklin to hear the compelling findings across the Fortune 100 Best Companies to Work For® including common areas of focus amongst Best Companies. Learn the areas where these forward-looking organizations are excelling and how they continuously push the boundaries of what it means to be a great workplace.
Attend the 2015 Great Place To Work Conference on April 22-23 in Dallas, TX! Read more about these sessions, and others offered by both Great Place To Work and our clients here: 2015 Great Place To Work® Conference Agenda.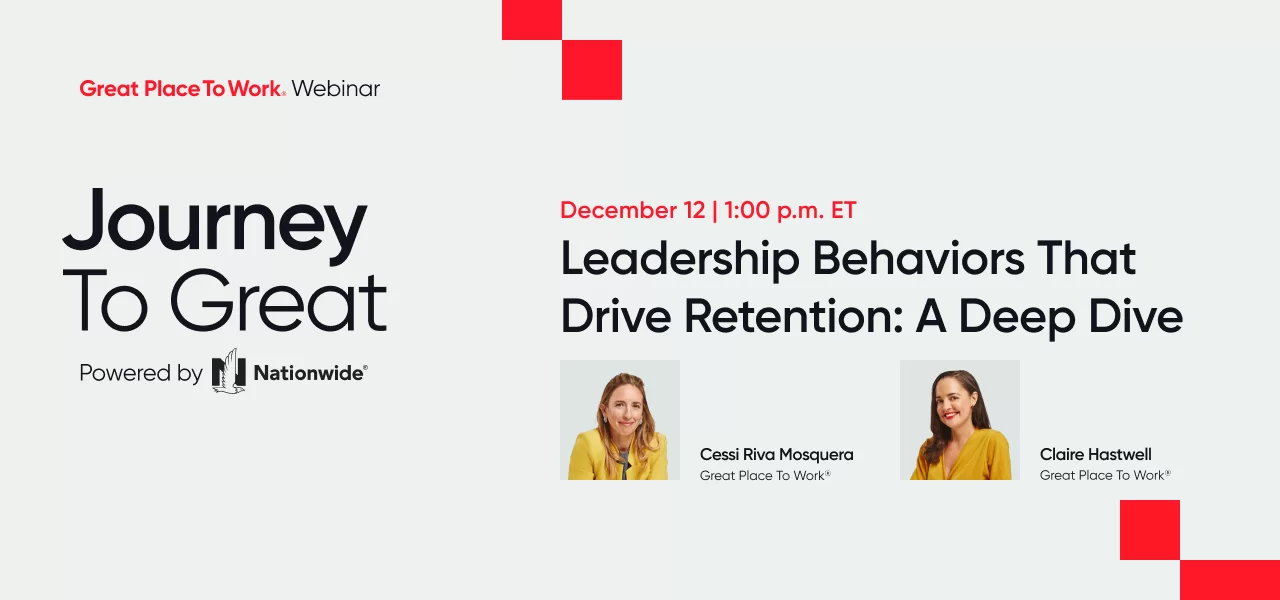 ---