Building on its long-standing culture of flexibility, and a workforce that was already working mostly from home part-time or from client sites, Deloitte was able to quickly pivot its professionals to remote work.
With leaders like Terri Cooper to offer their expertise, Deloitte has not only jumped 11 spots on this year's Fortune 100 Best Companies to Work For® list, but the organization appears again on 2021 Best Workplaces in Consulting & Professional Services™ list!
Terri –vice chair of external diversity, equity, and inclusion – shares her thoughts on how Deloitte has maintained an equitable workplace throughout the COVID-19 crisis, and how the organization plans to use its learnings to continue to foster an inclusive workplace for all.

GPTW: What have you been doing in your role to help create an equitable workplace?
Terri Cooper: From the point of view of trying to create that equitable workplace – back in the summer with the murder of George Floyd, we established a Black Action Council.
We have a very strong history as it relates to diversity and inclusion, but it became apparent to us that we had to be even more intentional around the way in which we address specific issues that relate to people of color within our organization.
We tuned in on what we call the "LEAD framework." At Deloitte, across every area – whether it's recruitment, deployment, advancement – we leverage the framework of "listen, engage, acknowledge, do."
We then focus on cascading our learnings as time goes on. It was something that applied to everything that we do, but is even more important now.
It became apparent to us that we, as leaders, had to listen. So many organizations rapidly go into action, but listening is crucial. Everybody's experience is different, and we need to understand these unique experiences.
Its crucial for us to understand the root causes so that individuals recognize that we are taking what they say very seriously, and so that we know where change needs to occur.
"So many organizations rapidly go into action, but listening is crucial. Everybody's experience is different, and we need to understand these unique experiences."
The other thing that has been important for us is our series of Safe Places for Dialogue conversations. These sessions encourage everybody to engage and to gain a greater understanding of the challenges that our colleagues and particularly our colleagues of color face in the day-to-day. And recognizing that we each have a responsibility to drive our own personal education.
We've also is engaged a whole series of notable and phenomenal external speakers through our Race in America series. Initially, we invited well-known individuals to talk about the experience of being Black in America.
More recently, we've had similar conversations around the experiences of our Hispanic/Latinx colleagues, and we placed a huge focus on bringing to the forefront the challenges that our AAPI colleagues are facing.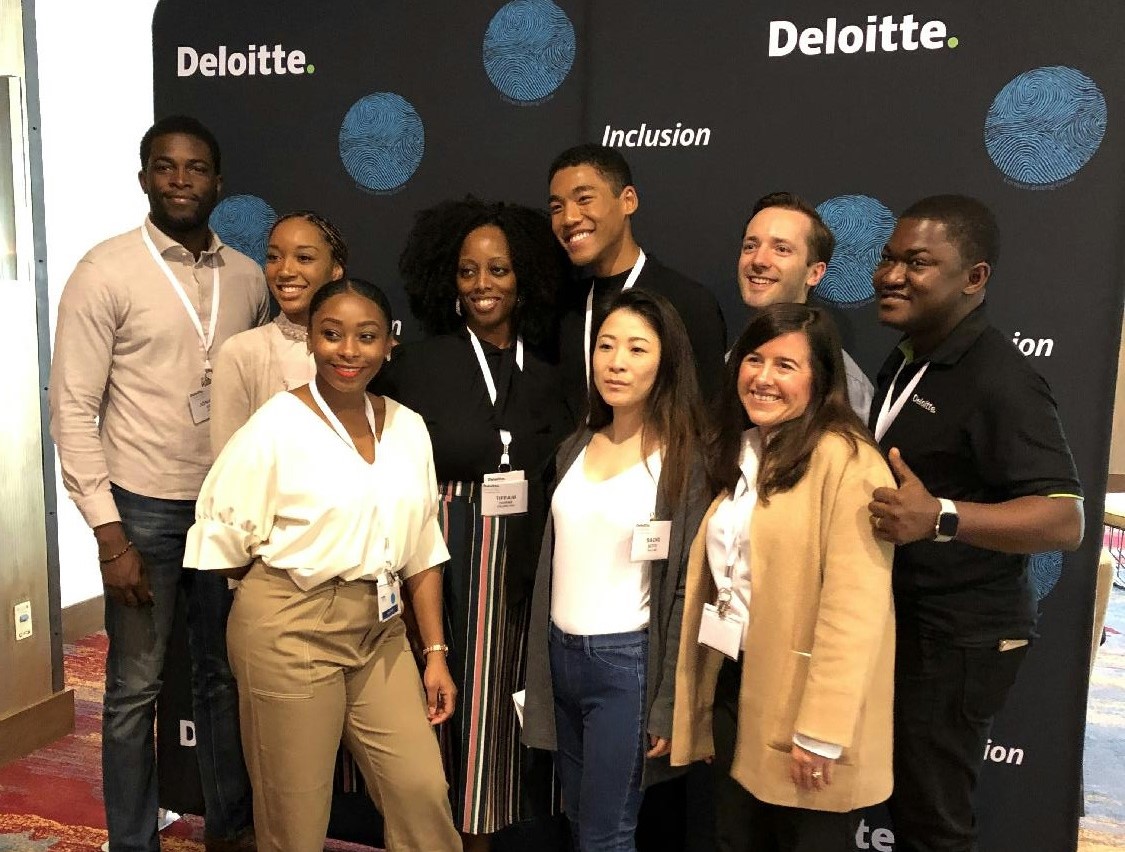 Our focus on mental health has also been critically important. Not only by providing increased access to counseling for individuals, but also by recognizing as leaders the need to have conversations that start with: How are you? How are you feeling? How are you doing?
We also recognized that we needed to look at our external providers for that counseling and ensure that we make culture and identity part of the mental health conversation by having culturally competent professionals who can relate to the experiences of our Black, AAPI, Hispanic/Latinx, LGBTQ+, neurodivergent, and diversely abled professionals.


GPTW: With the pandemic there are very few positives, but one positive is that we seem to be more aware of the intersections of the human population and how to address them. You said that listening is crucial in terms of identifying what support your employees need. In the absence of listening, what were some assumptions leaders made at the forefront of the pandemic as it relates to supporting your employee base through a crisis?
Terri Cooper: Good question. I think there was the challenge right at the start with thinking about a one-size-fits-all approach. Suddenly, everybody worked from home in a virtual environment.
So, you can make an assumption – a big assumption – that as long as individuals have broadband access and access to their computer, we should be fine. That is really where you're not listening.
You have to consider what the facilities look like for somebody at home. If you happen to be, say, a young, single professional living in New York that shares an apartment with five others, do you have that private space? What else do we need to think about and help you better function in that area?
There was a real need to try and understand what the needs of every individual were, because I can make some big assumptions around what you might need, but that might not be true for you in your experience.


GPTW: What was involved in creating what you call the human-centric survey?
Terri Cooper: One of the things that we wanted to make sure of around the human-centric survey was truly focusing on putting our people and their experiences at the absolute heart of the survey design. We wanted to design a survey that would help us understand what our workers want to tell us and how they want to tell us.
You have to give a lot of thought and consideration to how you ask those questions and allow individuals to represent their whole selves.


GPTW: You said that you designed the survey in a way that was inclusive and made sure it was accessible to everyone. Did you notice an uptick in survey participation over time? What benchmark did you use to measure that?
Terri Cooper: We did see an uptick. We normally have a benchmark of anything above 30% is always really good from a survey perspective. We suddenly got a much higher response. It's about how you follow up with the survey. We surveyed about every two months; we did smaller groups bi-weekly, but we did the entire firm every two months.
The reason behind that is that we wanted to understand from our professionals what their overarching concerns were. There were five real concerns according to our results. I know it won't come as any great surprise to you that the concerns were around the risk of contracting COVID, job security, the potential impact that this would have on their career, their mental health, and the economic impact of the pandemic.
What was immediately visible in the first survey was a little different two months later, and two months after that, and so on. We were acting on the results, we were communicating clearly what we'd heard and what policies and procedures that we were going to change as a response.
These actions actually led to an increase in the responses because there was that overall sentiment that "I'm being heard, and I want to contribute by sharing the challenges that I'm facing."


GPTW: It seems like the concerns shifted initially from contracting the virus and safety protocols in the workplace to concerns such as: "What is my professional future will look like if I have to continue working from home?" or "What does a promotion look like for me now and how do I navigate that?" How did you all address those shifting concerns?
Terri Cooper: First of all, you need to know that they're shifting. When we first launched the survey, contracting COVID was a huge concern for individuals. As time went on, we saw that the issue of mental health came to the forefront.
"There was that overall sentiment that 'I'm being heard, and I want to contribute by sharing the challenges that I'm facing'."
I don't think anybody envisioned that at the end of the summer recess children wouldn't be going back to school. Homeschooling is a huge adjustment and as time went on, this became more and more challenging for families.
We were able to very quickly realize that not only was this a significant mental health challenge, but that we had additional work to do in order to adapt the flexibility needs of our workforce.
We did that by providing additional benefits that many individuals could use, such as the ability to buy additional equipment that made working from home easier, as well as providing extra hours for emergency childcare, etc. And so, there's been that constant pivot. Surveying enabled us to think about what the major concerns were and address them in real time.


GPTW: Is ensuring an equitable hybrid workplace something Deloitte trains its leaders on? Is there a formalized process or a new policy for leadership training that you'll be rolling out to ensure that this happens?
Terri Cooper: We're building off what we call our "inclusive leadership behaviors." We have to reiterate that leaders need to have a commitment to figuring out how they are going to ensure that they're truly engaging with all of our professionals. And that commitment is so important. There's an element of empathy that drives that.
It's going to be critical that leaders lean into that empathy and that they're curious. We need to understand what fears and challenges that individuals have, or their anxieties, and be curious around how they want to progress in the work environment. We're going to have to continue to ensure that our leaders are curious around how to support individuals.
We also recognize that building on those traits, it is still important to focus on cultural intelligence. If we think right now about each of our different heritages and ethnicities and where we are geographically, and the experiences that our respective families have had throughout this whole pandemic, there are varying fears as it relates to different types of racism, discrimination, etc. That cultural intelligence is very important.
It's also linked to our cognizance of bias. How are we actually going to address that and be very aware of our own biases and make sure we treat people fairly?
And then last, but not least, leaders need to continue to be courageous. Respectfully calling out bad behavior. Being courageous in our thinking when it comes to reevaluating the workforce moving forward. So, I don't look at this as new training necessarily. It's about building on the core behaviors that we consider to be critical for our workforce, but building on them with a new lens.
Does your company have an equitable, hybrid workplace model you're proud of? Nominate your company for a Best Workplaces list!
---