Giving employers a recruiting advantage is just one benefit of the certification process.
For HR leaders, there are few milestones that hold as much pride as becoming Great Place To Work-Certified™. It signals to the world that they have created a company culture that employees love.
And when you become Certified, you earn more than just a shiny badge. Does your manager need some convincing? We're here to help you get the case for culture over the line.
1. Recruit top talent and increase your offer acceptance rate
"90% of our new hires said that Great Place To Work-Certification™ was the key deciding factor in selecting IDOC," Nella Gonzalez, human resources manager at IDOC, told us.
Great company culture is now a prerequisite for job seekers. And they are using Certification to help them validate employer claims and weigh up job offers.
Certification signals that current employees endorse their organization's culture and leadership. It tells candidates that employees feel supported and would recommend their workplace to others.
2. Measure and improve your company culture against specific metrics
Certification depends mostly on the results of your Trust Index™ survey – the industry standard for measuring employee experience.
After you collect your employee survey responses, you will receive an in-depth analysis of your company culture. You'll get insight into areas such as perceived fairness, feelings of belonging and perception of leadership.
The survey analysis step in Certification gets you inside the heads of your people and will give you a clear view of your culture strengths and areas of opportunity.
3. Proudly display your badge of honor
"We promote our Certification everywhere we can. We point out that we are Certified in all our hiring campaigns. It's on everything from our Teams background to our monthly associate surveys," reports Heidi Burns, VP, marketing and originations development at Flagship Credit Acceptance.

Every Great Place To Work-Certified company earns a digital Certification badge. You can use it throughout the year to remind employees, partners and the public about your achievement.
Many companies include the badge on social profiles and email signatures, print it on swag and proudly display it on their job postings.
4. Become eligible for top company culture awards
Once your company is Great Place To Work-Certified, you'll automatically be considered for our Best Workplaces lists.
You could make Best Workplaces for Millennials™, Best Workplaces for Women™, Best Workplaces in Manufacturing & Production™, Best Small & Medium Workplaces™, and over a dozen more.
5. Be featured on our website
Every Certified company earns a profile page on the Great Place To Work website. You can share company details and any other recognition earned on Best Workplaces lists.
Certified companies often link to their profile from their careers page to provide third-party validation of their exceptional company culture.
6. Build employee pride
"Our Certified company culture is the beating heart of our organization," Salesforce tells us. "This is what helps us not only attract great talent but also build pride and loyalty among our employees."
All employees want to be part of something special. Getting Great Place To Work-Certified builds pride among your workforce.
7. Reinforce your company values and culture
"People are who you tell them they are. If you tell someone they are great and worthy, they're going to aspire to be great and worthy. If you continue to tell your team members you are a great place to work, they will continue to make your company a great place to work," explains Heidi.
Raising awareness of your Certification among current employees is akin to promoting your company values, mission and culture. Certification reinforces that you are a company that cares. A company that puts people first.
Because employee opinions dictate the results – it's a reminder that, yes, your company is a great place to work.
8. Join a community of other great workplaces
When you join the Certified club, you put your name alongside the likes of the World's Best Workplaces™. You also get to join the virtual nationwide office party on Certification Nation Day. Celebrate your people, connect with like-minded companies and Tweet your culture pride to the world!
9. Satisfy shareholders, customers and other business stakeholders
"All the studies show that organizations that are purpose-led with people aligned for that purpose are more successful and their people live more engaged and happier lives," says GBCA's CEO Davina Rooney.
Davina is right. Investors and other stakeholders are demanding that companies conduct fair and sustainable business – and they want to make sure that their vendors are doing the same.
Certification is an efficient way to signal your workplace ESG – it is a third-party validation that your business treats its people well.
As Davina says, "It is important people know that it does what it says on the tin."
10. Celebrate as a team
Employee recognition is proven to increase employee retention, employee engagement and perceptions of fairness in the workplace.
Earning Certification is cause to celebrate – a reason to thank your employees. So, rally your team around this win and celebrate – we've got 21 ideas for you.
11. Create goodwill and employee trust
Many companies find that asking employees to participate in a survey about their workplace experience creates goodwill. Employees appreciate being given the opportunity to voice their opinions.
And ongoing listening is a recurring theme among the 100 Best Companies to Work For®. When the executive team is clearly focused on creating a great workplace culture and continue to gather employee feedback, employees know that their happiness is a top priority.
Great starts here
As you can see, recognition is just the cherry on the sundae with Certification. Make your employees proud, recruit top talent and find gaps in your HR policies. Learn how to get Certified on our website or check out our Get Certified webinar.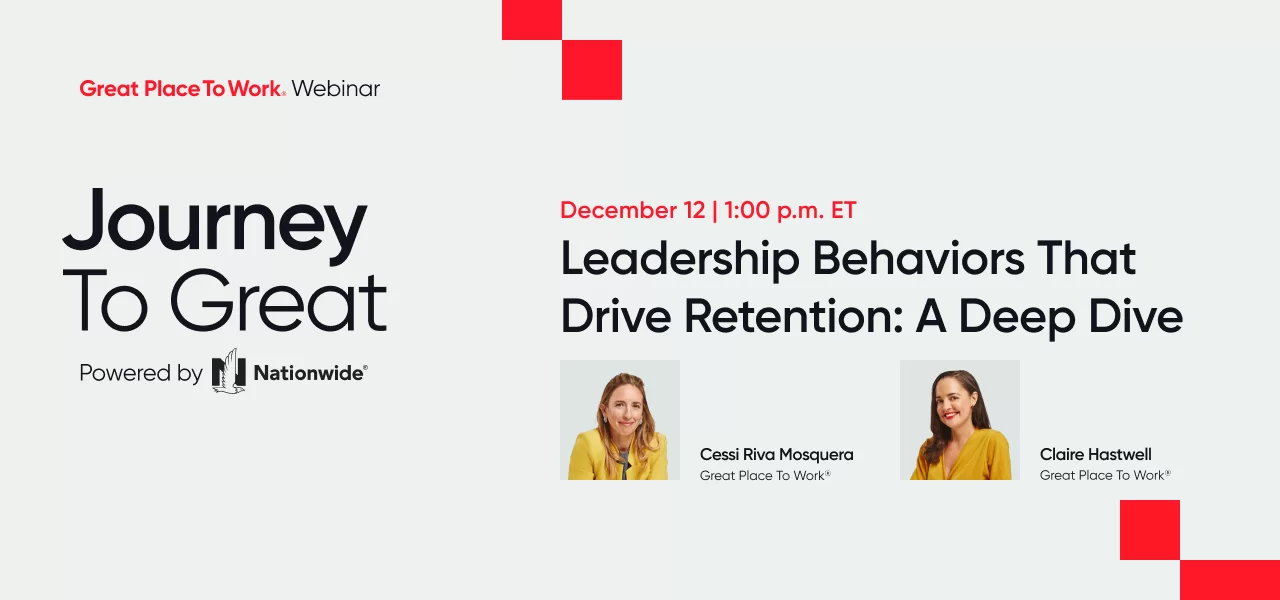 ---