An effective talent acquisition strategy requires a strong employer brand, a streamlined candidate experience, and a focus on long-term goals.
Hiring top talent takes time, intention, and energy. As your business evolves, you need to continuously assess the needs of your organization and bring on new talent with the right skills to move your company forward.
This means that successful talent acquisition is more than just hiring new faces. It requires aligning your company vision with both your recruiting strategies and employee experience, while continuing to connect your existing workforce to your mission — so that everyone at every entry point can support your organization's growth.
What is a talent acquisition strategy?
A talent acquisition strategy is an organization's customized approach to identifying, evaluating, and hiring the best candidates, in order to achieve the company's long-term goals.
Strong employer branding, a positive candidate experience, a sense of community within the organization, and being strategic about where and how you find talent are all proven ways to shape and cultivate an engaged organization.
A common mistake employers make is hiring simply to fill positions as quickly as possible. Instead, carefully assess your company's unique goals and think beyond your immediate needs. While one business may need to double its workforce to meet growing demand, another could require specific expertise to expand abroad. Have a detailed understanding of the skills and traits each department requires and go from there.
Talent acquisition vs. recruitment
While talent acquisition and recruitment go hand-in-hand, they are not quite the same thing.
Recruitment has traditionally been purely focused on filling vacancies. Recruiters seek out and screen candidates for an existing (or soon-to-exist) role.
Talent acquisition strategies, on the other hand, tailor the recruiting steps to specifically meet a company's vision. Talent acquisition managers go beyond just meeting headcount by instead researching a company's needs and then seeking out talent that can benefit the company in the long term — sometimes even without a specific role in mind
For example, Nationwide Mortgage Bankers has an unconventional hiring strategy of hiring people even when a role isn't immediately available. The company's focus is instead on hiring those who they feel truly fit their core values, rather than just hiring for the roles they immediately need.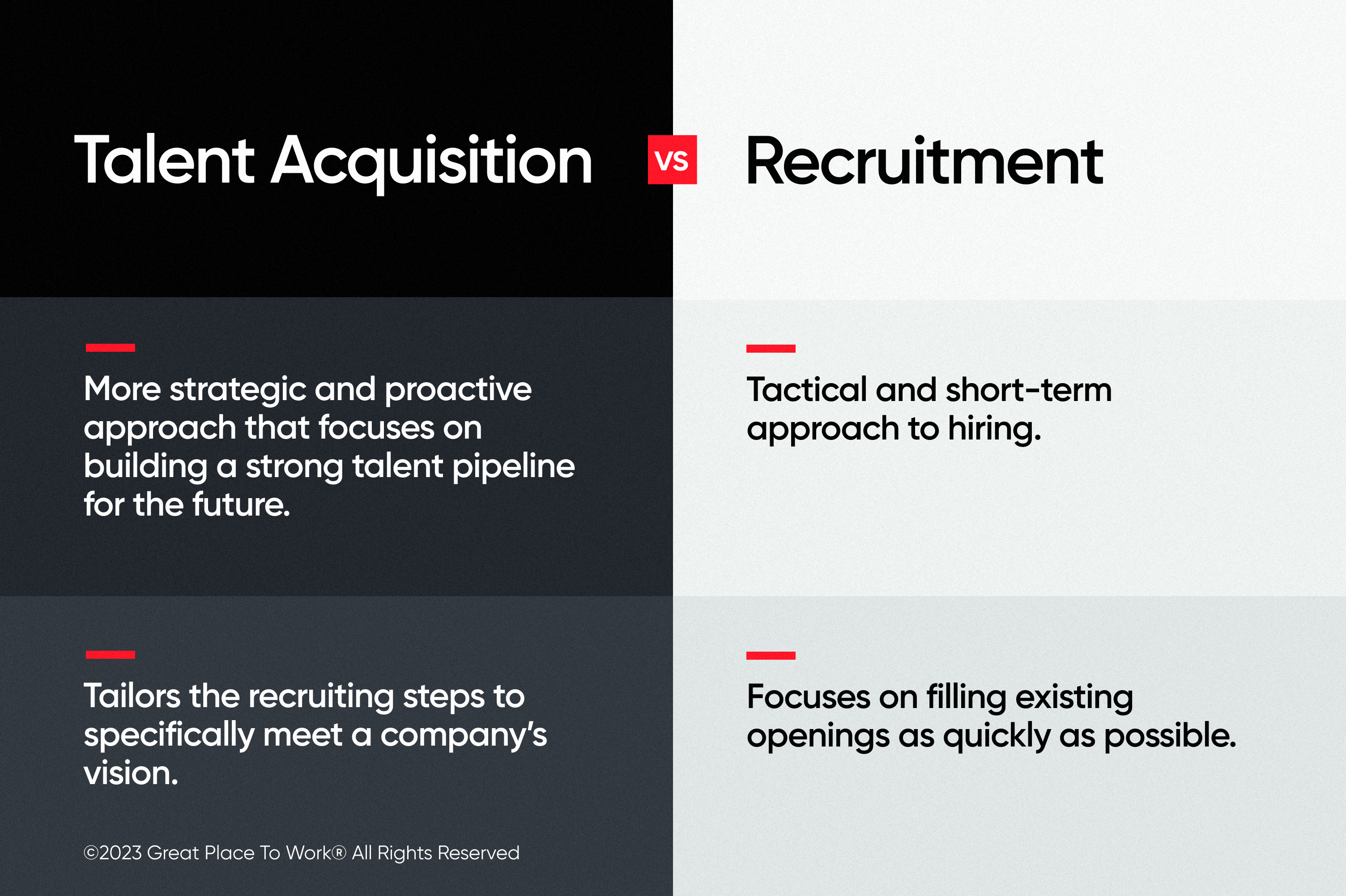 8 tactics for a successful talent acquisition strategy
As a company's demands change, it's essential to routinely review and refine the applicant process. Address any gaps within your recruiting efforts.
Consider these eight tactics to ensure every step of your talent acquisition efforts aligns with your priorities:
1. Define a compelling employer brand
How strong is your employer brand? How does your company stand out from its competitors? How well does it reflect your mission, values, and goals?
Job candidates will research what it's like to work at your organization. They'll go to your careers page, your social media accounts, your Great Place To Work® Certified™ profile, and Glassdoor-style websites. Using these sites to align your values, mission, and culture is a critical part of recruitment. It paints a picture for your candidate.
Even how your job description is written conveys your employer brand. YNAB, for example, posts job descriptions that are three to four times longer than most, describing in depth the type of work the candidate will do, what a typical day would be, and what success will look like. The result? Candidates know upfront whether the company culture will resonate with them.
Developing a clear employer brand is an essential recruitment strategy that employers often overlook. Think about your employer brand like you would think of a candidate's resume: you're looking for ways to tell a story, stand out in the market, and tell prospects why they should be working for your company.
2. Streamline the candidate experience
Complete a full audit of the candidate experience and review your application process from beginning to end. Think of every single point of contact (emails, automated messages, wording used in job description, etc.) and review recruitment from the lens of the candidate. You are sending a message about both the company and the role before even engaging with the candidate — every email, job description, and response matters.
As an example, construction company Hilti requires anyone involved in recruitment to take a day-long training session that covers things like effective interview techniques, assessing candidates against the company's core values, fair hiring practices, and the full onboarding process. The goal is to ensure that the company is upholding the same interviewing standards and providing a consistently positive experience for every candidate.
3. Show, don't tell
Instead of just saying it's a great workplace, showcase your company culture through the benefits offered, or by sharing the experiences of current team members, or by applying for employer recognition awards.
Show applicants your workplace is the ideal fit by highlighting examples of low turnover, pay equity, growth opportunities, workplace flexibility, and a collaborative environment that welcomes innovation.
You could even blog about your company culture. Showcasing "a day in the life" or interviewing current team members on why they choose to work for you is a great strategy to promote open roles, share content, and provide information on the company's mission, culture, and benefits.
Emphasizing employee experience in a genuine way will help you recruit and retain the best, most-aligned candidates.
4. Have a clear understanding of your business goals
Distinguish what knowledge and skill sets are necessary, meet with stakeholders and hiring managers to understand team needs, and don't be afraid to think outside of the box to find the right talent.
Synchrony Financial has an "Advancing Diverse Talent" initiative that uses data and analytics to help identify gaps and opportunities within its existing workforce, inform its hiring strategies, and develop underrepresented talent.
In 2021, this meant focusing on increasing Black and Latinx employee representation at all levels of the company, in particular, at the vice president level and above.
Using an employee survey tool that includes detailed data and analysis can join the dots between talent acquisition and organizational outcomes by helping you:
Evaluate employee experience by demographics, departments, and managerial levels
Get ideas for diverse hiring KPIs and make every leader accountable to them
Get recommendations on where to focus or make changes
5. Cast a wide net
When it comes to hiring, leave no stone unturned. Consider alternative sources for hire, like a specialized online forum or advocacy group. Approach candidates who may not be actively seeking a new job but are open to it. For example, recruiting veterans and incorporating military job boards into your recruiting strategy can help you find untapped talent.
Develop positive relationships with industry leaders, local groups, and universities/trade schools. Supporting communities where you are headquartered provides an opportunity to know candidates beyond their resumes.
Directly recruiting from diverse universities or trade schools provides an opportunity for young candidates from underrepresented communities to find roles that may not have always been accessible to them.
For example, Bank of America does outreach with 30 community colleges across 10 states to source entry-level talent. The company also has a hiring and development program that provides entry-level jobs and career training for individuals from low- and moderate-income neighborhoods.
6. Incentivize employee referrals
Incentivizing employee referrals and making your hiring goals widely known within the company can broaden your network of candidates and bring in higher quality hires. When employees refer someone they know, they typically have a good understanding of their skills, work ethic, and values. As a result, the referred candidate is more likely to be a great overall fit for the job.
A well-designed employee referral program can also save you time, reduce the cost per hire, and improve engagement among current employees. When employees are encouraged to participate in the hiring process, they feel valued and engaged in the organization's success.
7. Hire for skills, not degrees
Many employers are moving away from using academic degrees to measure a candidate's skills, and instead are focusing on skills-based recruiting.
Irma Olguin, Co-Founder and CEO of Bitwise Industries, puts it well:
"When you're hiring, the question that you're asking is not, 'Does this person come with the right number of years of experience?' The question that you're really asking is, 'Do I like this person so much that when they mess up, and they will, I want to stand in front of them and make sure that we're together making improvements?' Would a college degree tell you this?"
IT company Accenture is building its talent framework by no longer requires college degrees for specific job postings. Similarly, Bitwise Industries encourages diverse hiring by removing unnecessary degree requirements and training new talent that has promise but has been overlooked by most other tech companies.
College degrees are not always an accurate predictor of job performance or success. By shifting the focus to skills and experience, employers can better match candidates to the specific needs of the job, leading to better job fit and better performance.
8. Boost talent acquisition with Great Place To Work Certification
There are many ways certification helps a company's recruitment and talent strategy but the main one is allowing your organization to stand out as a company that not only values a healthy culture, but one that the employees actually say is a great place to work, too!
Being Great Place To Work Certified supports your recruitment and talent strategy by helping more eyes land on your company. It widens your applicant pool significantly and organically drives more traffic to your business. Certification is an independent verification of your healthy, engaged culture and employee experience.
Build an impressive talent acquisition strategy
Want a more strategic and sustainable approach to talent acquisition? Being known as a Certified Great Place To Work will put you at the top of the list for job seekers. Certified workplaces create more credibility with employees and investors, and know exactly how to improve their culture. Ask us about earning Great Place To Work Certification today.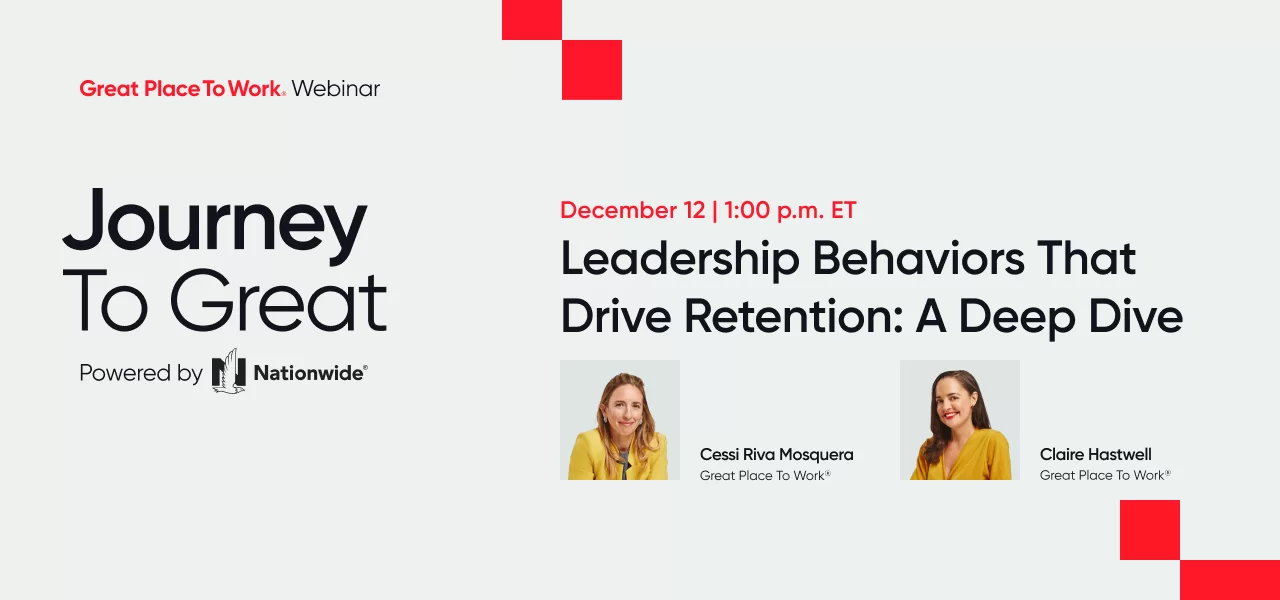 ---