Talent management is a strategic and organized approach to attracting, developing, and retaining top talent. A successful talent management strategy aligns employee engagement and growth with organizational results.
A talent management strategy is critical to every business. If your organization was one of the many impacted by the Great Resignation of 2022 (or if you're clued up on how workplace culture affects business profits), you'll know how important it is. After employees across the U.S. realized how unhappy they were with the state of their workplaces, they went walking — and employers were left scrambling.
"The Great Resignation was a war for talent," says Matt Bush, principal strategic advisor with Great Place To Work®. "And that talent was renegotiating what they expected from employers.
The bar has been raised. People now expect more equitable treatment, more flexibility, more care for their health and well-being outside of work. And as that norm changed, talent management had to change, too."
What is talent management?
Talent management is the process of meeting employees' needs at every stage of their life cycle with the company — not just at recruitment but through retention and their eventual exit from the organization. A successful talent strategy includes:
Compensation (pay, perks & benefits)
Onboarding
Connection and community
Employee engagement
Training and development
Succession planning and exit processes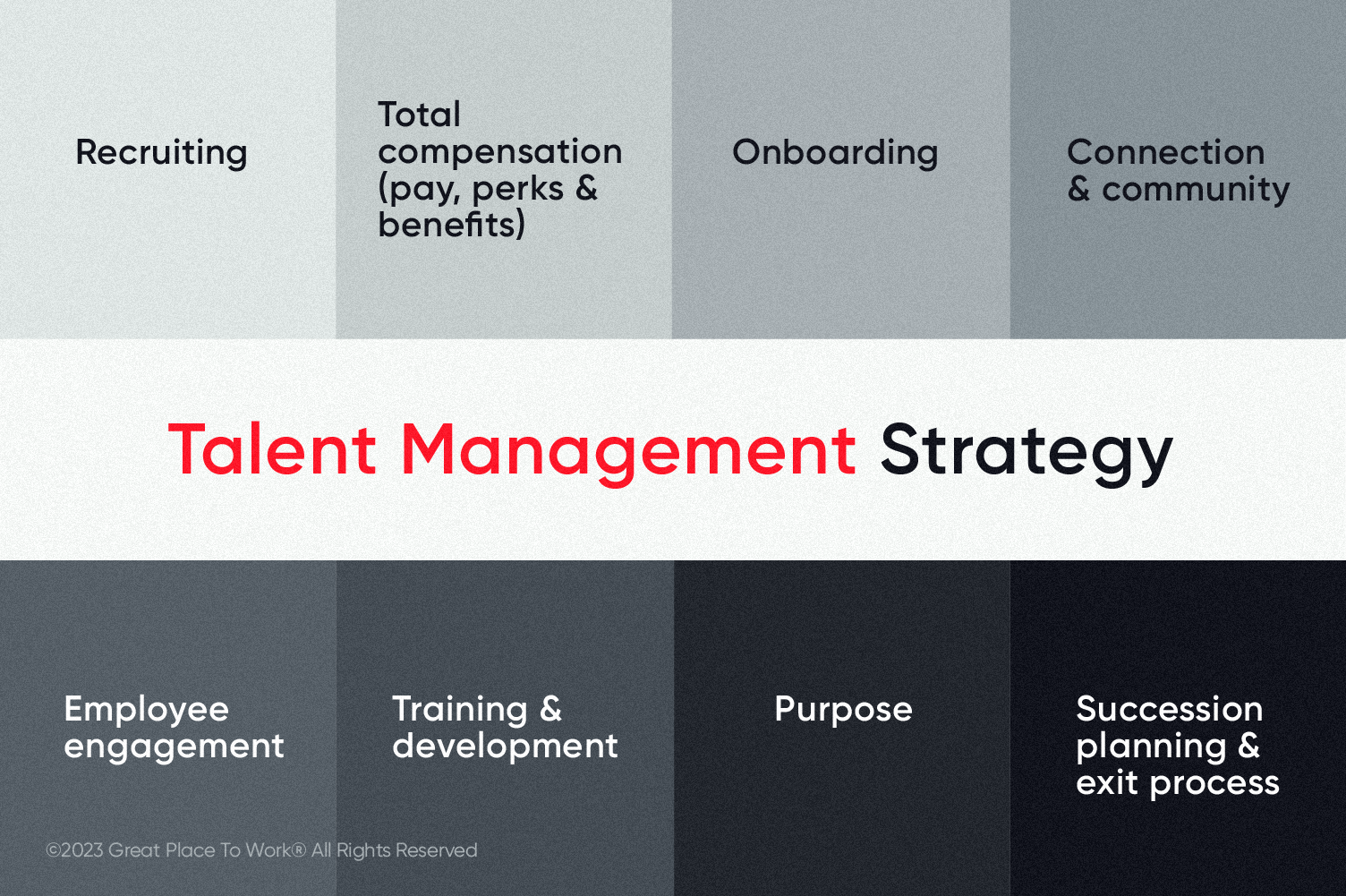 And while talent management can be slotted into the overarching role of human resources (in some companies, those roles may even be one and the same), it's also a separate entity that extends beyond the HR department.
"HR focuses a lot on the procedures and policies and paperwork or recruitment — that first step of talent management," explains Seth Willis, senior culture coach with Great Place To Work. "But it's really about how are we getting the right people in, and then having them grow at the organization."
Employee growth can come in many ways, including how we might typically think (professional development and promotions) and by fostering a sense of pride, purpose and well-being among employees. Talent management is holistic and forward-thinking.
"With talent management, there's the potential to be more proactive," says Shaun Aguilera, senior strategic customer success manager with Great Place To Work. "You're looking at long-term sustainability versus just meeting employees where they're currently at. How do we not only maintain our best talent but attract and predict what talent we might want to see in our organization in the future?"
Why is talent management important?
The benefits of a successful talent management strategy are a widened applicant pool, increased employee engagement, higher retention, and better employee satisfaction — all of which results in better employer branding.
"Talent management is looking at long-term sustainability versus just meeting employees where they're currently at"
A July 2022 study of U.S. employees by Great Place To Work found that, across industries, 55% were considering quitting within the next six months. More employees, especially among the millennial and Gen Z demographics, are demanding fairness, diversity and a better sense of purpose in the workplace.
For talent managers, this means finding the right talent to join your organization and identifying what your workplace is missing. Otherwise, any talent you attract may turn around a few months later and walk back out the door.
"The focus for a lot of organizations is, externally, how to attract talent," says Shaun. "But it's important to figure out how you can maintain the best talent that you've got … Of course, it's important to put your best foot forward externally, but don't take the focus off what you could be doing internally."
Focusing your attention internally has an undoubtedly positive impact on your hiring costs. According to data from the Society for Human Resource Management (SHRM), the average cost per hire was nearly $4,700. But Edie Goldberg, founder of the talent management and development company E.L. Goldberg & Associates, says the figure is closer to four times the position's salary (!).
How talent management has changed
World events like the COVID-19 pandemic and the Black Lives Matter movement of 2020 have overhauled what employees want. And with leaders managing multiple generations in the workplace, employers need to keep pace and meet shifting talent demands.
Here are five talent management trends worth watching:
Hybrid/remote work — "Since COVID-19, many organizations have shifted to a hybrid or remote model," says Eliot Bush, senior manager and culture coach with Great Place To Work. "Employees, particularly employees from marginalized backgrounds, strongly prefer these models because of the increased workplace flexibility, time savings, and geographical freedom. Employers are having to shift their engagement, communication, benefits radically, and overall management strategies."
Purpose — "There's been a shift in priorities for individuals," says Seth. "Our research found that a connection to purpose and meaning for work is really important for employees." (In fact, Great Place To Work research has shown that lack of purpose at work is a top predictor of workplace turnover.)
Power shift — "We've got more open jobs than employees," adds Seth. "Applicants have a lot of leverage and more negotiation power than they had in the past."
DEIB initiatives — "There are higher expectations to have more diversity overall," says Matt. "More diversity in our leadership team, and more transparent and equitable policies around opportunities for fair promotions."
Culture of care — "COVID has really pushed people to transform how they think about the concept of caring for their employees," says Matt. "What perks and benefits are people looking for? Do they seek more flexibility? Are unlimited PTO, sick leave, or childcare stipends more attractive now?"
How to create a talent management program
It's easy to lump talent management in with your recruiting program and think that suffices. But that would be limiting to your organization. Talent management isn't just about finding and hiring the right talent, it's about keeping that talent engaged through their entire company journey.
Here's how to develop a talent management strategy that hits all the right notes:
1. Assess your employee experience
"The first thing is a baseline for you to measure against, so you can create your goals," says Seth. "What's the strategy? Where are we starting? Where do we want to go? What's the timeframe? What are the KPIs?"
Conduct an HR analysis and gather information on how your employees are experiencing your company culture right now. And don't skim the surface — use robust employee surveys that break down results so you can understand cause and effect.
"Take time to listen to employees," adds Seth. "Not just in a survey, but with something qualitative, whether it be totally open-ended surveys or focus groups or one-on-one interviews, and in a way that creates a sense of psychological safety."
2. Ensure your EVP aligns with company values
Your employee value proposition (EVP), or what you are offering to employees, must align with your organization's values. For example, if one of your values is growth and learning, ensure your EVP includes training or mentoring programs.
Target, which ranked first on the 2022 PEOPLE Companies That Care® List, demonstrates its commitment to learning via its Dream to Be program, which provides debt-free education assistance.
Tea Darden, who has been a loyal Target employee for 20 years, enrolled in the program after starting as a cashier as a teenager. She's now studying business management and organizational leadership, which feeds into her role today as executive team leader at Target's Lake Street store in Minneapolis.
"Leaders saw the potential there and helped me go through the motions," Tea told the audience at Great Place To Work's 2022 For All™ Summit. "From a team member, to a specialist, to a team leader and now to an executive team leader, it's been an awesome journey at Target. Having these different leaders really care and dig deep and say, 'You can do this.'"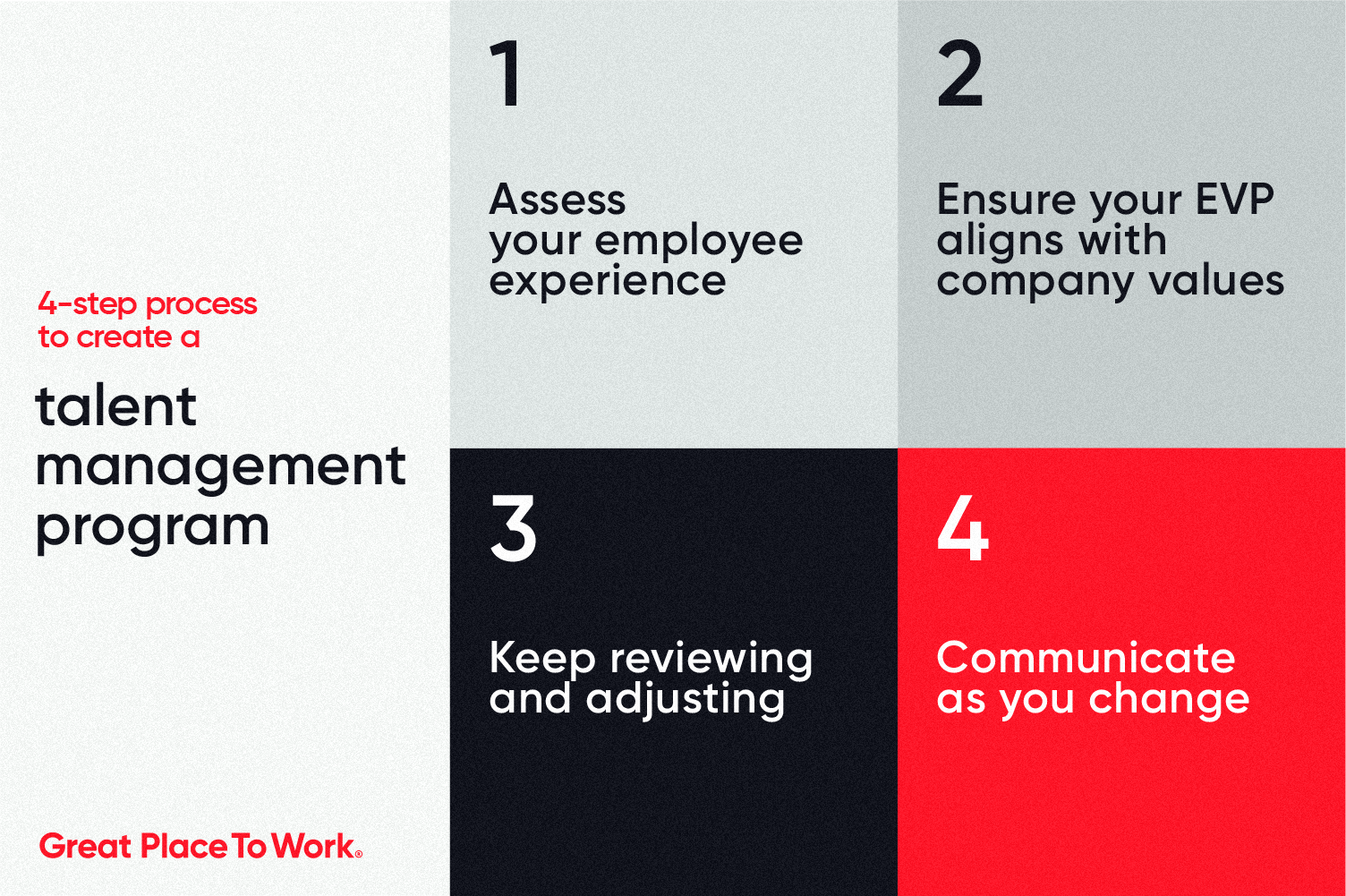 3. Keep reviewing and adjusting
Good talent management is not a case of set it and forget it. Continue to assess what's working and what isn't via workforce analytics. Adjust your policies and programs accordingly.
"Look beyond what's currently happening, because it's always evolving," says Shaun. "Make your predictions and invest in those predictions because if you're ahead of the game, you will be ahead of your competitors. Look at market conditions. Look at what people are saying and predict what they might want in the future."
4. Communicate as you change
Make sure you continually connect any changes back to the why: Why is this important to the company mission? Why is this new policy important to employees? Communicate changes to your organization with the "why" front and center.
The more you can tie the changes back to a positive long-term outcome for both individual employees and the company's prosperity, the better.
The 8 principles of talent management
A successful talent management process depends on these eight principles:
1. Fairness and equity
This doesn't just apply to compensation, but to all aspects of the employee experience: recognition, development opportunities, promotions, etc. Employees must understand where they are within the team and organization, and what they need to do to progress.
"When talent thinks that things aren't fair, find out why," says Matt. "Conduct audits on compensation, make sure things are fair across gender, across race, across tenure. There needs to be trust that you're treated fairly. And if you're not, we need to know why so we can do better. If people don't feel that, they're more likely to leave."
2. Strong people managers
Strong people managers are the lifeline for any organization.
"I like to think about it like a plumber," says Seth. "Your executives are the water heater. And all your people managers are the pipes throughout the house. If your heater doesn't work, you get cold water. But if your heater works, but your pipes are broken, it doesn't matter how hot the water gets if it can't come out the spout."
3. Innovation by all
Employees need to have the chance to contribute new ideas and not feel like decisions are being made for them, or that things are only happening to them.
"Even if those ideas can't be implemented, the fact that you were asked and communicated as to why they can or shouldn't be implemented is a huge piece of talent management," says Seth.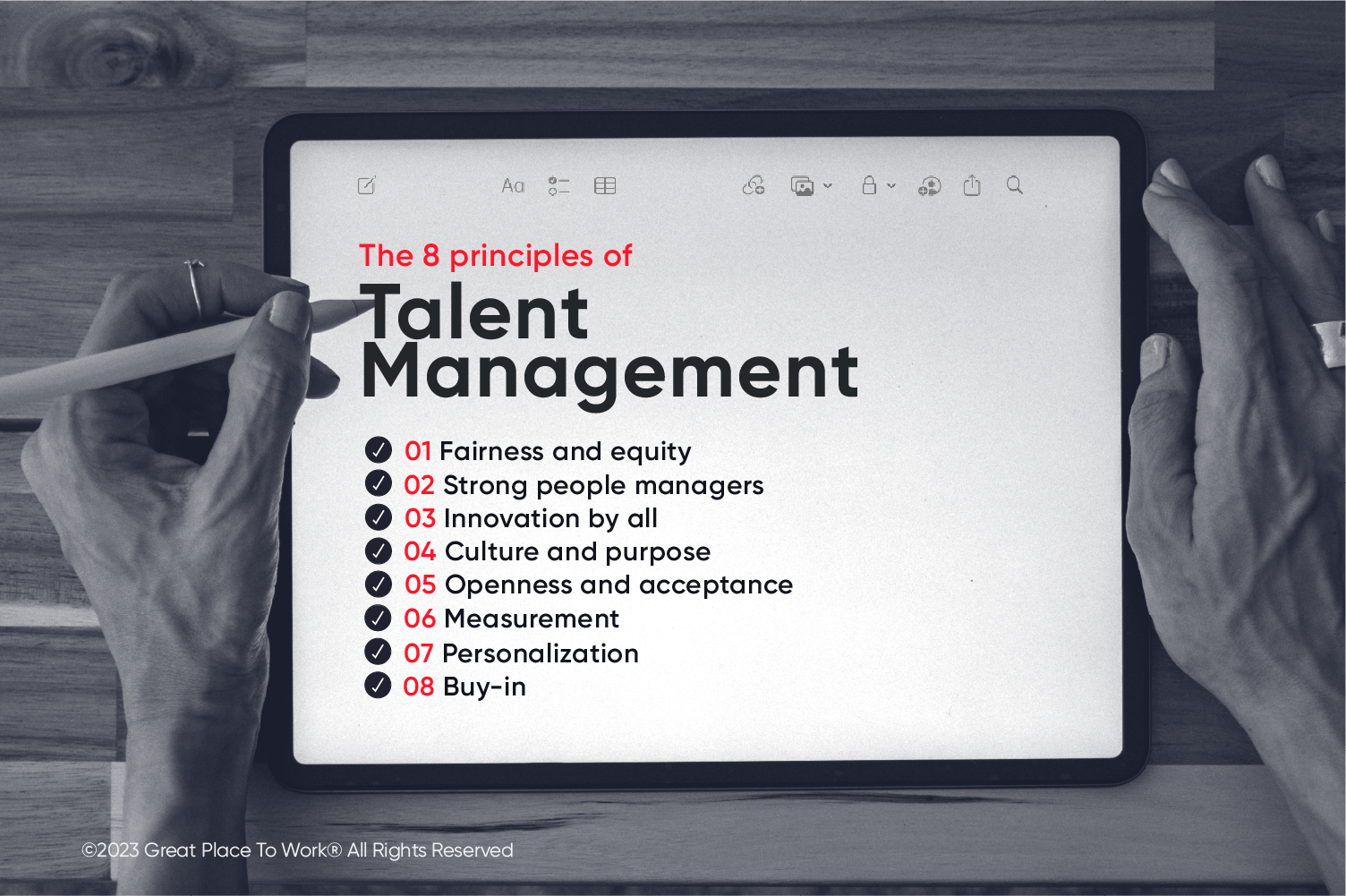 4. Culture and purpose
"What makes your organization your organization?" says Seth. "What's your unique selling point? What keeps people at your company and differentiates you from all the other people in your industry and vertical?"
5. Openness and acceptance
If your workplace doesn't accept people as they are — whether that's disabled, queer, Latinx, a non-native English speaker, or any other identifier — your talent management is dead in the water.
"Oftentimes, what prevents people from coming in the door is they say, 'I don't see where I fit in here. I don't see anyone who looks like me, behaves like me. Can I really be myself?'" says Matt. "Maybe they'll pretend for the paycheck for a while, but that's not sustainable to pretend to be someone else."
6. Measurement
"Start with data," says Eliot. "You need to understand what is and isn't working with how you're currently managing your talent — because even if you don't have a formal talent management program, you are doing talent management if you have employees. You need a comparison point so that after you've implemented your new programs, you can measure their impact."
However, don't get caught up in "fixing" the low scores — successful talent management isn't just about repairing what a workplace is getting wrong, but also leaning into what it's getting right.
7. Personalization
"Make sure your talent management is as personalized as possible," says Seth. "Everybody's different. What they bring to the table is going to be different. How do you get the most out of each individual?"
This doesn't just apply to the programs, but to your measurements as well. Top-level scores can give you a guideline, but they don't show the full picture.
"Instead of just sharing the high-level overall score, take a specific experience, maybe even a specific group within your organization," says Shaun. "One group might be experiencing a completely different experience than another group."
8. Buy-in
"This is not a one-person job," says Matt. "This is not something where you can say, 'You're in charge of all of talent, call me if you need something.' Talent management needs resources. They need teams. They need buy-in on company culture from the business."
Your talent management today impacts your company's tomorrow
Whether you're in a hiring blitz or a hiring freeze, how you manage your talent will affect the success of your organization. Not only does proper talent management help you find the right talent in the first place, but it also helps ensure that talent stays with you for the long haul.
"It's not just strategy for how to bring them in, it's also how to keep them happy and empower their growth," says Matt. "Only focusing on pure recruiting strategy is always short-sighted. It matters when they come through those doors, how they're treated and what they experience."
Manage your talent with data and deep insights
Manage your workforce with Great Place To Work Certification™. Understand your workforce, improve your employee experience and earn Great Place To Work Certification as a result.
---