Great Place To Work is honored to recognize the 2019 Best Workplaces in Europe. This year, we took an in-depth look at the experiences of nearly 1.4 million employees, from 2,878 organizations across 19 countries in the region.
This elite group of companies rose to the top for their ability to create a Great Place To Work For All, with 93% of employees on average saying they experience their company as a great workplace.
Winners include multinational tech giants Salesforce and Workday, and global recruitment agency the Adecco Group. However, recognition wasn't reserved only for large organizations. Swedish IT consultancy Cygni, and 31-person strong McCarthy Recruitment in the UK were among many small- to medium-sized companies that also earned top spots on the list.
While most of the winners were from the technology or professional services sector, 14 different industries are represented, from transportation to construction—demonstrating that any type of organization can create a workplace where the vast majority of employees genuinely love their jobs.
These outstanding, inclusive workplace cultures come as a result of tremendous focus from leaders across the entire organization. For example, Chris Byrne, Senior Vice President, Global Operations at Workday shared, "From the very beginning, Workday's founders, Aneel Bhusri and Dave Duffield, made employees and our workplace culture a primary focus. At Workday, everyone matters and we want our people to get the best career experiences they can, in the best possible workplace."
Alain Dehaze, CEO of the Adecco Group, echoed these sentiments, saying, "Our success is built on a diverse, international set of colleagues who are driven by a shared purpose – to make the future work for everyone. We are delighted that our focus on making the Adecco Group a great place to work has once again been recognized."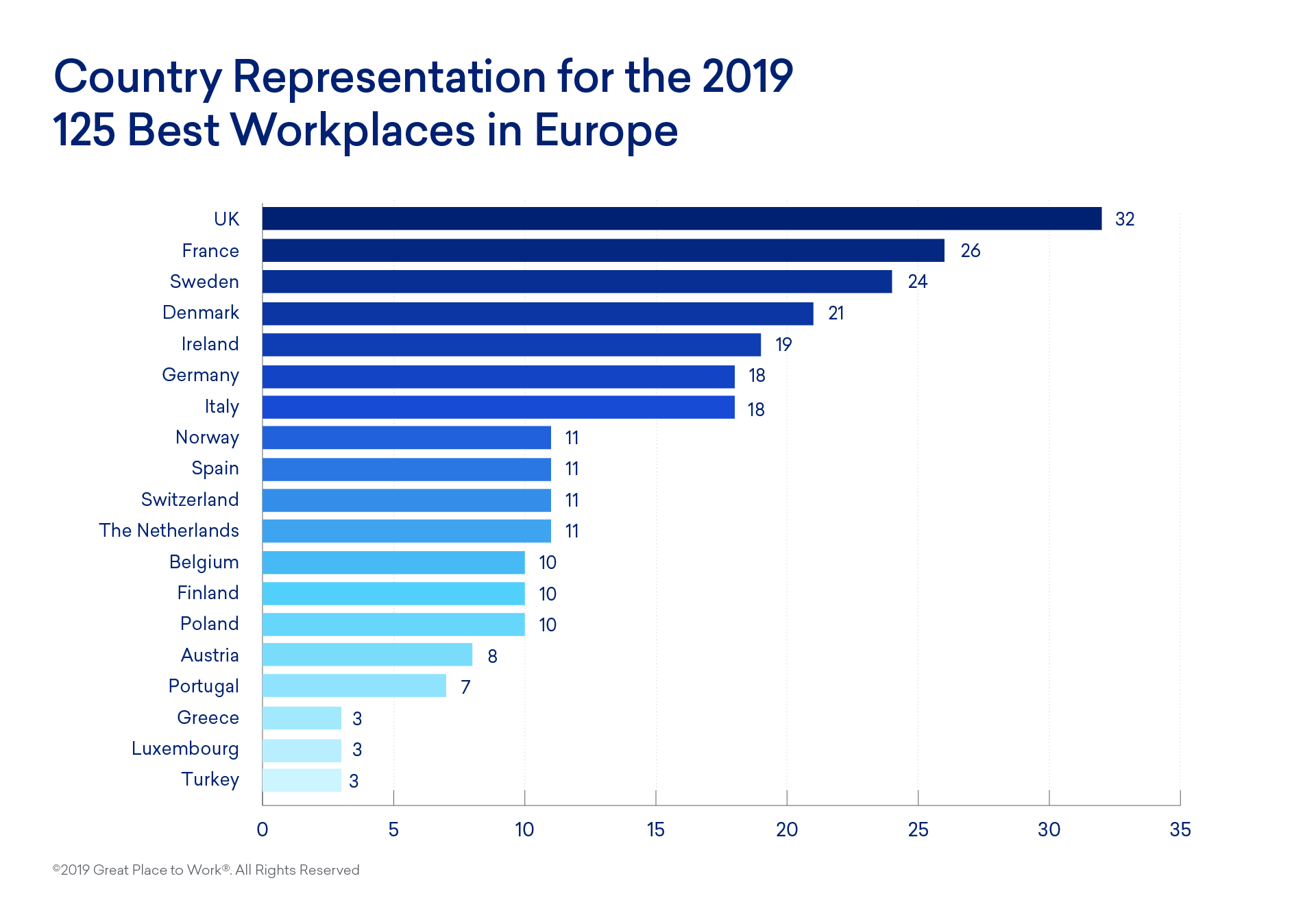 The 2019 Best Workplaces in Europe represent 19 different countries in the region.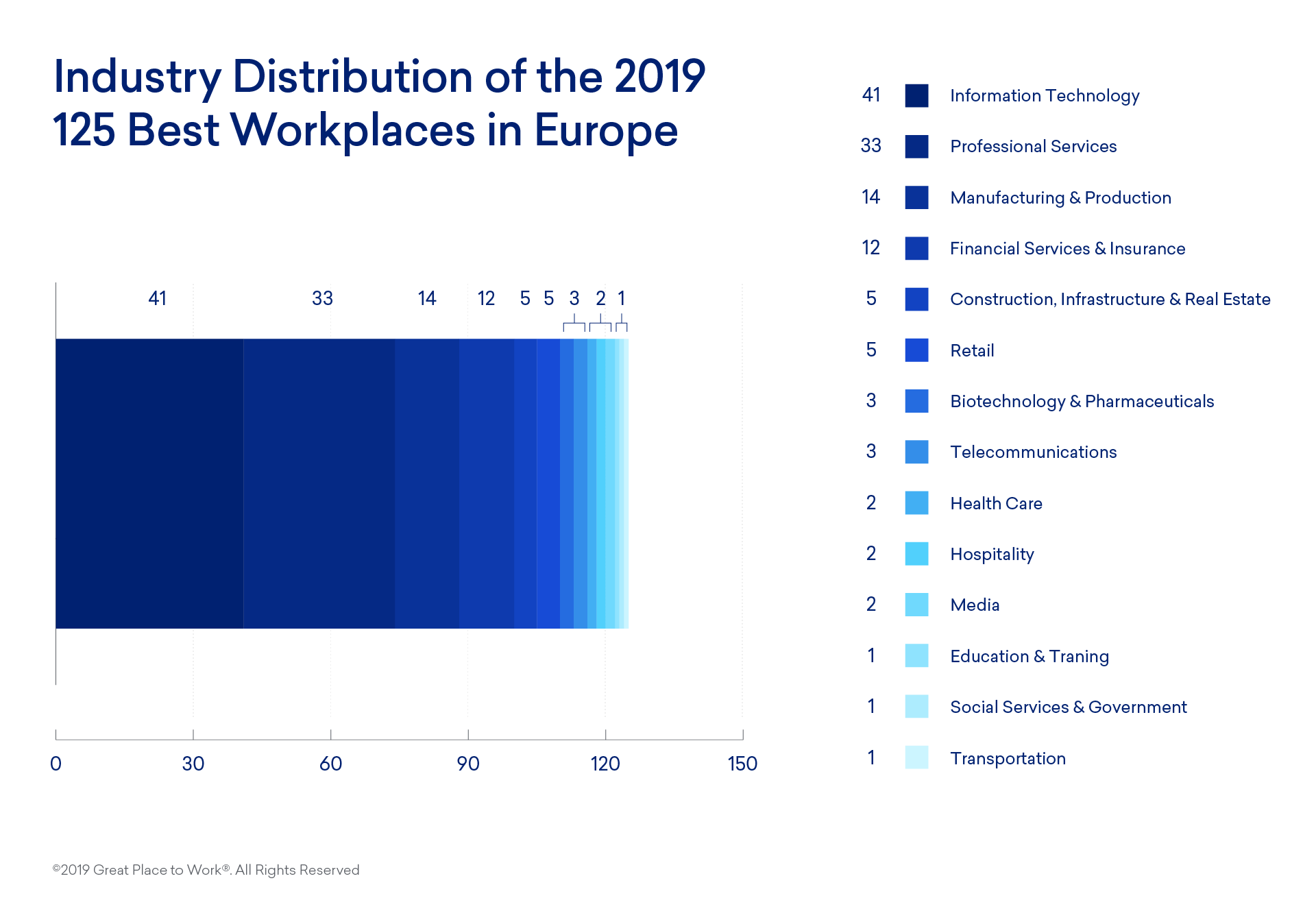 Fourteen industries are represented on the 2019 Best Workplaces in Europe list.
A key differentiator across these companies is that employees report a more inclusive experience of the workplace—especially when it comes to feeling they are valued for their ideas and perspectives, no matter their place in the organizational hierarchy.
In fact, at the Best Workplaces in Europe this year:
92% of employees report they are treated as a full member or the organization regardless of their role
88% believe management genuinely seeks and responds to their suggestions and ideas
It's this deep sense of respect for all employees and their ideas—no matter who they are or what they do for the company—that is a critical component of a Great Place To Work For All.
The Best Workplaces in Europe use all sorts of strategies to create this kind of environment.
For example, at Koti Puhtaaksi Oy, a small professional services firm in Finland, employees are empowered to put their ideas into action with minimal oversight by using a shared decision-making framework. This framework includes questions such as: "What is the economic significance of this decision?" and "What effect does the decision have on fulfilling the customer's needs and wishes?" to help them determine whether their idea will serve the needs of the business.
The firm's CEO, Saana Tyni, remarked on the value of these efforts to the business. "The only asset in our company is the people," she said. "When our people do well, customers do well. When customers do well, the business does well." Indeed, the organization is growing profitably, and in 2019 Q1 grew by 110% from the previous year.
The impact this type of empowerment has on the employee experience is tangible as well. As one employee shared, "I'm not just an employee, but an important part of the company. My voice is heard and rewarded for success."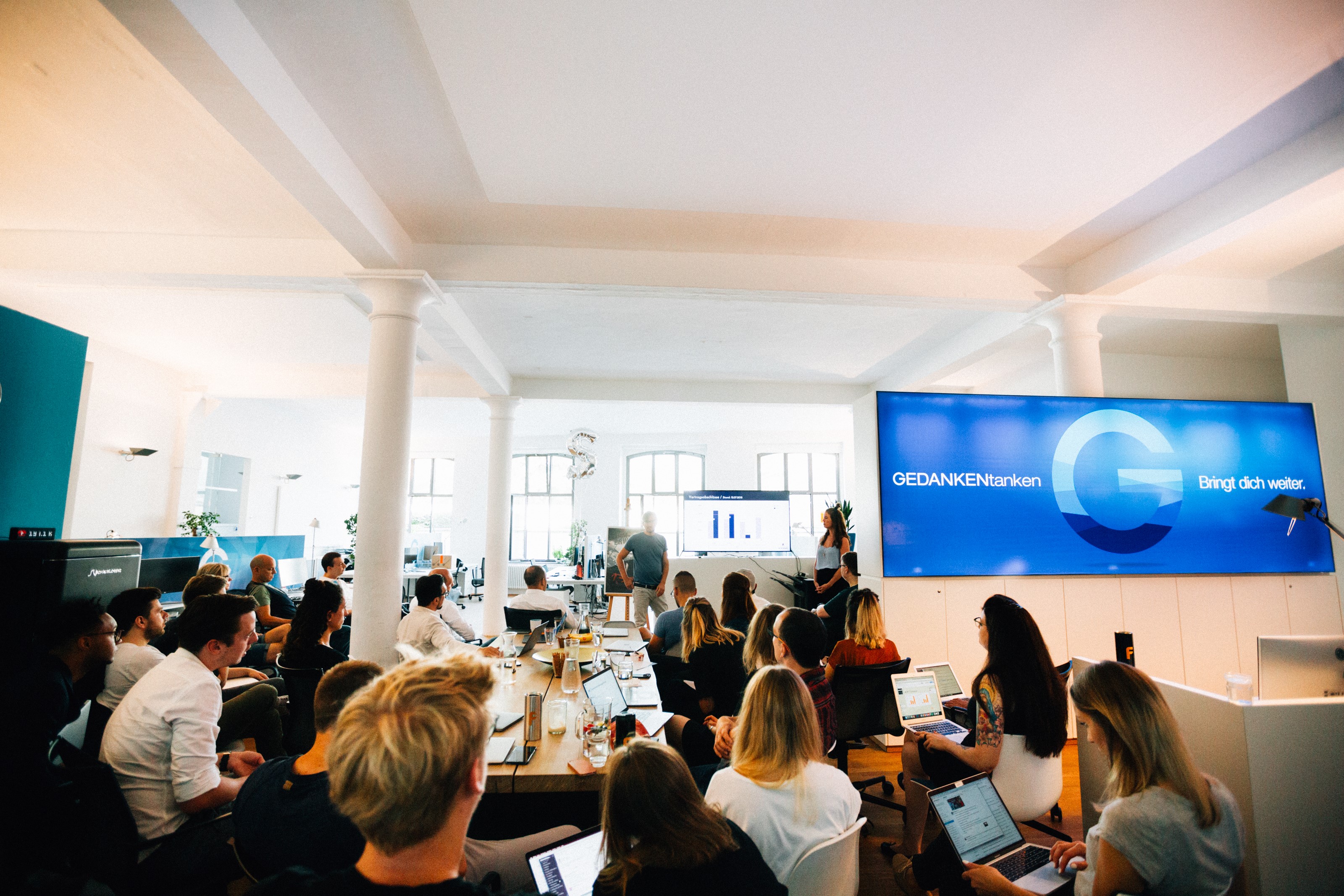 Another example can be found at GEDANKENtanken, a medium-sized management consultancy in Germany. Each month, leaders host a forum where employees present special projects they've managed, including the difficulties faced and successes achieved. This not only fosters great information sharing across the company, but also highlights the importance of everyone's work toward the success of the organization.
According to one employee, "Even if we are not managers, we can contribute our own ideas and are able to make great strides in moving our area of the company forward."
These words illustrate how efforts to tap into the creative genius of all employees—a concept we call "Innovation By All"—is not just good for morale, but good for business. It's no coincidence that the most inclusive organizations are often the most innovative. In fact, our research shows that companies that harness great thinking and creative ideas from employees across the company achieve greater levels of innovation and five-and-a-half times the revenue growth.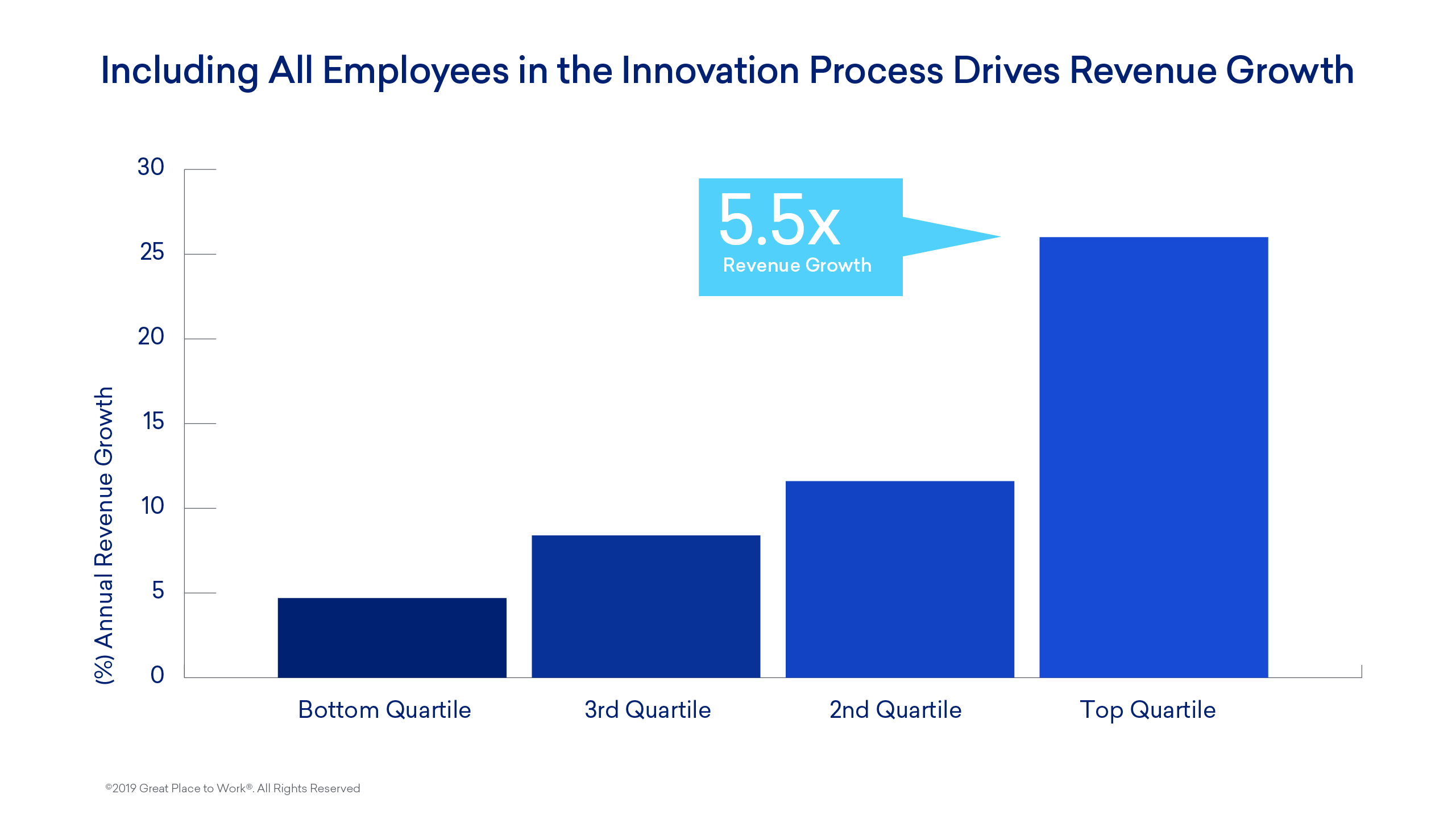 Companies that invite more employees to participate in the innovation process achieve 5.5x the revenue growth as compared to less-inclusive counterparts.
Of course, simply asking employees for their great ideas in and of itself doesn't lead to high levels of innovation. The best thinking happens in an environment where strong, trust-based relationships exist between leaders and employees. At the Best Workplaces in Europe, 91% of employees say leaders are approachable, leading to more opportunities for authentic idea sharing at all levels.
While bridging the gap between senior leaders and front line employees is more easily achieved in smaller-sized companies, it's something large organizations can also attain if they're willing to make the effort. At Workday, the #3 Best MNC on the list this year with 1,570 European employees, (10,500 employees globally) members of the Senior Management Team are each required to sponsor two offices. They commit to multiple visits to each office per year, to establish a direct connection with employees at those locations. The effort pays off.
"I have worked for big and small companies," shared one Workday UK employee, "and can hand-on-heart say that, at Workday, more than any company, I truly feel valued, appreciated, and completely secure in sharing my opinions and ideas. Creativity and innovation is encouraged, and space given to explore ideas and initiatives. I love this company and the culture is second to none."
Big or small, the 2019 Best Workplaces in Europe show that creating a Great Place To Work For All is within any organization's reach. We congratulate them on this tremendous achievement in leading the way to a future that is better for business, better for people, and better for the world.
---