Realizing the Value of People Management
Last month the Boston Consulting Group, #2 on the 2012 Best Companies to Work For® list, released the white paper From Capability to Profitability: Realizing the Value of People Management. BCG, in partnership with the World Federation of People Management Association (WFPMA), surveyed 4,288 respondents in 102 countries on their company's capability in 22 different HR areas. Respondents were also asked to provide revenue growth and profit margin change over the past year.
The results? BCG found a positive correlation between capability and performance in 21 of the 22 HR areas measured. This means that companies that reported a 'very high' capability in these areas experienced significantly greater revenue growth and higher profit margins than companies that reported a 'low' capability in those same areas.
Now the good stuff- which HR areas have the most impact on the bottom line, and what this means for you:
First, let me start off by saying that it is extremely meaningful that there were significant results in all but one areas. What this means is that companies with well-rounded people practices will ultimately prove to be the biggest winners when calculating the benefits down the line. Having said that, there were a few people practices that did outperform the others.
Talent Management
Companies capable in recruiting and onboarding new hires experienced 3.5 times the revenue growth than companies that reported being less capable in this area. Hint: Diversify your talent base and attract international employees.
Leadership Development
Capability in leadership development resulted in 2.1 times the revenue growth. Hint: Provide leadership objectives and talent development activities for employees, and promote management based on their people-development skills.
Performance Management and Rewards.
Companies capable in performance management had 2 times the average profit margin than companies that reported being less capable. Hint: Clear guidelines on what is and is not acceptable, and the rewards for stellar performance, is the best predictor of employee success.
The Boston Consulting Group has made the Best Companies to Work For list seven years running (2006-2012). Not only have they successfully built an outstanding workplace culture, they have managed to sustain their people practices and company culture throughout the economic downturn. Coming in at the #2 spot on the 2012 list, they are an excellent source for best practices that any company can begin to implement today.
Take away: Companies that invest in their people will experience greater revenue growth and higher profit margins than that of their peers.
Homework: Read the full article for more tips on how to be a top-performing company.
Over the past 20 years, Great Place To Work has analyzed thousands of surveys and learned that trust is the key to creating great workplaces. Building trust in the workplace is the best investment that a company can make. It leads to better recruitment, lower turnover, great innovation, higher productivity, more loyal customers and higher profit.
Tiffany Barber is the Associate Manager of Marketing and Communications and an avid blogger for Great Place To Work®.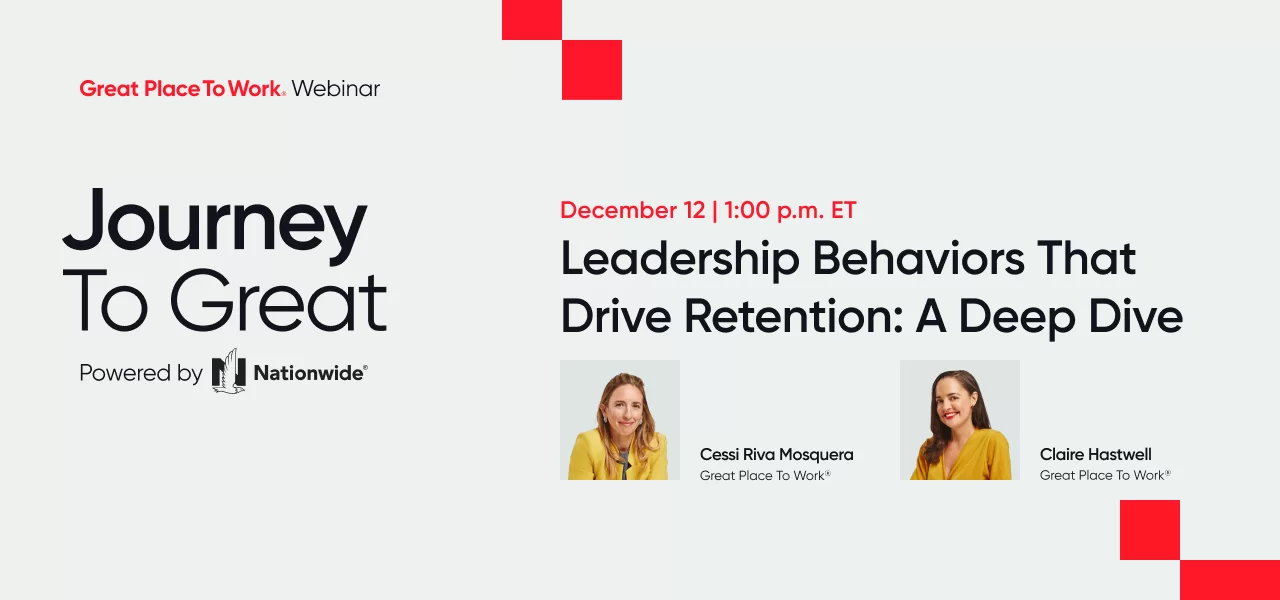 ---