Levels of trust in great Latin American workplaces are on the rise
The best workplaces in Latin America are getting better.
That's the good news as the Great Place To Work® Institute releases its 11th annual Best Workplaces in Latin America list. Personal care products maker Kimberly-Clark is the best multinational workplace in the region, Liderman—a security services provider in Peru and Ecuador—earns the highest marks among large national companies in Latin America, and Colombian natural gas company Gases de Occidente ranks as the top medium-size company.
Those companies and the rest of the organizations on the list have plenty to be proud of. But so does Latin America as a whole. We conducted a five-year analysis of the best workplaces in major Latin American countries with a focus on levels of employee trust—which is the foundation of a great workplace and a key ingredient to business success. This analysis is available in our latest report, Getting Better All the Time, available for download here.
The results show that most countries saw a gain in trust levels in their best workplaces, and several countries experienced significant improvement. No country witnessed a major drop in trust levels in their best workplaces—not even Venezuela, which has weathered significant social, political and economic upheaval in recent years.
Chile's best companies posted a 9 percent rise in trust levels, while Argentina saw a 7 percent increase and Paraguay a 6 percent gain. A related analysis we conducted of the best workplaces in the region as a whole drew similar conclusions. Over the past nine years, those top workplaces have been scoring higher and higher on Great Place To Work trust assessments.
"It's not optional to be a great workplace"
There are caveats to this sunny news for employees and employers. Our findings reflect the level of employee pride, camaraderie and trust at the very best workplaces in Latin America—the organizations that have earned spots on national best workplaces lists as well as the regional best workplaces list.
The conclusions do not necessarily reflect the workplace climate overall in Latin America. Still, the gain in trust at the best workplaces is a sign that the movement among business leaders and rank-and-file employees to build better workplaces is gaining momentum in the region.
The heightened trust levels reflects increased awareness that organizations ought to create positive, employee-centered cultures, and that such cultures fuel better business results, says Michelle Ferrari, general manager of Great Place To Work México.
"It has to do with the level of consciousness in companies," Ferrari explains. "It's the realization that it's not optional to not be a great workplace."
Improving society through great workplaces
There's a bonus to the best workplaces getting better. A growing number of the best workplaces in Latin America feel an obligation to do more than make their workplaces great. They see their organizations playing key roles in improving societies that have been wrestling with corruption, lawlessness and other social problems.
Arturo Gutiérrez de Piñeres, general manager of Gases de Occidente, says this broader purpose is partly why his company aims to care for employees and their families, and to foster good citizenship among them. "We think this is a good way of influencing society," Gutiérrez de Piñeres says. "When you impact the families, you are impacting new generations."
Learn more about the levels of trust in Latin America by reading our latest report, Getting Better All the Time.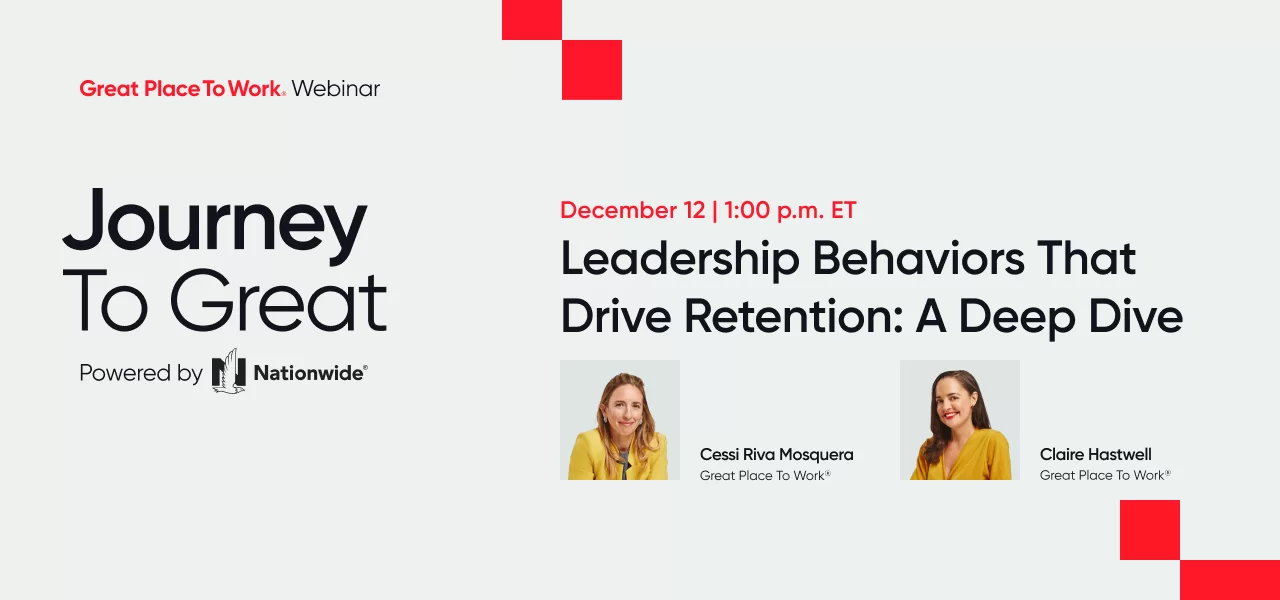 ---