Meaningful diversity, equity, inclusion, and belonging initiatives are proven to benefit everyone, especially in periods of economic turbulence.
Diversity, equity, inclusion, and belonging (DEIB) in the workplace are among the most important topics facing companies today. But while some leaders treat them as a line in a presentation deck that signals their organizations' virtues, others approach it with authentic intention.

"I think there's a risk to not working on DEIB, especially as the world around us becomes more polarized," says Marcus Erb, vice president of data science and innovation at Great Place To Work®. "By not tackling the topic, you're just letting it fester. Companies need to address it by being intentional."

As HR and workplace management solutions provider UKG reports, sincere DEIB efforts can have a tremendous payoff across the organization. Research from Great Place To Work shows that the experiences of marginalized groups of employees are bellwethers for business performance during economic downturns.
"As we start to look ahead at this potential recession, it's critical that leaders understand the experiences of women, people of color, and workers in hourly roles. Their experiences at an organization is one of the key predictors of how well that company does during a recession," explains Erb, adding that Great Place To Work looked back at the Great Recession of the late 2000s and found that employee experiences during that time predicted whether a company would thrive or flatline.

As for why that is, Tony Bond, chief diversity and innovation officer at Great Place To Work, points to the makeup of organizations.
"People who are in individual contributor and frontline roles are statistically more diverse," he says. "And so, they have great insights into the heartbeat of the customer. Those workers can provide the frontline perspective of what's going on, and that information is crucial for leaders, especially during difficult times, to help them plan and adjust their businesses' trajectories accordingly."
Erb adds that a culture of inclusion is a key factor in fostering the kind of collaboration that can help a company succeed. "If you've built a culture that brings everybody in, it unlocks that ability to adapt, innovate, and respond," he says, "and have people work harder during a time where you really need everyone pulling together."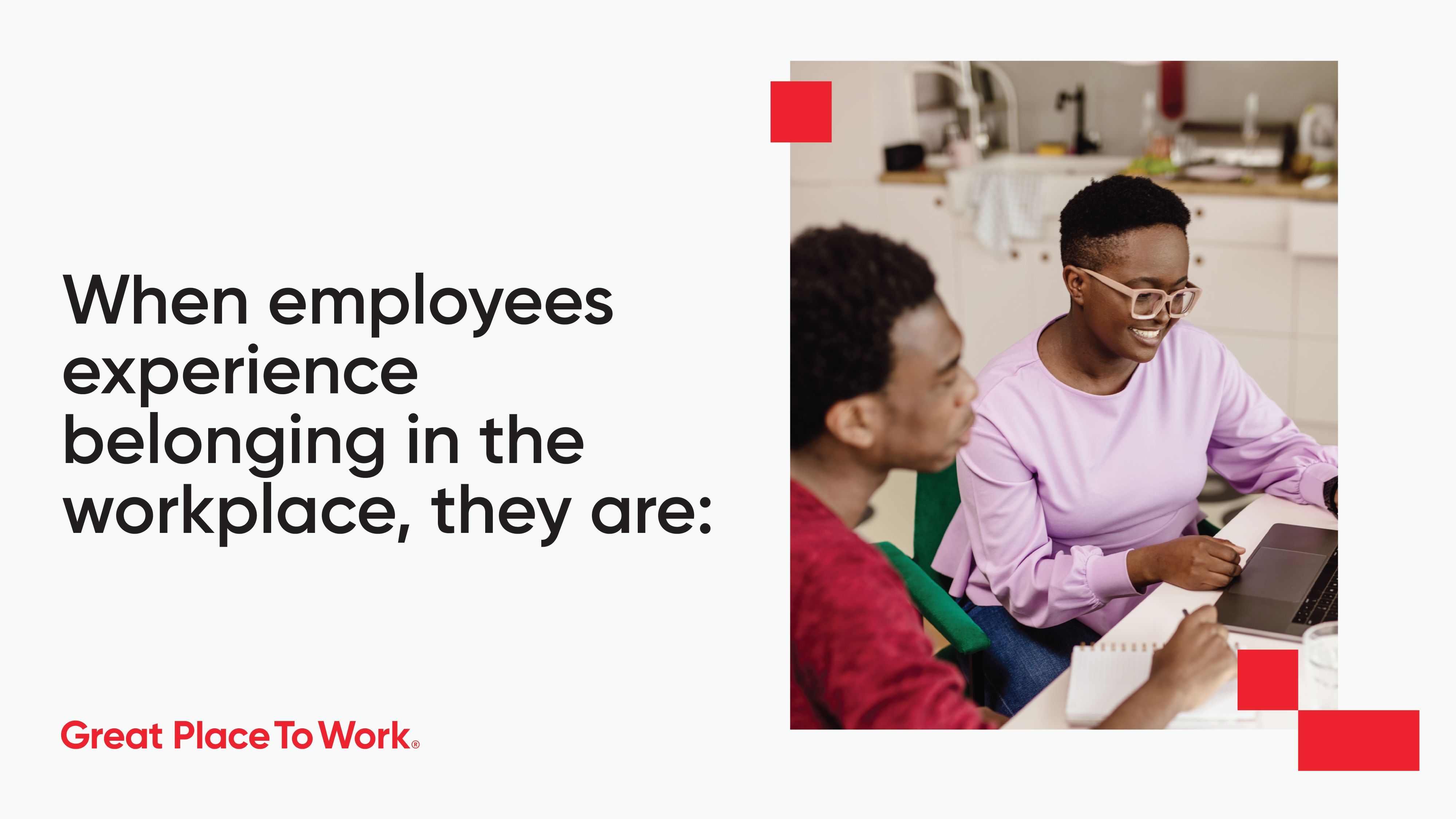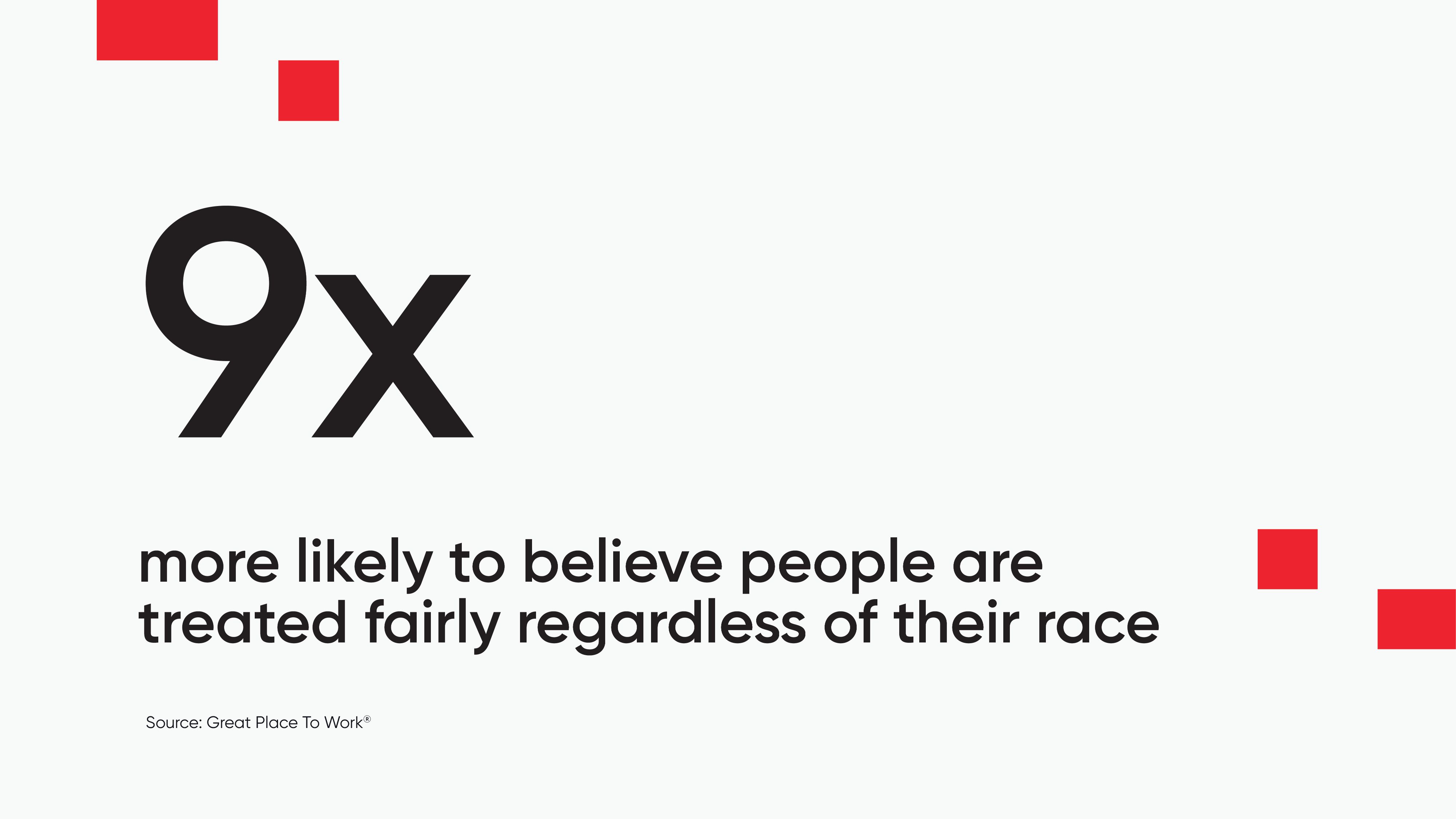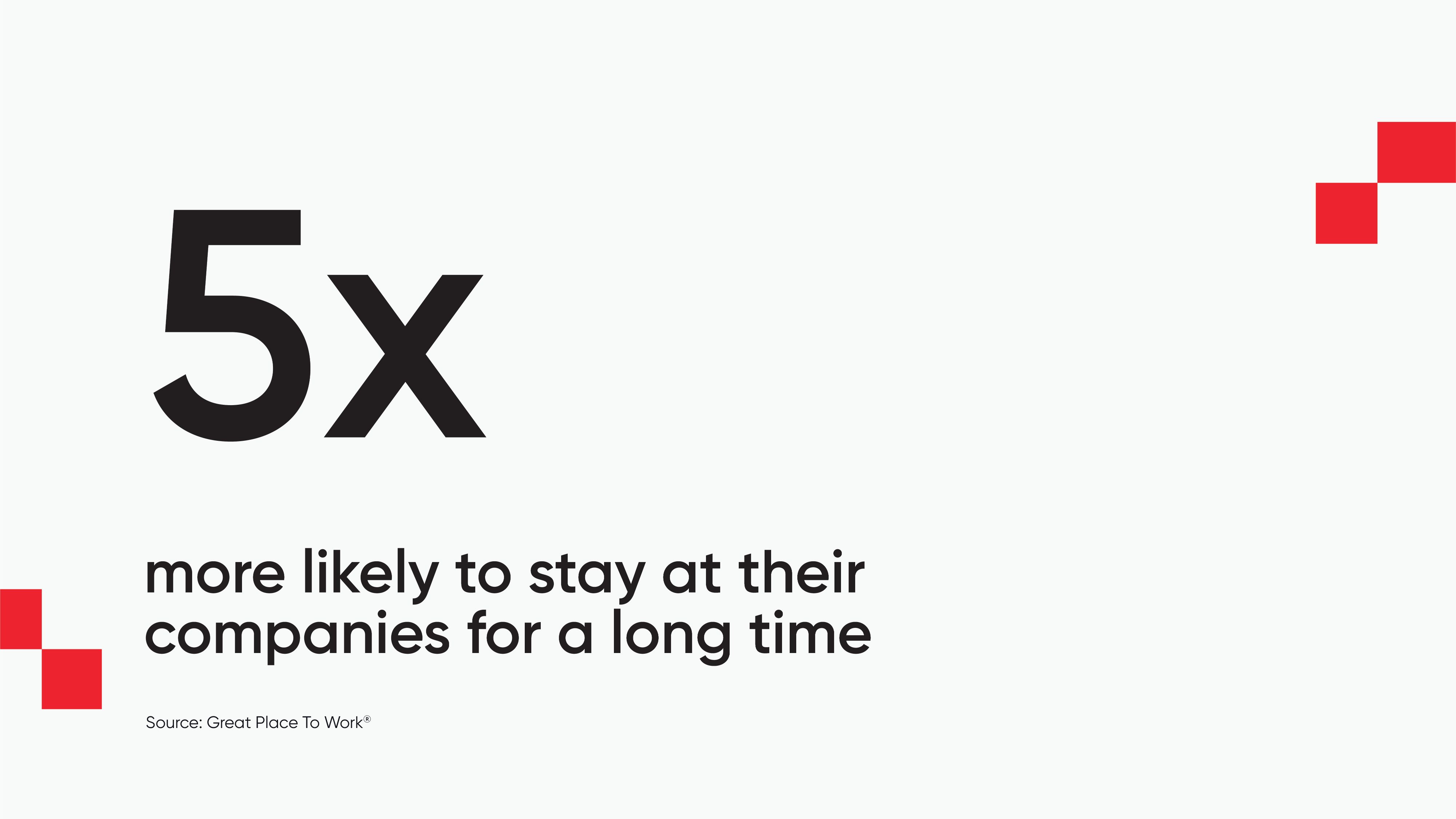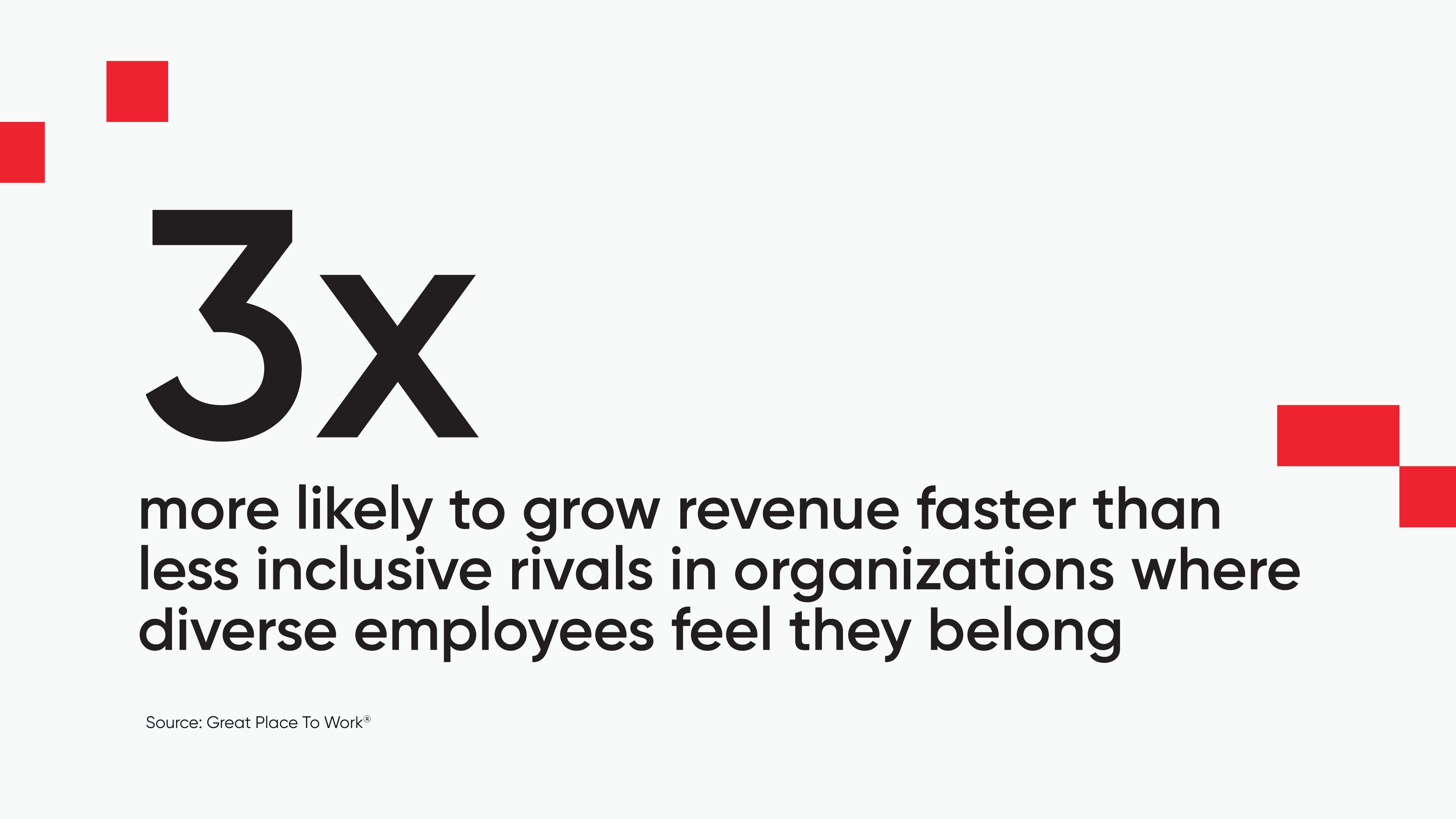 Creating an authentic culture built on DEIB
As a report from UKG puts it, authentic DEIB "is not a luxury — it's mission critical."
To build this inclusive and collaborative culture, employers must make a sincere effort to prioritize the well-being and satisfaction of women and BIPOC employees by addressing gaps in worker experience.
In comparison to their white colleagues, Great Place To Work reports that Black employees are more likely to experience unfair treatment based on their race and are less likely to experience innovation in their roles.
By contrast, white men—especially those in executive roles—are five to eight times more likely to think their workplaces are great and fair compared to other employees. Bridging that divide isn't just the right thing to do—it's proven to benefit everyone.
"When you improve experiences for Black employees, you typically see a 30-point improvement for white employees, Asian Americans and Pacific Islanders (AAPI) employees, and everyone else," says Erb. The same goes for women. "When you see employee experiences for women improve, experiences for men get better too."

Conversely, much is at stake if a company doesn't implement a real DEIB strategy.
"If you think in terms of productivity, innovation, and just creating a sense of belonging for everyone, you really need to have a unique DEIB strategy within your organization," Bond says. "Because if not, it's definitely not an inclusive culture. You're also leaving a lot of talent out of the equation. People coming into the workforce and current employees are looking for an organization that has a voice in this area. It's not optional by any means."
"One of the things we're seeing is that executives need to set the stage for DEIB to be an organizational and personal commitment. To say, 'This is important for our company, people, stakeholders, and communities'—
but also to do that in a way that feels authentic and personal and embraces the learnings of the experience."— Marcus Erb, VP of data science and innovation, Great Place To Work
Learning by listening
While the task of creating an effective DEIB approach may seem daunting, Erb and Bond offer some strategies for success.
"One of the things we're seeing is that executives need to set the stage for DEIB to be an organizational and personal commitment," says Erb. "To say 'this is important for our company, people, stakeholders, and communities' — but also to do that in a way that feels authentic and personal and embraces the learnings of the experience."

Bond highlights the importance of learning throughout the organization. "Leaders and managers really have to do their homework. It's not just about training. You also have to create means of procuring the information that sometimes goes unseen within an organization."
He offers resource groups as an example. "If you can really activate the voices of employees from different backgrounds, you can get a sense of what the experience is like for those people every day."

"Surveys are really important too," adds Erb. "They shed light on blinds spots and lift up voices in a different way."
Identifying those areas will help ensure that an organization's fundamentals, including practices in compensation, hiring, and promotion, are equitable.
"The middle of an organization is where things are actually executed," he says. "If managers aren't totally engaged, a lot of the work you're trying to drive won't end up being effective. Creating dashboards based on data surrounding the success of a company's fundamentals to different executives and managers is important, so they can act and start to improve things."
A successful approach to active listening can help predict and bridge the biggest gap in employee satisfaction: whether marginalized employees feel a sense of inclusion and belonging.
"If you feel you don't belong, it creates a sense of insecurity and doubt," says Bond. "It could be something as simple as being able to express your unique self. Or you could work in an organization where you feel like you're alone. Maybe I'm an executive, but if I'm the only Black executive on the team, then do I feel like I have a voice? The representation piece becomes a barrier for a lot of BIPOC and women employees. And belonging strongly correlates to motivation, productivity, behavior, and happiness."
Ultimately, ensuring that everyone feels like they belong to an organization is what primes that organization for success.
"There's this human connection piece to DEIB," Erb notes. "It's a learning journey, and vulnerability is a good thing. It can be uncomfortable, messy, or hard, but that's a sign you're in the right space, having the right conversation."
This article was created in partnership with FORTUNE Brand Studio.
Subscribe
Learn how to create an award-winning company culture. Subscribe to the Great Place To Work company culture newsletter and join 100,000+ other leaders learning how to create a great place to work.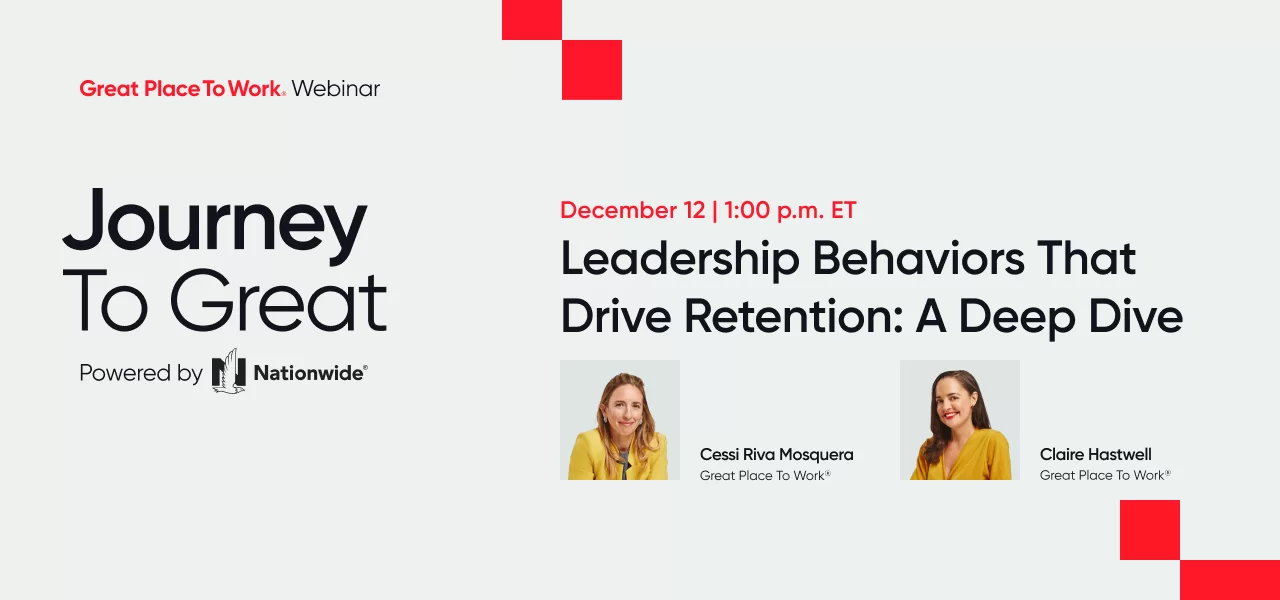 ---