Tim Ryan and PwC have done it again.
With the publication of one of the corporate world's most extensive and revealing reports about internal diversity and inclusion, professional services giant PwC has again led the way when it comes to building great places to work for all.
Tim, PwC's senior-most executive, accelerated the publication of the company's D&I Transparency Report in response to the global reckoning on race in the wake of George Floyd's killing earlier this year.
He's also spearheading a public policy initiative at CEO Action for Diversity and Inclusion. That's the business group he started four years ago—a time when Tim first stepped forward to push for more equitable workplaces across corporate America.
Tim, though, will be the first to admit his organization isn't perfect on D&I matters. PwC's new report shows areas to improve, including the diversity of partners serving the company's largest, most strategic accounts.
To Tim, exposing the imperfections along with the wins at PwC is worth it. The new transparency report helps PwC live up to its mission of building trust in society and solving important problems. It also will help the company to improve, Tim says, as internal and external stakeholders expect to see progress.
"A big part of why I want to get the numbers out there is because I'm going to use them as a catapult to the next level," Tim says. "I want the pressure. We need the pressure."
The way Tim and PwC have responded to the twin viruses of racism and COVID-19 was featured on the August 28 edition of "Better Together," Great Place To Work®'s conversation series with exceptional, purpose-driven leaders.
Tim and Great Place To Work CEO Michael Bush discussed how PwC—which has earned a spot on the Fortune 100 Best Companies to Work For® list for 16 straight years—has met the moment with bold action combined with vulnerability.
Thriving across the recession
Michael and Tim also discussed Great Place To Work research on how organizations can thrive across the current recession. Michael noted that data from the Great Recession of 2007-2009 shows that companies with consistently inclusive, high-trust cultures outperformed peers.
In particular, organizations where historically marginalized groups such as women, people of color and hourly male workers had a positive experience showed roughly four times the performance of the stock market overall before, during and after the Great Recession.
Michael also highlighted some key areas where PwC has excelled in its workplace culture, which helped prepare the organization for this year of crisis.
Training opportunities: Men and women at PwC experience the same level of development opportunities—92% for women, 91% for men.
Executives embody the best values of the organization: For both men and women, nearly 9 in 10 agree that Tim and his team live PwC's values.
Consistent across all employee groups
Or consider overall perceptions of PwC's culture by employees of different races and ethnic groups. Eighty-five percent of African-American/Black employees say it's a great workplace, nearly identical to the 86% figure from Caucasian/White employees. Asian (79%) and Latinx (83%) are nearly as positive.
These figures show PwC is creating a workplace that taps the full potential of all employees, no matter who they are or what they do for the organization.
"You've got a situation where the 'For All' is happening, that's why you're on our list," Michael said. "You've created an environment that's inclusive where people feel like they belong."
PwC and the pandemic
Michael also asked Tim about how PwC has responded to COVID.
PwC's focus has been employee safety and reducing fears, Tim said. As the pandemic began to affect the U.S. in March, PwC directed almost all employees to work from home and cut business travel. The company also addressed anxieties around financial security.
"We told our people we would do layoffs in reaction to COVID as the last resort," Tim said. "We needed to do that because it's who we are. As a partner-led organization, we feel a responsibility to look after our people. And I'm happy to tell you today, we've been able to stick to that notwithstanding the times are a bit challenging."
PwC also tackled the topic of mental health during the stress of the shelter-in-place restriction. Among other things, it held all-company meetings with all 55,000 employees to create a sense of belonging and increased mental health benefits.
Mental health challenges can come with a stigma. But Tim worked to remove the shame associated with mental illness in a very personal, vulnerable way.
"We're telling stories, sharing examples," Tim said. "I've been very open with our people. I have six children, two are minors using our mental health benefits. We need to talk about it. We need to reduce the stigma, and let people know it's okay to ask for help."
Michael responded that the issue of mental illness touches his family as well. And he applauded Tim for setting the right example—and expectation.
You're "setting that tone for your leaders, setting that tone for your midlevel managers, setting that tone for your supervisors, that it's okay to be a human being and talk about these things," Michael said. "And matter of fact, it's more than okay, there's an expectation that you'll do it so that you can create an environment where everybody feels that they can bring their whole selves to work and talk about all parts of themselves without any penalty or limitation being placed on them."
PwC and the racial reckoning
When George Floyd was killed by a police officer in Minneapolis May 25—on the heels of several unarmed Black men and women dying at the hands of police—PwC was better prepared than many organizations for the ensuing conversations.
This is because of how Tim had responded to racially charged shootings in Dallas in 2016. It was just days after Tim took the reins of PwC, and Tim realized he had to shelve his corporate strategy in favor of honest conversations about the issue that was tearing the country apart and keeping employees from focusing fully on work. The company held a day-long set of discussions on race July 21, 2016.
"What we learned in many respects is what much of America is learning now with George Floyd's video everywhere you go and everybody's seeing the travesty in that killing," Tim said.
"I learned that some of our Black professionals carry their PwC business card, so if they get pulled over, they can show that they can afford and could pay for the car and didn't steal it," Tim continued.
"I learned that some of our Black professionals at PwC, when they were leaving work to go to Central Park to play a softball game, they felt unsafe because they had a T-shirt with their tattoo showing and a baseball cap on."
"We learned that some of our Black professionals when teaching their children how to be pulled over," Tim said. "We learned what it was like to be white and struggling with the fact that you had a husband or a relative who was a police person who was good and, yeah, you didn't condone the shootings as well."
After a Black colleague asked Tim how he would bring this wisdom and action beyond PwC, Tim spearheaded the creation of CEO Action For Diversity and Inclusion. The group of top business executives is focused on taking concrete steps to improve the representation and experience of underrepresented groups in their organizations.
It has grown from 112 initial members to 1,200.
But this year, the organization has taken on a new project.
"It became very clear after George Floyd's murder that we as business leaders needed to do more outside our four walls in addition to the focus inside our four walls," Tim says.
Tim and others decided to form a group within CEO Action called CEO Action for Racial Equity, which is devoted to public policy at the city, state and federal level. More than 150 professionals, or "fellows," sponsored from different CEO Action members will staff the effort.
"That team will spend two years working as bridge builders with our policymakers to try to improve public policy, amplify good policy, call out bad policy and write new policy," Tim says.
For All advances in PwC
Within PwC, meanwhile, Tim and his leadership team have taken steps in recent years to become more diverse and inclusive. For one thing, they require unconscious bias training for employees seeking promotions. "The reason we did that," Tim explained, "is you're leading people and you need to understand how to lead people and lead through any unconscious biases."
The D&I Transparency Report is another major milestone at the company. It lays out the company's journey so far with respect to diversity and inclusion, shares PwC's strategy in this area, and provides data on 14 different indicators, including the US employee workforce overall, the US Leadership Team, suppliers and partners leading Fortune 500 accounts.
Tim said he's proud of several areas in the report, including recruiting diverse candidates, the diverse makeup of his leadership team and recent partner promotions.
But he also acknowledged places where more work is needed.
"There's some clear room for improvement around retention of talent," Tim said. "And around the partners who serve our largest accounts."
Michael called the report's level of detail a breakthrough.
"I just haven't seen this before. I've seen top level numbers for the firm, percentage of African Americans, percentage of Asians, I've seen that," Michael said. "I haven't seen the breakdown at levels which you provided."
What's more, Michael said, PwC isn't just sharing this information internally—they are disclosing it to the world.
"At a lot of the companies that we work with, people in the companies don't have that data," Michael said.
"You went beyond that. So not only do your employees have it, you went to the outside and let people look through and get a window knowing that if you don't measure it, you're not going to improve it."
PwC's report amounts to a new bar set for organizations. And fuel for our mission at Great Place To Work: to build a better world by helping every organization become a great place to work For All.
"We're going to be letting the world know about this best practice. We're getting asked a lot lately about the best practices—you've just established one," Michael said. "So, thanks for the transparency and giving us something to keep this movement going forward to create a great place to work for all."
Watch the full conversation with PwC's Tim Ryan here.
Learn how to evolve your culture to keep up with our ever-changing world at our next CEO conversation, Better Together.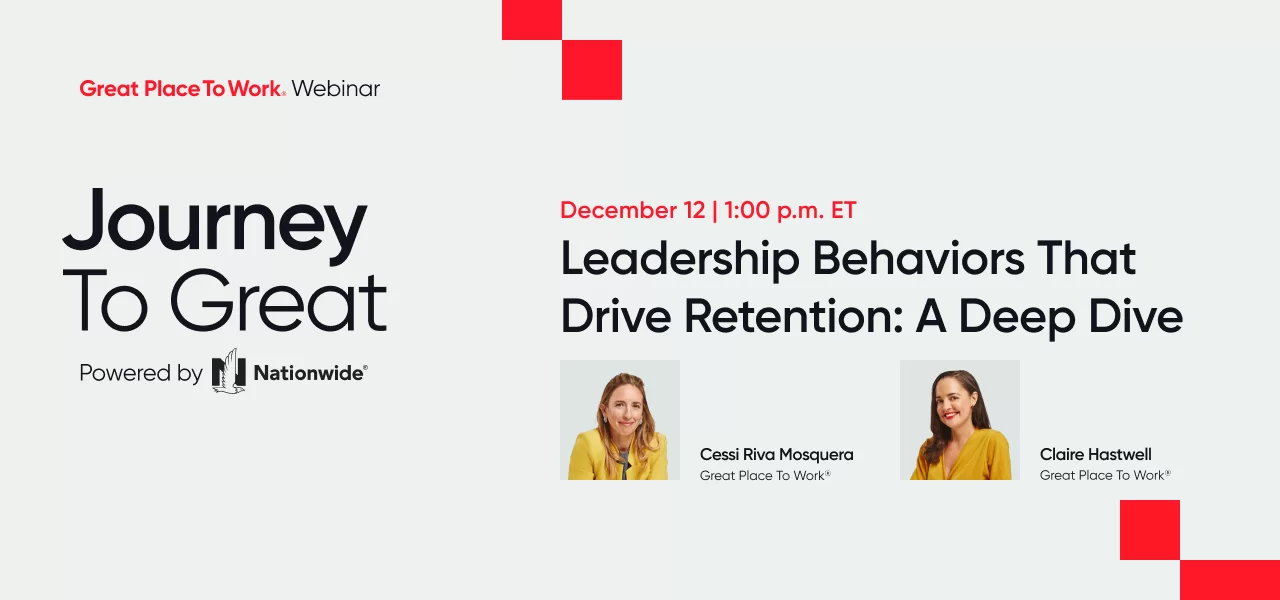 ---