How Workplace Design Helps Bring Culture to Life
Last week Fortune Magazine published a double-issue featuring the Fortune 100 Best Companies to Work For®. The issue highlights several Best Companies on the list as well as some of the trends and practices seen across the 100 Best. There is a small feature on workspaces as well as a list published online of the 25 coolest offices of the 100 Best.
At Great Place To Work® we receive many questions about the physical workplaces at great workplaces. Invariably, this includes perks and amenities, like free meals and gyms, but increasingly workplace design is becoming a perk in its own right. Many of the Best Companies have inviting work areas, large cafeteria spaces, ergonomic workstations and hi-tech collaboration rooms.
Like all other amenities, workplace design is not a catch-all for creating great culture. Employees will not be enticed by new work stations or better art on the walls if they are fundamentally disengaged from the organization. The Best Companies integrate culture and design, using the physical workspace to promote and enhance their already-strong culture, not the other way around.
Looking Past the "Where" and Getting to the "How"
Last fall, the Harvard Business Review highlighted the changing nature of the workplace and emphasized how it could become a tool to enhance productivity, engage employees, and develop a strong culture within an organization. However, the article does not provide a universal answer to what makes a great work space, emphasizing instead the importance of focusing on how work is done, rather than where it is done. At Great Place To Work® we take a similar approach when we share practices from the 100 Best Companies to Work For®. It is not about what you do, but how you do it.
Current trends in workplace design, like open floor plans and "hot desk" rotational seating, are geared towards getting employees to interact with each other more frequently and more organically than they would in a traditional office setting. Yet this popular approach doesn't work the same in every organization. For example, the article sites one company where unassigned seating was implemented to increase interaction across work teams. Overall, interaction between different teams increased by 17%, but the average number of interactions individual employees had each day decreased by 14%.
These results indicate that while employees started the day in different places, they were more inclined to stay at their desk than they had been before, cutting down on the number of interactions had overall. Due to this change in behavior, team communication in the organization dropped by 45%. This unintended result of changing the office design serves to prove that what works well for one organization will not necessarily work well for another. An organization's values, behaviors and culture dictate more of how employees work together than the spaces they are given in which to work.
Creating Your Perfect Workspace
Like culture change, creating your organization's ideal office requires deliberate and committed work. Great workplaces keep abreast of external trends and research on workplace design, as well as the trends emerging within their own organizations. As work changes, and new methods and technologies become integrated in our organizations, the ways people work, together and individually, change as well. Great companies know this and keep up with the ever-changing needs of their employees, implementing the appropriate modifications into the physical workplace. This attention to the employee experience means that great workplaces design their spaces in much the same way they design their cultures: intentionally.
The physical workplace is a key ingredient in employee engagement and satisfaction. Purposeful design of work environments can build pride, foster camaraderie, inspire creativity and generally produce happier people. At the Great Place To Work® Conference, eleven-time Best Small & Medium Company Kahler Slater will host a breakout session sharing their experience in intentional workplace design, as well as some key learnings from other Best Companies who inspired them.
Join us to find out if your work space is helping grow and sustain your organizational culture. Read more about this session and others at the conference.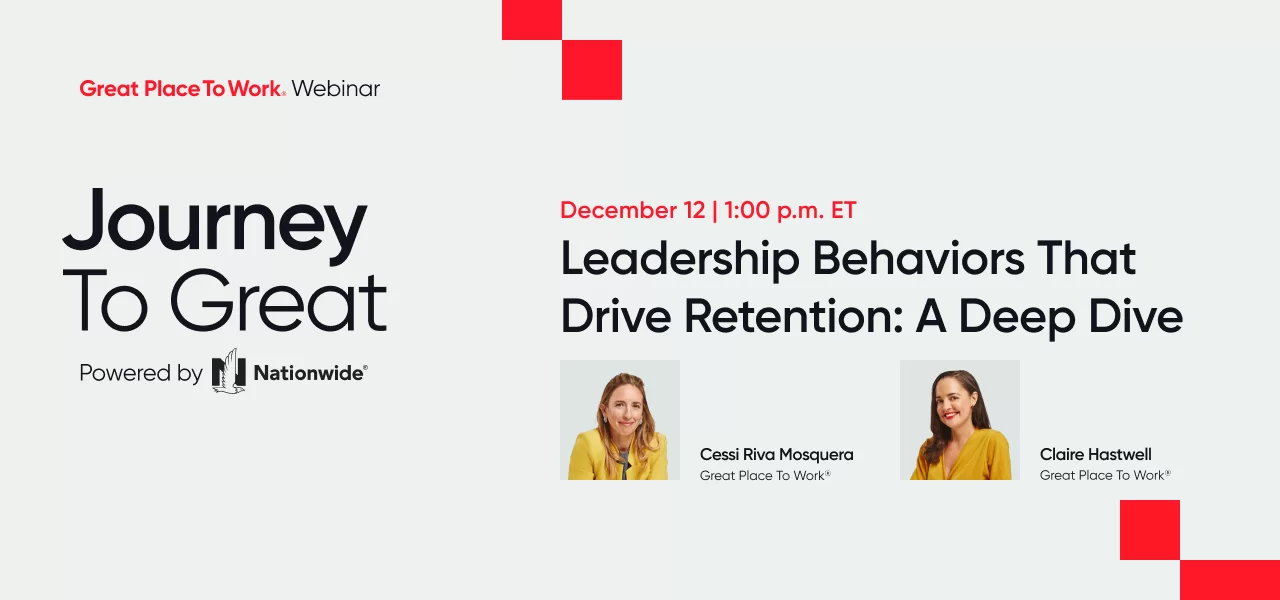 ---