Four Strategies Smaller Companies Can Use to Attract and Retain Talent
The landscape of business is changing. Everyone in an HR or people function knows it. By 2020, the U.S. will have 1.5 million too few workers with college or graduate degrees and fifty-six percent of U.S. employers believe this talent shortage has a medium to high impact on their ability to meet client needs. On top of the already lean pool, more than 2.5 million people in the U.S. are voluntarily quitting their jobs each month, and this number is steadily rising—making the prospect of keeping talent dimmer as well.
The urgency of the need to attract and retain talent is not lost on many, and it is an important priority for all organizations. However, for some smaller companies the prospects may seem even more daunting.
According to a study of HR departments at the best companies to work for completed by Great Place To Work®, the total HR Function head count by employee size is:
With numbers like these, the task for small business can look overwhelming. Your team feels too small to tackle many of your organizational challenges, let alone spend enough time and energy recruiting new employees. It likely feels as if you will never be able to offer the same perks as larger companies, and therefore never gain the traction you need to get your name out there.
From this perspective the competition looks fierce, and the outlook pretty bleak. But there are a number of other ways that smaller companies compete with and surpass large organizations when it comes to talent recruitment. Leveraging these strengths can help organizations find and keep the talent they need to thrive, regardless of their size.
Advantages Among Small and Medium Sized Organizations
One challenge smaller companies face is finding ways to make their often-times lesser known brand a more alluring choice than the familiarity and prestige of big company brands. They have to deal with the fact that they may not always be able to offer the highest pay, or valuable stock options. And yet, when it comes to attracting great people, they are genuine contenders. Here are some of the ways smaller companies can use their size to their advantage in the war for talent:
Offer Robust Opportunities for Growth and Development – Smaller companies inherently provide more visibility for individual employees. When employees are closer to their leaders they have better opportunities for formal and informal learning and development that with further their careers. To this end, smaller companies are more likely to promote from within, keeping talent invested in the organization. Overall, small companies invested an average of 64 hours of training in each employee yearly, while larger companies only offered 56 hours.


Highlight the Impact of Individual Employees – We know that a sense of purpose is critical to employee's satisfaction with their work and experience at a great workplace. Smaller companies have the advantage of more effectively connecting individual employees to the impact they are making in the organization. This helps to drive and sustain that important sense of purpose. Smaller groups and teams make it easier to engage in more meaningful and personalized recognition of achievements. We measure employee pride in our Trust Index survey with a variety of statements, one of which is "My work has special meaning, it is more than "just a job". At the 50 Best Small and Medium Companies 90% of employees report this is always or almost always true in their jobs, whereas only 85% of the 100 Best Companies (over 1,000 employees) say this is true in their work experience.


Make a Powerful First Impression – When organizations are smaller it is easier to personally connect with new employees right from the beginning. As opposed to connecting new hires to remote teammates, and touring them around large and impersonal offices, smaller companies have the opportunity to engage face to face in a significant way that makes the employee feel connected to the company.

Leveraging clear communication and personal connection, smaller organizations provide a positive first impression that has long lasting effects on employees. We assess the onboarding experience by asking employees whether or not they felt welcomed when they joined the organization. At the 50 Best Small and Medium Companies 97% of employees responded positively to this statement, while employees at the 100 Best reported they experienced this slightly less, scoring a 94%.


Treat Your Unique Culture as a Competitive Advantage – Smaller organizations have a distinct advantage when it comes to prioritizing culture. Larger companies can have a difficult time keeping culture at the forefront of their work when pressures mount and the pace picks up. Companies that hire in large groups are less likely to hire those that are a true culture fit, introducing potential detractors into their culture. In addition to hiring, larger companies have a harder time finding and addressing behavior that runs counter to their culture, whereas smaller companies are more effective at keeping the pulse of the whole organization and responding to issues before significant culture damage occurs.


Learn from the Best
Organizations on the 50 Best Small and Medium Companies to Work For list face many challenges, like all small companies do. Regardless of challenge, these companies have been successful not only in attracting the talent they need to grow, but also in developing the culture they need to retain employees and be truly competitive with organizations of all sizes. Learn from these companies about how they create great workplaces at our Small and Medium Business Conference this October in Seattle, Washington. Conference themes include:
- Small Business, Big Profit
- Targeting Top Talent
- Using Culture as a Competitive Advantage
- Creating a Culture that Drives Business Success
- And much more!

See the full conference agenda on our event website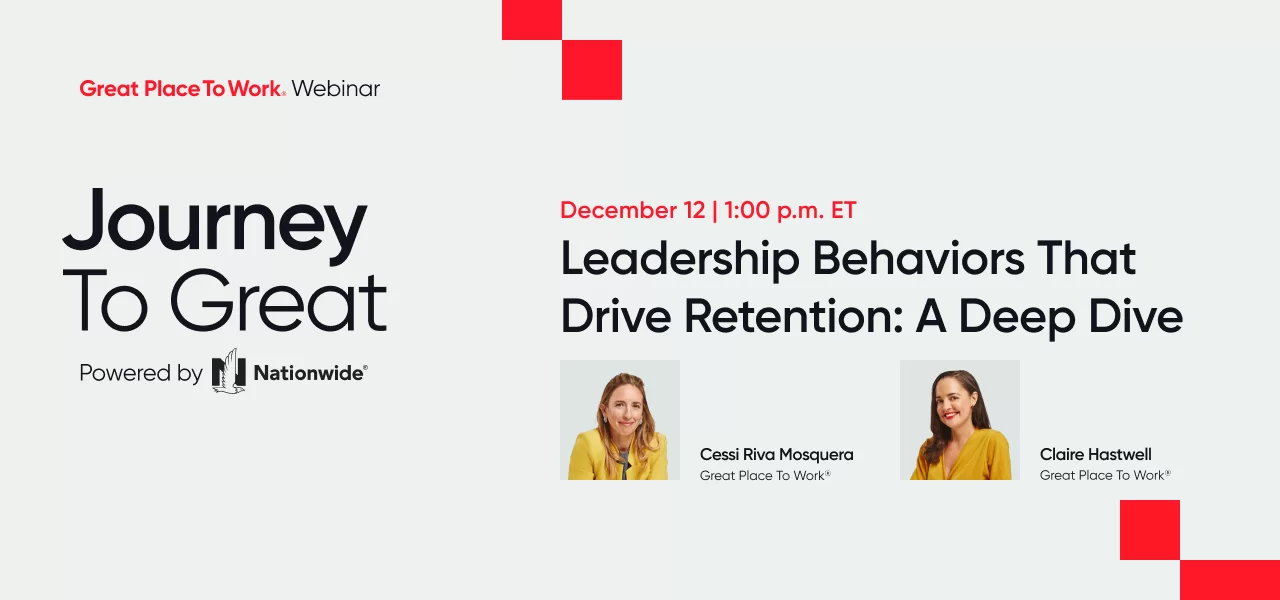 ---