Ever wonder what work is like for people in another country? Maybe you've experienced culture shock as an expat worker or had a friend tell you about a great experience taking a new job across the globe? Well, we've done the research, the largest study of its kind, and can definitively tell you how workplace experiences vary from region to region.
We conducted a global study of workplace culture where the best were recognized as the World's Best Workplaces™. 3.4 million employees across 90 countries and almost 10,000 organizations told us how they experience their workplaces. In this pool we found that while trust is central to great company culture, there are regional differences.
Community is top-of-mind for employees in the United States and Canada. For workers in Latin America it's psychological safety. If you employ people in Asia and the Middle East, you should figure out if you are promoting a sustainable work-life balance. In Europe, the biggest driver of employee happiness is fairness.
It pays to be fair in Europe
Measures of equity distinguish the Best Workplaces in Europe. This means employees believe promotions are fair, that there is equal opportunity for special recognition and that profits are shared fairly.
Two other factors that separate the Best Workplaces speak to a sense of just treatment on the job: management matches its actions with its words, and people don't abuse organizational authority to get their way.
In European countries, questions of rights, ownership and fairness are front and center as citizens make sense of recent waves of emigration and Brexit. Countries such as Greece and France are grappling with uneven pension systems where some retire at 50 and other workers are "cheated" on their retirement.
The Best Workplaces in Europe are ensuring that their employees have a thoroughly equitable experience. When people in this region feel they their employers are committed to fair treatment, they will reciprocate with extra effort and loyalty—fueling greater performance.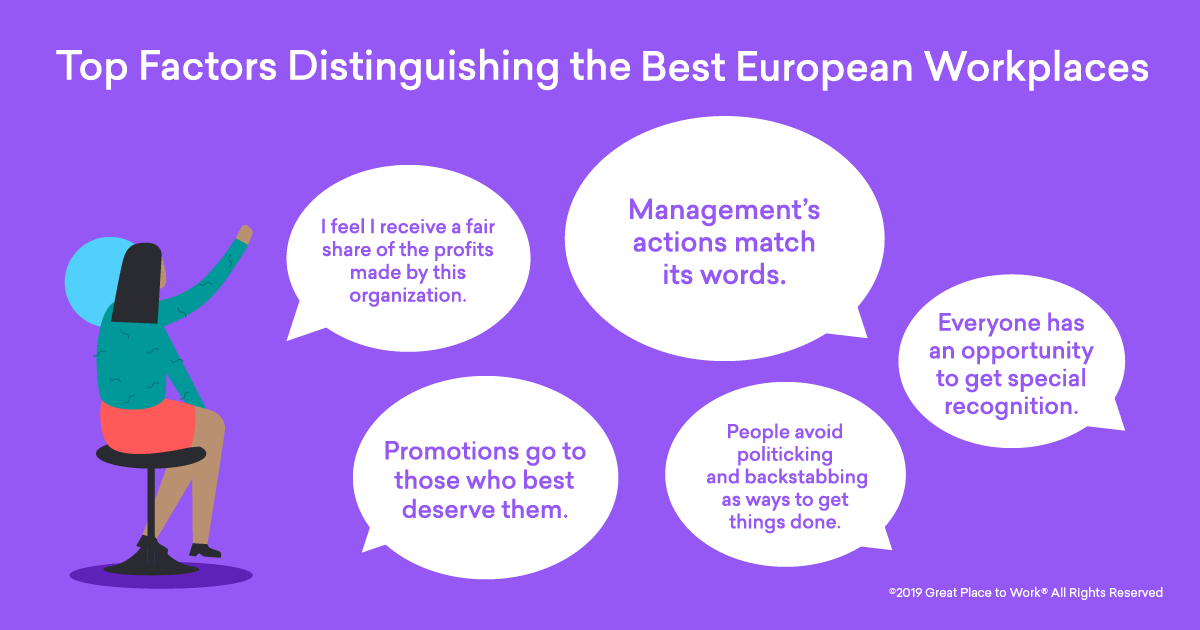 Promotions should not be based on tenure
When we dug into our data for European workplaces, we discovered that the 25 World's Best Workplaces do a better job of promoting people fairly, no matter how long they've been on the job. Many other organizations struggle to promote people fairly and default to undefined expectations, which can breed distrust.
Newly hired employees typically have higher levels of confidence in the fairness of promotions than veteran employees. But the 25 Best Workplaces in Europe see perceptions of fair promotions dip far less than at non-Best Workplaces in the region. Employees across tenure levels at Europe's Best generally feel these important decisions are made equitably.
Want to learn more about employee experience and great workplaces in other regions? Read our full analysis of the 2019 World's Best Workplaces.
---