Nancy Vitale
Senior Vice President of Human Resources, Genentech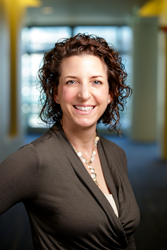 Nancy Vitale is Senior Vice President of Human Resources at Genentech and Regional Human Resources Head, Pharma North America. She is also a member of the Genentech Executive Committee.
Nancy leads a team of HR professionals across disciplines that are dedicated to creating a great place to work. She has played a crucial role in addressing important issues for Genentech including evolving our total rewards to remain competitive, ensuring the focus on diversity and inclusion to spur innovation, enhancing how we view and shape our culture, and working to attract talented people in our increasingly competitive Bay Area market.
Nancy joined Genentech in 2006 as director of training and development for the company's manufacturing division and took on increasing responsibility for HR, including local and global roles, until she took her current role in 2013.
Prior to joining Genentech, Nancy held senior HR positions at The Gillette Company, Cigna, Deloitte Consulting, Danka Office Imaging and the Times Publishing Company.
In 2015, Nancy was named to the San Francisco Business Times' "Most Influential Women in the Bay Area" list, and in 2016 she was named to their "Forever Influential" Honor Roll.