Here's what great workplaces are doing to help their employees build resilience and find balance.
The immediate crisis of the pandemic has receded. But for many workers, the risk of burnout has never been higher.
In a recent report, 62% of women and 57% of men reported at least moderate levels of burnout. Those rates are much higher than what was reported in 2021, and are on par with levels reported at the height of the COVID-19 outbreak in 2020.
What's causing the rise? Layoff anxiety, coupled with new pressure from management around profits and productivity, has workers doing more with less.
To combat the rising tide of burnout, many leaders are doubling down on resilience, pushing for mindfulness practices and psychological safety. Crucially, great workplaces understand that burnout isn't something that an individual employee can control.
Root causes of burnout — overwork, a lack of autonomy, or a lack of community — are problems that must be addressed by the organization.
"Employers need to create a true culture of acceptance surrounding mental health and make it safe for employees to talk about it in the workplace," says Tina Thornton, AVP, well-being and safety at Nationwide.
The insurance firm cites research from UKG: For 69% of people, a manager has more impact on their mental health than a doctor or therapist.
Employers have an outsized impact on the mental health of their workers, and burnout can have a disastrous impact on retention, productivity, and the bottom line.
Signs of employee burnout
When Great Place To Work® analyzes employee surveys, results show a few key indicators that workers are experiencing burnout:
1. Employees don't trust management. Employees experiencing burnout are three times less likely to say leaders' actions match their words.
2. Employees say they are micromanaged. Employees with burnout are three times more likely to say they are micromanaged in experience surveys.
3. Employees say they aren't informed about the business. Employees feeling a lack of control over their work often express it as feeling like they lack important information. Workers with burnout are 2.5 times less likely to say they are kept in the loop with important updates about the business.
4. Employees don't see their workplace as fair. Employees experiencing burnout were much more likely to respond to the question "What would make this a better place to work?" with phrases like:
"fear of retaliation"
"discrimination"
"remove favoritism"
Taking action against burnout
Here are some of the strategies that are having the best results for improving employee well-being and reducing burnout:
1. Train managers
An employee's direct supervisor has an extraordinary impact on the well-being of the worker. That's why many companies are focused on training their leaders to identify burnout and intervene.
"The top way to prevent burnout from my perspective is first to ensure you have strong, well-trained managers that focus on engaging and supporting their team members," says Anna Avalos, chief people officer at SoFi Technologies.
"Employers need to create a true culture of acceptance surrounding mental health and make it safe for employees to talk about it in the workplace." - Tina Thornton, AVP, well-being and safety, Nationwide
Managers can prevent burnout by connecting employees to tools to manage stress, reassigning projects to ensure employees have a balanced workload, and providing coaching on how to prioritize tasks.
At Nationwide, leaders are encouraged to connect with employees in huddles and one-on-ones to identify when burnout might be starting. A crucial question to ask in these meetings: "How can I support you?"
2. Measure outcomes — not time spent
When you change how you manage your workforce, such as rewarding employees for completed projects rather than hours logged, workers can find a better balance.
"When business needs allow, providing employees flexibility can produce better work and a happier, more engaged workforce," says Chrissy Kendrick, vice president, human resources with Shields Health Solutions. "By measuring outcomes, we can continue to drive the business forward, focusing on results, not the time spent to get there."
3. Provide employees with tools to set boundaries
At Ryan, a global tax services and software provider, leaders help team members craft messages for clients when they close their office for a weeklong break in July. Clients are alerted well in advance of the week off and respect the company's decision to take a break.
The example stands out in how leaders are ensuring their workers are able to unplug from demanding, client-facing roles. Without the extra communication to reset expectations for both team members and clients, an attempt to give all employees a week off wouldn't be as successful.
4. Lean on resource groups
Social connection is a key ingredient in building resilience for employees. For many companies, supporting relationships across the organization is done through employee resource groups.
"Twenty-five percent of our team members are part of our mental health and wellness employee resource group, EMPOWER," says Charlene Naumann, VP, talent at Shields Health Solutions. "This has been instrumental in creating a supportive, inclusive, and safe environment for everyone."
5. Reset expectations about post-crisis recovery
The pandemic offered plenty of lessons about the causes of burnout, particularly in the field of health care. One dynamic that stood out: Employees pushed past their limits to meet a crisis with an expectation of recovery time that never materialized.
Psychologists at Scripps Health say that many in health care burned through their reserves with the expectation they would be able to stop and "fill up their tanks" at a later date.
Instead, the experts at Scripps recommend different coping strategies: "We never know what is on the other side of a major stressor, or if there will be time to stop and recharge, which is why having a preventative approach to mental health can be so important. Practice the coping and strategies before the crisis and stressor hits so we have the skills in place to navigate it without depleting ourselves."
Benchmark your employee experience
Worried about burnout in your workforce? Use Great Place To Work Certification™ to get unmatched data on how employees feel about their work.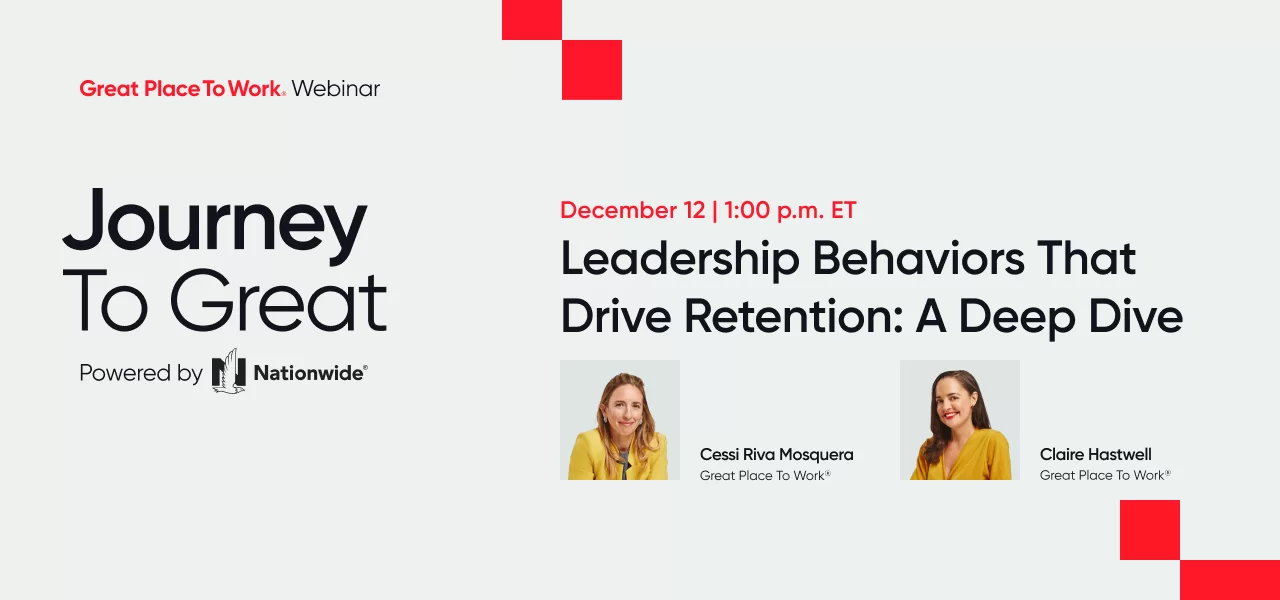 ---