How to structure recognition to support your most pressing business goals.
Employee recognition is great for employee morale, retention, and overall performance.
However, it's a mistake to just roll out a program that offers employees rewards like gift cards without a deeper conversation about what the organization should be celebrating. What kinds of behaviors are worthy of recognition and what does it look like when employees go "above and beyond"?
When companies fail to have clear criteria for performance, managers can turn to less measurable markers like "employee passion" — a recipe for a toxic workplace and high levels of burnout. At great workplaces, companies ensure that recognition programs are based on clearly established values.
"To be an industry leader, you need to reward associates for far more than reaching their business goals," says Lupe Mujica, chief people officer at FirstService Residential, a property management company in the U.S. and Canada. "Your recognition programs need to reinforce and celebrate your organization's culture and service standards."
FirstService Residential has six core values that it uses to define employee behaviors that warrant recognition:
Do what's right.
Own it.
Improve it.
Aim high.
Build great relationships.
Be genuinely helpful.
"It's vital that we align our recognition programs to reflect those values," says Mujica. "We want our associates to be rewarded for the way they conduct themselves in the workplace."
Recognition happens daily at FirstService Residential. Each team starts the day with a "FirstCall" where associates meet to discuss challenges and opportunities for the business.
"These calls are a daily opportunity to shout out people who are doing great work," says Mujica. "That's the first step — immediate recognition among your peers."
That daily interaction then ladders up to a program called "Values@Work" where the company celebrates an associate from each region where it operates, plus the customer care center and headquarters, eight months of the year. Team members nominate a colleague who embodies one of the six core values, and at the end of the year all Values@Work honorees are celebrated in an award ceremony.
"Most associates won't experience a day of work where they don't see someone being recognized or receive recognition themselves," says Mujica. "It's simple, but it sends a powerful message about the company's culture."
Save the date: Attend our annual company culture conference May 7-9, 2024
Making recognition accessible
Peer-to-peer recognition has become an important tool for companies to expand recognition opportunities.
Sedgwick, a leading global provider of technology-enabled risk, benefits, and integrated business solutions headquartered in Memphis, Tennessee, uses a program called "Props" to ensure employees can celebrate each other and connect with colleagues around the world.
"Props is a global colleague experience platform that enables meaningful recognition and rewards, offers actionable insights, and allows us to create and maintain the culture of appreciation," shares Mara Petrovsky, SVP of global colleague experience at Sedgwick.
The popularity of the program for employees is driven by its simplicity and accessibility.
"Props is such a wonderful recognition program. It is so easy to use," shared one Sedgwick employee. Another notes: "Props has a very positive vibe and is easy to use for instant recognition of our valued colleagues."
Even when employees recognize one another, it is crucial to ensure that recognition is tied back to company values. One example of how to do this comes from Atlassian and its Kudos program: Make employees select a value or behavior for recognition as part of the nomination process.
How to measure success
To ensure your recognition efforts are working, Petrovsky recommends taking a closer look at your employee survey data.
"Spend time focusing on recognition feedback in your engagement surveys," she says. "Improving how you recognize each other will help promote teamwork, collaboration, and innovation in your organization, which in turn will help best serve your customers."
At FirstService Residential, one way that success is measured is by tracking how many new hires are boomerang employees.
"In 2022 alone, 10% of our hires were associates that had worked with us in the past," says Mujica. "During onboarding surveys, when we asked the key factors bringing people back, we kept hearing that people missed the supportive work culture."
Mujica also strongly recommends that companies continue to check in with employees about what kinds of recognition might be meaningful to them.
"We don't make assumptions, [we] continually ask questions to revise our programs," she says. "Listening to your employees is key to running a successful recognition program."
Taking the long view
When considering how recognition should connect to company values and reinforcing workplace culture, Mujica warns against being too near-sighted.
"Recognition needs to support the overall culture, not just short-term business goals," she says.
To ensure that the organization is thinking about long-term consequences, FirstService Residential has invested in a full-time staff position that is focused on culture, collaborating with training, internal communication, and HR leaders to promote company values and "continually explore new ways to celebrate and recognize our associates."
"Even though many employees invest significant time to support these initiatives, having a dedicated professional focused on our culture makes a difference," Mujica says.
Both Sedgwick and FirstService see their efforts to recognize and celebrate workers as a competitive advantage.
"When we measure associate recognition programs, there is no higher return on our investment," Mujica says.
Get more insights
Join us May 7-9 for our company culture conference in New Orleans and hear from top executives at the Best Workplaces™.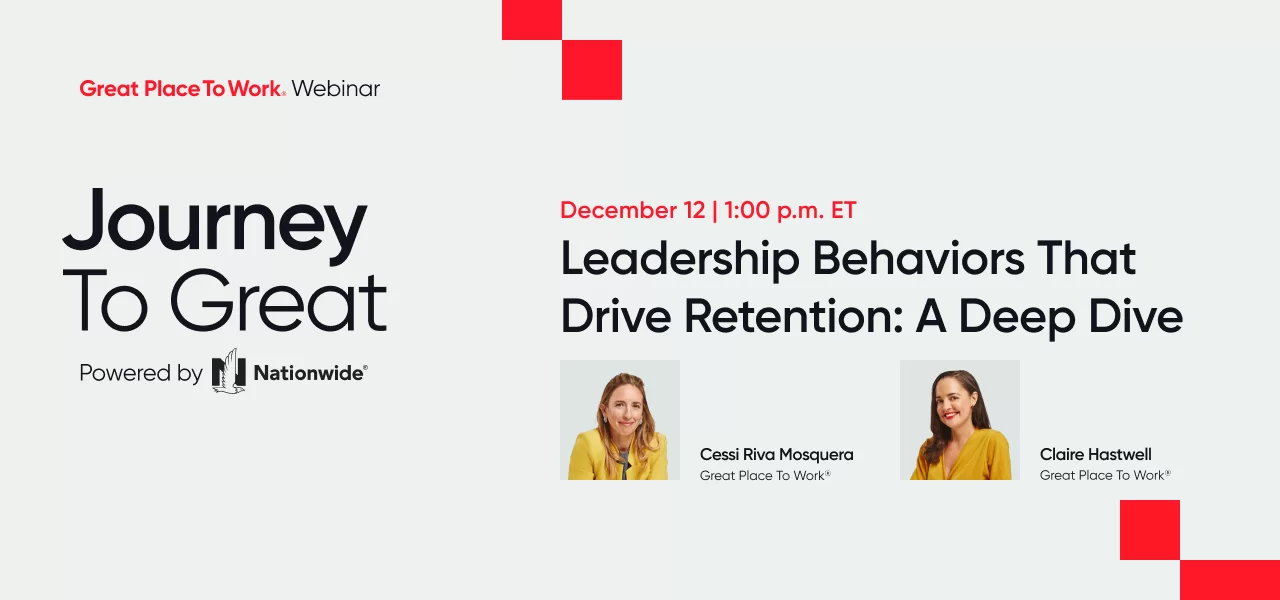 ---