Trek Bicycle has had to navigate very different bumps in the road than most organizations this past year.
While companies in many industries have weathered severe declines in revenue due to the pandemic, Trek and other bicycle sellers have seen sales take off as people avoid public transportation, skip indoor "spin" classes, and seek family friendly outings—like bike rides.
Demand that is doubling or tripling compared to 2019 is a good thing, generally. But the bike boom has put unprecedented pressures on Waterloo, Wisconsin-based Trek to keep employees and customers healthy, and to keep busy staffers from burning out.
What's more, the racial equity reckoning spurred by the murder of George Floyd has prompted Trek to take stock of an industry that has lacked diversity.
The company has responded with:
New safety protocols

Higher pay

Novel employee recognition programs

New commitment to racial inclusion
Trek has also continued to conduct "pulse" surveys to closely monitor the employee experience. That standing practice has enabled the company to learn and pivot quickly in a year when the challenges have popped up, one after another, says Mark Joslyn, the company's vice president of HR and IT.
"We're never satisfied," Mark says. "We're always looking for a better way."
With its nimble, people-first response to a difficult year, it's no surprise that Trek is a Fortune Best Workplaces in Retail™ list winner this year.

Retailers with a great culture
To determine the list, Great Place To Work analyzed anonymous survey feedback representing more than 900,000 employees working in the U.S. retail sector.
Grocery store chain Wegmans Food Markets ranked first in the large-company category of the list, followed by auto seller CarMax, Publix Super Markets, Recreational Equipment, Inc. (REI) and grocery store chain Nugget Market.
Employees responded to more than 60 survey questions describing the extent to which their organization creates a great workplace for all employees.
Eighty-five percent of the evaluation is based on what employees say on Great Place To Work's Trust Index™ survey about their experiences of trust and reaching their full potential as part of their organization, no matter who they are or what they do.
Great Place To Work analyzes these experiences relative to each organization's size, workforce make up, and what's typical relative to their peers in the industry.
The remaining 15 percent of the rank is based on an assessment of all employees' daily experiences of innovation, the company's values, and the effectiveness of their leaders, to ensure these are consistently experienced.
To be considered for the list, companies had to meet the Great Place To Work-Certified™ standard.
Racing to keep up with demand
Trek is in high gear these days, and has been for the last three or four years. During this period, the bike maker has expanded its workforce to meet changing customer expectations, sell into more global markets, and service a growing retail business.
At this point, 60% percent of Trek employees work in the United States, with the remainder in 25 countries across the globe.
Trek's U.S. independent retailers and own stores were classified as "essential businesses" when the COVID-19 pandemic hit earlier this year. And as demand for bicycles soared, Trek leaders and employees moved quickly to create safety protocols.
For example, the company launched curbside and home delivery options for bike sales and servicing.
Trek also took steps to reward employees handling high work volumes by:
Accelerating a plan to raise its national minimum wage to $15 per hour

Introducing an "Above and Beyond" bonus of up to $500 for frontline workers such as mechanics, sales associates, and workers in its distribution and manufacturing centers

Announcing an even more lucrative "President's Award," giving employees up to $1,000 for living out the company's "Non-Negotiables"—values that include "

Have Good Energy," "Think Global," and "Give Back

."
Then there are the "Boxes of Awesome." These are care packages sent weekly from the Wisconsin headquarters to operations across the company, Mark explained. At first, the boxes had items often in short supply, such as toilet paper and masks. More recently, they have included food items to surprise and reward teams.
Reexamining cycling and social justice
In the wake of the murder of George Floyd, Trek has taken a hard look in the mirror and at an industry that has historically lacked a conscious effort to include people of color. The company announced a series of initiatives:
Scholarships for young cyclists of diverse backgrounds to participate in high school mountain biking through the

National Interscholastic Cycling Association

A commitment to opening bike stores in communities of color

A new diversity training program
Central to the diversity training was establishing a common vocabulary around issues of race and inclusion, Mark says, "so we could have better, more productive conversations about these topics."
What's more, the training extended across borders, including Trek's global employee base.
"This issue is not just a U.S. thing," Mark says. "This training needed to become available for employees around the world. They care. They all have room for massive improvement in their countries."
Taking the pulse of employees' experience
One way Trek has kept track of what their employees care about is through regular "pulse" surveys. In contrast to organizations that conduct employee surveys just once a year, Trek will survey its entire workforce, or portions of it, on multiple occasions throughout the year.
The company has continued this approach in 2020. It used Great Place To Work's Emprising™ survey tool to create custom questions related to the pandemic, such as how well employees thought Trek was ensuring their safety and well-being during the COVID-19 crisis.
The pulse survey practice has not only enabled Mark and his team to stay attuned to employee sentiment during challenging times, but also to troubleshoot problems and solve them quickly.
For example, one pocket in the IT department at Trek saw survey scores drop suddenly earlier this year. The team's leader looked into the decline, discovering that a process change hadn't been communicated effectively to all staffers.
Once the issue was addressed, scores on the team rose again.
"They solved the challenge within weeks," Mark says.
Here was a problem that might have festered for months and eroded morale at a typical company. With its culture of listening, Trek steered right around the potential pothole.
On a roll
Trek as a whole is pedaling faster and more smoothly than ever. In 2020, 89 percent of employees call the company a great place to work—an improvement from Trek's score in 2019.
Mark says one key to the company's success has been learning from other Best Workplaces, including those in fields like technology, hospitality and healthcare.
"Most of the time, the better way isn't in our own industry," he says.
A willingness to improve by exploring new terrain—that's just how Trek rolls.
Create a culture of listening like Trek's
We designed a 10-question pulse survey – based on nearly 30 years of studying employee experience – to use in times of crisis such as COVID-19 and beyond. Contact us about it today.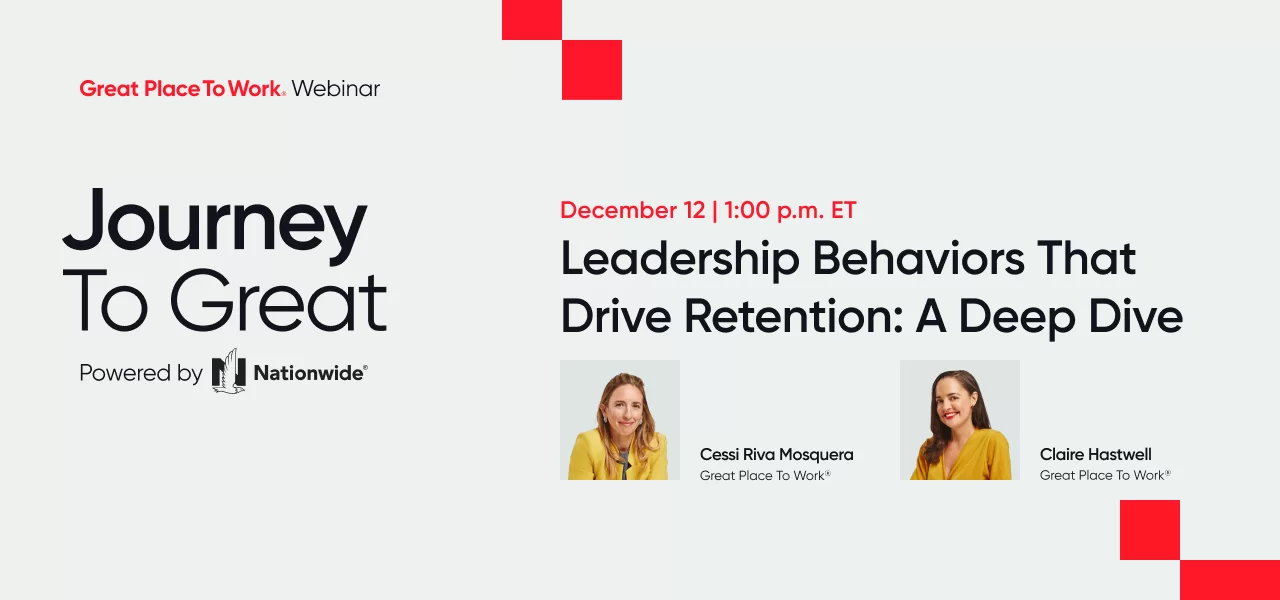 ---