Congratulations to the 2019 100 Best Workplaces in Latin America!
This year, we took an in-depth look at over 1,400 companies in the Latin American region, representing over 2.2 million employees. Just 100 of these companies rose to the top as the best of the best—with 94% of employees, on average, saying they experience their organization as a great place to work.
Top companies on the list include multinational shipping company DHL, online retailer Mercado Libre and technology giant, Cisco.
Joakim Thrane, CEO of DHL Express, Central and South America, told us, "Having motivated people is our #1 pillar. We make sure we deliver on our commitment to our employees to have the best day, every day."
The winning companies represent 20 different countries in the region and 14 different industries – with nearly 50% of the winners coming from Financial Services & Insurance or Manufacturing & Production sectors.
Country Representation for the 2019 100 Best Workplaces in LATAM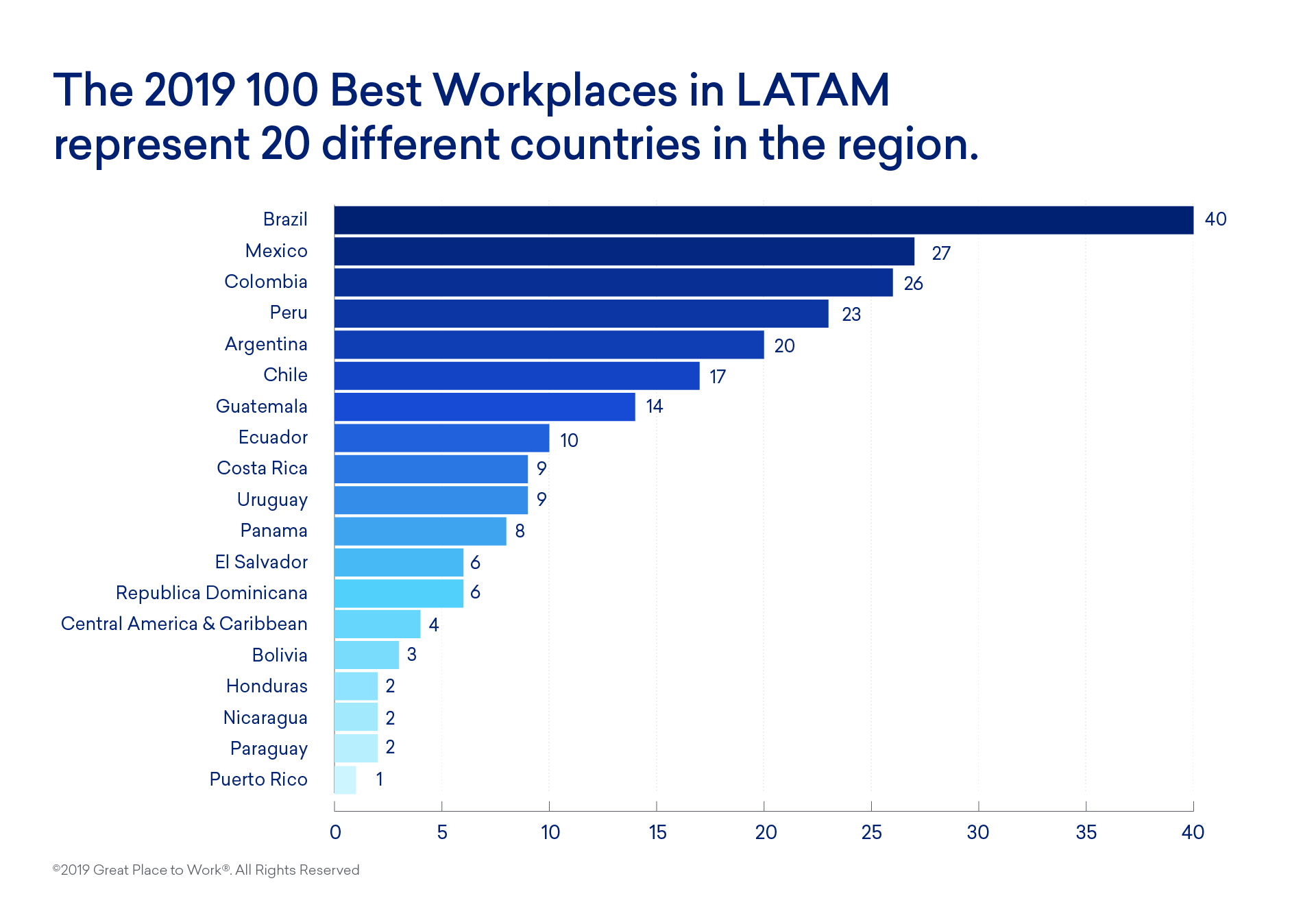 Industry Distribution of the 2019 100 Best Workplaces in LATAM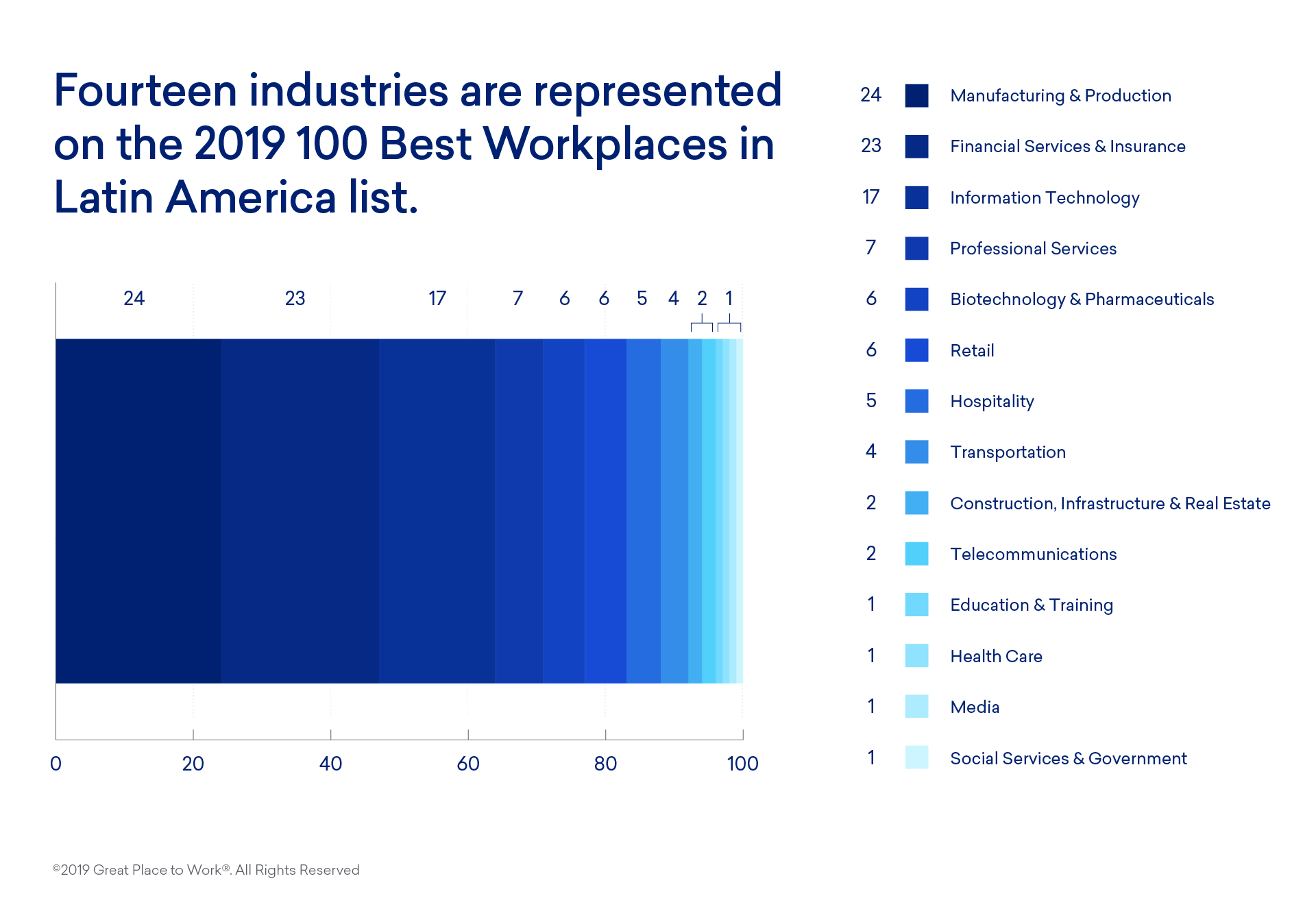 While many of the top winners are large multinational companies, a wide array of smaller organizations is represented as well. The smallest is INDEMUN of Mexico, with just 31 employees, demonstrating that creating a world-class workplace is possible for companies of any size.
All these great companies have one thing in common: they are committed to building a great place to work for all employees—no matter their job role or personal characteristics such as gender, race/ethnicity, age, or sexual orientation. In fact, among the 2019 100 Best Workplaces in Latin America:
97% of employees report people are treated fairly regardless of race, gender, or sexual orientation
95% report people are treated fairly regardless of age
93% say they are treated as full member, regardless of their position at the company
These results are remarkable. Together, they paint a picture of one hundred highly inclusive companies across Latin America, where all employees are invited to bring their best to work each day.
We see this at Dell, the #4 Best Multinational Company on the list, with offices in Argentina, Brazil, Chile, Colombia and Panamá. Dell is a global leader in the IT sector and understands that building an inclusive workplace culture is key to success—especially for innovation to thrive. As such, Dell is committed to integrating camaraderie and inclusion into its DNA.
For example, they have created special interest groups called "ERGs" (after its acronym in English, Employee Resource Groups) where team members from different backgrounds connect and share their experiences and motivations, depending on interests such as common ethnic origin, gender, nationality, or sexual orientation.
According to Diego Majdalani, President of Dell EMC Latin America, "For us, innovation is what drives every idea and solution we create to accompany our clients in their digital transformation. This is only possible with a committed and diverse work team and a culture where our employees can give the best of themselves. This is an achievement of our people: the real heroes of making our values a reality every day."
Mr. Maidalani is right. Our research shows that at the most inclusive companies, a higher percentage of employees are invited to be a part of the innovation process—leading to 5.5x the revenue growth as compared to their less-inclusive counterparts.
Including All Employees in the Innovation Process Drives Revenue Growth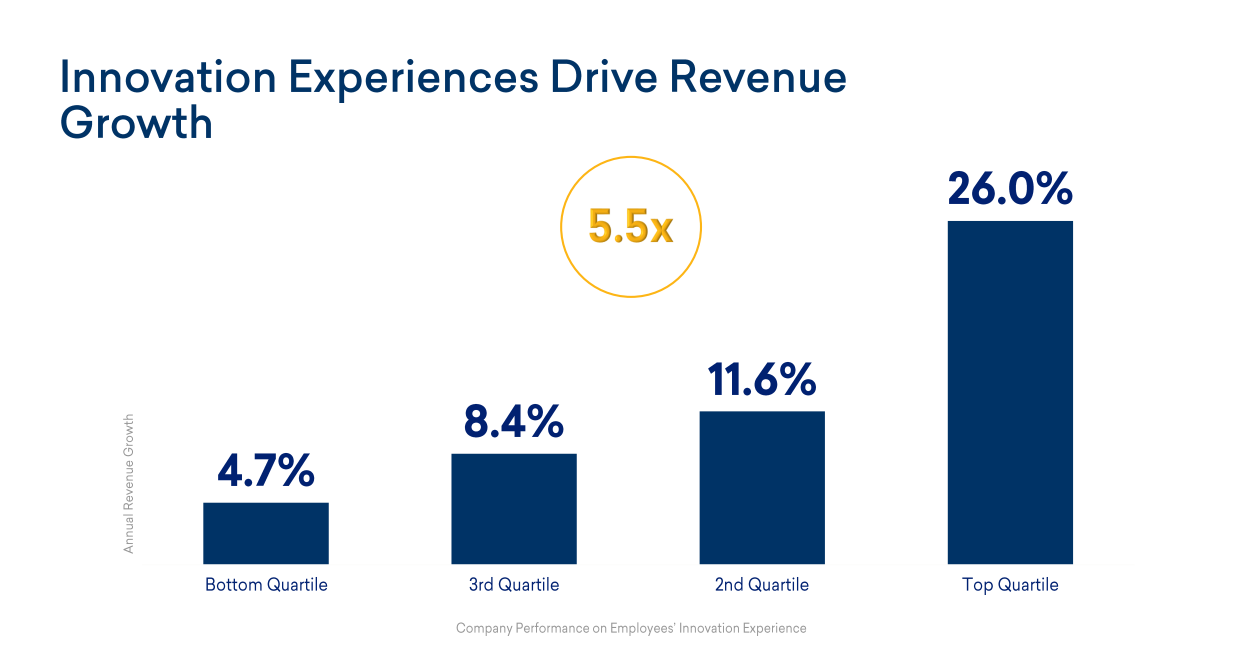 Companies that invite more employees to participate in the innovation process achieve 5.5x the revenue growth as compared to less-inclusive counterparts.
We also see this approach at the #20 Best Multinational Company, AT&T/ VRIO (formerly known as DIRECTV), a global telecommunications company with offices in Argentina, Chile, Colombia, Ecuador, México, Peru and Uruguay. In this male-dominated field, VRIO has made great strides in accelerating the development and advancement of female employees.
As an example, "Mujeres LATAM" is a regional initiative that has been launched within VRIO, geared toward attracting, retaining and promoting women. A key part of the initiative is to increase the visibility of women by generating more opportunities for them to play prominent roles at high-exposure meetings, or to take leadership roles on high-impact projects.
They also hold a Women Leadership Forum, where female leaders share their views on their careers, challenges, personal and professional development and perspectives on female leadership. Each meeting has been attended by nearly 300 employees—including the men of VRIO. As a result of these and other efforts, women now make up 40% of VRIO's staff and 30% of leadership positions.
These examples show that creating a Great Place To Work For All does not happen by accident. Rather, it is the result of leaders who believe all employees are valuable to a company's success and take steps to practice that belief.
For example, at DHL, diversity efforts are bolstered by a system-wide Code of Ethics, which states that each employee must contribute to an atmosphere of mutual respect at work. As a result, this sense of respect is felt across the enterprise.
As one DHL employee shared, "What I like most is feeling valued, regardless of my role. I am able to express myself with colleagues and managers without fear of reprisal, and to contribute ideas to improve everyone's work. To be heard is something valuable that I appreciate."
This is just one voice of millions that bring to life the positive impact of a Great Place To Work For All. We are honored to recognize the 100 Best Workplaces in Latin America who are leading this work in the region and across the globe. We thank them for their outstanding efforts to create workplaces that are better for business, better for people, and better for the world.
---