The workplace has been in a constant state of flux since the pandemic began.
Employees want to be heard, valued, and cared for. They want to matter — regardless of their title, their age, or the color of their skin.
And CEOs want to grow, innovate, and outperform. They want high levels of productivity, particularly in a sluggish economy. The more productive your people, the more revenue in the door.
Wouldn't it be nice to have both? A company culture that puts people first and achieves strong business results?
"But that's not realistic," I hear. "That's not possible in our industry," leaders tell me. "Our people won't work hard if we help them have a better work-life balance," they say.
They think it's a choice to have a great culture or a great business. They're wrong.
When we talk about productivity, profitability, revenue, retention, and innovation, they think that's not what having a great culture is about. But they haven't been listening.
Who has been listening? The organizations on the 2023 Fortune 100 Best Companies to Work For® List, produced in partnership with Great Place To Work®. (Learn more about our methodology here.)
In a year still buzzing with "quiet quitting," employees at these companies gave more in record fashion. Revenue per employee — a key productivity measure that every leader fixates on — increased an incredible 7% year-over-year for these companies. That's almost double the 4% year-over-year revenue per employee increase among last year's winners.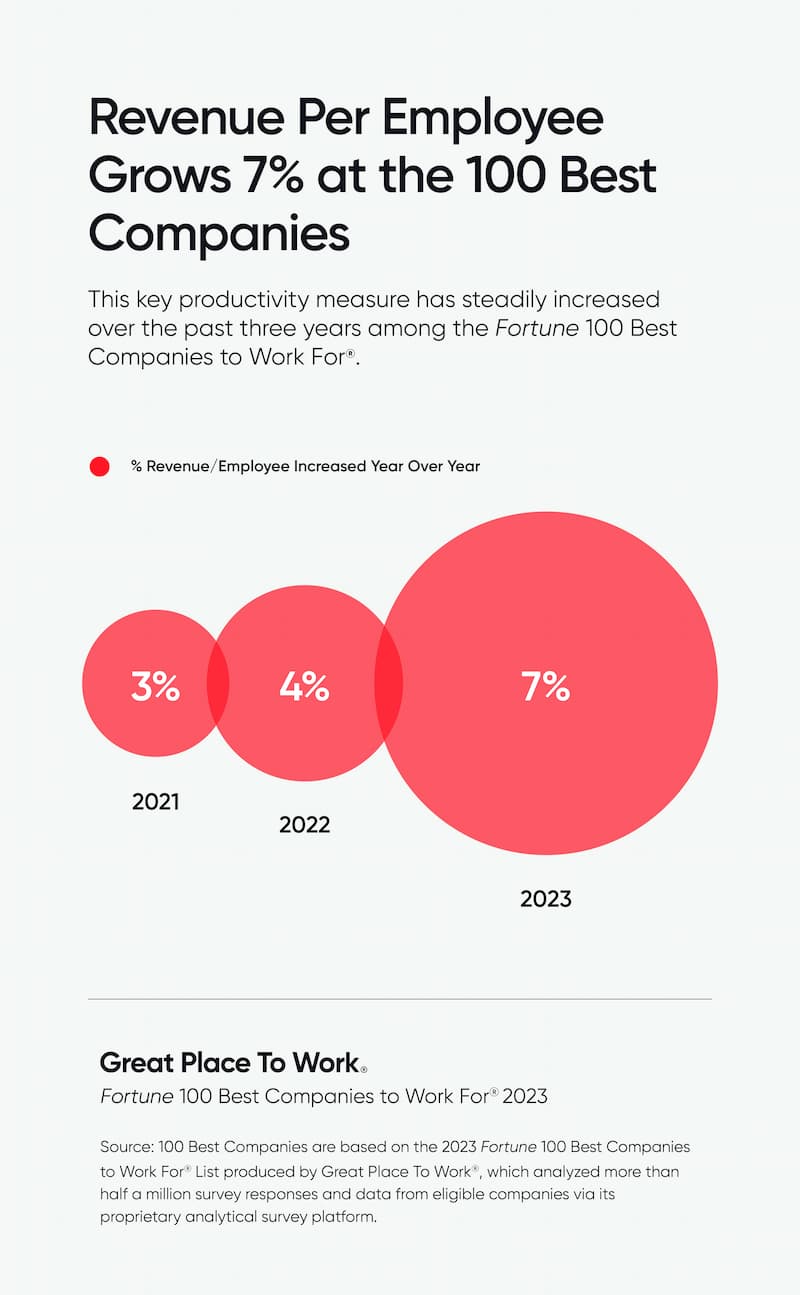 Another measure of productivity, discretionary effort — the willingness to give extra at work — is nearly 70% higher at the 100 Best Workplaces™ compared to a typical U.S. workplace, where record-low employee engagement and productivity levels are the norm.
The U.S. Bureau of Labor Statistics reports the annual average productivity level decreased 1.3% from 2021 to 2022 — the largest annual decline since 1974 — during the same time frame.
What's more remarkable, is that high productivity levels didn't come at a cost to mental health. Quite the opposite: 60% more employees at the Best Workplaces say their workplace is psychologically and emotionally healthy compared to a typical employer.
Leaders at winning companies understand that you don't need to work employees to the point of burnout to be successful. Productivity and performance aren't at odds with supporting your people. In fact, high levels of emotional health and discretionary effort are the two measures of the employee experience that set the best apart from the rest.
You can't cut your way to greatness. It's because these companies care for their people and prioritize well-being that they outperform. Not in spite of it.
Take retail and health care, two industries hit hard by the pandemic. Winning companies in these industries beat their peers by creating emotionally healthy places to work, with 76% of employees saying their companies are healthy — 71% higher on average compared to typical workplaces. Discretionary effort levels are 67% higher at these companies compared to the norm, and 80% of employees in these industries plan to stay for a long time.
Leaders at winning companies understand that you don't need to work employees to the point of burnout to be successful. Productivity and performance aren't at odds with supporting your people.
The 100 Best Workplaces have created high-trust cultures where employees can be their authentic selves, where they can make mistakes and not get punished, where they are appreciated, and paid fairly. These employees want to stay at their job, are proud of where they work, respect their leaders, and have a sense of purpose.
They are the antithesis of toxic workplaces, which people flee. Employees' intent to stay and recruitment support are more than 50% higher at these workplaces than the typical employer.
What are they doing that you should too? Make a high-trust culture your No. 1 priority. Go all in. When your people win, you win. When everyone — no matter who they are or what they do — feels cared for, they'll take care of you. It's a virtuous cycle of care and support.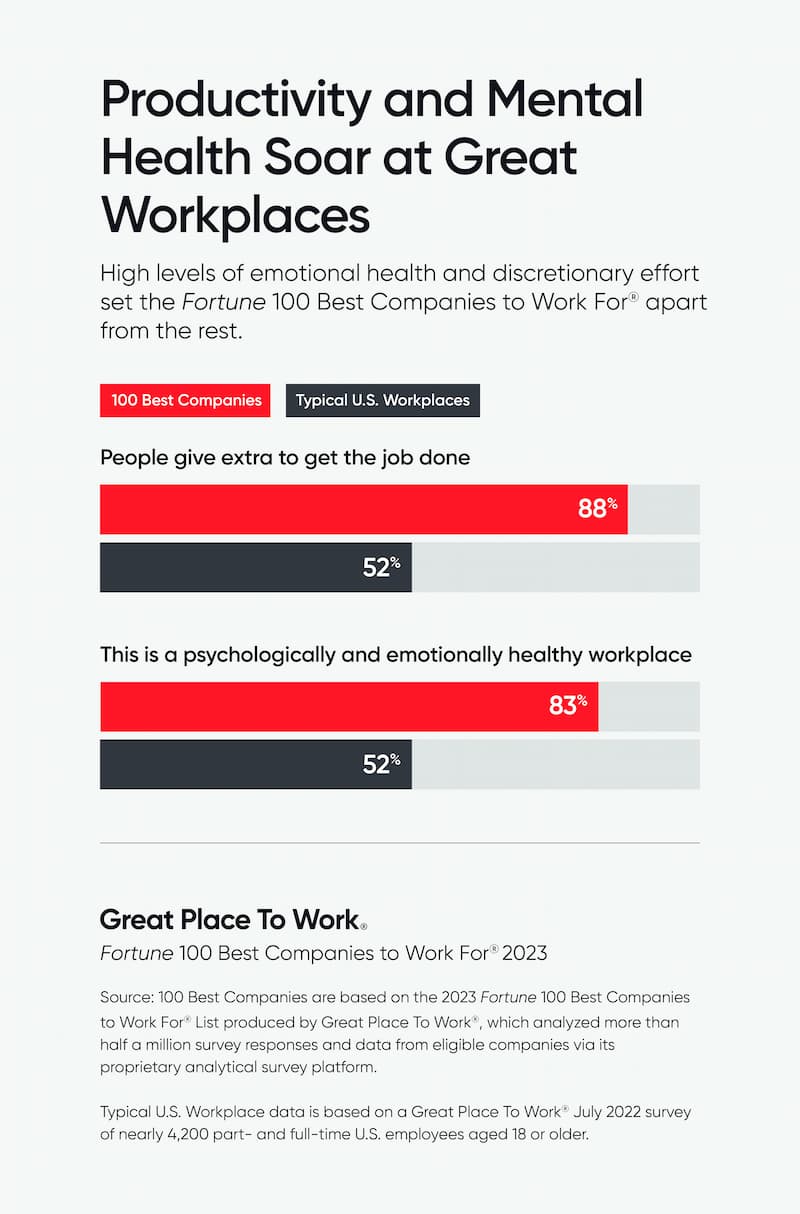 Here's how the 100 Best care for their people:
1. Mental health support is now a standard of care.
The best companies spent the pandemic years increasing their support of employees' well-being, going beyond supporting people's physical health (e.g., COVID precautions, medical benefits, on-site clinics) and financial health (e.g., industry-leading hourly raises, retirement investments, financial education) to expand mental health support (e.g., normalizing mental health discussions, increasing neurodiversity awareness and support, and allowing workplace flexibility).
2. Well-being is not one-size-fits all.
They offer a range of resources to reach all segments of their population with different needs — race/ethnicity, language, parents, neurodiversity, location, veterans, etc.
That can mean translators on teams with people whose first language isn't English, to reduce stress around communication; medical benefits that reflect different employees' needs (parental leave, gender affirming surgery); mentorship/coaching with coaches from similar backgrounds; financial wellness programs relevant to lower-income workers; immigration support services; or an emphasis on effective communication strategies for neurodiverse workers.
3. Increased community awareness.
Great companies recognize the impact of community and world events on employees, from social justice actions to natural disasters. They make space for employees to talk about tough issues happening outside of work through listening sessions, employee resource groups, and timely conversations on hard topics.
They expect managers to support their people as whole individuals and make space for how they are being affected by issues of outside work.
4. Support marginalized workers.
Marginalized workers particularly experience higher rates of well-being at the Best Workplaces than at a typical workplace. At these companies, women's workplace mental health is nearly 70% higher, Hispanic/Latinx mental health is 71% higher, and mental health is 52% higher among Black employees.
Notably, the mental health of hourly employees is 69% higher, with just a four percentage-point difference between their experiences and those of salaried workers, compared to the 10 percentage-point gap that's typical in the U.S.
Caring for, including, and empowering diverse groups will also help you out-innovate your competition. Great Place To Work research shows that the highest levels of innovation occur when every employee is empowered to participate — something we call "Innovation By All."
Supporting workers across all ethnicities, backgrounds, and roles is not only the right thing to do, it has proven to recession-proof your business. Over a 12-year period, stock performance during down economies increased 14% at companies where marginalized workers had positive experiences, while the overall market dropped 36%.
Great cultures fuel performance, and these 100 companies have proven that.
If all your people feel cared for, heard, seen, and valued, they will work hard for you. They will stay with you. And they will make your business better. That is a great place to work for all.
Do you have a culture you're proud of?
To find out how your company can become Great Place To Work Certified and apply to our Best Workplaces lists, start here.
---