Employees spell out exactly what influences their productivity while working from home.

Pre-pandemic, only 5% of American employees worked from home. In May 2020, that number shot up to over 60%. Our own survey of Fortune 500 executives shows a similar increase, from 16% to 65% of staff working virtually.
This massive shift has stirred up questions about the future of work and most notably, about remote work productivity.
How productive is working from home?
Working from home is just as productive as working in the office – possibly more so. A two-year study by Great Place To Work® of more than 800,000 employees at Fortune 500 companies found that most people reported stable or even increased productivity levels after employees started working from home.
Remote work productivity study
To assess the productivity of working remote, we surveyed 715 companies, representing over 3 million U.S. employees. We analyzed over 800,000 responses and measured productivity using survey statements that examined the degree to which:
People are willing to give extra to get the job done

People quickly adapt to changes needed for their company's success
The percent positives capture the percentage of people who responded "often true" or "almost always true" to both statements.

Does working from home increase productivity?
We measured employee productivity from March to August of 2020 – the first six months of stay-at-home orders – and compared it to the same six-month period in 2019. Results showed productivity had improved while working from home (see graph).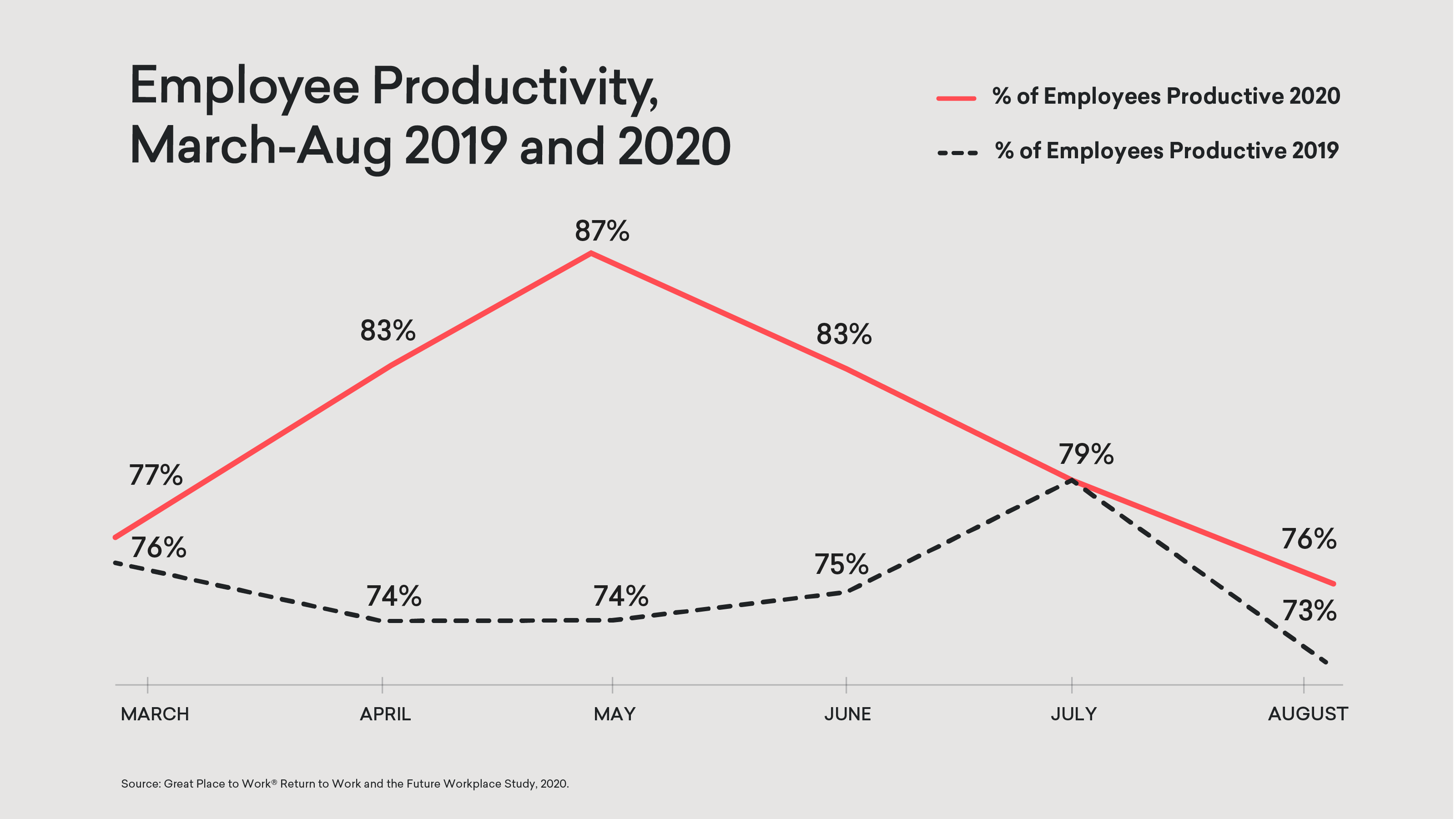 With daily commutes and lengthy in-person meetings eliminated, employees likely found they were able to get more done. However, the biggest impact on remote work productivity came from the same factors that influence in-person productivity: company culture and leadership.
How company culture influences remote work productivity
In the productivity study, we ran a comment analysis of employee survey responses to the open-ended question, "Is there anything unique or unusual about this company that makes it a great place to work?"
Interestingly, the most common phrase among people experiencing high productivity changed over time. In March-May the most common phrase was "catered lunches at home," indicating the power of perks for increasing employee wellbeing and productivity.
However, in June to August, the most common phrase was "genuinely love." Examples of these comments include:
"We are genuinely loved here!"

"I have never been so genuinely loved and cared for by a workplace. I truly feel connected to my co-workers and they're one of the best parts of my day."

"They are welcoming and open. Everyone that I talk to genuinely loves to be here every day, and that makes the hard stuff easier!"
From September to December, "positive atmosphere" was the most used phrase by employees to describe what makes their company a great place to work.
While perks may have bolstered employee productivity through the early months of working from home, it was camaraderie and positive culture that influenced longer-term productivity.
"Camaraderie is like a secret weapon. When employees experience the nexus of great work, a powerful mission, and shared values, productivity soars," explained Julian Lute, Great Place To Work strategic advisor.
"Employees in great workplaces believe their co-workers see them as whole people, with family, hobbies, and passions that they bring to work each day. When relationships are strong, employees feel energized and bring their skills to the table to collaborate on organizational goals."
In uncertain times, strong leadership is key to maintaining productivity and employee well-being
Other unique phrases among employees who worked productively from home were about leadership:
"excellent leadership" and "outstanding leadership" from March to May

"incredible leadership," "culture leadership," and "leadership understands" from June to August

"incredible leadership" and "honest leadership" from September to December
Such comments reveal how much impact leadership can have on employee productivity. And in the midst of the pandemic and all its uncertainty, the power of great leadership was on full display.
"When times are tough, leaders have the greatest opportunity to build trust. Their ability to navigate the complexities of the business, communicate effectively, and bring people along is more visible," said Julian.
"Consistent communication and supporting people in shifting work arrangements, all while taking care of customers, is a balancing act. But leaders who are vulnerable help employees to experience the workplace as supportive and caring."
Why poor leadership kills remote work productivity
Despite the initial increase, productivity fell in the summer, declining sharply from May to August by 11 percentage points (see graph).
However, by September, productivity began to pick up slightly, rising to 80% in December 2020 from its lowest point of 76% in August.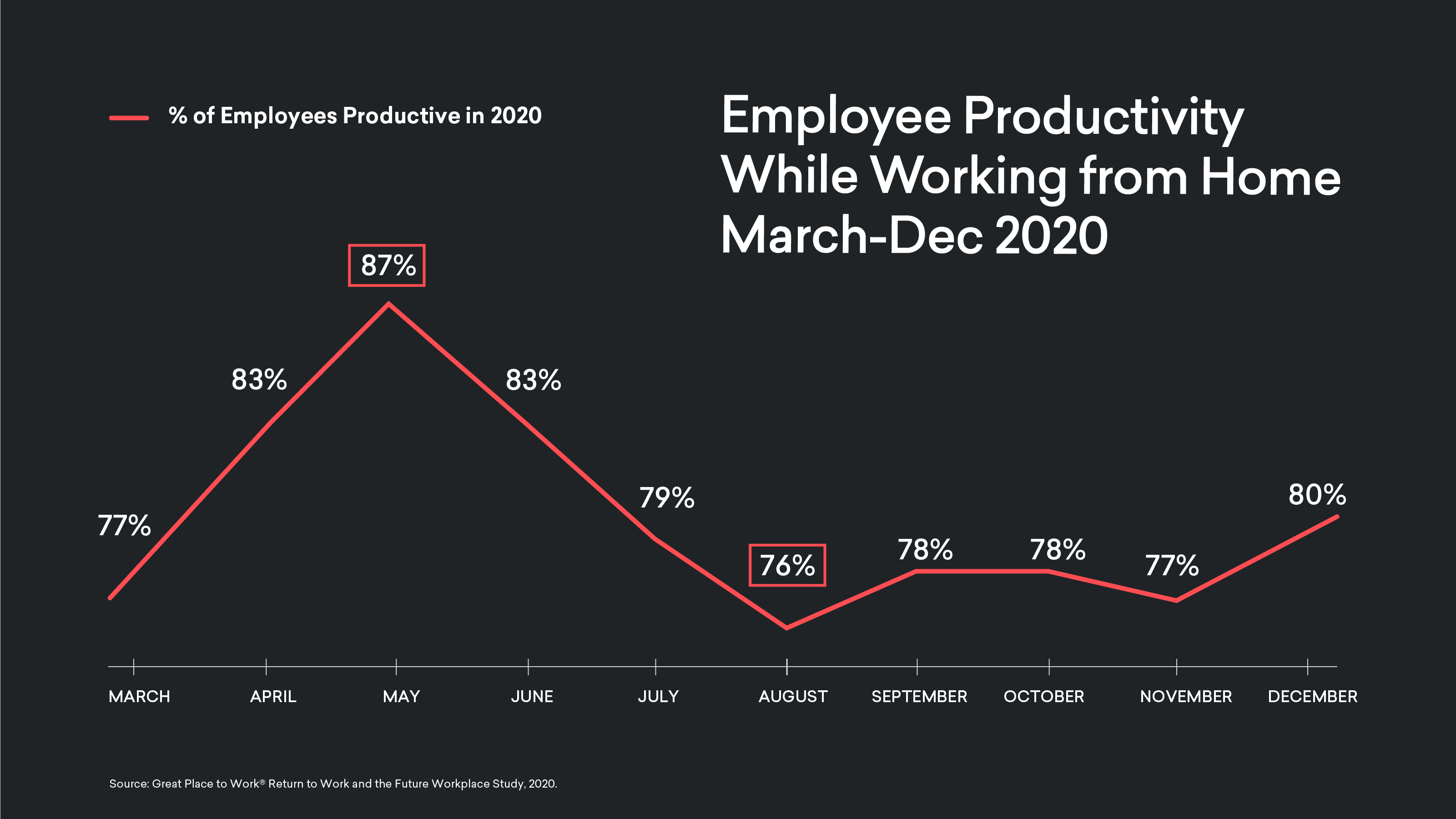 Employees who dipped in summer may have had a spring of "toxic productivity" – an unhealthy compulsion to work, perhaps out of fear of layoff or a loss of work/life balance amid lockdown. And toxic productivity almost always comes from the top.
Between June and August – the least productive months – the comment "Hire leaders" was most repeated by unproductive employees under survey questions about what could make the workplace better.
For example:
"Hire leaders

that are NOT top performers – they are not leaders, they are performers. There's a difference. We need to start hiring leaders and people who can coach and motivate."

"We need to hire leaders that have experience. We should choose experience over friends any day but that doesn't always happen."

"Hire leaders

throughout the company with more backbone who are willing to stand up for employees and pay people what their time is worth, not just the bare minimum."

"Train and hire leaders, not bosses."
"Employees expect their leaders to lead, make decisions and support their work," said Julian.
"Leaders who do not prioritize trust contribute to uncertainty, inconsistent communication, and lack of collaboration during challenging times. People expect their leaders to be guides and help them understand the broader business environment."
Read more about the importance of trustworthy managers during a crisis.
Protecting employees from job burnout
The Best Workplaces™ saw a return to healthy productivity levels in December. These companies kept tabs on their employees' needs with pulse surveys throughout the pandemic, giving them insight into how to preserve employee well-being.
"After sustaining higher than usual productivity, we all had to find a 'normal' that was sustainable," explained Laurie Minott, Great Place To Work senior strategic advisor and partner.
"Supportive workplaces were recognizing this around the time of the decline and doubling down on self-care, balance and support for parents with kids at home."
Productivity of both in-person and remote work are influenced by the same key factors: leadership and healthy, supportive company culture. Workplaces that are strong in both can have high employee productivity no matter where their desks may be.
Are your employees productive and healthy while working from home?
Check in on your employees with our pulse survey – it measures care, collaboration, equity, engagement and 25 other measures of employee experience. Get a demo and see how our survey can help your employee experience today.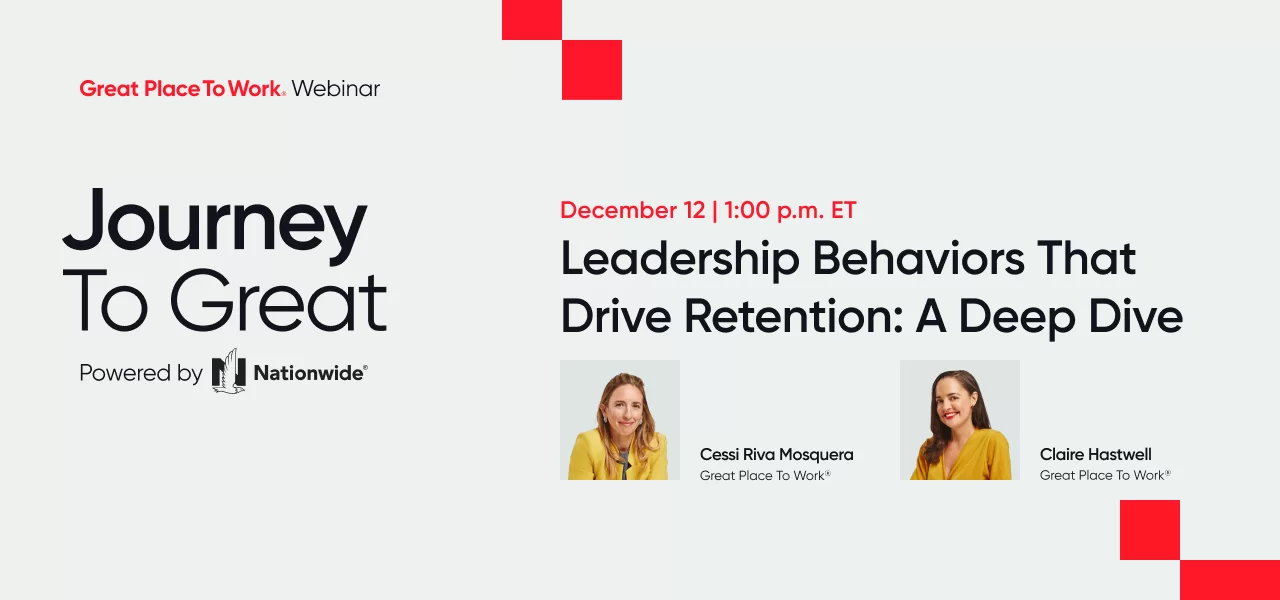 ---