How Schneider Electric built an internal tool that helps employees move into new roles and departments.
Internal talent platforms have become a key tool for large organizations fighting attrition in their workforce.
These platforms — enabled with artificial intelligence — are helping employers map the career trajectory of employees, connect them with mentorship opportunities, and identify career shifts that will help them find more fulfilling roles within the company.
They're also part of a larger trend: the increased focus on learning and development for employees.
That's why LinkedIn's CEO Ryan Roslansky says, "Your next best employee is most likely your current employee."
Schneider Electric, a multinational energy management and automation company, has been an early adopter of this practice, partnering with a tech startup to develop a bespoke platform it calls Open Talent Market.
The tool is used by Schneider employees to plan their careers, identify new opportunities in the organization, and grow their skills.
"At Schneider, we believe in the principle that you own your career," says Mai Lan Nguyen, head of human resources, North America.
"As a company, our responsibility is to make sure that we arm and equip people with the right tools, the right transparency, the right abilities to build the skills and experience that are going to take them to wherever they want in their careers."
Building an internal LinkedIn
Open Talent Market operates almost like an internal version of LinkedIn, giving the company more opportunity to reengage employees who are looking for a career change. It's also a key tool for helping employees own their careers.
"Every time someone would leave the company on their own terms, when you asked them, 'Why did you leave?' in the top three reasons it's always: 'I didn't see my career opportunity in Schneider. I couldn't see where I could grow,'" says Nguyen.
As a big multinational company with so many new opportunities available, Schneider clearly needed a tool to connect employees with the opportunities they couldn't see.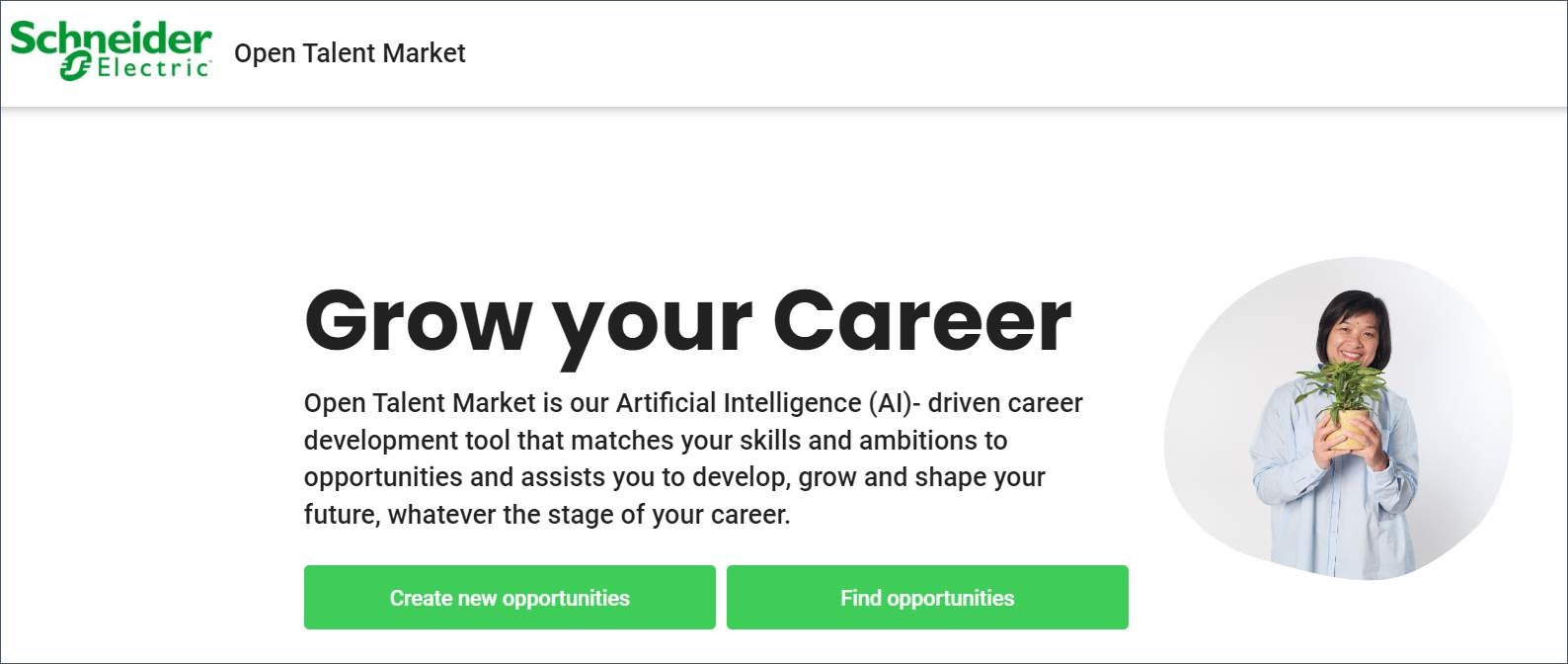 Open Talent Market allows employees to upload their skills and experiences, as well as share new areas, desired skills, or opportunities they would like to explore.
Using a "gig economy" model, employees create projects — what Schneider calls "internal gigs" — and open part-time project roles on the platform, with AI connecting internal candidates to these opportunities.
"In five minutes, you can upload a selfie video and advocate for your project, and then people apply," says Nguyen.
The platform allows Schneider to focus on skills rather than jobs, a crucial practice for ensuring your organization has the skills needed to succeed in a rapidly changing world.
"The skills of today are already obsolete five years from now," says Nguyen. Only by consistently investing in development can companies keep up with the fast pace of change.
A culture of learning
Open Talent Market works because of the focus Schneider Electric makes on development and connection for employees.
By allowing employees to take on internal gigs — short term assignments that are not a part of their usual role responsibilities — Schneider is making a big investment in employees' growth.
"It's an acknowledgement at the company level that being able to spend some time on projects that are not in your direct line of work is a way for you to build your network and meet new people," says Nguyen.
"It's our job to actually transform ourselves as an organization to be much more fluid in the way we think about work and growth."
Through these internal gigs, employees develop the skills and experience needed to get the job they might be dreaming about.
The company has also worked to ensure managers are prepared to have conversations with their direct reports about their careers and development paths.
"We have a process where at least once a year, you have to discuss that with your manager, you have to have a career conversation," says Nguyen.
Being prepared
What are the steps HR teams must take to ensure an internal talent marketplace is successful?
Apart from codifying the skills required for roles across the organization, Nguyen shared a few lessons from Schneider's roll out:
1. Consider how your culture needs to change.
"For the Open Talent Market to work, we had to let go of a few rules that we had put for ourselves," says Nguyen.
For example, Schneider had required employees to stay in a role for a certain amount of time before transferring. Instead, the company has found success with a more personalized approach.
"It all depends on the job; it depends on where you are in your career," says Nguyen.
For recent college graduates, it might make sense to rotate faster and get lots of exposure to different kinds of roles. For more senior and experienced employees, more time might be required, and some specialized roles require more time for training and exploration.
Nguyen highlights the value of transparency for employees and the organization in trying to connect the right person to the right job. However, this open exploration requires healthy communication with managers — and managers can't hoard their talent.
Schneider's trust in its people has been highly rewarded since rolling out the marketplace, Nguyen says.
"We have to trust that not everyone is looking for a job every single day," she says. "And as long as you're finding a meaningful role, which we hopefully see with the Open Talent Market, the market regulates itself."
3. Be willing to start small and iterate.
HR leaders can be overly risk averse, says Nguyen, and fear can stifle innovation.
"As HR professionals, we always think a solution can be deployed only when it is 100% ready, when you have a policy that is written and you have thought of all the things that can go wrong," she says.
When launching Open Talent Market, the team had to let go and launch without having answered every last question about the outcome of the program and iterate over time.
"It was OK because we knew we wanted to actually tackle a big problem," says Nguyen.
Building a better workplace
If you aren't ready to launch an AI talent development platform, there's still plenty you can do to empower employees to own their careers, Nguyen says.
1. Help them identify what makes work meaningful.
"Build an inventory of the things that make a day meaningful to you," recommends Nguyen. Make sure employees are comfortable sharing their goals and aspirations.
Once you know what an employee hopes to accomplish, you can help them find the path to get there.
2. Help employees build their network.
Meeting one new person every week is Nguyen's recommendation for building a professional network.
"Sometimes the magic can happen where those people are going to think of you the next time they think about an opportunity," she says.
3. Help employees adopt a growth mindset.
The future of work isn't going to look like it does today. That means every employee must be thinking about how to add skills and grow.
"It's our job to actually transform ourselves as an organization to be much more fluid in the way we think about work and growth," says Nguyen.
Get started
Is your organization a special place to work? Use Certification™ to let the world know.
---