Oct. 24, 2023 (Oakland, Calif.) – Women are having better experiences in the workplace according to a Great Place To Work® market survey of more than 4,400 employees in the U.S.
However, those incremental gains are dramatically outstripped by women's experiences at companies that made the Fortune Best Workplaces for Women™ List.
The results highlight the importance of having a high-trust workplace, where employees are not only offered best-in-class benefits and opportunities but are also empowered to take advantage of them. At Best Workplaces™, women are more likely to report fair pay, meaningful work, fair promotions, healthy work-life balance, and more.
To develop the list, Great Place To Work analyzed over 600,000 survey responses from employees at Great Place To Work Certified™ companies.
For large companies on the list, Hilton takes the No. 1 spot for the third year in a row:
For small- and medium-sized companies on the list, Roth Staffing Companies moved up from third to the top spot this year:
"Best companies offer women increased flexibility, equitable pay, and career support, and these women are much more likely to thrive and stay at the company a long time when compared to other workplaces," says Michael C. Bush, CEO of Great Place To Work.
These high-trust workplaces weren't just better for women, either. Both men and women were more than two times as likely to report psychological health when encouraged to seek a healthy work-life balance. Both genders were also 30% more likely to say their work is meaningful when their manager involves them in decisions that affect them.
"Fortune congratulates the companies that made the cut for the Best Workplaces for Women," says Fortune Editor-in-Chief Alyson Shontell. "Based on survey responses of so many women nationwide, these companies clearly demonstrate they have created workplaces where women are consistently valued, supported, and encouraged to do their best work."
3 ways to support women at work
Great Place To Work research identified three ways the best companies are creating superior experiences for women in the workplace:
Offer fair pay and promotions
Support mental and emotional health
Ensure meaningful work
Learn more about how trust in the workplace drives retention, productivity, and well-being for women on the Great Place To Work website.
Visuals available: BW for Women 2023

About the Best Workplaces for Women
Great Place To Work selected the 2023 Fortune Best Workplaces for Women List by analyzing the survey responses of over 600,000 employees who work for Great Place To Work Certified companies that also meet the criteria for this list. To be eligible, a company must employ at least 50 women, have least 20% of non-executive managers who are women, and have at least one executive who's a woman. Company rankings are derived from 60 employee experience questions within the Great Place To Work Trust Index™ Survey. Read the full methodology.
To get on this list next year, start here.
About Great Place To Work
As the global authority on workplace culture, Great Place To Work brings 30 years of groundbreaking research and data to help every place become a great place to work for all. Its proprietary platform and For All™ Model helps companies evaluate the experience of every employee, with exemplary workplaces becoming Great Place To Work Certified or receiving recognition on a coveted Best Workplaces List.
Follow Great Place To Work on LinkedIn, Twitter, and Instagram or visit greatplacetowork.com and sign up for the newsletter to learn more.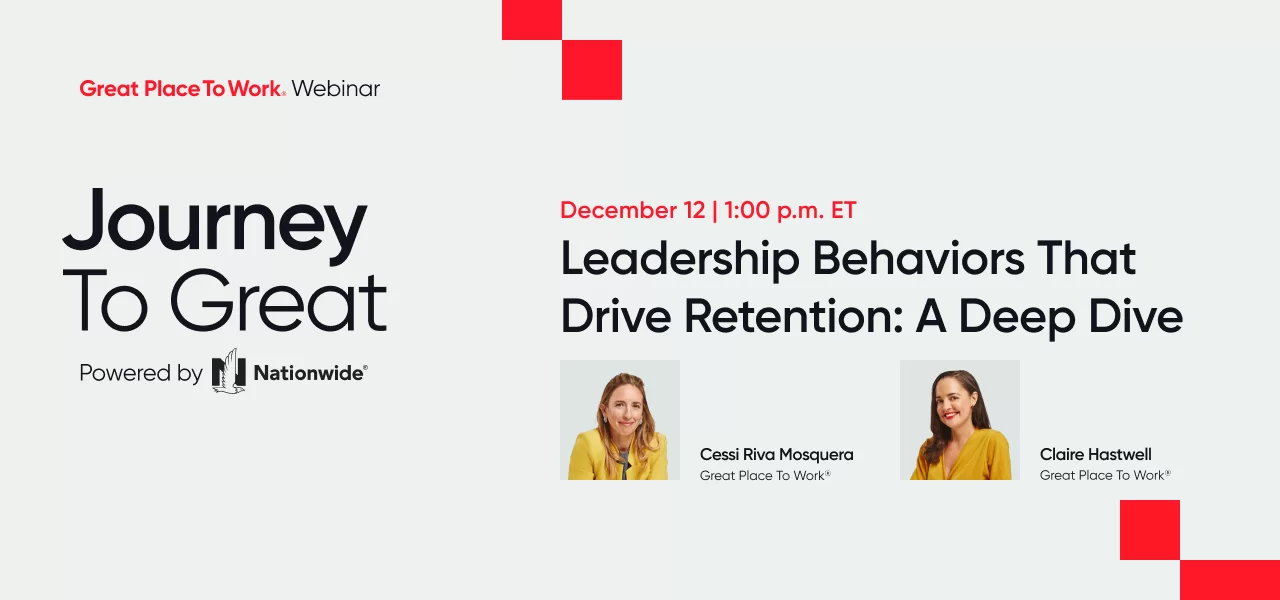 ---