When it comes to employee recruitment and retention, there are the tried-and-true tactics – robust health benefits, 401(k)s, extended vacations.
And then there are the more modern perks, once solely associated with tech start-ups trying to recruit millennials, but now commonplace across industries and demographics – things like office yoga classes and egg freezing.
But our research shows that employee retention is far less about the perks and more about creating a company culture of care. It's about trust, leadership, human connection, wellness, and diversity, equity and belonging.
All of these contribute to a For All™ workplace, where employees of all backgrounds and company positions can be and bring their full selves to work.
And building such a workplace starts with recruitment – bringing the right people on board from the start. But how?
This year's Fortune Best Small & Medium Workplaces exemplify this type of environment, and many of them have implemented unconventional tactics to attract and retain talent.
1. Hire for the people you want, not just the roles you need
At Nationwide Mortgage Bankers (NMB) (#6 in the medium category), employee recruitment isn't just based on what positions are open. Instead, when the company finds a candidate they like, they'll bring them on board, whether there is a specific position for them or not.
"We try to hire ahead of when we are going to need to add employees," says Jodi Hall, president of NMB.
"We are constantly hiring people that really fit our core values and have the experience that we need for the positions, even when we don't have a position for them. … We can find out what people want to do, what their strengths are, and we can create positions around that."
2. Treat your interviews as two-way
The team at Playa Hotels & Resorts (#37 in the small category) believes candidates hold just as much power as the company does. An interview isn't just whether a candidate is a right fit for the company, but also whether the company is the right fit for the candidate.
"Often companies are looking for a one-way fit," says Dayna Blank, senior vice-president of human resources. "Yes, they meet the job description … but will they feel at home? We want candidates to feel like they found where they belong. I want them to interview us too, I want them to be happy long term. It is not a one-sided choice."
3. Tap into your employees' network
There's no better marketing than word-of-mouth. If your employees are recommending your workplace to their friends and families, then that's far better than the best Glassdoor reviews.
Last year proved to be one of the busiest for the mortgage industry, thanks to historically low interest rates. This meant that NMB had to recruit a lot of employees, and fast.
They did this by offering existing employees a rich referral bonus that kicked in after the hire's first 90 days and was then doubled after 12 months. The plan worked.
"Most of our really good hires last year came from referrals," says Jodi. "And that was by getting our employees to tell the story of our culture and how we are different."
4. Hire first, train later
Another tactic NMB took was to hire people who had the right attitude but not necessarily any mortgage experience, opting to train them on the job instead.
"We were able to train people to do tasks that they didn't have any experience at, so then they could grow their careers with us," says Jodi.
Bitwise Industries (#9 in the medium category) is based entirely around the idea of training on the job, and Jake Soberal, co-CEO and co-founder, proudly says his company hires people other employers overlook.
The company hires for apprenticeships first, and after candidates complete their training, they are hired within Bitwise or by a partnering third-party employer.
5. Tackle diverse recruitment head-on
To have a diverse workplace, you must first build a diverse workplace by actively seeking out and accommodating a diverse slate of candidates.
As racial justice issues came to light in 2020, Mediavine (#5 in the small category) knew it needed to take a vocal stance on the importance of diversity, including putting DEIB front-and-centre in its recruiting process.
Mediavine produced a video outlining its DEIB initiatives, which is now posted on its careers page.
"This video immediately connects new hires to company values and takes the mystery out of Mediavine – who we are and what we care about," said a representative at Mediavine.
"Based on new-hire feedback, we've learned the video proved successful in getting our message out to the public, having played a key role in those who've chosen to accept our employment offers, driving a more diverse staff overall."
At Bitwise, where the focus is on creating employment for marginalized communities, Jake says it's all about getting the world out of their way, so that candidates can be the best version of themselves. That means offering support for everything from childcare to food security, so that hires going through the apprenticeship program aren't left behind in their careers due to personal obligations.
There's no one definitive way to recruit employees, but as the Best Workplaces™ show, it's clear that pay and perks are just the beginning. When you create a For All workplace and feed that into your recruitment efforts, you won't just attract top talent, you'll keep it.
How do your hiring efforts stack up against the Best Workplaces? Find out how Great Place To Work Certification™ can help you attract top talent while showcasing your brand as an employer of choice.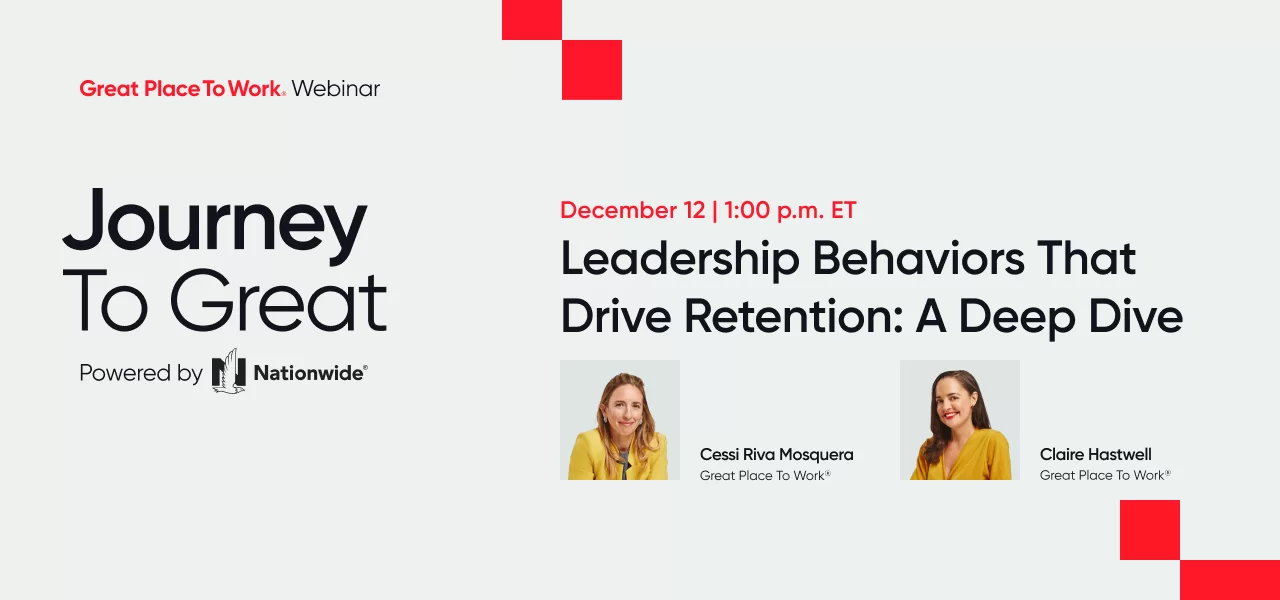 ---