Image: A YNAB employee hand-delivers a welcome package to their new coworker.
For decades, researchers have disagreed on the effect of proximity on collaboration. There has also been debate about whether serendipity is useful for innovation. Chance office encounters are said to generate unique ideas. And as for meaningful social connection, surely face-to-face meetings are essential?
Remote since day one, You Need A Budget (YNAB) has landed as the number one company for the second year running on the list of Best Small Workplaces™. YNAB's employee survey scores, if anything, settle the debate over proximity and effective remote teams: The company has 100 team members spread across 33 states and overseas.
With top marks on measures of camaraderie (99% report a positive experience), collaboration (98%), innovation (99%) and community (99%), it's clear that being 100% remote is not a hurdle for YNAB.
These focus areas are just a few of those measured in the Great Place To Work employee survey. This is the same survey that gathers nationwide employee feedback to determine the Best Small & Medium Sized Workplaces™.
Chance Gurr has been the chief operations officer at YNAB for the last eight years. Chance spends most of his 9-to-5 building what he calls the "team experience." "In the same way that we obsess over how customers experience our product, we're every bit as focused on our employees' experience working at YNAB," Chance said.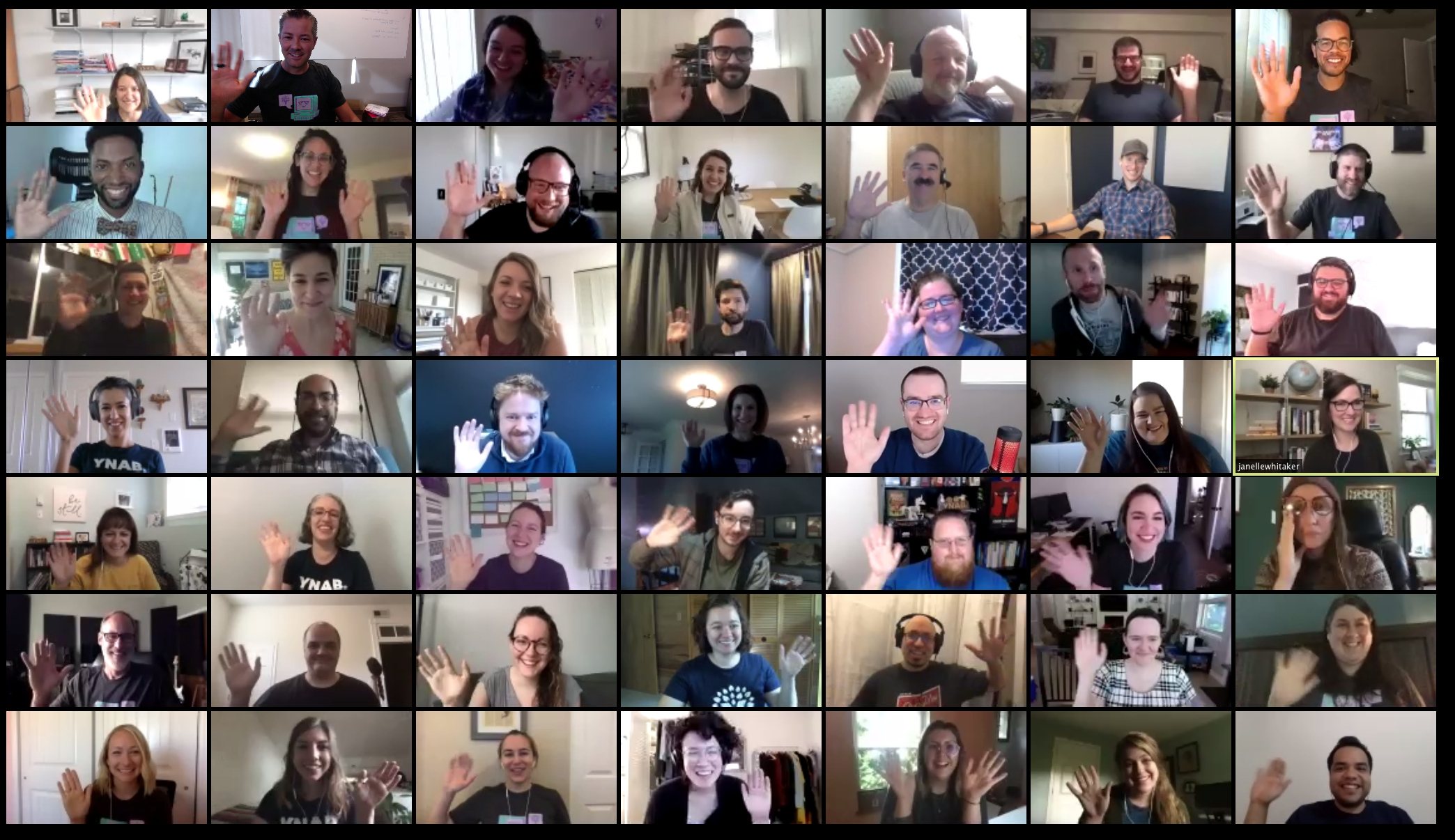 Image: YNAB employees gather via Zoom for their first ever virtual retreat.
We interviewed Chance to find out how YNAB successfully recruits and retains its remote workforce.
A humble recruitment strategy
The phrase "humbly confident" introduces every job ad on YNAB's careers page. This is one of the company's core values and sets the tone for what kind of people will thrive at the company.
"This describes confident people who are true experts in their craft, but still very humble in their interactions. People who are open to feedback and other ideas and don't take critique personally. People who give and share credit easily; who are great at admitting their own mistakes."
The company's job descriptions are about three to four times longer than most. This unconventional approach is part of how YNAB attracts the right candidates.
"We try to show them what life is like at YNAB and give a behind the scenes look into the real-life experience. In the job description we introduce the people they'd work with. We describe in-depth the work that they'd do. We paint a picture of a typical day at work for the role and what success would look like."
And the strategy has been working. YNAB attracts quality candidates who resonate strongly with the company culture before they even get in the door, Chance says. The resulting camaraderie and community is reflected in their employee survey scores. As mentioned above, 99% of YNAB employees reported having a positive experience on measures of camaraderie.
"We've gotten more and more comments about the job description and how it really helped people to get a feel for what it would be like to work here and how that attracted them. Often we'll hear, 'I was not looking for a job. I didn't even know who YNAB was but, I read the job description and I had to learn more.'"
Onboarding in a remote world
As seasoned telecommuters, YNAB has many creative ways to give new teammates a warm welcome.
Welcome packs with company swag and a gift card for dinner out are delivered to new members—and if a coworker lives nearby, the packaged is hand delivered. New recruits are also assigned an onboarding buddy or mentor, and get welcome notes from all the members of their team.
Here's a company culture busting the notion that virtual relations are devoid of connection.
Scaling or flailing
Just as the pandemic has forced many companies to lay off employees, others have enjoyed an inverse trajectory. YNAB is one of the lucky ones. The company has scaled from just 10 people in 2012 to over 100 today. And Great Place To Work research shows that scaling can be hard on a culture.
Chance told us how he and the founders were worried YNAB wouldn't feel the same as the company ballooned to its current size. But with full marks in caring (100% of employees report a positive experience) and hospitality (99% report a positive experience), among others, clearly the tight-knit community hasn't been shattered.
The secret? Chance believes that the family feel can and should "happen on a team level." While you may not feel 100% connected to everyone at the company, you can feel a deep connection with your own, smaller team," Chance says.
"While the company grows, you may not feel connected to every person on the team like you did when you were just 12 people. But that feeling of connectedness can happen on a team level."
Building on culture strengths
But the real key to maintaining a strong culture as you grow is something much deeper. "And some might say more difficult," Chance says. The key, he says, is identifying what makes your company's culture unique and keeping it alive.
Core values shouldn't be aspirational, they should be a genuine reflection of who you already are. "It's not something that you hope to become. It's about looking inward and recognizing what you already are. What it is that makes you a great team already."
How does a small company choose its company values? YNAB looked at people within the company who were examples of what they wanted to be and defined what it was about them that made the culture so great.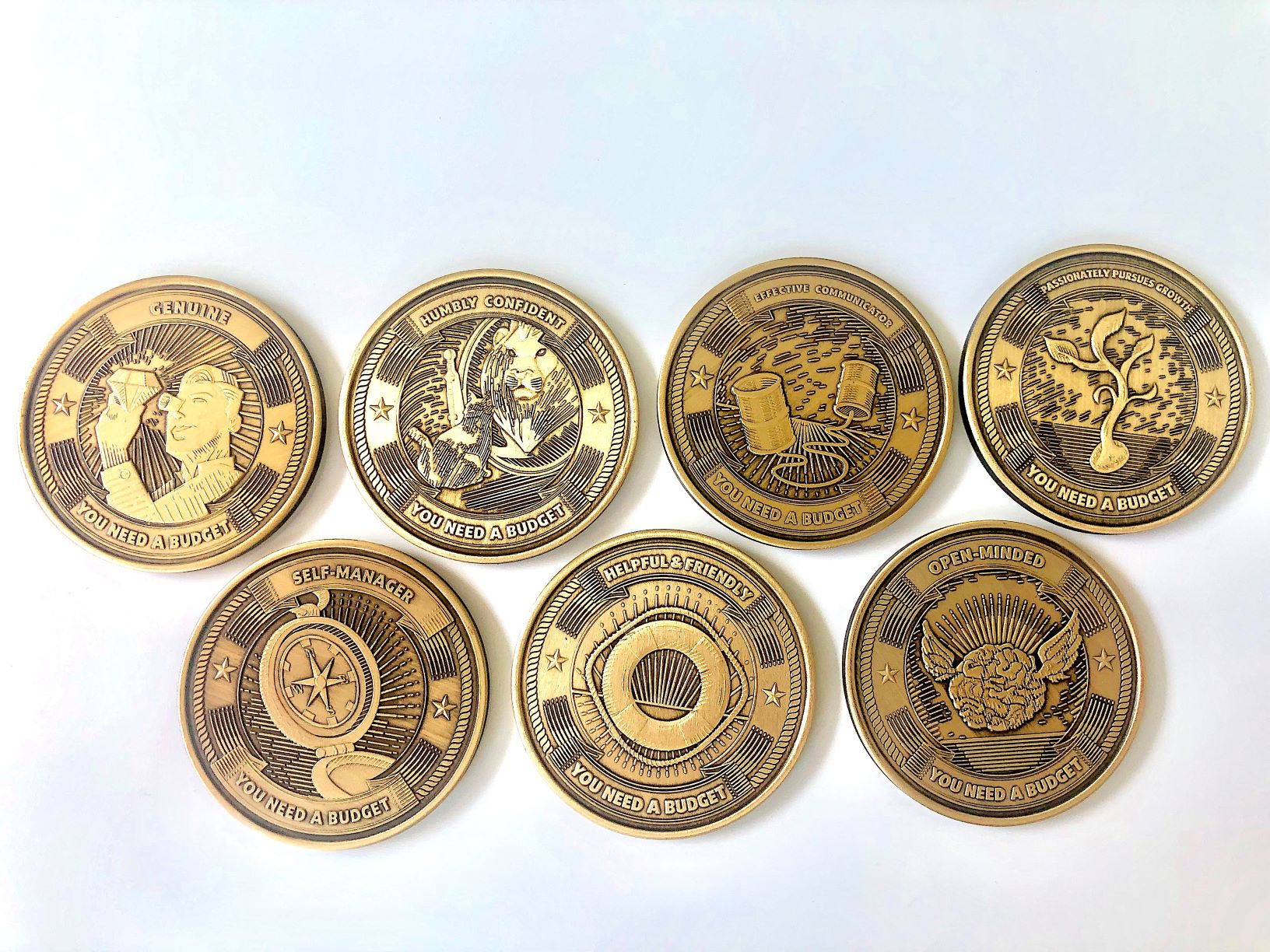 Image: When YNAB employees meet a work milestone, they get a carved medal that symbolizes one of the company's values.
"Once you feel you're really good at a particular value, then it can become a core value. Until then, it's something that you're working on."
Once the values are in place, the trick is to live up to them and regularly call them out. "Make sure you've got people that already have those attributes, be great examples of them yourselves, and then be sure to publicly recognize it when you see them exhibited throughout the company."
Personal well-being should be number priority for companies now
It's important to acknowledge that this season of remote work looks drastically different for everyone than it did before. So many of us added personal and family obligations to our everyday lives and routines in 2020.
"It's been really important for us to publicly acknowledge that right now people have way more [going on]. They have added stressors in their lives beyond work, and that will require more personal time to create that mental margin and to allow them to focus on themselves," Chance said.
"Life is super out of the ordinary right now. And that time for personal well-being for team members, that should be a number one priority for companies," he said.
Small- and medium-sized businesses who put employee wellness, both financial and personal, first, win the fight for talent. The bottom line is that the best companies are made up of good people who are about their people. Just take it from what one of YNAB's employees told us:
"I've been continuously surprised at the openness and authenticity of the executive team when they say, 'Yep, it's hard to focus,' when COVID hit; 'Yep, please take some time off if you need it,' in the depths of the craziness of COVID; 'Yep, I need to confront my own privilege' during the protests that were happening over George Floyd's death. I know 'humble confidence' gets thrown around a lot as a company core value buzzword, but it really happens here."
Want to get your company recognized as a great place to work? Ask us about our employee survey, the Trust Index™. It's the first step to become a Best Workplaces™ winner.
---