To meet the demand for flexible work models, leaders must innovate, iterate, and constantly listen to employees.
As a return to in-person work faces continued scrutiny, workers' relationships to the corporate office and the future of work have never been more uncertain. Many employees who have spent the past two years working remotely are reluctant to return to the office on a full-time basis, even as their employers offer in-person benefits.
Instead, as HR and workplace management solutions provider UKG reports, many employees hope to find a middle ground wherein both salaried and hourly workers can retain the flexibility that virtual work affords, without risking the cohesion of the company as a whole.

"For many companies, work will never look the same. And we believe that is a good thing," says DJ Casto, executive vice president and chief human resources officer at Synchrony.
The Connecticut-based consumer financial company learned early in the pandemic that the hybrid model can flourish and drive success by amplifying employee satisfaction. Its success offers a heartening case study for flexible work.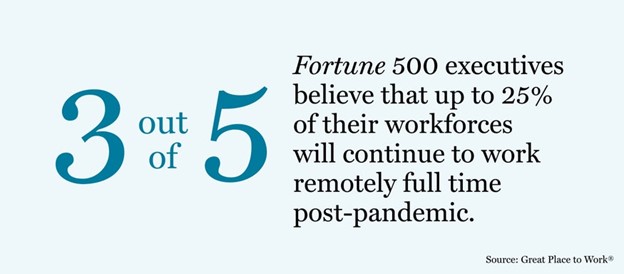 Redefining the workplace
In March 2020, Synchrony moved nearly its entire workforce home to better protect employees from COVID-19. In doing so, it recognized that it needed to transform how employees worked, how the company supported its people, and how workers connected and engaged with one another.
"We found that people could still be innovative," recalls Casto. "We were actually making decisions faster, and we were leveling the playing field in a sense because it no longer mattered if you were in a conference room or on the phone."

These results, combined with a company survey that revealed 85% of its workforce wanted some form of remote work post-pandemic, pushed the company to move away from traditional offices to a new model that allowed employees who want to work at home the option to do so while still ensuring groups could come together at a physical office location when needed.
"We call these locations 'hubs,'" says Casto. Used for brainstorming sessions, networking, cultural events, and other business activities, the hubs help staff retain the flexibility to work from home when desired.
"This model has allowed us to continue to nurture our culture and drive our business while giving our people the flexibility they need and the personal connections with their teammates that so many desire."

Synchrony's innovative hub approach has had a significant impact on its workplace culture. Workers appreciate the option for hybrid work, and in the company's Great Place To Work survey, 93% of its employees stated that this new system gives them the flexibility they need.

Flexible scheduling was another huge win for employees, even amongst hourly workers who do not typically have the option to influence their own schedules.
"We developed programs that offer flexible monthly schedules and split sched-ules," says Casto. "If parents need to take care of their children during a certain part of the day, they can adapt their time to what works best for them while meeting the needs of the business."
Among other initiatives, these "Flexible Fridays"—a departure from "Summer Fridays," allowing for fewer to no meetings on Friday mornings or afternoons—have also helped.

Still, a degree of pioneering was required to put this groundbreaking model of flexible work into place. "There was no playbook, no case study, and no peer group to talk on how to do this right," says Casto. "We were literally writing the playbook ourselves."
"Moving toward a coaching style of leadership ensures that everyone actively takes part in new ways of working. Managers must build a continuous feedback loop that energizes employees to be innovative and nimble and to work to maintain connections in a digital or hybrid environment." - DJ Casto, EVP and CHRO, Synchrony
Building something special together
To build a model of hybrid work that was truly meeting the needs of all workers, Synchrony recognized that it needed to proactively check in with its employees to determine what was working and what needed adjustment.
Once the company became comfortable with the idea that some ideas would not be successful, it was able to adopt an agile approach while seeking feedback and responding to employees.
"Everyone across the organization knew we were building something special together," says Casto. In doing so, they discovered vital components to ensure that a hybrid work model could succeed.
Continuous, proactive listening is an important element to building and optimizing systems of flexible work, Casto says.
"We worked with employees to codesign and experiment with flexible work options that lead to creative solutions," he says. "Start with a pilot and constantly iterate and adapt. Stay close to the data to validate ways the new model supports all employees."
Investing in the right technology and intentional coaching was also vital to the success of these programs.
"Moving toward a coaching style of leadership ensures that everyone actively takes part in new ways of working," he advises. "Managers must build a continuous feedback loop that energizes employees to be innovative and nimble and to work to maintain connections in a digital or hybrid environment."
This means ongoing, honest conversations and clarity around expectations and outcomes, as well as a willingness to test, learn, adapt, and fail.
From attracting new talent to retaining existing workers, a willingness to embrace hybrid work is crucial for a company's success.
"It's not easy, but it's necessary to build for the future," says Casto. "People are speaking up and taking action, demanding this new kind of flexibility in a way we've never seen before—the Great Resignation was proof of that. Now more than ever, employees value the ability to continue working while caring for themselves and their families without worrying about sacrificing one over the other."
This article was created in partnership with FORTUNE Brand Studio.
Subscribe
Learn how to create an award-winning company culture. Subscribe to the Great Place To Work® company culture newsletter and join 100,000+ other leaders learning how to create a great place to work.
---