Few employees have faced as much stress over the past year as those on the front lines of the pandemic.
Health care workers treating COVID patients, as well as those producing life-saving tests and medicines, have worked long hours, with clinical staff often putting their own safety on the line and facing emotional trauma as patients died apart from loved ones.
How have the Best Workplaces in Health Care & Biopharma™ helped their people avoid burnout? Great Place To Work® research points to three keys for supporting health care workers:
Preserve and reimagine jobs amid crisis

Make gathering employee feedback a ritual

Provide resources for employee well-being
1. Preserve and reimagine jobs amid crisis
One of the risk factors for burnout is minimal control over one's job or schedule. The ultimate loss of control is losing one's job altogether. And that was a risk and a reality in the health care industry last year. Although headlines blared about COVID cases overwhelming some hospitals, many workers in the industry were laid off, in part because hospitals suspended elective procedures during the pandemic.
To prevent employees from worrying about their jobs being cut, several Best Workplaces in Health Care & Biopharma announced they would retain all staff members amid the crisis.
Pharmaceutical giant Merck, for example, promised its 70,000 employees across 120 companies a significant measure of job security, says Celeste Warren, vice president of global diversity and head of Merck's Inclusion Center of Excellence.
"From a financial stability perspective, we started with a statement that we would avoid layoffs due to the pandemic, continue pay during quarantine or sickness and expand emergency COVID access to 401k accounts," Celeste says.
It was a similar story at Desert Oasis Healthcare, which provides medical care and wellness services to patients in the Coachella Valley and surrounding desert communities in Riverside and San Bernardino counties in California.
Desert Oasis decided not to lay off or furlough any staff members at the outset of COVID last spring. That meant some employees had to change their normal job roles, as nearly 40% of employees were shifted to working from home.
Company leaders got creative about how to keep all staffers busy. Some employees rededicated much of their time to phone outreach to nearly 30,000 seniors, educating them on COVID avoidance and quarantine safety and asking if they needed help with medications or food services.
Other employees completed training to assist in COVID tracking and tracing, as well as managing patients and employees with the virus.
For one Desert Oasis employee, the job-preservation efforts led to peace of mind:
"In these trying times, for those of us that do not have to be in the clinics, we have been able to work from home and keep our jobs," the employee told us. "It makes you feel comfortable knowing that they truly care and want us to know they do. We can feel secure that they will do what they can to ensure we can take care of ourselves and our families."
2. Make gathering employee feedback a ritual
Poor communication, especially with management, is another cause of burnout. The Best Workplaces in Health Care & Biopharma took pains to communicate frequently with employees – and to make communication a two-way street with plenty of listening.
Merck, for example, has conducted surveys and focus groups this past year to understand employees' feelings, challenges and needs, Celeste says.
In doing so, Merck took a wise step toward increasing employee trust and well-being. Overall, organizations that scored best on Great Place To Work's rankings regularly gathered data on employees' experience amid the pandemic using our Trust Index™ survey.
Merck's efforts to take the pulse of its people paid off with insights, Celeste says.
"It quickly became clear that balancing work and family responsibilities, as well as maintaining physical, mental and financial health were the major issues," she says.
3. Provide resources for employee well-being
According to the World Health Organization, burnout reflects "chronic workplace stress that has not been successfully managed." The Best Workplaces in Health Care & Biopharma stepped up efforts to help employees manage stress and improve well-being.
For its part, Merck moved onsite exercise and yoga classes online, offered daily mindfulness calls, ran campaigns focused on resilience and burnout, and offered global webcasts by world-class speakers on resilience, men's mental health and happiness.
Health care technology company Abbott paid close attention over the past year to the strains on working parents, who have had to balance professional duties with extra caregiving amid closed schools and remote learning. Abbott has rolled out benefits such as free tutoring for children of employees and has kept onsite childcare facilities open.
Enabling parents to come to work has actually helped ease their minds, given how stressful it can be to juggle tasks while working at home, says Mary Moreland, Abbott's executive vice president of human resources: "I can't tell you how many times working mothers have come up to me, saying 'I'm so happy to be here.'"
Beating burnout at your workplace
Has your health care organization kept the COVID burnout blues at bay? Or are you seeking help when it comes to improving employee well-being? Apply to get on a list.
And get our company culture newsletter for more insights into how the Best Workplaces operate.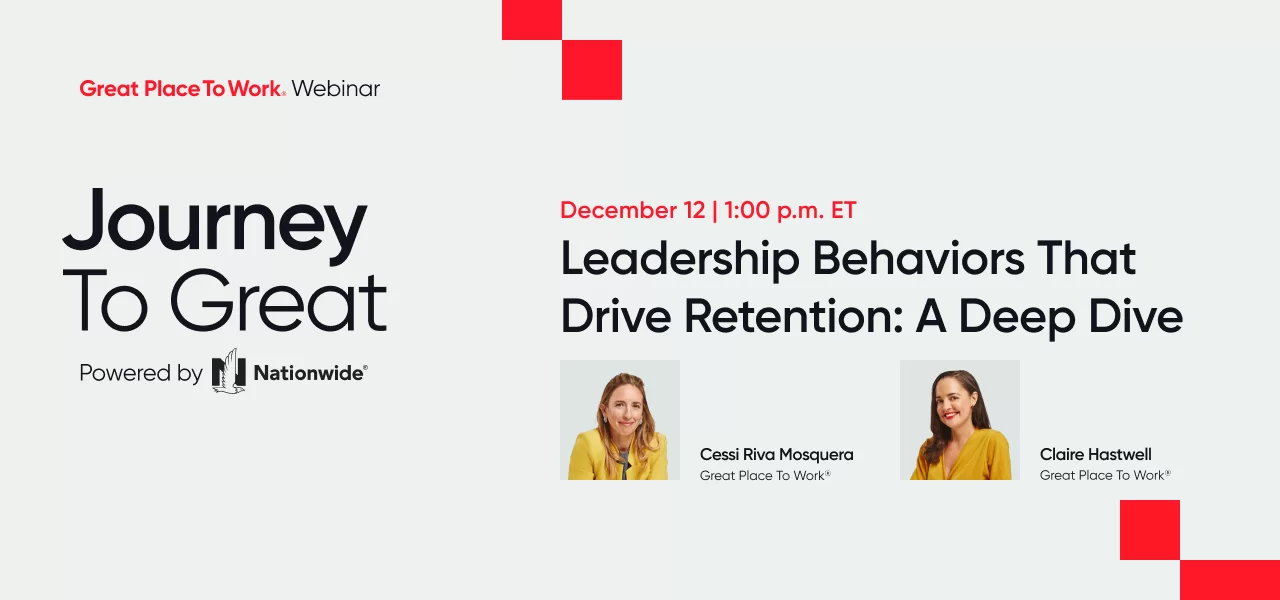 ---