Clarity, growth and recognition. These are some of the top factors that distinguish the 125 Best Workplaces in Latin America™.
Great Place To Work® has released its Best Workplaces in Latin America™ in 2021 list. To compile the list, we surveyed employees about the key factors that create great workplaces for all and analyzed company workplace programs impacting over 2 million employees at over 1,000 companies, across 20 countries in Latin America (Mexico, Central America, South America and the Caribbean).
Ranking is based on confidential survey data assessing employee experiences of trust, innovation, company values and leadership.
Companies are also evaluated on how well they are creating a For All™ workplace experience, inclusive of all employees no matter who they are or what they do.
And while the ongoing COVID-19 crisis has upended daily life and business operations throughout Latin America, the Best Workplaces™demonstrate acontinuing commitment to putting employees first.
On average, companies that ranked as the Best Workplaces in Latin America™ scored an impressive6% better than non-winning companies.
The Best Workplaces help their employees to grow
Recognition and professional and personal development opportunities are two factors that stand out among the 125 Best Workplaces. Of theemployees surveyed:
97% said everyone has an opportunity to receive special recognition

95% said they are offered professional development and training

94% said they are encouraged to balance their personal and professional lives
For example, Guatemala-based insurance provider Seguros Universales, which took the top spot in the small-medium business category, is focused on growth opportunities for its staff, with training programs and dedicated career planning.
Management matters at the Best Workplaces
When it comes to workplace management, trust makes all the difference. When employee trust is low, employees tend to put less effort and attention into their work, care less about the success of the organization, and be less collaborative with their colleagues.
But atGreat Place To Work® Best Workplaces, management provides clarity and a sense of inclusion for decision-making. Compared to non-winning workplaces, 11% more employeesat the Best Workplaces in Latin America said:
Management genuinely seeks and responds to suggestions and ideas

Management involves people in decisions that affect their jobs or work environment

I can ask management any reasonable question and get a straight answer
Masked workers at manufacturing and production company Ragasa (#41 Large) stand proud.
Well

-

being and wellness are front-of-mind for the Best Workplaces
While wellness and well-being go hand-in-hand, true well-being in the workplace extends beyond free fitness classes. In our research, well-being at work is defined by factors such as feeling cared for and believing the workplace is a psychologically and emotionally healthy place to work.
For non-winning companiesacross Latin America, 80% of employees said they experience well-being at work. But that number jumps even higher to 87% at the Best Workplaces in Latin America.
Well-being is a clear factor in employee engagement and retention. Compared to employees in our survey who don't consistently feel well-being at work, those who do are 4.3 times more likely to want to work there for a long time, and 4.8 times more likely to say their workplace overall is a great place to work.
International shipping company DHL Express – which scored top spot on the list for the fourth year in a row – is addressing well-being and work-life balance through its "Fit for Work, Fit for Life" program. The initiative takes a holistic view to employee health, addressing physical, emotional, mental and personal well-being.
Computer company Dell Technologies (#16 on the multinational list) has a "Dell Wellness Hub" and throughout the pandemic has introduced monthly discussions on a variety of mental health topics – everything from best practices for working remotely, to managing home schooling, to preventing mental and emotional fatigue.
Dell Employees find time to celebrate safely and virtually from the comfort of their own home.
The Best Workplaces encourage i

nnovation
The Best Workplaces in Latin America also demonstrate a better innovation experience for employees than non-winning organizations, as calculated through our Innovation Velocity™ ratio (IVR).
IVR is the ratio of employees who can innovate to those who are held back, and describes an organization's ability to quickly harness, mobilize and respond to new information and ideas.
At the Best Workplaces in Latin America, the IVR is 5:2, meaning for every 5 employees able to innovate, 2 are experiencing friction. In contrast, non-winning workplaces show an IVR of 2:1 – for every 2 employees able to innovate, 1 is held back.
Why should employers aim to be named among the Best Workplaces?
The Great Place To Work Best Workplaces know that when a workplace is good for its people, good business will follow. Employee well-being has been shown to precede financial performance (rather than the other way around), and businesses with a culture of innovation achieve 5.5 times the revenue growth.
Guatemala-based financialfirm Grupo Financiero Bantrab(#45 in the large category) is one employer that recognizes this, especially amid the current global uncertainty. In the company's submission to the list, itreferred to the "mirror effect," in which people perceive themselves through the eyes of those around them.
"Human talent, to emerge and develop, needs a favourable environment," said the Bantrabteam. "If we see greatness in the other, we motivate their potential. On the contrary, if we see mediocrity, that is what we will get."
Sign up for our monthly newsletter to learn how the Great Place To Work® Best Workplaces™ around the world are creating thriving company cultures.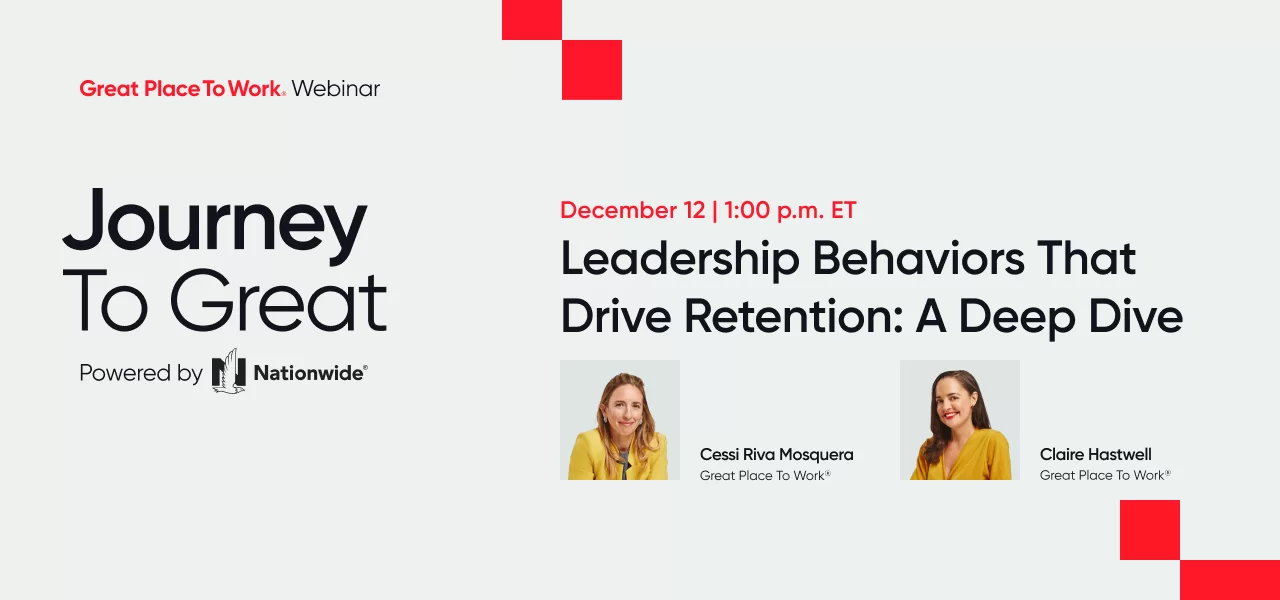 ---