For most of us, Thanksgiving is celebrated with family, friends and a table full of food. For many, it's a time to reflect and give thanks. For some, it's about belonging.
This November, which is also National Native American Heritage Month, we encourage you to also think about the Indigenous employee population.
Sadly, company culture diversity and inclusion efforts are failing our American Indian and Alaska Native (AIAN) peers. While other marginalized groups are becoming better represented in the workforce, the AIAN population remains underrepresented.
In 2017, the labor force participation rate for American Indians and Alaska Natives was 60.3%. This figure is down from 64.5% in 2000.
We analyzed hundreds of thousands of U.S. employee comments through our Trust Index™ survey. This employee survey asks employees to rate their experience against 60+ statements that measure things like feeling involved in decisions, equitable treatment, effective leaders and social support — among others.

We studied the data to understand how Indigenous peoples are experiencing their workplaces. AIAN people make up 1.6% of the U.S. population, but only 0.45% of the U.S. companies we surveyed.
Between 2013 and 2019, American Indian and Alaska Native employees have experienced 2x less growth than all other ethnic minority groups. As a result, many Indigenous employees do not feel a strong sense of belonging in the workplace.
Belonging means being accepted as a member or part of a group. As social creatures, humans have an innate desire to belong. Some find belonging through friendship circles, others find it in religious groups and some find it through their workplace.
What does it mean to belong in the workplace?
In the context of the workplace, belonging is the accumulation of day-to-day experiences that enables people to feel safe and bring their full, unique selves into their work.
When diversity, equity, and inclusion thrive, people feel their unique perspectives and lived experiences are recognized, accepted, and embraced. In other words, they feel like they belong.
Great Place to Work's Trust Index measures the degree to which employees feel a sense of belonging in their workplaces.
This is measured through factors that contribute to a feeling of belonging, such as whether employees feel they can be themselves at work, feel psychologically safe at work, and feel that management shows interest in them as a person, not just an employee.
Our research revealed that employees experience a greater sense of inclusion and belonging with an increase in managerial level. As employees gain more responsibility and status, they feel more accepted.
This is true for every minority group, except AIAN or Indigenous peoples employees.
In fact, a sense of belonging decreases for Native American and Alaska Native employees as they move up in the organization.
What's more, American Indians and Alaska Natives have the lowest levels of belonging at each level.
Compared to Caucasian employees, Indigenous employees feel a weaker sense of belonging:
3X less belonging at the individual contributor level
5X less belonging at the frontline manager level
9X less belonging at mid-level manager level
7.0X less belonging at the executive level
The few Indigenous peoples who reach the executive level do not feel seen or valued by their workplaces.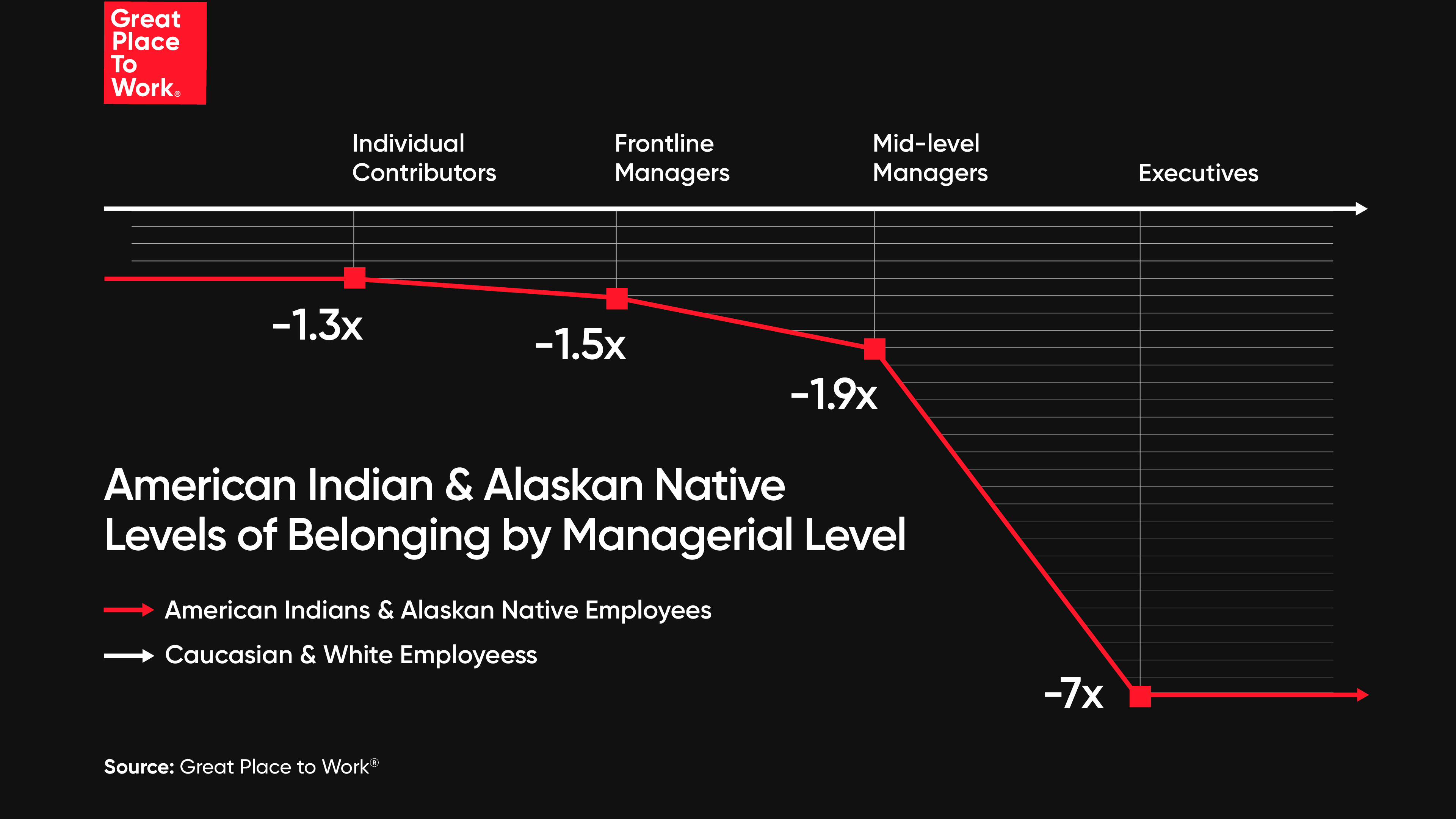 Belonging begins with representation
Indigenous peoples are an outlier to the trend of belonging rising with managerial status because a sense of belonging is influenced by representation. People feel a sense of belonging when they find similarities with others. When people feel different from their peers, their sense of belonging is weakened.
"Belonging also takes shape on the grounds of shared experiences," according to Marianna Pogosyan, Ph.D., a lecturer in cultural psychology at the University of Amsterdam who specializes in the psychology of cross-cultural transitions.
Like all groups of people, Indigenous peoples lead multidimensional lives. There are many factors that play a role in their lived experiences, including, but not limited to, their tribal affiliation, connection to community, and their cultural identity and knowledge.
Finding colleagues with shared experiences is exceptionally difficult for Indigenous peoples. That's why at the executive level, statistics centered on belonging decrease significantly for this group.
How do you create a sense of belonging for marginalized groups?
"Focus on making space and taking time to listen to the voices of Indigenous employees," says Tony Bond, EVP & chief innovation officer at Great Place to Work.

Too often, leaders try to apply solutions that they believe will make the experience for the group better. Instead, your task should be to ask questions with the intent to better understand.
"Unless you are a member of the marginalized group, it's almost impossible to know what it's like to be in their world. Resist the temptation to fix things and instead listen to their stories," explains Tony.
Within the last few years there were still 450 companies in U.S. with trademarked "Indian" mascots, very few of which employ any Indigenous peoples at all.
Encouragingly, after years of stubborn resistance, some football teams have abandoned racist team names in favor of more respectful ones. At the end of the 2021 season, the Cleveland Indians changed their name to the Guardians. And the Washington football team will unveil a new name "in early '22,'"
With better diversity in the workplace, the people affected by these policies and practices can be included in conversations that affect them.
Is your diversity and inclusion plan turning a blind eye to some?
Get a pulse on your employee experience and improve diversity, equity, inclusion and belonging with our employee survey solution.
---