Approximately 80 million Millennials live in the U.S today. In my last post on Talent Acquisition Trends I touched on the fact that this group is the largest generation in history and, while the exact percentages vary depending on the research, is expected to make up more than 50% of the workforce by 2020. We may still think of Millennials as "the next generation" but the fact is that this group will make up the majority of the workforce in the not too distant future, so research on the values and expectations of this generation is valuable – and actionable. A great example of this kind of research is the "2014 Millennial Impact Report: Inspiring the Next Generation Workforce" by Achieve, whose purpose for the research is to "Understand Millennials' preferences for cause work and to share those findings with organizations that are looking to better engage this influential group." Surveys were distributed to Millennial employees of corporate research partners from various industries, as well as a generic survey with respondents representing more than 300 companies and organizations across the United States. For the study, Millennials were defined as individuals born after 1979.
As I've discussed in previous posts, Millennials place a high value on corporate social responsibility. Achieve's research looks specifically at the role "cause work" plays in motivating Millennials overall – from job search, application, through to employment. Consider that of the Millennial employees surveyed, 92% felt they were actively contributing to a company having a positive effect on the world. Where cause work starts motivating Millennials though, may differ a bit from our assumptions. Of those surveyed, 63% of Millennials said that a company's involvement with cause work and community initiatives did not factor into the search that resulted in their current job! This contradicts the common assumption that cause work matters from the beginning of a Millennial's job search. Achieve discovered that, in fact, most Millennials first looked at what a company does, as well as pay and benefits, when deciding whether or not to apply. Cause work was not a significant factor. While only 39% of Millennials reported their company discussed cause work during the interview process, the companies that did do this, influenced interviewee's decisions. Of the Millennials who heard about cause work in the interview, 55% of them said the company's involvement with causes helped persuade them to take the job. Bottom line: mention cause work in interviews – especially with Millennial candidates!
Another trend that I have previously discussed is Millennials' relationships in the workplace, specifically that Millennials have a tendency to build close friendships and desire to work with those they know and would be friends with outside of work. This desire also presents itself in Millennials' preferences for company-sponsored volunteer projects/programs. Of the Millennials surveyed, 77% preferred to perform cause work with groups of fellow employees as opposed to doing independent service projects. More specifically, 62% of Millennial employees preferred volunteering and doing cause work with employees in their same department rather than employees in the company they didn't directly work with.
For Millennials, relationships also play an important part in informing candidates about a company's causes. Information from past and current employees was the third most common source for Millennial employees who researched their company's cause work (36%). The most common source of information was the company's website (93%), followed by Google Search (61%). These top three sources, including word-of-mouth, beat social media outlets Facebook (22%), LinkedIn (12%) and Twitter (11%).
One last interesting area of commentary from Achieve's report is how Millennials view the assets they can potentially donate. As it's put in the study: Millennials differ from previous generations in that they "may still give money, time and skills, but they also view their network and voice as two very beneficial assets they can offer a cause. For Millennials, all of these resources are equal in how they may help a cause. A Millennial may see Tweeting about a cause as a way of giving resources, because they are donating their network." When it comes to giving, Millennial employees donate money to nonprofits both on their own and through their company's promoted giving campaigns, and they donate generously! Only 13% of the Millennials surveyed did not donate money to nonprofit organizations in 2013.
This report tells us that Millennials consistently defy employers' expectations along a broad continuum. We need to pay attention, continue to ask questions, and learn to meet them on their own ground. Who would have thought that company websites and Google searches would be far more powerful (and motivating) than social media in this aspect of job search behavior in the Millennial cohort? And it's interesting to note that camaraderie in their workgroup – not in their employer in general – is motivating for them. That's one piece of data that is consistent with what we know about all cohorts in the workplace: we all want to trust our leaders, have pride in our work, and camaraderie within our workgroups. Great Place To Work has been validating these data points for more than 20 years.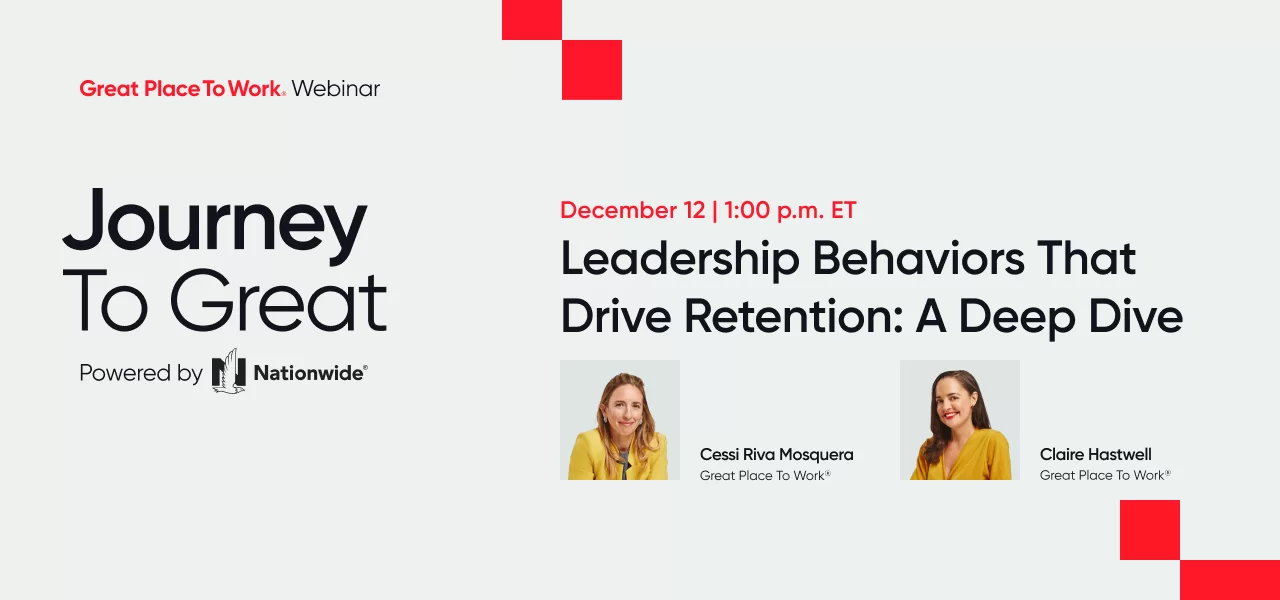 ---