Purpose at work is when employees can meaningfully connect to their work, their team, and their company's purpose. When that happens, retention, employee well-being, and stock market returns improve.
Senior leaders struggling with retention issues and employees walking out the door have more in common than one might think. They're both in search of answers.
Employees are reevaluating the meaning their jobs give them—"How does what I do here matter?" "What is my purpose?" "Why am I doing the work I'm doing?"—while CEOs are trying to figure out how to stop their people from leaving.
Leaders often look to money or extra vacation days as solutions when they should prioritize giving workers what they need and want—a sense of purpose at work.
When employees understand that their work matters and their purpose is aligned with that of their company, good things happen. They're loyal, engaged, and proud of their company—all signs of a great workplace.
If you want to know your employees' commitment to their jobs, don't ask them if their salaries are fair, ask about purpose and connection.
Research from us at Great Place To Work® indicates the following three questions will predict workplace turnover, regardless of generation or job type:
Are you proud of where you work?
Do you find meaning in your work?
Do you have fun at work?
If an employee answers "no" to any of those questions, they're probably going to leave their company. Why?
People want to spend their time in meaningful ways. Purpose is the way you make a difference in the world. It's why you matter. All humans seek purpose, and employees are emboldened more than ever to go find it.
"For me, purpose transcends P&L's, balance sheets and EBITDA calculations," says Michael C. Bush, CEO of Great Place To Work.
"It's the reason why we spend so much time away from our families to do this thing called 'work.' It's the reason why we are late for soccer games, family dinners, birthday parties, parental visits, daycare pick-ups, vet appointments, and so on. Purpose is also the reason why we sometimes question our priorities and life choices."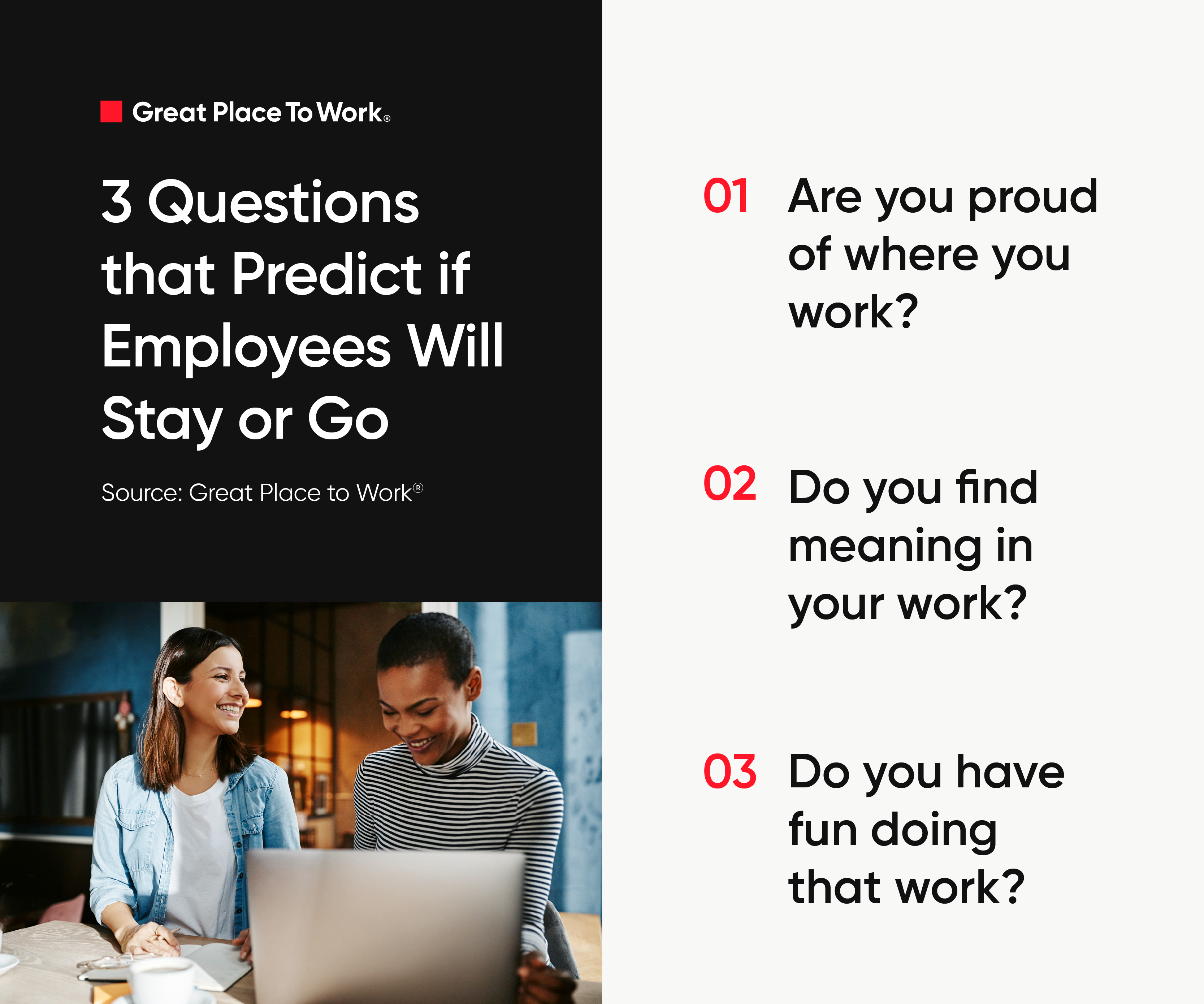 Purpose-driven cultures outperform others
You'll be hard pressed to find a leader who says purpose doesn't matter. But you'll be equally hard pressed to find leaders who treat purpose as a business imperative—unless you're one of the 100 Best Companies to Work For in 2022, where purpose is prioritized.
Leaders at great workplaces understand that purpose is not found in a mission statement buried in an employee handbook. Rather, they actively help employees connect what they do with the company's purpose.
And when purpose at work also aligns with an employee's personal purpose—which is to do much more than just work, but grow, learn, take care of their family and community—they will be more engaged and motivated. That's the sweet spot you want all employees to achieve.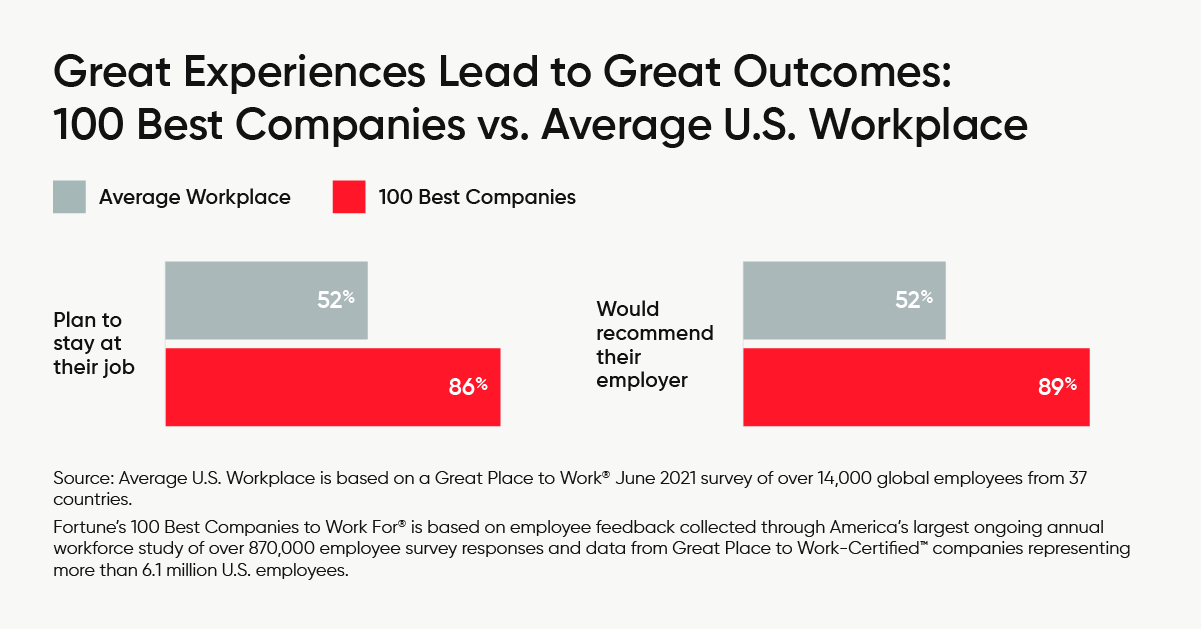 Employees need to feel appreciated by their managers and see that their work makes a difference. Purpose must be coupled with clarity.
Harvard Business School (HBS) researchers, using Great Place To Work's extensive database, found that companies whose employees feel a sense of purpose at work and believe their leaders set clear direction and expectation, outperform the stock market by 6.9%.
HBS reported even greater returns when middle managers and individual contributors experience purpose and clarity.
Purpose at work is also a key driver of employee well-being, which currently is in short supply. Respondents to a survey of more than 14,000 people from 37 countries from Great Place To Work and Johns Hopkins University's Carey Business School consistently experienced significant gaps in purpose and connection—two areas needed to flourish at work.
Only 16% of US employees are in a high state of well-being compared with 58% at the 100 best companies to work for. More employees at best workplaces believe they can make a difference and find meaning in their jobs—signs of purposeful cultures—compared with average workplaces.
Purpose also impacts innovation. Great Place To Work research discovered that a barrier to innovation has to do with front-line workers experiencing much less purpose than others. And if employees feel they're not sharing in the company's mission and excitement, they quickly feel excluded from innovation as well.
Workplace expectations have changed. People want meaning in their jobs, and a lack of it will send them out the door. Don't waste your time trying to match your competitor's benefits package to attract new talent.
Spend time purposely connecting your mission with employees' jobs and you'll create a culture employees will not want to leave.
Show job seekers your workplace has purpose
Great Place To Work Certification™ recognizes employers who create an outstanding employee experience. Certification shows job seekers and customers that you have a clear social purpose and reinforces your company's values. Learn how to become a Great Place To Work-Certified™ company today.
---