Black History Month kicked off this year with a landmark racial discrimination lawsuit against the NFL and three of its teams (with a fourth just added) filed by former Miami Dolphins head coach Brian Flores.
Flores alleges racism in hiring practices, calling out "sham" interviews to comply with the Rooney Rule diversity hiring policy.
The league initially said that Flores' claims were "without merit," but days later, NFL Commissioner Roger Goodell admitted the league's efforts to promote diversity among head coaches have been "unacceptable."
But Goodell himself has been blamed for the NFL's lack of diversity over the years, and we know that change—at the NFL or in any organization—starts at the top.
"You have to understand where the power sits within the National Football League," says Tony Bond, chief diversity and innovation officer at Great Place To Work®. "It sits with the owners. Owners hold a tremendous amount of power from voting on who will be the commissioner, voting on new owners, and voting on league rules to the hiring of coaches. It's going to take some major shifts there to see the kind of progress everyone is expecting."
There are only two team owners of color and two Black head coaches in a league where 70% of its players are Black.
Goodell has promised that the NFL will "reevaluate and examine all policies, guidelines and initiatives relating to diversity, equity and inclusion."
But unless owners, who hold a disproportionate amount of the power are on board and committed, change will be slow—a common problem in even the most well-intentioned workplaces.
"When you think about diversity, equity, inclusion and belonging, the misalignment is that the people who want the change don't have the power and the people who have the power aren't motivated to make the change," Tony says. "That's where the misalignment is, and you have to work in that space."
That's the dilemma many organizations find themselves in. Diversity has to be a shared aspiration at the top that is cascaded to all levels of the organization.
"Everything starts at the top," Tony says. "That's the lever you can pull that will have the greatest impact. If you do all the other things right, but it isn't a shared aspiration at the very top, then it's hard to make those things work."
The NFL's diversity problem is complex—mired in money and power dynamics—but change can happen. Just look to the NBA and how late commissioner David Stern transformed the sport.

"He used his leverage and leaned on people and wasn't afraid to flex his muscle," Tony says. "He got things done. How the league was redesigned under Stern is a great example of how organizations can redesign to achieve different outcomes.
"He transformed the league to be more fast-paced, open, inclusive, entertaining, socially conscious, less violent, more youthful and global.
"I'd argue that the inclusive and socially conscious parts are big reasons why the LeBrons and the Kevin Durants can be vocal and represent not just themselves as players, but as people in society.
"Stern was viewed as a demanding boss, not afraid to tick people off in pursuit of the league's interest. It is possible for Roger Goodell to make change happen by his influence, similar to Stern. He wasn't the owner, but also wasn't afraid to blow things up" says Tony
Here are some ways Goodell and any manager can flex their muscle to kickstart change.

Break down silos
CEOs, presidents, owners and other senior leaders must understand their employees and the challenges they face in and outside of work. They need to know: What does our workforce look like? Who are our people? What are their challenges? Too often, there's a disconnect that organizations need to fix.
"It's hard to not trust close up," Tony says. "The closer you are to someone, the harder it is for you not to trust them. There's an opportunity in the corporate and sports world for those at the top to create a stronger connection to the talent within the organization and close some of that uncertainty gap."
That would go far in the NFL, where owners are probably more in touch with people in their own circles and less with diverse talent that could move into leadership roles.
"There is some diversity within the general manager ranks, and some great young position coaches—I don't know if the owners spends a whole lot of time with them," Tony says. "Spending more time building trusting relationships at this level might eliminate some of the uncertainty that exists in creating opportunities for diverse talent."
Goodell could bridge that gap by facilitating the exposure of owners to emerging, diverse talent.
"Allow them to have more exposure to Black players, to young Black coaches so that they feel more comfortable with turning over their team to some of these diverse people," Bond says.
League owners are older white men–the average age is about 70–and that reality informs their worldview, as does their educational background and their community.
"I don't know if there's anything in their lifetime that prepares them to be the type of inclusive leader that we're expecting—leaders who really understand diversity, equity, and inclusion," Bond says.
Great Place To Work research shows that white executives are five to eight times more likely to believe that people are treated fairly by race. At the average workplace, 73% of white employees believe all people are treated fairly, compared with 57% of Black employees. It's only slighter better at the 100 Best Companies to Work For, where 97% of white employees believe people are treated fairly, regardless of race compared with 84% of Black employees.
But when employees believe management's actions match their words, that people care about each other, and they can be themselves? That gap nearly vanishes: 99% of white employees and 97% of Black employees believe employees are treated fairly regardless of race.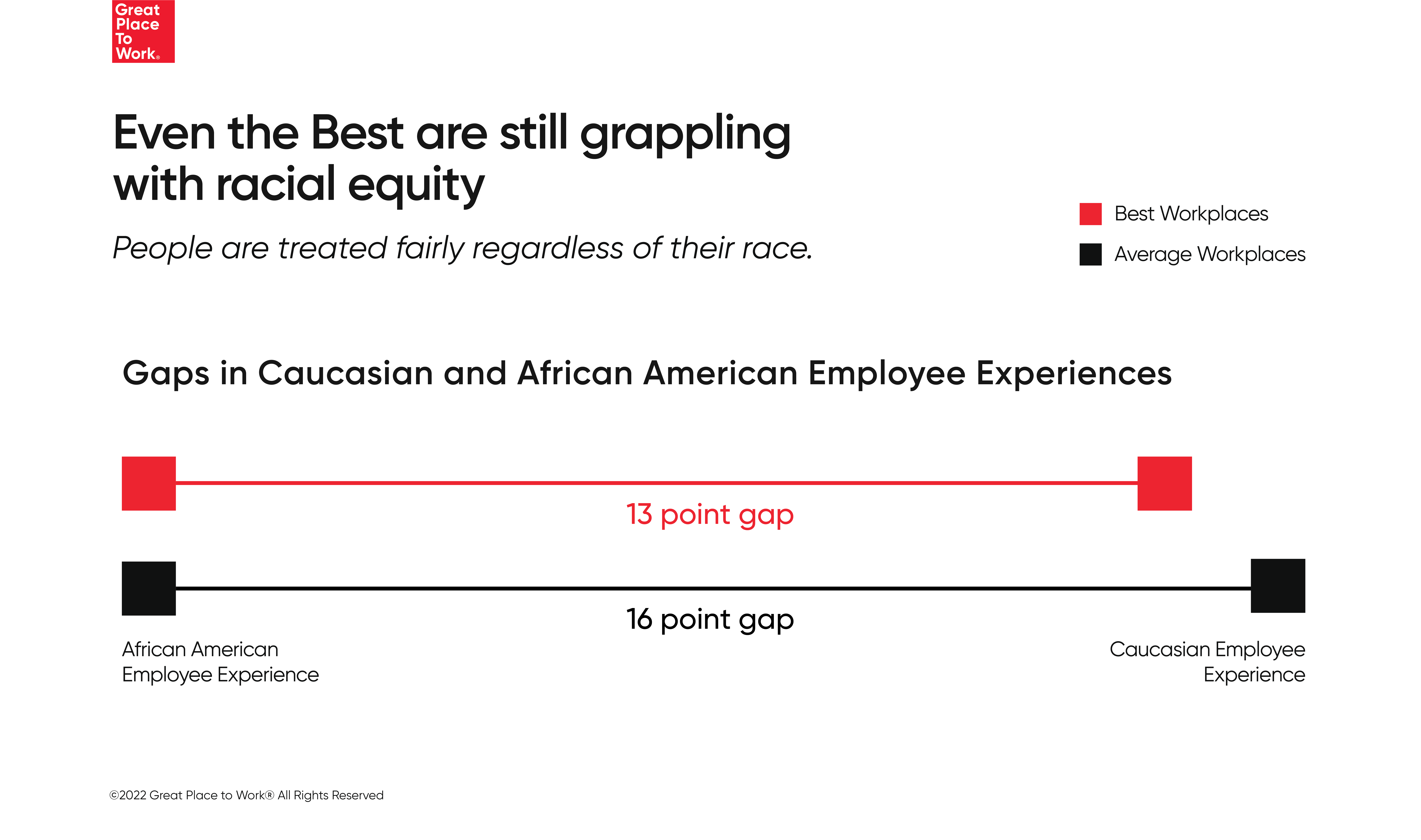 Break out of self-inflicted resource deficits
Another way to influence leaders is to change where and how they look for talent.
"Companies have a hard time finding and attracting diverse talent because of the approach they use to find talent in general," Tony says. "If a coach is looking for a new coach to coach his team, he's looking for someone who has experience as a head coach; for someone that has certain credentials."
Enter the Pittsburgh Steelers as an example of what happens when you break that pattern and give someone an opportunity that might look like a risk to others. The Steelers, owned by the Rooney family, hired Mike Tomlin as head coach in 2007 after only one year as a defensive coordinator in the NFL.
"He didn't really fit the mold, but the Rooneys gave him the opportunity to interview thoroughly and he impressed everyone," Tony says. "The Rooney Rule was in play and they really took it to heart and brought in Tomlin and gave him a full opportunity to interview and show what he was capable of doing."
Tomlin became the youngest head coach in NFL history to both coach in and win a Super Bowl and he guided the Steelers to the playoffs nine times.
Companies, like the NFL, can create their own resource deficit because of their expectations of specific education and experience.
"People have to show up with certain credentials and a certain background. [Compare that to] Pittsburgh, who sort of took a risk on someone who was super impressive. That's a great example that we can carry into the workplace."
Some organizations routinely look for candidates specific degrees and even scout from certain schools, but there are other schools, and even other ways to develop skills in a nontraditional way.
"If we want to diversify our talent pipeline, we almost have to reimagine what it takes to bring people on board. [We must] ask the questions: Do we really need people to have this? Is the job description really what people do? Eliminate some of the hurdles that get in the way of people outside of the norm."
But it's not enough just to hire diverse talent. You have to create a sense of belonging long after the honeymoon period fades.
"What causes that dissent where the coach no longer feels like they belong and the owner no longer believes in the coach? In the case of Black coaches, they appear much more likely to be fired with a winning record, so it's not all about "winning." There's something you need to do almost like therapy on an ongoing basis to keep the relationship going," Tony says.
The same holds true in the workplace when new hires are onboarded.
"We have to make sure that we're aware there could be a place where belonging is challenged. It goes away and there's a dissent. How you keep it going is everyone's responsibility—teammates and leaders."
How supported are your Black employees?
Learn how Great Place To Work can help you create an equitable and inclusive experience for employees of all backgrounds.
---