Recessions impact all companies, but they don't impact all companies equally. Companies that emphasize workplace diversity and inclusion (D&I) not only survive recessions, but even thrive throughout them. Our data shows that companies who value diversity and inclusion outperform other companies by as much as 400%.
All businesses understand that recessions are a normal part of the business cycle — most of us don't welcome them.
The idea that a recession might be on the horizon can cause business leaders to scale back their ambitions and plans in favor of reducing expenses and preserving cash to weather the coming storm.
Of course, the exact timing of a recession is nearly impossible to predict accurately. However, many news outlets and business magazines are warning that signs of an impending recession have emerged, and businesses are starting to discuss how to survive it when it finally comes.
What if you could do more than simply "surviving" a recession?
New research from Great Place To Work® shows that it's possible for businesses to not only survive a recession, but to thrive during one.

The key to doing so might surprise you, because it doesn't involve launching a new marketing campaign, rebranding your business or extending your product line.
Our data suggests that turning your attention to your company's diversity and inclusion (D&I) efforts can strengthen your business' performance, even in a recession.
What the Great Recession tells us about diversity and inclusion
Until now, diversity in the workplace and recession were likely never uttered in the same breath. What possible tie could D&I have to an economic decline?
We discovered this link between D&I and success during a downturn in a study of the Great Recession. Our data set comprised nearly 4 million employees across a multitude of demographics.
What we found might surprise you: diversity and inclusion efforts represent a potent source of strength for organizations as they weather tough times.
In particular, the experience of certain groups of employees — including historically disadvantaged groups — predicts whether organizations flatline, survive or thrive during a recession. ("Thrive" describes publicly-held companies in our data set that achieve returns of 14% or greater between 2007 and 2009.)
Often-marginalized employees turn out to be predictors of when the business climate will turn bad. Studying their workplace experiences can yield insights about opportunities to change your company culture and practices to better recession-proof your business.
Key groups of employees to ensure are having a good experience at work:
Women

People of color

Front-line workers

Hourly male workers

Long-tenured employees.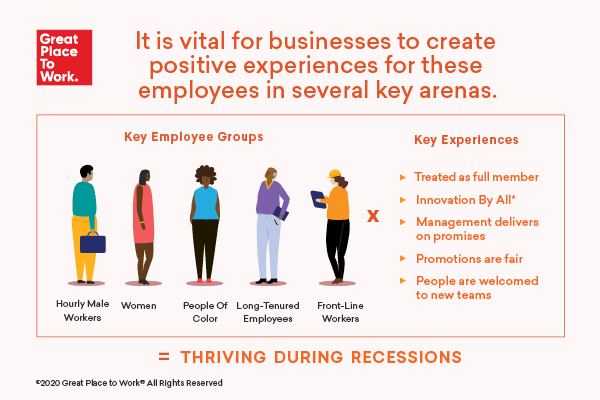 Why do these groups act as bellwethers for an organization?
Just as recessions don't impact all companies equally, they don't impact all employees in a given company equally.
Historically marginalized groups are often the first people to feel the effects of a business running into trouble, such as wage cuts or rounds of layoffs.
These critical populations play vital roles in both good times and bad. They often serve customers directly and are plugged into the reality of how the business is doing. They're also a source of good ideas that many companies overlook, like ideas for cutting costs or new ways to generate revenue.
How much of a difference can D&I make during a recession?
The S&P 500 suffered a 35.5 percent decline in stock performance from 2007-2009.
That's a lot of companies losing a lot of value — but they didn't all share evenly in the pain.
Companies whose key employee groups had very positive experiences posted a remarkable 14.4 percent gain.
Take a moment to let that sink in: in a recession, these companies grew.
For that group of "Thriving" companies, the good news wasn't limited to the recession. Their gains started before the downturn and continued well past it as competitors lagged.
From January 3, 2006 to February 1, 2014, the Thriving group saw their stock performance increase 35%, while the S&P 500 had just a 9% gain. These companies didn't merely outperform the typical business; they blew it out of the water, yielding a relative gain of 400% compared to the S&P 500.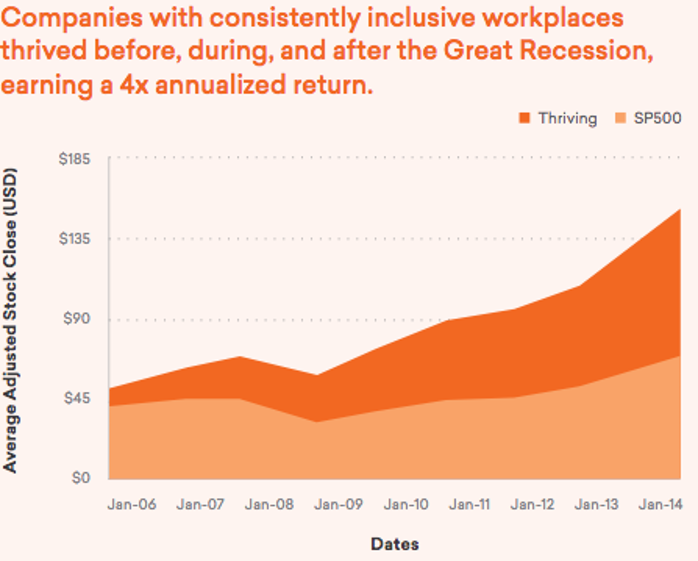 Here are two strategies to help your organization thrive in recessions:
1. Revisit your hiring and firing practices
During downturns, most companies follow the last-in, first-out approach. They lay off recent hires, which usually erases progress made towards a more diverse employee population.
What's more, organizations often overlook how front-line workers and historically disadvantaged groups are faring. Leadership fails to solicit ideas from them. In paying too little attention to these key employees, companies miss out on opportunities to thrive.
As the next recession approaches, smart companies seek out ways to prepare themselves. By making diversity and inclusion a key component of your recession plan, you can position your company to grow, even as your rivals are shrinking.
2. Double down on listening
What listening tools do you have in place now to measure employee experience? Identify existing but underused feedback channels. Examples might include:
town hall meetings
company intranet
chat tools
feedback forms
Get more ideas in our blog on effective employee communication.
The fastest way to get more input and engagement is to take visible action on ideas and issues that have already been shared. Consider appointing an organizational owner of feedback to help ensure great ideas aren't lost in the daily grind.
To recession-proof your business, review all input and survey feedback from your key groups: hourly male workers, women, front-line workers, people of color, and long-tenured employees. Where experience isn't the same across groups, leadership needs to take action to try to address those gaps immediately.
To find out how D&I leaders can help recession-proof their organizations, download the full report, Hidden Pieces of the D&I Puzzle.
---