By Marcus Erb & Claire Hastwell
There are moments in every manager's day when they get to choose what kind of leader they will be. These aren't just single instances, but a collection of moments that, when added up over time, differentiate the best leaders from the rest.
As this past year has proven, these moments can happen faster than you think, from places you wouldn't expect, and in greater numbers than you could be prepared for.
During these moments, a good leader keeps work moving. They keep their team focused on the task at hand so the business can maintain its status quo. They try to make the work enjoyable for as much of their team as possible.
A great leader goes further.
They show humility and empathy, create connections across personal differences and teams and create the team dynamics needed to solve complex problems. They are willing to question, challenge and clarify what they believe in to their employees, stakeholders and communities.
Such managers can have a hugely positive impact on the business, resulting in:
Greater

productivity

Employee retention

More inbound job applicants, and
What are the moments where these leaders shine?
Using our extensive research into employee experiences with leaders, Great Place To Work® can pinpoint what makes a manager great. Here are five defining leadership moments that make-or-break employee trust and employee engagement.
1. Unvarnished moments
These are the moments when an employee has permission to bring their whole self to work.
Everyone has a life outside of the workplace, and great leaders acknowledge this. Recognizing employees as human beings with challenges and hopes is especially crucial amid COVID-19.
Employees are dealing with a "three-headed monster": a health pandemic, economic crises and psychological distress. Workplace burnout is soaring as our work and domestic lives have become intertwined.
A great leader welcomes the whole self, but also knows that inviting the whole self is about more than a candid conversation. Like when a kid pops into a Zoom call, a great leader welcomes them.
If an employee is dealing with a difficult personal situation at home, a great leader acknowledges it and provides a safe space for the employee to talk about it.
These leaders are able to foster such authenticity by also making themselves vulnerable. They share their struggles and successes too. They invite that same vulnerability. When they ask their employees how they are, they make sure people feel safe enough to say more than "I'm fine."
By sharing their own personal stories and inviting others, leaders demonstrate that employees' work and home personas can be one and the same.
2. Uncomfortable moments
These are the moments where leaders are willing to get uncomfortable to make their employees feel more comfortable.
These moments are about connecting with people across differences. Such as when a white manager asks a Black colleague how they're really doing after an event like the murder of George Floyd and really wants to know. Or when a male manager does not have the vocabulary for a conversation about sexism, but is willing to learn.
In many cases, employees want to talk about these things, but they don't know how or what they're allowed to say within the workplace.
Authors like Sheryl Sandberg and Brené Brown have popularized the term of "leaning in" – facing discomfort head-on rather than running from it.
In an uncomfortable moment, it's normal to pull back, but great leaders lean in. Even though they may also be uncomfortable, they don't shy away.
3. Purpose moments
These are the moments where leaders can create a sense of purpose for their employees.
At some point, every employee wonders about their why: why they're working, why it matters, why they should care. And a great leader will have an answer ready for them.
These leaders are able to show employees that their work matters and clearly impacts the business. They may not even be with the employee when this moment happens — purpose moments are less about a singular aha moment, and more about building a space where the employee can see how their work has special meaning. Great leaders draw that connection on an ongoing basis.
Employees who feel a sense of purpose are more innovative.
This story of Wegmans employee Jody Wood, whose husband's illness inspired her to develop a cauliflower rice product, is a great example of this. Jody's story also highlights the importance of bringing your whole self to the workplace.
4. Uncertain moments
These are the moments when employees ask tough questions that the leader may not know the answer to.
These moments may include questions like, what does it mean if we shift to fully remote work? Will our business survive the recession? What happens if our CEO was arrested for storming the Capitol?
Employees worry about what thing mean for them and their future, and the leader may not have the answers. However, a great leader is willing to admit that, and says, "I don't know, but we'll figure it out together."
This way, no matter how foggy the road may be between now and the future, employees can feel confident that they'll have their leader alongside them for support.
For an example of such a moment, check out how the late Marriott CEO Arne Sorensen addressed his staff with authenticity amid COVID-19 uncertainty.
5. Tomorrow moments
These are the critical moments when managers show employees that they are invested in their future.
In these moments, leaders support an employees' professional development and growth. They're willing to give constructive feedback and are on the look out for opportunities to stretch and grow employees.
Great managers see these opportunities as not just good for the employee, but for the business overall – reducing turnover, improving engagement and developing even stronger talent.
In fact, our data shows that employees are 94 times more likely to demonstrate innovation when they are offered professional development opportunities.
Tomorrow moments are more than just celebrating success when an employee climbs the next rung on the ladder. Great leaders also support employees when they fail, by encouraging them to learn from their mistakes, pick themselves up and keep moving forward.
By recognizing and meeting these five moments head-on, great leaders can foster a company culture that will keep employees productive and engaged, even during challenging times.
Does your team think you're a great leader?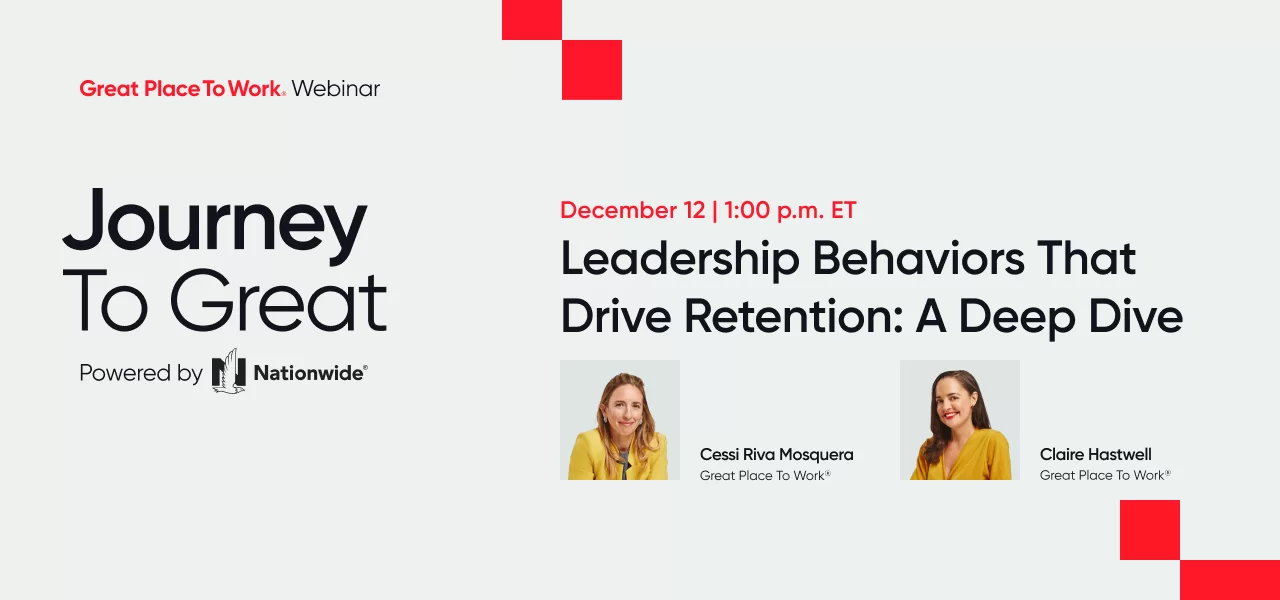 ---