Gen Z may just be an emerging generation in the workforce, but employers in-the-know recognize it's a demographic they need to appeal to now.
Lumping all "young people" into one category is unwise. It will hurt your hiring, your employee engagement and – as we've seen in the past two years – the way employees measure how their managers show up in a crisis.
Through our extensive research of the Best Workplaces™ in the U.S., we've been able to extrapolate the data to understand where Gen Z are now, and where they're going.
Gathering over 32,000 Gen Z employee survey responses from more than 3,500 companies across the U.S., we've identified the workplaces that are getting it right when it comes to attracting and retaining Gen Z.
Companies Gen Z wants to work for
Altar'd State
Altar'd State is a women's fashion brand, with 121 boutiques across the USA. Over a third of its employees are Gen Z, with 94% of them ranking it a great place to work.
Employees at Altar'd State feel a strong sense of purpose at work every day, in part thanks to their "Mission Mondays." On Mondays, 10% of their net proceeds go to local charities in their communities.
In their Trust Index™ survey, many Gen Z employees at Altar'd State expressed how much meaning they felt at work (one of the key things Gen Z want from employers):
I always tell people that I don't just work retail, because our giveback mission is what truly stands out. I've worked at other retailers prior to Altar'd State and I've never held the pride I do in sharing Altar'd States mission. Although we are a large company having the opportunity to create local relationships with other organizations is something that is truly unique. – Gen Z employee at Altar'd State.
TechStyle Fashion Group
Global fashion retailer TechStyle uses data science for personalized, membership-based e-commerce. It's also a company that 93% of its Gen Z employees say is a great place to work.
Diversity, equity and inclusion (DEI) are more than just words on a mission statement at TechStyle. The company measures employees' feelings of inclusion and belonging in their survey and the results are impressive.
Ninety-five of employees believe people are treated fairly regardless of their sexual orientation, and 92% say that people of all cultures and backgrounds are valued at the company. This is good news for any company wanting to recruit the next gen, since Gen Z is the most diverse employee group yet.

I think the inclusive culture of this company is unique to most, I feel that many companies preach this message, but don't practice it. Fabletics does a great job of doing both. Also, my managers have done an incredible job of creating a team environment in the store where everyone is welcome and feels valued. This team is not just a group of employees, but rather a family. It's unusual to find that in a retail store, and I have to credit that to our managers and team leads. – Gen Z employee at Fabletics, part of TechStyle Fashion Group.
Wegmans Food Markets, Inc.
With a quarter of its survey respondents within Gen Z, supermarket chain Wegmans scores high — 93% of them say it's a great place to work. Things like daily team huddles and employee appreciation budgets are just a few ways the company supports its staff.
Wegmans also offers an employee scholarship program, which continued even amidst the pandemic, with 1,842 new scholarship recipients in 2020. After college, some of their scholarship winners move into a new field, but many Wegmans grads pursue a career within the organization.
I've been given the opportunity to train in any department I showed interest in. I know that I will continue to be asked if I want to participate in more learning opportunities in the future. Management is stable but constantly changing due to how many people are given opportunities to train. We were consistently shown appreciation throughout the pandemic through coupons for free PPE, free meals, and extra flexibility with scheduling. – Gen Z employee at Wegmans.
Wesley Enhanced Living
Aging services company Wesley Enhanced Living prides itself on creating a sense of community and meaningful connections, and a sense camaraderie between employees and residents. It's clearly succeeding, with 92% of its Gen Z employees ranking it as a great place to work.
Eighty-five of Gen Z employees feel their work has special meaning. In their survey, many Gen Z employees compliment the caring management as well as the social interaction with residents – three core drivers of happiness at work for Gen Z.

You feel very welcomed by others. The managers are very understanding. This company makes it a great place to work compared to other places.– Gen Z employee at Wesley Enhanced Living.
Mathnasium – KV
Mathnasium is a math learning center dedicated to teaching children math in a way that makes sense to them and goes beyond traditional tutoring. Nearly 60% of its employees are Gen Z, with 90% of them saying it's a great place to work.
Mathnasium stand out for their equitable treatment of people from diverse backgrounds, with 99% of employees believing people are treated fairly regardless of their race. Many employees also mentioned how "welcomed" they felt when joining the company – another key driver of Gen Z employee experience.
The welcoming nature and attention to making all the students and employees feel as comfortable as possible are what set this company apart from many other places to work. – Latinx Gen Z employee at Mathnasium.
WirelessVision
With locations in 30 states, WirelessVision is the largest T-Mobile retailer in the U.S. It's also a place that prides itself on its company values: passion for its people, being best in class, staying hungry while loving the hustle, being honest and humble, and working hard while playing hard. Among its Gen Z staff, 90% said they think it's a great place to work.
When asked what makes the company a great place to work, some employees mentioned feeling valued and how management lives up to company values.
[What's special is ] recognition that's given to the people who have earned it. I love the core values and that the company lives by them. Makes me feel appreciated. – Gen Z employee at WirelessVision.
QuikTrip
Self-described as "a fast-paced, happy bunch," convenience store company QuikTrip certainly has happy employees. With one-fifth of its employees identifying as Gen Z, 90% of them said it's a great place to work.

QuikTrip truly cares about their employees. I feel confident that my company would make the right decisions for myself and my co-workers in any situation, instead of doing what is best for the higher-ups. – Gen Z employee at QuikTrip
The Cheesecake Factory
Like most restaurant chains, The Cheesecake Factory was hit particularly hard during the pandemic. But rather than let employees go, the company furloughed staff, so that they could keep their health benefits. They also reduced the hourly requirement for working staff to receive benefits and donated food and household essentials to staff stuck at home.
Nearly one-fifth of The Cheesecake Factory's employees are Gen Z, with 89% of them ranking it as a great place to work. It's clear that mental health is taken seriously at the company:

This company is accommodating to its staff and never questions you if you need time off for personal reasons. They check in to make sure your personal life is going well, as well as check in to make sure there isn't anything they can be doing better when it comes to assisting their employees in the workplace. After discovering I had a serious illness that would require time to figure out proper treatment, my management gave me the time off I needed to get things squared away with my doctors without making me feel guilty for doing so. In fact, because they were so accommodating it made me want to work harder for the Cheesecake Factory in return. – Gen Z employee at The Cheesecake Factory.
Nugget Market, Inc.
At family-owned, Sacramento-based grocery chain Nugget Market, 96% of Gen Z employees say it's a great place to work. The company prioritizes training and development for store managers through "Nugget High" and offers a 10% discount to all employees.
The company is also working to foster positive relationships between the community and police, through their "Coffee with a Cop" events, hosted in their cafes. The events allow people in the community to meet with local officers.
Mistakes are seen as opportunities for growth, not points of criticism. This applies whether it is a guest complaint or feedback from a manager. I never feel like I am being punished, rather I am given the chance to do better next time. This creates a positive and encouraging work environment, as well as strengthens my relationship with the managerial team. – Gen Z employee at Nugget Market.
Are you a great place to work for Gen Z?
Show Gen Z job seekers you are a company that prioritizes mental health, flexibility and equity by becoming Great Place To Work-Certified™.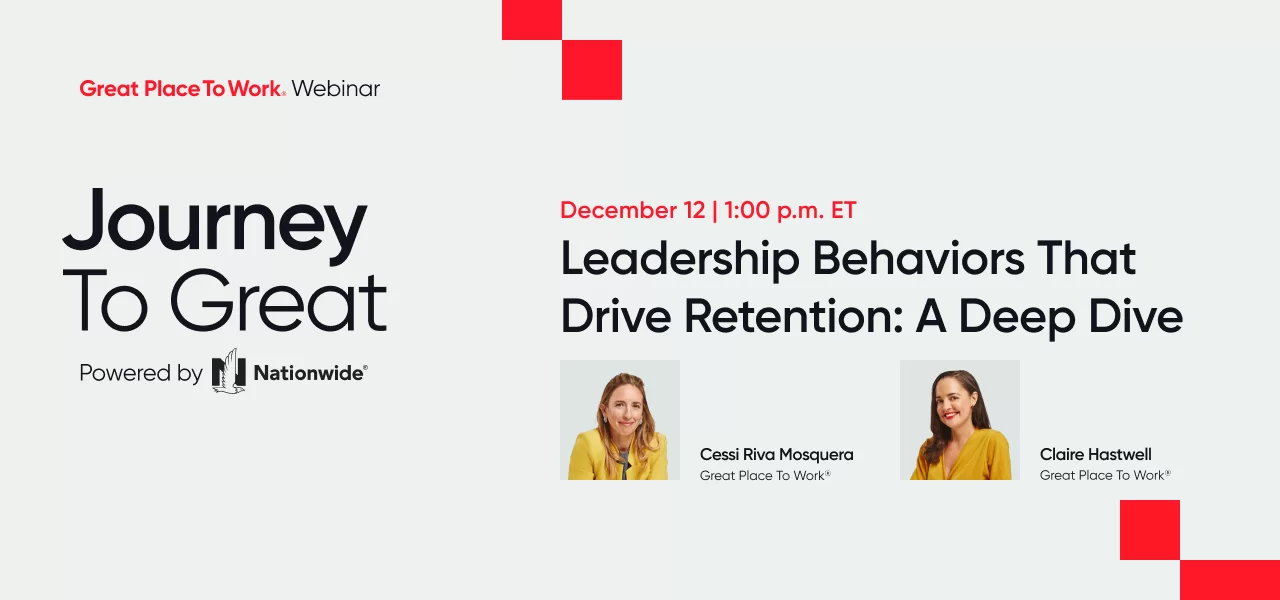 ---