Global hotel chain Hilton has been one of the Fortune 100 Best Companies to Work For® six years straight, ranking number one in back-to-back-years. They've been recognized as one of the Best Workplaces™ for parents, women, millennials and also recognized on the PEOPLE Companies That Care® list.
But when COVID-19 hit, Hilton was forced to make some tough decisions about its workforce — including laying off thousands of employees around the globe.
And yet, while this could have led to a company culture nightmare, an amazing thing happened. On social media sites like LinkedIn, transitioning employees thanked Hilton and even wrote heartfelt messages about how they felt about the company.
How did Hilton maintain such loyalty in the face of such an incredible crisis?
In our latest CEO conversation, Chris Nassetta, president and CEO of Hilton, explains that it all comes down to values-based decision-making.
In a crisis, there is a tendency for most to stray from original strategy, Chris noted. "The thing that happens a lot in a crisis is people panic and it's every man and woman for themselves," says Chris. "You throw out your basic rules."
But Hilton kept a steady hand on the wheel and lead through the company's values.
Here's how every decision the company made, from furloughing staff to giving out one million rooms to first responders, was filtered through Hilton's own values system.
How to maintain employee trust through layoffs and tough economic times
Support for employees transitioning jobs
While tourism and hospitality suffered under COVID-19, the pandemic also presented temporary hiring opportunities in other industries, such as food services and delivery. Hilton partnered with these businesses to find placement opportunities for furloughed Hilton staff.
"The [employee survey] data suggests that it bonded the remaining team," says Chris. "[We have] a group of people who are more excited, inspired by and proud of the company and what we are doing. Even in the crisis, [this has brought] them closer together and more trusting of the company and their leaders."
Don't just take it from Chris – Hilton's employee survey results are awash with this sentiment:
"There is no better company out there. During this pandemic, with the hospitality industry hit so hard, I have been humbled and so proud to work for Hilton. Our leaders made sure we all had information on what was going on and its impact. They made sound decisions through the pandemic, but more importantly, had made great decisions prior to the pandemic so that we could weather a storm like the one we saw this year. While we had to furlough and lay off some team members, I believe our leaders did not make those decisions lightly and minimized those impacts as much as possible. It was evident that those tough decisions did not weigh easily on their hearts and the compassion with which they communicated was appreciated."
Respite for the community
When Chris heard of the first responders who had descended upon New York in the early months of the pandemic to support overrun hospitals but didn't have any place to stay, he knew he wanted to help. And so, the One Million Rooms initiative was born.
With financial support from American Express and Hilton's ownership community, Hilton gave away one million rooms to first responders who had either come in from out of state or who were fearful of going home and putting their families at risk.
While the initiative raised lots of questions internally as to how Hilton — whose occupancy rate had dropped from 80% to 10% — could afford it, for Chris the choice was obvious because it followed Hilton's values.
"It'd be easy for me not to have worried about those people or done anything about it, because I could defend myself in saying we had enough problems," explains Chris. "But our value system is such that we were founded on a noble premise by Conrad Hilton…his view was travel and tourism can make the world a better place."
Defending social justice
While Hilton was grappling with COVID-19 and its impact on the industry, more alarms sounded as the murder of George Floyd sparked public outrage and conversations about racial inequality. Brands were faced with the choice to either ignore (or virtue signal) the problem or become part of the solution.
"We were dealing with a lot, but that's no excuse. If you have a really good, strong value system, you can't let it be an excuse," says Chris. "Just because you're in a crisis, you can't set aside something that you believe is critically important."
Hilton had already been working towards better diversity and inclusion, but 2020 proved to be a lightning rod for the brand to do more, and to do it now. One such step was to have "courageous conversations" with its staff – a virtual speaker series that included internal and external speakers to provoke thought and enable a more inclusive environment.
"We had everybody's attention because they were home but we were connected virtually. We could talk to them in ways we never could before. That was an incredible means to start making sure that this was getting the attention that it deserved."
Hilton also re-did its unconscious bias training, found new ways to celebrate cultural diversity in a digital context, and focused on building on existing relationships to create a more diverse talent pipeline for when hiring could resume.
Always an ally
All of these efforts resulted in a workforce, both current and furloughed, that still saw Hilton as a truly great place to work.
"It was always about values-based decision-making and thinking about our key stakeholder groups: our customers, our team members, our owner community and our communities," says Chris. "Making sure we were a force for good as best we could with each one of those stakeholders."
But even on the back of this, and with Hilton's excellent track record as a recognized Great Place To Work, Chris says it's not enough.
"The easy answer is to rest on your laurels and say, 'Yay us,' but I never stop. I'm relentless about it. We can be better," says Chris. "We're engaging with our teams to figure out, 'What did we do well in the crisis? What would you like us to do differently? Where do we need to learn in the future?'"
For companies battling similar decisions, Chris has some heartfelt advice: "Crisis can build stronger bonds if you're thoughtful about how you address the crisis, how you treat your people, and making sure your decisions are grounded in your values."
To hear more from Chris and how Hilton has handled the COVID-19 crisis, watch the full discussion. And be sure to check out more inspiring conversations with other Best Workplaces CEOs.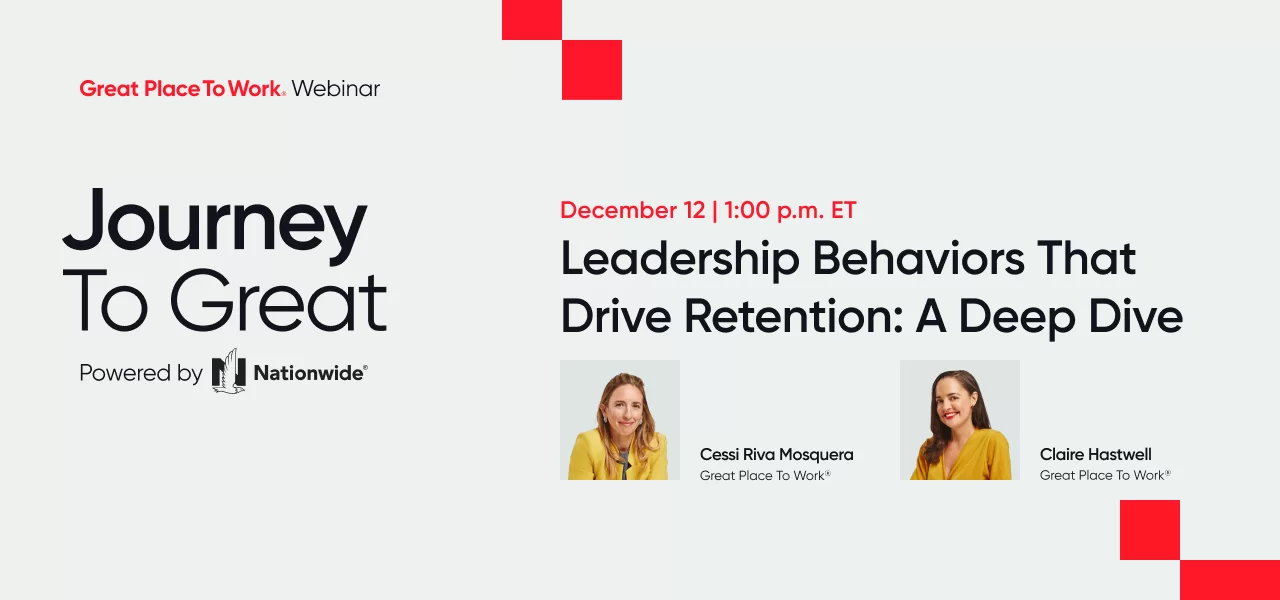 ---