The company shares two years' worth of lessons learned around efforts to understand the experience of marginalized employees, and make changes.
After the death of George Floyd at the hands of police officers in 2020, many business leaders asked tough questions of themselves.
What are we doing to fight racism in our industry and workplace? What is the experience of marginalized employees in our organization?
It was time to double-down on learning and listening, acquiring more data and working to look past assumptions and blind spots. For Plante Moran, No. 30 on the Fortune 100 Best Companies to Work For® List the lessons were invaluable.
"One of the biggest lessons that we learned at the time was just how much we still had to learn about each other," says Hawzien Gebremedhin, diversity, equity & inclusion (DEI) leader for the firm. "That's why we called it 'The Year of Understanding.'"
The company offered a series of discussions, attended by about a third of employees, that explored the Black experience, the LGTBQ+ experience, allyship in the workplace, and more.
"We come to work with a lot of assumptions on who people are," says Gebremedhin. "The Year of Understanding showed us that we need to be having deeper conversations with the people that we work with."
Intent or impact?
There have been many lessons from Plante Moran's efforts in the last two years to improve DEI — lessons that will be explored by Gebremedhin and Lou Longo, the firm's DEI Council chair and international consulting practice leader, at the For All™ Summit in Orlando, Florida, Oct. 11-13.
For Longo, one of the big lessons was the difference between intent and impact.
"The importance is the impact of your behavior — how someone feels, what the environment is like," Longo says. This lesson, made possible by a period of introspection in 2020, was what inspired action, such as how partners at the firm are evaluated on DEI.
"Historically, we've had a measure for partners in their annual assessment on diversity, equity and inclusion and culture," Longo says. "They were combined."
"One of the biggest lessons that we learned at the time was just how much we still had to learn about each other." - Hawzien Gebremedhin, DEI leader, Plante Moran
These assessments matter to partners. They're tied to bonuses and annual compensation. "What we found is that by putting those two together, partners were often being evaluated based on a cultural impact without any consideration, necessarily, to the DEI impact," Longo says.
By separating the assessments, Plante Moran expects to see leaders put more emphasis on improving DEI outcomes.
Listening before doing
While business leaders are often people who like to move fast, Gebremedhin sees value in taking a breath before jumping into gear on DEI.
"People are do-ers, and they want to just fix, fix, fix," she says. However, meaningful change can't be rushed.
"To not deeply understand the core issues — I believe any solution would be short lived," Gebremedhin says.
Organizations must eventually turn insights into action, but the learning and listening should never end.
"We are still learning, and we see that as a constant for us," says Longo.
Moving beyond talk
For organizations that struggle to move from words to action, Gebremedhin recommends finding ways to empower your people.
"Every person throughout the firm has a role to play," she says. By empowering staff to take responsibility for DEI, the organization fosters accountability, a sense of pride, and a connection to core values.
"People are do-ers, and they want to just fix, fix, fix." - Hawzien Gebremedhin, DEI leader, Plante Moran
Plante Moran has operated for decades with a series of 15 core principles that define its values. Changes to the principles are rare.
"It's things around how we are going to operate, how we're going to treat each other," says Longo. "It's how we make decisions."
In 2022, the firm added two principles: one on embracing change and the other on its strengthened commitment to DEI progress. The new DEI principle reads:
"It is our intent to uphold the dignity of each staff member. When each person feels there is a place for them at the firm, we become a stronger organization. It is, therefore, the shared responsibility of all staff to acknowledge and embrace differences and contribute to creating a shared sense of belonging among all staff members."
"That's one of the ways we build trust with our staff," says Longo. It helps make leadership accountable.
"It should be a consideration in all things that we do as a firm," he says. "Not just at the management team level, but truly that everyone in the firm is committed."
Employee response
How have Plante Moran's efforts to improve DEI been received?
"It's been mixed, to be honest," says Gebremedhin. "People that come from historically marginalized communities are concerned that this is temporary."
However, she sees the firm's actions (such as adding its DEI principle) as starting to lessen the skepticism.
"It's a journey," she says. "It's our responsibility to help build the trust."
There are signs that Plante Moran's efforts are starting to be successful. Gebremedhin cites the example of one Plante Moran employee who opened up about their gender identity for the first time after working at the firm for seven years. As staff feel increasingly safe to share their full selves at work, the stories are coming in — a signal that DEI efforts are having an impact.
Survey data also paints a picture.
"It's one of my favorite things to really dig into," says Gebremedhin about the data Plante Moran gets from its Great Place To Work® Survey. "What is the experience of these specific groups?"
When you look at the data over years, comparing trends and demographics, you start to understand if your workplace works for all employees — or just a few privileged ones.
Join Us
Hear more about Plante Moran's DEI journey from Hawzien Gebremedhin and Lou Longo at the For All™ Summit in Orlando, Florida on Oct. 11-13.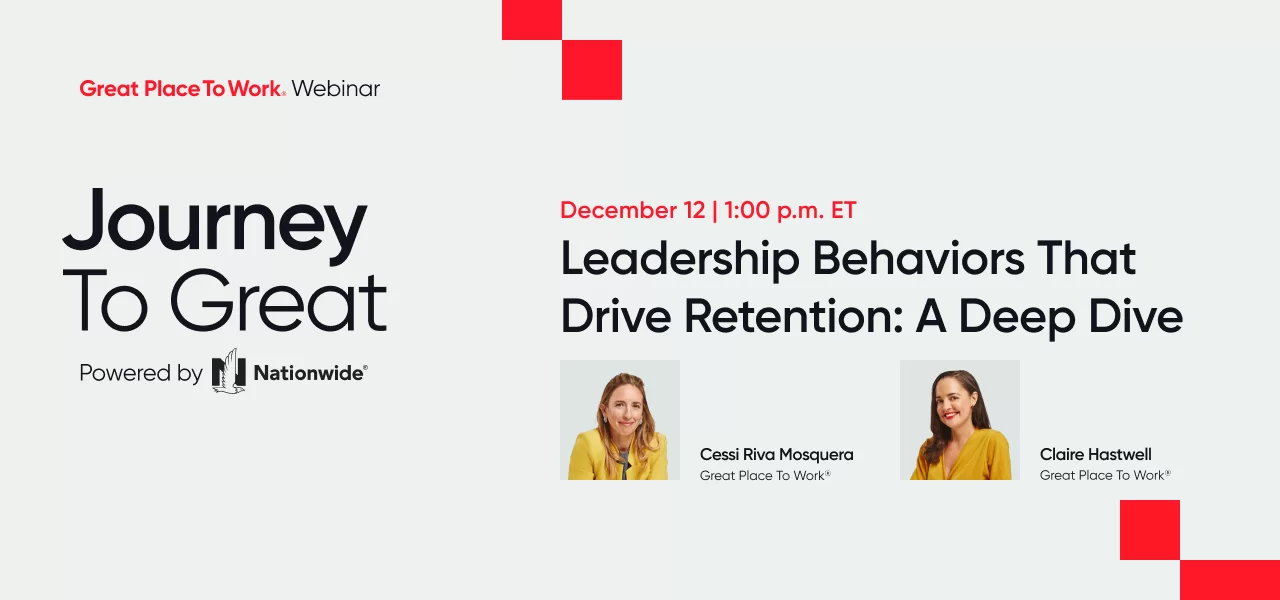 ---