How you can earn the most prestigious company culture award in the U.S.
Getting Great Place To Work-Certified™ and named on the Fortune 100 Best Companies to Work For® list are company awards that have been proven to help attract and retain top talent. Salesforce, which has both company awards, says 50% of their hires come from such referrals.
So, we bet you're wondering: how does my company earn recognition on these prestigious and meaningful lists?
3 steps for how to get on the Fortune 100 Best Companies list:
Step 1: Create a Great Workplace For All™
Every company on the list has created a high-trust experience for every employee in their organization. Whether you're the kitchen hand or the CEO: everyone's experience is consistent. No matter your age, tenure, race, sex or job title.
In other words: these companies create a great place to work For All.
You know you're at a great workplace when:
Everyone trusts the people they work for, takes pride in the work they do, and enjoys the people they work with

Day-to-day experiences help people feel they belong, that their unique talents matter, and that their individual needs are cared for by their colleagues and leaders

Values are based on acknowledgment, inclusion, dignity, and compassion.
Step 2: Get Great Place To Work-Certified™
In order to consider your company eligible for our Best Workplace lists, including the Fortune 100 Best Companies, you need to get Great Place To Work-Certified.
This tells the world that your employees are having an overall positive experience – a validation of your workplace culture.
How do you get Certified?
1. Survey your employees with the Trust Index™
Great Place To Work's Trust Index is the world's gold-standard employee engagement survey used to capture the experience of millions of employees in 75 countries every year.
You'll email this easy-to-use survey to your employees, asking them to rate the high-trust behaviors they experience at work.
2. Complete the Culture Brief™
You will also fill out a short questionnaire to share details about your workforce makeup, benefits and policies.
When you meet our benchmark for employee survey results and participation, you will become Certified.
Even if you don't make a list, your Certified status is an employee retention and recruitment tool in its own right! It's a signal of care that builds employee pride.
(And if for any reason you don't earn the distinction on your first try, don't worry—this is not the end, it's just the beginning. Our Culture Coaches can help you get to where you need your company culture to be.)
Step 3. Complete the Culture Audit™
Next, you'll provide details about your company's culture story in a report called the Culture Audit. You'll tell us how you create a great workplace For All in these areas:
Trust

Maximizing Human Potential

Leadership Effectiveness

Innovation

Values
To be eligible, your company must be Certified and your Culture Audit submitted by the deadline.
Great Place To Work Evaluation
Once we close applications, we analyze employee survey scores and responses using our For All Methodology©.
Your company is ranked based on what employees report about their experience of trust and reaching their full human potential as part of the organization, no matter who they are or what they do.
We analyze these experiences relative to each organization's size, workforce make-up, industry and region.
And the Winner Is…
Now, mark your calendars! Look out for the dates for when we announce and publish each year's Fortune 100 Best Companies list. 100 Best Companies list.
If your company is named to a list (or gets Certified) – it's time to pop the champagne! Rally your team around this win and celebrate in any creative way you wish.
Ready to get your workplace recognized on the Fortune 100 Best Companies or another Best Workplace list? Let's do this.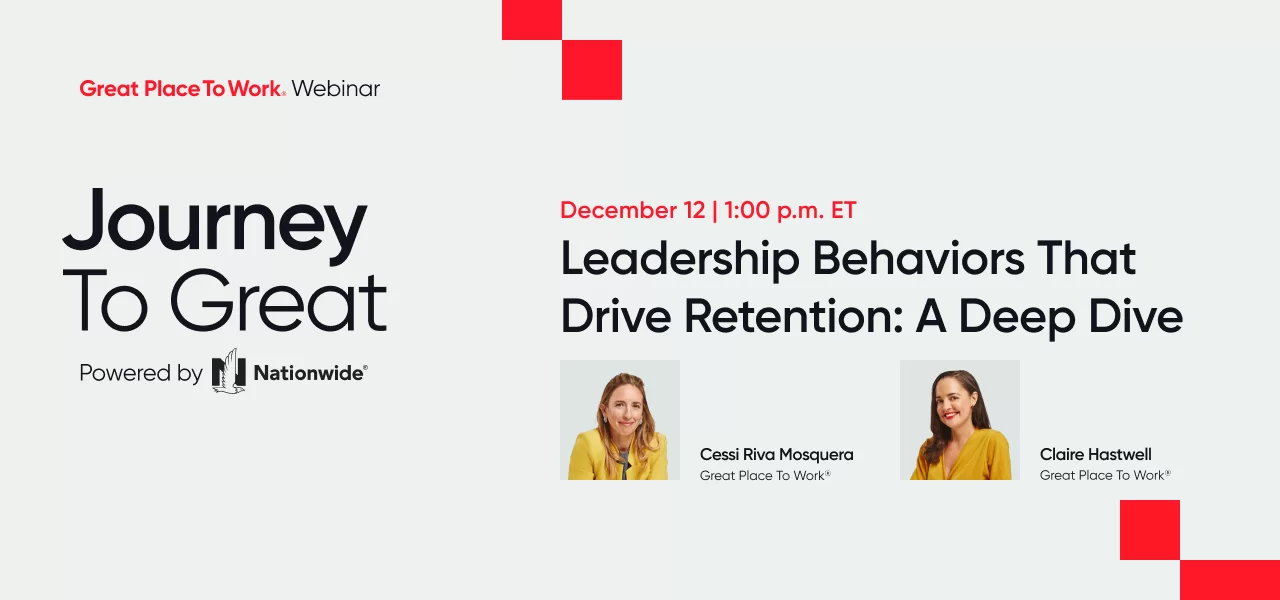 ---