Conference Speakers Share their Great Workplace Culture Strategies
Great times were had by all at the 2015 Great Place To Work® Conference in Dallas, Texas! This year, nearly 1,100 professionals representing over 400 companies from across 20 industries converged to share ideas, network, and hear exciting new insights and best practices from leaders at some of the world's greatest workplaces.
Walk the Walk: Attendees "kicked-off" the conference by modelling a healthy workforce with a 5K walk/run sponsored by Lincoln Industries.
Insights on Inclusion: Michael Bush, Great Place To Work® CEO, delivers a powerful message about creating a great workplace for ALL in his opening remarks.
Leading with Transparency: Dick Costolo, CEO of Twitter, shares inspiring insights on the importance of transparency in the workplace during his interview with Christopher Tkaczyk, Senior Editor at Fortune Magazine.
Watch the full Twitter keynote presentation here
Great Place to Network: Conference attendees exchange ideas and best practices with fellow leaders from their industry at the Industry Lunch & Networking Session sponsored by Aflac and Alston & Bird.
The Measure of Success: Annie Burt, Director of Staff Engagement Communications for the Mayo Clinic teaches an attentive audience how to collect, organize and use internal communications data during a morning breakout session.
Learning Something New: David Clark, Chief Learning Officer for American Express, shares several innovative approaches to employee learning during a riveting breakout session on creating learning experience that drive innovation and growth.
Something to Chew On: Kevin Cleary, CEO of Clif Bar & Company inspires attendees to rethink the concept of "work/life balance" in favor of an integrated approach to a meaningful work and life.
Watch the full Clif Bar keynote presentation here
Experiencing an "Ah" Moment: Known for their holistic approach to employee health and wellness, Bright Horizons Family Solutions provides conference attendees with free chair massages in their crowd-pleasing Well-Being Lounge.
Analyze This: Jennifer Johnston, Senior Director of #dreamjob Marketing, Communication and Events for Salesforce.com discusses how to use analytics to win the war for talent during a morning breakout session.
A Taste of Greatness: David M. Gordon, President of The Cheesecake Factory shares the qualities he looks for in new employees. Candidates must "ooze warmth and hospitality," "radiate positive energy," "have a passion for excellence," and "love to have fun and celebrate" to be considered for a position.
Watch the full Cheesecake Factory keynote presentation here.
Get Ready for More Greatness: Conference emcee and Great Place To Work® consultant, Marisa Stoltzfus, invites everyone to join her at the 2016 Great Place To Work® Conference in San Diego, CA.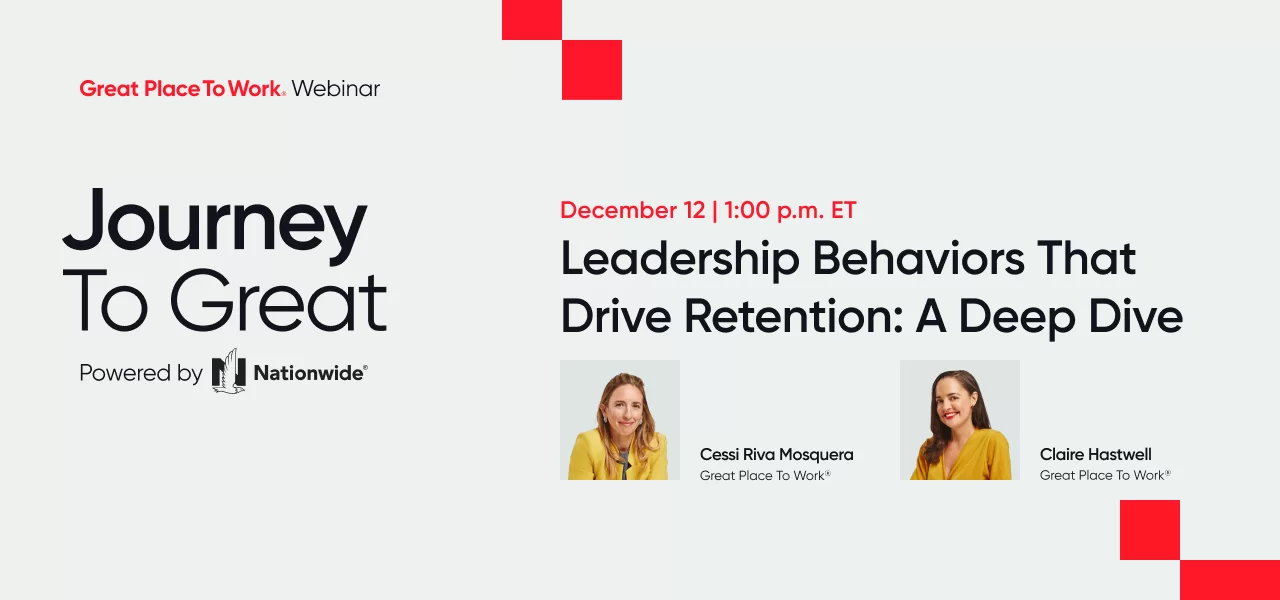 ---