We are honored to announce our 2019 Best Workplaces in Asia List. From a pool of nearly 1,200 organizations in the region, we listened to voices representing over 2 million employees' experiences to understand what it's like to work at these companies.
We identified 75 companies who are leading the way in creating workplaces that are great not just for some—but great for all. Top winners on this year's list include multinational shipping behemoth DHL, online streaming service Hulu, UAE retailer THE One, and multinational hospitality giant Hilton, to name a few. Fast facts about this year's list:
The winning companies span all sizes, ranging from 500,000-employee DHL, to small-but-mighty

Galton Voysey

, a consumer goods branding company with just 20 employees.

These Best Workplaces represent 17 different industries; Information Technology, Financial Services & Insurance, and Manufacturing & Production industries represent nearly half of all companies.

They hail from eight diverse countries and cultures: India, Japan, South Korea, UAE, Greater China, Saudi Arabia, Singapore, and Sri Lanka.
Despite these notable differences, these organizations have one thing in common: they have created workplaces where the vast majority of employees experience a Great Place to Work–regardless of who they are, or what they do for the organization. In other words, they experience a Great Place to Work For All.
The Best Workplaces in Asia are Highly Inclusive and Great for Women
9 out of 10 employees experience a welcoming, ethical and inclusive workplace at the 2019 Best Workplaces in Asia. Specifically, employees report they are treated fairly regardless of gender, race, or sexual orientation. And to the same extent, employees believe they are treated as a full member regardless of their position at the company. Over 90% of employees also experience a welcoming and friendly atmosphere, and believe their leaders consistently act with integrity.
A key finding across Asia's Best Workplaces is they create an empowering atmosphere for women. In fact, female employees at these companies report a slightly more positive experience at work than men, on average. At Cisco, the #2 Best MNC in Asia, two of the four senior-most leaders in the region are women. And, Cisco's commitment to the ongoing development of female leaders helps ensure women continue rising to the top ranks. As an example, the DARE (Development, Authenticity, Readiness and Excellence) Program offers a one-day workshop for early-in-career women on topics such as visibility, internal politics and positive branding. And, mid-level female leaders can attend "JUMP for Women," a nine-month program with workshops focusing on leadership development, networking, execution and more.
Including All Employees in the Innovation Process Drives Revenue Growth
Companies that invite more employees to participate in the innovation process achieve 5.5x the revenue growth as compared to less-inclusive counterparts. We see this Innovation By All culture at the #4 Best Large Workplace in Asia, India's Godrej Consumer Products. To create a culture of free-thinking for employees to innovate, Godrej launched the Godrej India Culture Lab—a physical space that acts as a catalyst for creating conversations around powerful thoughts of employees.
Sunil Kataria, Godrej's CEO, India & SAARC, told us: "There are many benefits of creating a great workplace for the future…We believe to be able to win today, we need to foster a much more inclusive mindset, not just in a select few people, but across teams."
Leading the Way with Integrity and Values
Building a Great Place to Work For All starts with strong values that all employees live by. These values are not just words on a wall; rather, they are a guiding force that creates a sense of consistency across the organization. Our data shows employees at Asia's Best Workplaces are approximately 15% more likely than non-ranking companies to trust what leaders say—which is a key indicator of organizations where leaders put values first.
As Patrick Fiat, Chief Experience Officer of Asia's #2 Best Small and Medium Company Royal Plaza on Scotts (RPTM) in Singapore shared, "We continue to create a great workplace in the Spirit of RP, the epitome of our core values: trust, respect, empowerment, making a difference and loads of fun at work."
Better for People, Better for Business
Why is it important to create a Great Place to Work For All? Our research shows treating all employees as equally-valued members is not just better for the people who work there—it's better for business, too. For example, companies that maximize all employees' human potential regardless of their gender, race, age, and other personal characteristics achieve three times the revenue growth than companies that are less inclusive.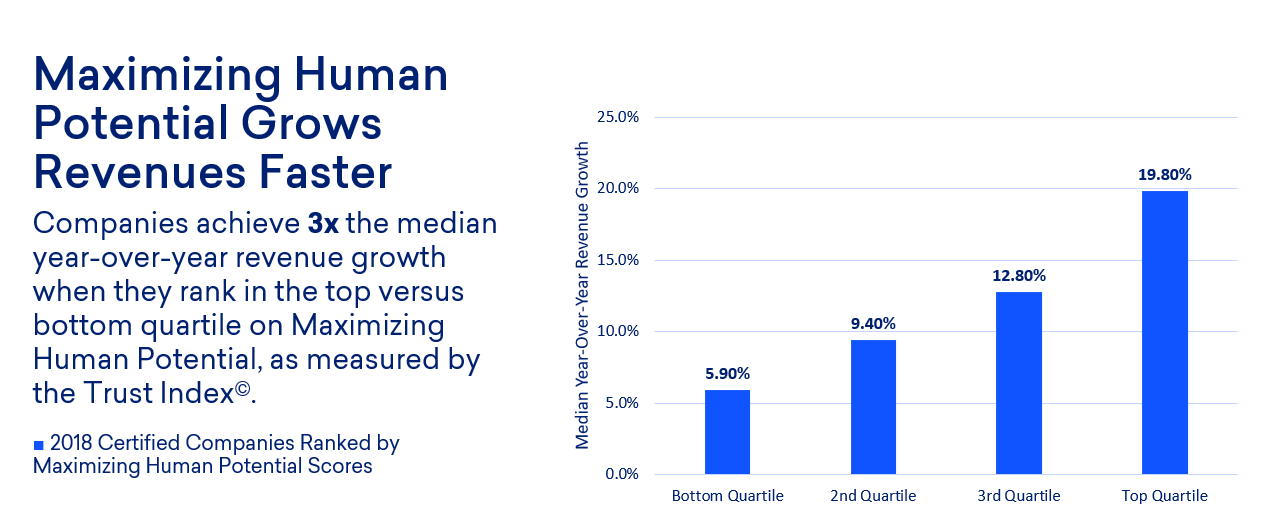 Better for the World
As great workplaces For All uplift businesses and the people who work there, the world at large benefits as well. We see this at DHL, the #1 Best Multinational Workplace in Asia, where each year DHL Express CEO John Pearson, Executive Vice President HR Global Regine Buettner, along with other top leaders fly to the region to celebrate DHL's Employees of the Year (EOY). Over a three-day period, leaders personally recognize each and every EOY not only for their remarkable work achievements but also for their charitable efforts that create a better world. Co-workers spend time during these three days team building while innovatively fundraising for three different charities.
With exceptional inclusiveness, integrity, and Innovation by All, the 2019 Best Workplaces in Asia are showing the way forward. We congratulate these companies for their global leadership in building outstanding workplaces that are better for business, better for people, and better for the world.
---