It's live! See which companies made the 2020 World's Best Workplaces™
9 Reasons a High-Trust Culture Means Better Business
For more than 30 years, Great Place to Work has studied high-trust workplaces cultures and how they drive incredible business results. Our 100 Best Companies to Work For® List represents companies who are excelling at creating incredible, high-trust cultures for employees.
What exactly does a high-trust culture look like?
It's a workplace where employees believe:
Leaders are credible (competent, communicative, honest)
They are treated with respect as people and professionals
The workplace is fundamentally fair for everyone
When workplaces do all these things well, employees feel empowered and the business flourishes. Here's why.

Get Enviable
Stock Market Returns.
Workplaces with a high-trust culture have a competitive advantage in the marketplace. Publicly-traded companies on the 100 Best Companies to Work For® list deliver stock market returns 3 times greater than market average.


Cut Employee
Turnover in Half.
What if you could cut your staff turnover rates in half? Across industries, we've found a high-trust culture means 50% lower voluntary turnover — and huge cost savings. At the 100 Best Companies to Work For®, an average of 87 percent of all employees say they "want to work here for a long time."


Boost Staff
Productivity.
Trying to boost productivity? Employees across all generations are 3x more likely to give extra on the job when they feel they're at a great workplace.

Say No to a
Disengaged Workforce.
As of 2017, only 33% of workers are engaged — an effect that costs U.S companies an estimated $450 - $550 billion annually. In a high-trust culture, employees are empowered to give extra and tap into their full potential on the job.
SOURCE: "The state of the American workplace." Gallup, Inc. 2013
Nurture an Innovative
Atmosphere.
Everyone agrees innovation is crucial competitive in an ever-changing market. But how do you get there?
Research has shown innovation comes from workplaces built on trust, where collaboration and creativity flourish.

Get Agile.
Fast.
Research into organizational agility has shown a high-trust workplace is one that can move fast. Besides creating an environment of transparency, collaboration and innovation, trust means companies can make quicker decisions — and then act on them.

Turn Down Churn
with Happier Customers.
Engaged, empowered employees deliver better customer service, better products, and happier customers.
An independent study into the 100 Best Companies to Work For® found customer satisfaction ratings about 3 points higher than competitors. Our most recent Best Workplaces in Healthcare also found hospitals with high-trust cultures had significantly higher-than-average scores on patient satisfaction.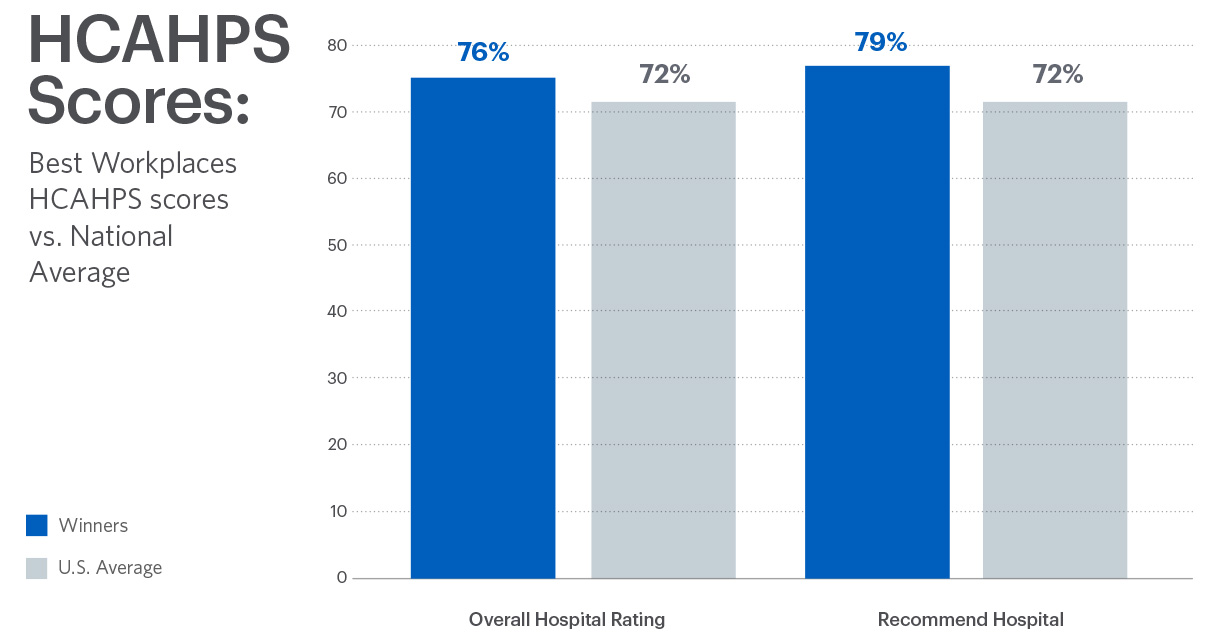 Build Brand Loyalty
with a Values Approach.
Ever heard of the Spend Shift? Since the recession, more consumers are making purchases that align with their values — and looking for companies that care. Building an employer brand known for treating employees with kindness, respect, and generosity is not just the right thing to do - it's a smart business strategy.

Let Employees
Grow Your Brand.
Does your marketing strategy involve your employees? Staff who work in high-trust environments are much more likely to tell others about their company. 93% of employees at the 100 Best Companies to Work For® say they're proud to tell others where they work.
That means expanding brand recognition among top talent and customers — without any dedicated marketing spend.
Ready to reap the benefits of a high-trust culture?
Find out how to get there.
Thanks for filling out our form!
One of our friendly culture experts will reach out to you soon