Media contact: Kim Peters, 415-844-2574 This email address is being protected from spambots. You need JavaScript enabled to view it.
April 11, 2021 (Oakland, Calif.) – Amid a record number of resignations and a reprioritization of American lives, the Fortune 100 Best Companies to Work For® didn't woo employees with shiny perks, but focused on the essentials of strong company culture.
The 100 Best Companies prioritized employee well-being and fostered cultures of inclusion, purpose, genuine listening, caring and empathy.
And in return — according to America's largest ongoing annual workforce study of more than 870,000 confidential employee survey responses, and data from Great Place To Work® — the employee experience was as good as ever among the 100 Best Companies to Work For in 2022.
"Best Companies' leadership has never been more necessary," says Michael C. Bush, CEO of Great Place To Work, the global authority on workplace culture. "As workers struggle with the Great Resignation, burnout and COVID disruptions, these exceptional companies offer workplace experiences as strong as prior to the pandemic."
Cisco topped the list for the second year in a row. The top 10 companies to work for are:
1. Cisco
2. Hilton
3. Wegmans Food Markets, Inc.
4. Salesforce
5. NVIDIA Corporation
6. Accenture
7. Rocket Companies
8. American Express
9. David Weekley Homes
10. Capital One
Great Place To Work celebrates 25 years of determining the 100 Best list based on data from its proprietary Trust Index™ employee experience survey. Of note are four organizations who've made the list all 25 years: Cisco, Wegmans, Marriott International, Inc., and Publix Super Markets, Inc.
What it took to be the Best this year was the ability to adapt to constant change and support employees' full lives in and outside of work, which includes their families and communities. And regardless of their type of job or where they worked.
"These companies get that 'place' is wherever their employees are sitting or standing, and they are committed to make that place equitable, safe and productive," Bush says. "Their commitment to genuinely care for their people through trust, inclusion, purpose and meaningful flexibility for life circumstances goes beyond surface-level perks and is a model for the market to follow."
They encouraged employees to bring their authentic selves to work – and not deny who they are – through diversity, equity, inclusion and belonging programs. Nearly 90% of employees feel like they can be themselves, as opposed to just 64% at an average workplace. And the Best also took steps to connect the organization's values and goals to employees' jobs to ensure their work had meaning and purpose – what many workers quit in search of.
From listening sessions to employee resource groups (ERGs), the 100 Best took action to ensure all employees felt included. They expanded mental health assistance, elder care support, childcare and well-being resources. They provided financial and professional assistance after layoffs and furloughs, and COVID care during the pandemic.
The proof is in the numbers
The outcome of great cultures is not guesswork. The 100 Best Companies outperformed the Russell 3000 Index by 3.3 times. According to Great Place To Work research, compared to their industry peers, employees at the 100 Best are:
5.5 times more likely to help recruit
2.2 times more committed to staying with their organization
Half as likely to leave their company
Best Companies create aspirational workplaces where:
9 out of 10 would strongly endorse their company to friends & family
9 out of 10 feel cared for
4 out of 5 employees feel psychologically & emotionally healthy
4 out of 5 look forward to coming to work
4 out of 5 find meaning in their jobs
About the Fortune 100 Best Companies to Work For®
Great Place To Work® selected the Fortune 100 Best Companies to Work For® in 2022 based on feedback collected through America's largest ongoing annual workforce study of over 870,000 employee survey responses and data from Great Place To Work-Certified™ organizations representing more than 6.1 million employees across the U.S.Company rankings are derived from 60 employee experience questions within the Great Place To Work Trust Index™ survey. Read the full methodology.
To get on this list next year, start here.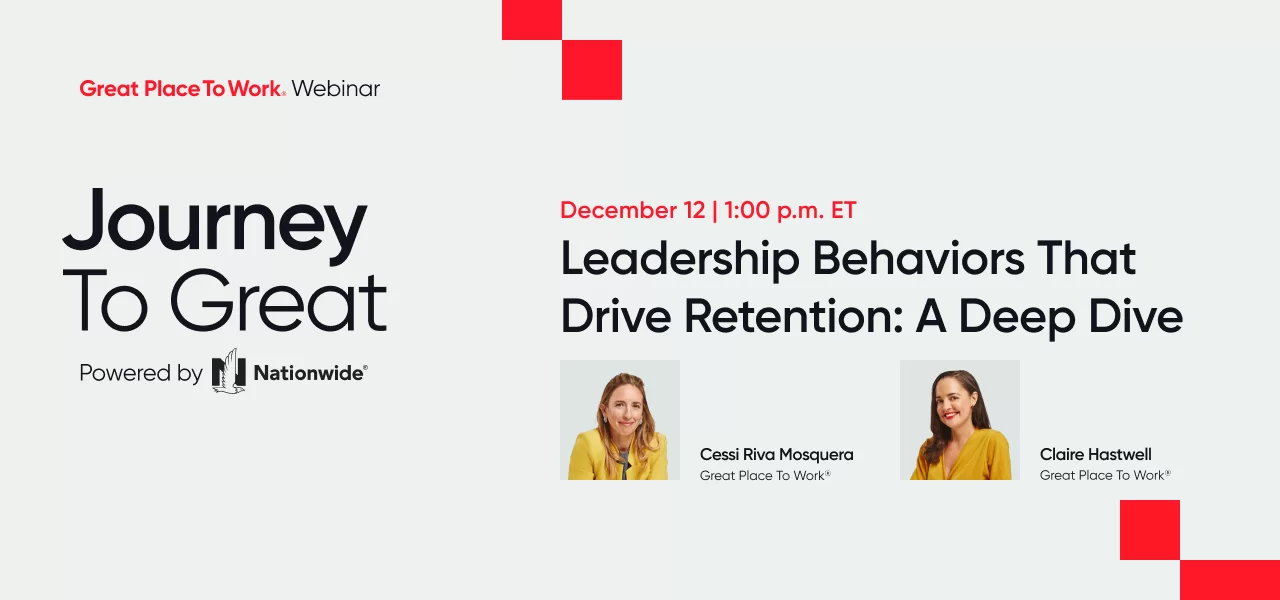 ---