Young mothers of color are at the highest risk of experiencing burnout, and it's high time that leaders lean in, listen closely, and help where they can.
This year, Great Place To Work conducted the largest-ever study of working parents to understand their workplace experience, the unique challenges they face and how leaders can support them.
Working Parents, Burnout and the Great Resignation provides data and insights to help organizations better leverage the experiences of their working parents and create great workplaces For All™.
Our 2021 report revealed that while "pandemic burnout" is still impacting the well-being of working parents, Best Workplaces™ have managed to increase their level of care for parents in the workplace, leading to higher retention among working parents.
The COVID-19 pandemic has certainly reshaped the way we view work. It has also led to heightened awareness of how structural racism impacts people of color, even in the workplace. Leaders from Best Workplaces have innovated to create more inclusive environments where employees can thrive, not despite their differences, but because of them.
For example, Best Workplaces began to create discussion forums for people of color to express their concerns and grievances to their leaders. Many of these companies have also created dedicated functions within their organization for combating workplace discrimination – something that might have been left up to the discretion of the individual a few years ago.
Mothers of color, however, are still facing unique challenges as working parents and their double minority status makes finding and asserting their voices in hopes of achieving structural change that much harder.
Young mothers of color in particular – between the ages of 24 to 34 – are even more susceptible to experiencing burnout than their White, male counterparts, and the pandemic has affected them disproportionately.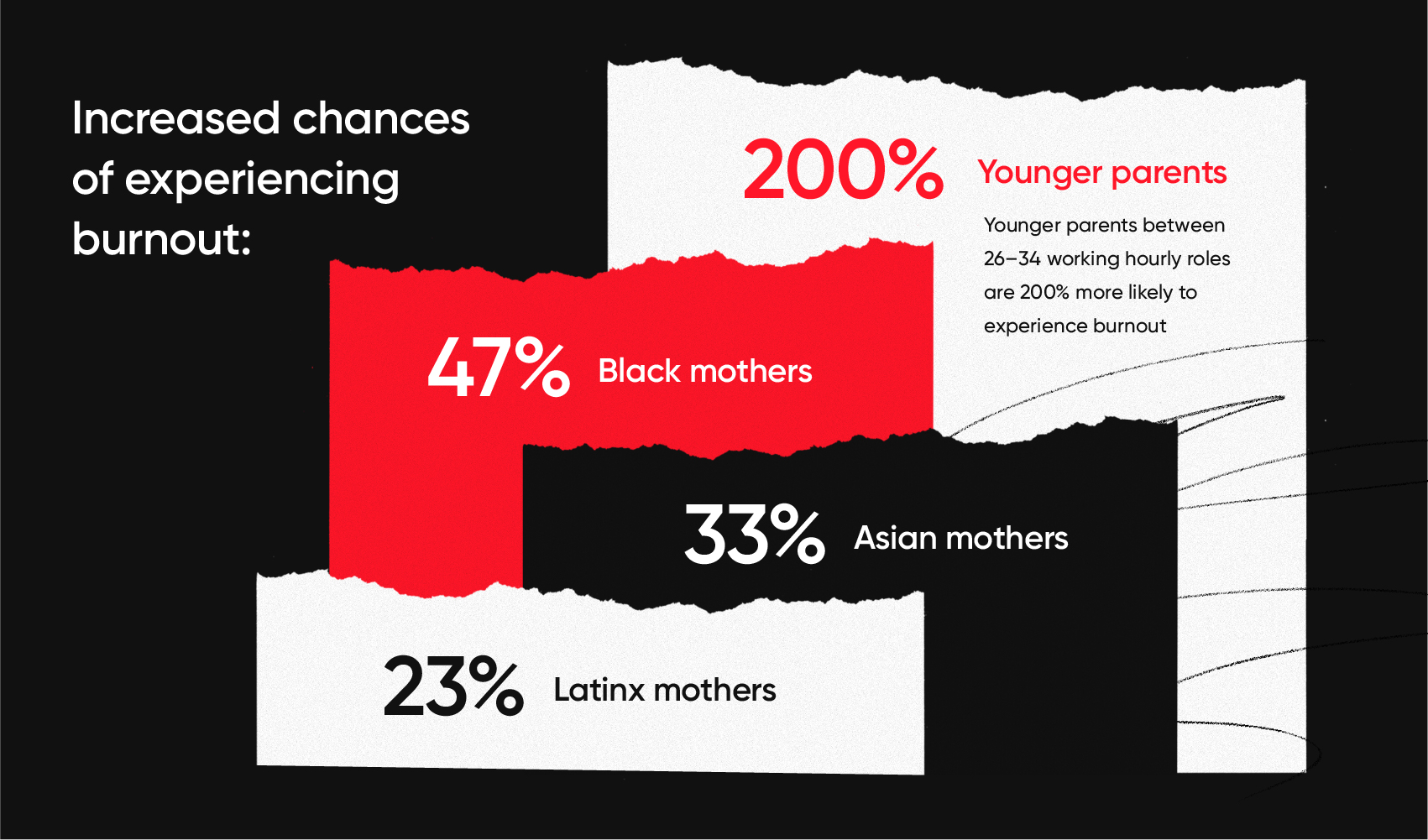 Here's how you can help them defeat burnout:
Perfect your intersectional approach
Being a double minority myself, I know with some level of certainty that the intersections of my identity – as a Black Woman – act as fertile ground for sexism and racism alike.
Organizations often make the mistake of focusing on "categories" of gender or race and ethnicity and fail to recognize that the whole person is far more complex than a box on a survey.
An intersectional approach to diversity, equity, inclusion, and belonging (DEIB) is honoring the multiplicity of who we are as people.
Mothers of color are also diverse, and so are their needs, which vary based on their economic status, family structure, gender identity, and more.
Ensure pay parity for mothers of color
According to the National Fund of Workforce Solutions, median wages are higher for White workers with a high school diploma and no college ($19/hour) than for Black workers with an associate's degree ($18/hour). Racial inequities in income already cost the U.S. economy about $2.3 trillion per year.
Many mothers of color act as the sole bread winner for their family and without intentional pay parity, they continue to stand at the fault line of society, failing to get ahead. Fair pay provides more for childcare expenses, resources for coping with the stresses of parenthood, and a heightened sense of belonging in the workplace.
The toll of racial inequalities in income will grow as the U.S. workforce becomes increasingly diverse. Pay parity for working mothers of color will serve the greater good and create a future where fair pay is not a "nice-to-have", but an expectation.
Raise your awareness of inequities that exist outside of work for mothers of color
Decades of research suggest that mothers of color are more likely to be responsible for all childcare responsibilities and housework than White mothers are. In fact, Black mothers are more than twice as likely as White mothers to be managing these duties for their family.
This is not a new problem. Sociologist Anna Julia Cooper writes about women of color as wage-earners in the late 1800s, explaining that most of the productive labor of the world is in fact done by women, and that their unpaid labor is what makes for a productive society.
Cooper's work holds true today, and I think we all understand that the labor done within today's household has a great impact on labor outside the household.
Young mothers of color – many of them hourly wage earners – are often working long hours, day and night, to support their families. Pay parity can begin to lessen the burden. And Latinx, Black, and Asian mothers are also more likely to stay at a job when they have access to reliable childcare.
It's clear that mothers of color need allyship more than ever before. They need their fellow employees and their leaders to stand up for what's right and advocate for more inclusive workplace cultures, and benefits that better serve them.
Better workplaces for mothers of color means better workplaces for all
When you target mothers of color in your DEIB efforts, everyone within the organization will benefit. Supporting parents of color cannot be separate from you overall DEIB strategy. Instead, leaders can use the collective voice of their mothers of color – who are reporting higher rates of burnout than their counterparts – to foster workplaces that support equity and belong for all.
Learn more about how to support working parents, read our full report
Working Parents, Burnout & the Great Resignation. 490K+ working parents have spoken. Here are 5 keys to attracting, retaining, and sustaining them.

Download the report
---