As we've learned all too well over the past 18 months, when a global pandemic hits, you close your doors — and for many businesses, you do it for good.
But, if you're Dutch financial services provider Viisi Hypotheken, you open more doors.
While many businesses were shuttering locations and grappling with remote or hybrid set-ups during the pandemic, Viisi has spent the past year reimagining what its workplace could be in the "new normal."
One part of this reimagining was deciding the future of remote work for Viisi employees. An internal company poll showed that most of Viisi's employees prefer a hybrid model, with the option to work from home a few days a week, and the ability to connect with colleagues in-office.
Viisi's survey showed what many other European employers are finding — that even though we're embarking on a new era of work, going back into the office isn't necessarily a problem for most workers. Employees like having some face time. What is the problem, however, is the potential loss of freedom and flexibility.
Now that we've all become used to the convenience of working from our couches or kitchen tables, few of us want to return to our commutes. Sitting in traffic or being crowded onto public transit seems practically archaic after growing accustomed to 30-second strolls from our beds to our laptops.
Enter Viisi's inspiration for its reimagining: "the 15-minute city." The concept, proposed in 2016 by urban planner Carlos Moreno and popularized by Paris mayor Anne Hidalgo in her 2020 re-election campaign, says a city should be designed so that everyone has access to essential urban services within a 15-minute walk or bike ride.
Viisi began to research the feasibility of opening new locations across the Netherlands, so employees could walk or cycle to their nearest office. They plotted the entire team on a heat map and have now opened new offices in the cities of Hoorn and Zaandam.
Given this commitment to work-home balance, it makes sense that Viisi Hypotheken was named one of the Best Workplaces in Europe™ for 2021, taking the top spot in the small business category.
The list, produced by company culture research firm Great Place To Work®, is based on anonymous survey data representing over a million employees from over 1,500 companies across 36 countries in Europe, assessing employee experiences of trust, innovation, company values and leadership.
To crack the top 150 in Europe, companies must first rank highest on Great Place To Work's national lists across the region. On average, this year's Best Workplaces in Europe scored 8% better than national list contenders.
The world of post-pandemic work
The first half of 2020 saw the deepest recession in European Union history. In late 2020, management consultancy McKinsey released data that 55% of small and medium-sized businesses feared they wouldn't survive the next 12 months — impacting some two-thirds of European workers. Businesses were thrust into survival mode, and for many employees, well-being fell by the wayside.
But if you're a Best Workplace in Europe, you did the opposite. This year's list carries two distinct themes across all its entries: Supporting employees despite economic hardship, and recognizing that a year of remote working has forever changed the workplace.
The European Commission estimates that nearly 40% of EU workers began to telework full-time due to the pandemic. By comparison, in 2019, only 5.4% of workers in the EU-27 worked from home more often than not.
For employers like Viisi, this shift wasn't just something they needed to react to, but an opportunity to re-envision the kind of workplace they wanted to be.
And while other companies are staunch on a return to the office, many of the Best Workplaces in Europe are instead meeting employees where they are — both physically and psychologically.
In its entry, the team at medical tech company Stryker (#15 on the multinational list) told Great Place To Work, "We are taking the opportunity to leverage what was learned throughout the pandemic to come 'back to better,' and make Stryker an even better place to work…. We are embracing workplace flexibility, which enables leaders and employees to work together to determine tailored working solutions."
Stryker's dedication is evident across Europe — its operations in Finland, France, Italy, Sweden and the UK were all ranked on their respective national Best Workplaces lists.
Swiss recruiter Adecco (#9 on the multinational list and with its operations in Germany, Ireland, Italy, Luxembourg, Poland, Spain, Turkey and the UK all named Best Workplaces at the national level) has publicly committed to supporting a hybrid future and to helping other employers do the same. The company posted its own guiding principles for flex/hybrid working to inspire other workplaces with recommendations for how many days per week, productivity targets, and well-being tips.
It's that last factor — well-being — that tends to differentiate the Best Workplaces from the rest.
Remote, flex, hybrid: What it means for employee well-being
Well-being has long been a focus for European employers, but everything that came with the pandemic, from physical health to social isolation, brought well-being even more to the forefront. And now, as so many workplaces shift to hybrid models, employers are recognizing the need to step up further.
"Over the last year, COVID-19 prompted us to dig even deeper, and to up-level our benefits and services to meet what have been extraordinary challenges and circumstances," wrote the team at Adobe (#20 on the multinational list) in their entry. "We shifted our approach to well-being to align closely with our post-pandemic return-to-work strategy that is flexible and hybrid, with a digital-first mindset."
It is here where the Best Workplaces in Europe really shine, with a unique range of wellness initiatives designed to work in combination with a hybrid, flexible and remote work environment.
At Nexxie Group Ltd., a Cyprus-based IT company (#7 on the small list), management is specifically tasked with monitoring employees' well-being and creating opportunities for emotional connection while remote/hybrid.
Hilti, a manufacturer out of Liechtenstein (#6 on the multinational list), has a team dedicated to providing mental health support and guidance on things like setting up your home office and dealing with childcare.
Software company SAS Institute (#8 on the multinational list) started sending out newsletters three times a week with resources on parenting, caregiving and mental well-being, while another software company, Salesforce (#4 on the multinational list), presented well-being webinars led by notable names such as Trevor Noah, Al Gore and Deepak Chopra.
These kinds of initiatives play out across nearly every company named as a Best Workplace in Europe — with noticeable impact. Compared to companies that only made the national lists, the best large- and medium-sized businesses at the regional level ranked 18% higher, and small businesses 13% higher, on the statement, "Management shows a sincere interest in me as a person."
While 76% of employees at national list organizations said they experience well-being at work (defined by factors such as feeling cared for and believing their workplace is a psychologically and emotionally healthy place to work), that number jumps to 85% among the Best Workplaces in Europe.
Why well-being matters
These stats aren't just about making people feel good. They're also key indicators of employee retention, engagement and productivity. According to Great Place To Work's data, compared to those who don't consistently experience well-being at work, those who do were more than four times more likely to say they wanted to work there for a long time, and nearly three times more likely to be willing to give extra at work.
In fact, "discretionary effort" — or the willingness to go above and beyond — was the single largest differentiator between the Best Workplaces and those that didn't make the regional list.
Among the Best Workplaces, 82% of employees said colleagues are willing to give extra to get the job done. In contrast, only 67% of employees said that at national list workplaces — a massive drop, especially considering those on the national list are already the highest ranking in their country.
We've got a long road ahead of us before our "new normal" becomes just "normal," but the Best Workplaces in Europe are using the pandemic as a catalyst for creating better, more holistic workplaces that honor employees' well-being needs — whether that's through wellness webinars, flex schedules or 15-minute cities.
Get more insights from the global authority on company culture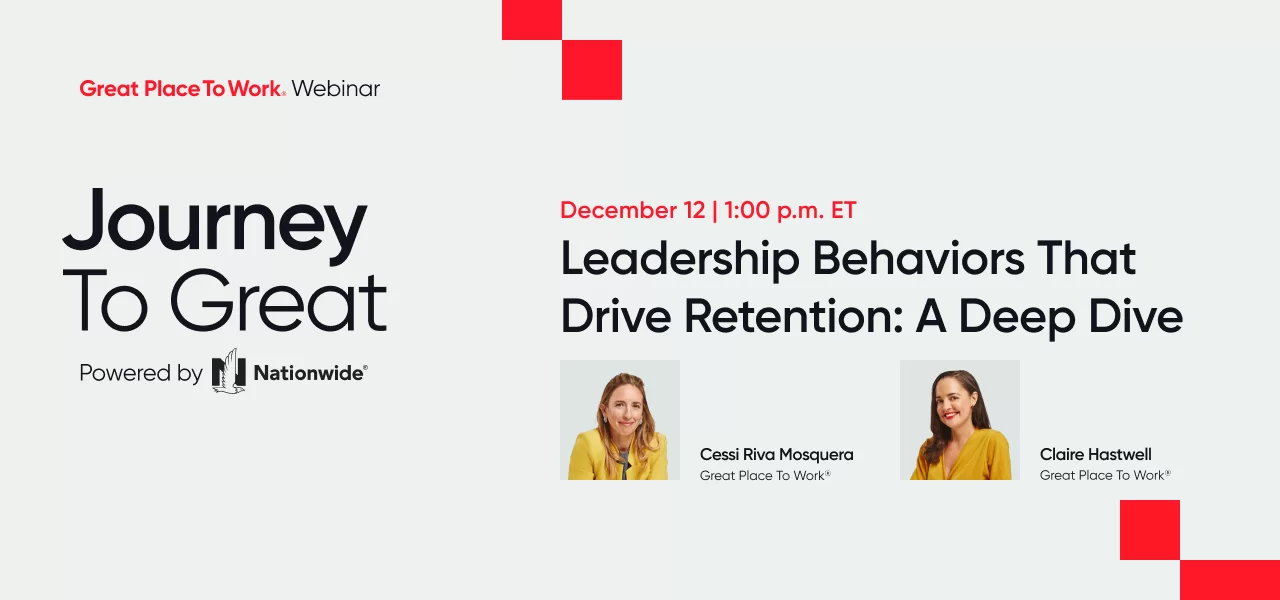 ---